2:03 a.m. on March 24, 2014 (EDT)
Bill S

4,534 reviewer rep
6,037 forum posts
Those of us in the Trailspace Gear Review Corps go through a lot so that you can get complete, thorough, accurate evaluations of outdoor gear. The following is an Epic true adventure of the lengths to which we go. We do not test to destruction, nor do death-defying things (at least not intentionally). But here is the story:
When I received the SOTO WindMaster stove for doing a Trailspace Gear Review Corps  test, I received the usual instructions – "test the item under a wide variety of conditions".  For a stove, especially a stove using liquefied compressed gas (commonly called a "canister stove"), this means a wide range of temperature and other weather conditions (wind, rain, snow, etc).  A certain amount of testing is what we scientists call "dry lab". But a thorough test to TSGRC standards includes testing in the field (and that does not mean your back yard).
The weather here in California has been warm and dry for months. While I got some cooking while camping in typical beautiful, sunny, 60 to 80 degree California weather, I did get a couple days of rain and some gusty wind conditions, though the trip to Windy Hill's summit was no more than a gentle breeze – no challenge for a stove named "WindMaster".  I did manage a few days where the winds kicked up enough to challenge the stove, but we have to be very careful of all open flames. Not only did I boil many liters of water during winds and light rain (as well as typical sunny California weather, but I did real cooking from scratch of gourmet food to check simmering control.
Finally, we did get a few weather systems that dropped a fair amount of snow. So I headed for the hills (Carson Pass) to do some snowshoeing and snow camping, taking the SOTO and other assigned TSGRC items along.  When I got to the trailhead at Carson Pass late afternoon (traffic getting out of the SFBay Area, among other things), I was delighted to see the area pretty well covered with snow. My intention was to head south on the direct trail to either Lake Winnemucca or Round Top Lake, two locations I have been to a few times, though not for several years.  The trail joins the Pacific Crest Trail for a few miles.
Since I was hitting the trail a bit late, I knew I would be pushing it to get to Winnemucca. But first thing I discovered as I got my pack out of the car (being sure that the California Snow Park Permit was fully visible under the windshield) was that my pack was missing its waist belt. Last time I used this particular pack was last July in Peru. I had removed the belt to make it easy to place the pack into the duffle to check into LAN-Peru's plane and had never put it back on when I got home. Groan!!!!
But I proceeded on my snowshoes into the woods, only to discover that in the month since the last snow, lots of backcountry skiers, snowshoers, and plain old boot-hikers had wandered over random paths in all directions. I only met a couple of people returning to the trailhead, to be expected when starting so late.  I recalled the trail as having the XC blue diamonds. So after the first quarter mile, when I spotted the blue diamonds, I stated following them. I was a bit surprised when I noted that they were much larger than usual, and in some places, they were very close together. As I progressed, I became aware that I was descending more than I had recalled. Furthermore, I could tell from the sun through the trees that I was headed more westerly than I thought I should be.  Despite the weather forecast when I left home, the sky was mostly covered with very dark clouds.
But the blue diamonds led onward. The wind was picking up and it was starting to snow. Well, ok, it wasn't really snow, but grauple. Still, it was adding to the snow on the ground.
Finally, I got out the GPSR, which I had been using for tracking. I was also using my inReach SE to send the track back home to Barbara. The GPSR showed I was headed almost due west, not toward Round Top! I got the Android out. It connected immediately with the SE and also showed the westerly track. Since both devices had topo map displays, it was clear I had to head southeast  to intersect the PCT. I could see that I had crossed the PCT, so I turned to the southeast, contouring in expectation that I would come across the PCT.
It didn't take too long until I realized that time was running short and the sun was getting lower. Looking at my paper topo sheet (which I had printed out from NatGeo's TOPO some time back), I realized that the blue diamonds I had been following were a recently developed trail that headed to Wood Lake, significantly downhill from where I was. At that point I decided that given the late hour, I better either think about camping or heading for Frog Lake, which was almost due east of my location and a nice place to camp just off the PCT. The GPSR gave me a bearing to Frog Lake, so I took out my compass and set it for that bearing (88° T). I used the SE to send a message to Barbara that I was changing course with the intention of camping at Frog Lake. It was pretty much uphill, but straight-forward. I soon passed through clearings so I could see familiar landmarks like Elephants Back, Round Top, and The Sisters off in the distance.  As I crossed the PCT (or rather where it should be, buried under the snow), I noted that the signs for the PCT were much smaller (apparently a project to replace them with a "better" version), and no blue diamonds, at least where I was crossing.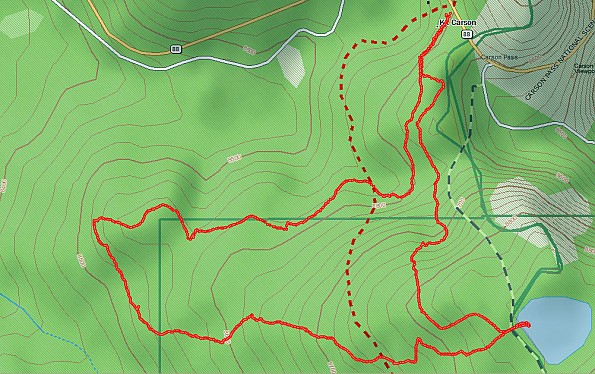 If you look at the map above, the PCT is the dashed line and Frog Lake is in the SE corner of the map. During the whole hike, there were ski, snowshoe, and boot trails going all directions and crossing one another. I finally arrived at Frog Lake over 2 hours after leaving the trailhead, a distance on the actual trail that should have taken a half hour, but my deviation required 3 times the distance of actual hiking.
I dropped the pack, sent a message to several recipients that I was camping for the night, and then set up camp and set about preparing supper, melting ice for water, and doing a bit of gear testing on the 2 official TSGRC candidates and a couple other items I am evaluating for personal gear reviews. The temperature was 30°F as I started supper, and dropping quickly. At least the "snow" had stopped.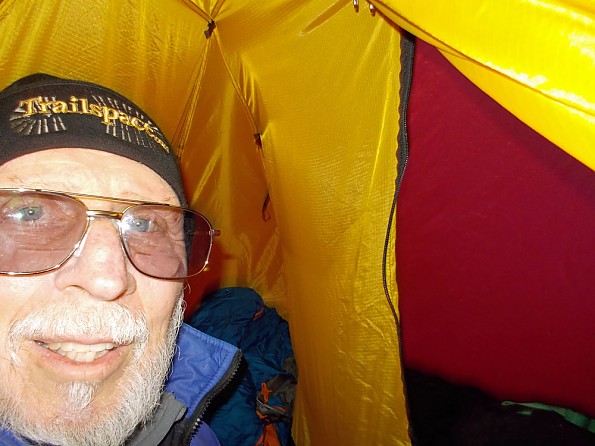 After cooking supper, I dug the camera out to take a photo of me in the Suolo (7:21 PM) and a couple photos of the stove while melting ice for the thermos (for early morning tea) and the "hot water bottles" for the sleeping bag (7:30 PM). By now, the temperature was into the mid-20s (I carry a Kestrel 4300 pocket weather instrument on outings like this). It was a bit breezy (one of the tests of the SOTO WindMaster was to see how it stands up to its claims in windy conditions).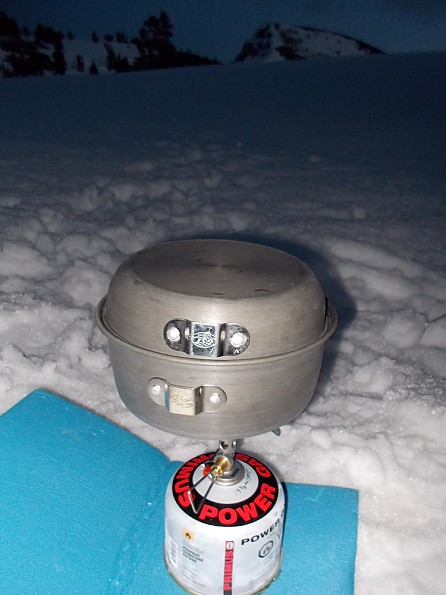 If you look carefully, you can see the background mountains beyond Frog Lake

It was now time to go to bed and catch some sleep. I will note that the Thermarest XTherm lived up to its insulation claims, though it is a bit narrow for me. The sleeping bag I had is a very light 3-season bag . On the European 3-level scale, it is rated "Comfort 37°F", "Comfort Limit 20°F" and "Extreme 0°F". I had slept in it previously in the mid-40s and was comfortable. During the night, I woke several times and measured temperatures inside the tent in the low 20s. As the night progressed, I added my Nanopuff to my merino wool top, heavy fleece shirt, and alpine climber pants, then added my DriClime shirt, and by 1AM, added my Dolomiti jacket plus Peruvian-style hat. By dawn, the "hot water" bottles in the sleeping bag were cool.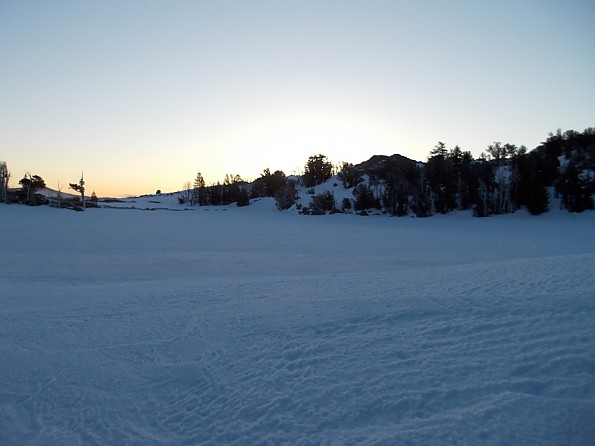 Dawn over Frog Lake
I awoke about 6:30 and started debating getting up, but stalled until 7 and dawn.  I cooked  breakfast, melted more ice to fill the water bottles, and proceeded to break camp and pack the backpack. The hike out was more straightforward, since I knew I had to go basically due north, but contour around to the west side of the ridgeline.  Even on this path, there were many ski, snowshoe, and boot tracks crisscrossing the whole area. Before long I was back to the trailhead, in time to see a horde of cars seeking parking spots, disgorging a motley assemblage of skiers and snowshoers.
There were a number of things I could have done differently to get to my original destination, Round Top Lake. First would have been to get an earlier start, to provide more hiking hours. Second would have been to remember to put the waist belt back on my pack (would have been a lot more comfortable).  Another would have been to pay more attention sooner to my gut feeling that the blue diamonds were new and not on the route I intended to go. As it was, the sun's position and the plethora of crisscrossing tracks of all sorts was sending up all sorts of red flags. The trails in that area are easy to follow in no-snow season. But snow changes everything, especially when there are lots of people following random paths, just to explore. Once I was nearing Frog Lake, the direction to Round Top was clear, even without the easily seen summer trails. But by then, with the late start, it was too late.
Now you have some idea of the lengths we members of the Trailspace Gear Review Corps go to produce the thorough, complete, accurate analyses of gear, so you can more wisely choose what you need as you explore the woods and hills. Oh, I mean struggling through the onslaught of weekend warriors invading OUR  wilderness.