Tipi Walter
295 reviewer rep | 1,445 forum posts
1:22 p.m. on April 8, 2014 (EDT)
March brings the opportunity to backpack thru the mountains of TN and NC and so I have several goals for the trip---
**  To complete the trailwork I started in November on the Deep Creek/Haoe Lead loop.
**  To pull Rocky Flats and the Mill Branch to see any new trailwork done by a SAWS crew.
For a full photo experience of this trip see---
http://tipiwalter.smugmug.com/Backpack-2014-Trips-152/16-Days-in-March/

BACKPACKING
THE
CITICO/SLICKROCK
WILDERNESS

TRIP 154
March 14-29 2014

TRIP HIGHLIGHTS
** CRANBERRIES TOM AND CHELSEA IN COLD SPRING GAP

** 16 DAYS IN MARCH

** BOB BUTTERFIELD JOINS ME ON BOB'S WALL

** AUDREY'S CRANBERRIES ON THE DEEP CREEK TRAIL

** TRAILWORK ON THE DEEP CREEK/HAOE LEAD LOOP (AGAIN)

** A NEW CAMP ON HAOE LEAD

** BACKPACKING BRUSH MT WITH MARK AND AUDREY

** SEEING RANGER ROB THOMAS IN WARDEN'S FIELD

** SITTING IN THE SUN IN WARDEN'S FIELD WITH MARK AND AUDREY

** THIRD MEETING WITH MARK AND AUDREY ON THE MILL BRANCH TRAIL

** SNOW AND COLD ON MILL BRANCH

** FIVE BACKPACKERS FROM PENSACOLA, FLORIDA

** PEG PULLING HELL WINDSTORM IN COLD GAP

** A TWO DAY EARLY BAIL WITH COY WILLIAMS

TRAILS
Entrance at Beech Gap
Fodderstack
54A South
**Mighty Oak Camp on 54A**
54A South
Bob Mt
Bob's Wall
**Tipi Gap Camp on Bob's Wall**
Four Mile Ridge
**Naked Ground Landon Camp**
Four Mile Ridge
**Hangover Mt Clearcut Camp**
Deep Creek
**Deep Creek Footbridge Camp**
Deep Creek
Haoe Lead
**Haul Water Camp on Haoe Lead**
Haoe Lead
**Toad Camp**
Haoe Lead
Four Mile Ridge
**Naked Ground Landon Camp**
Four Mile Ridge
Bob Mt
54A North
BMT Connector
**Barrel Gap**
Trail 149
Brush Mt
South Fork
North Fork
**Camp Two Second Crossing North Fork**
North Fork/South Fork
Warden's Field
Rocky Flats
**Chimney Site**
Rocky Flats
Mill Branch
**Quillen Camp(2)**
Fodderstack BMT South
**Glenn Gap**
Fodderstack BMT South
BMT Connector
Trail 149
**Cold Gap(2)** and OUT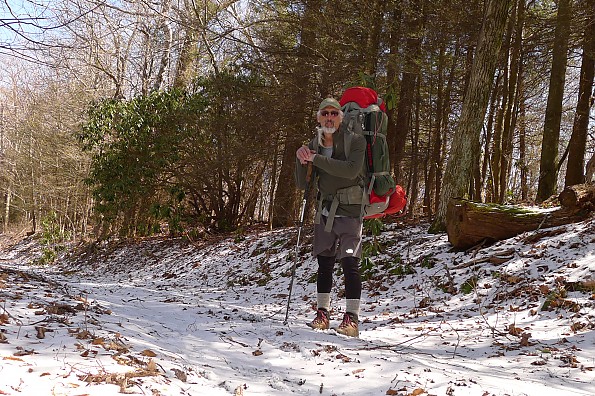 See, there's still some snow on my first day into the Citico wilderness of TN.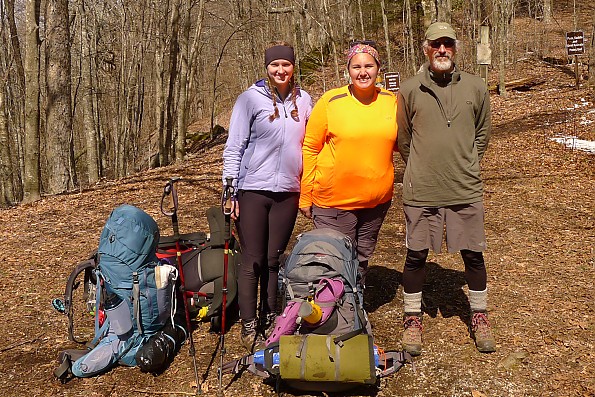 I meet my first Cranberries from the Cranbrook School out for their 44th annual 10 day wilderness trek.  It's Katie and Chelsea and old Fungus.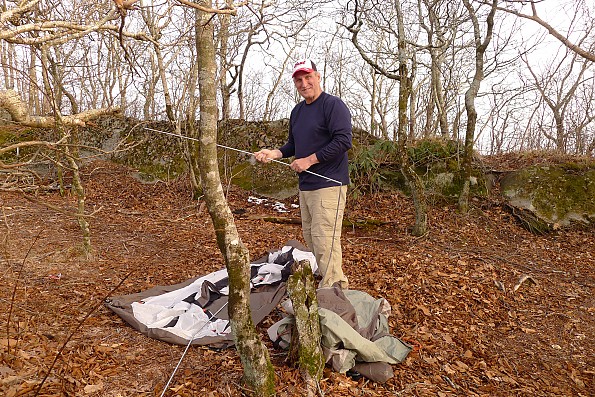 I find a new campsite on Bob's Wall at 5,400 feet and old buddy Bob Butterfield joins me with his REI tent.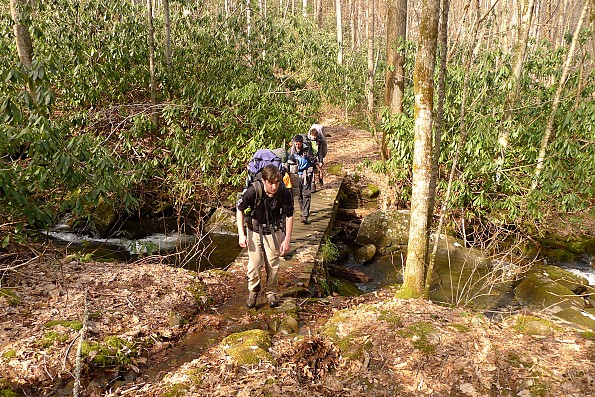 I meet  a second group of Berries on the Deep Creek trail at the footbridge.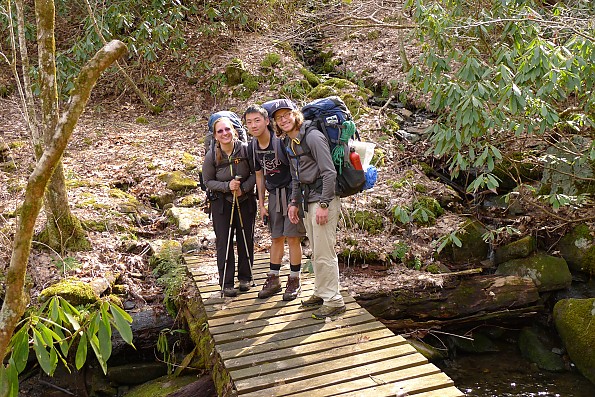 The group is led by Audrey, Will and Jeff as they make their way down the Deep Creek trail to Maple Springs.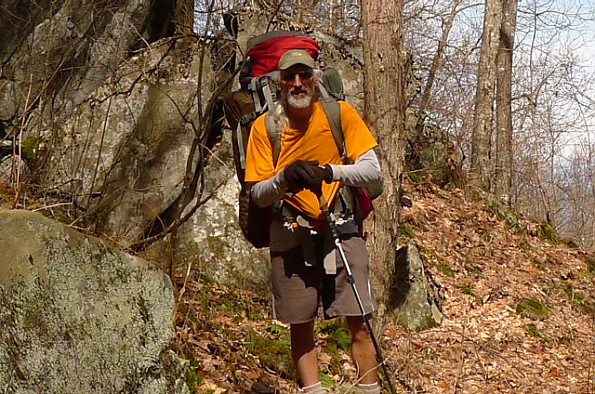 On the Deep Creek trail where there are many fine rock formations and the weather is perfect for extensive clipping and trailwork.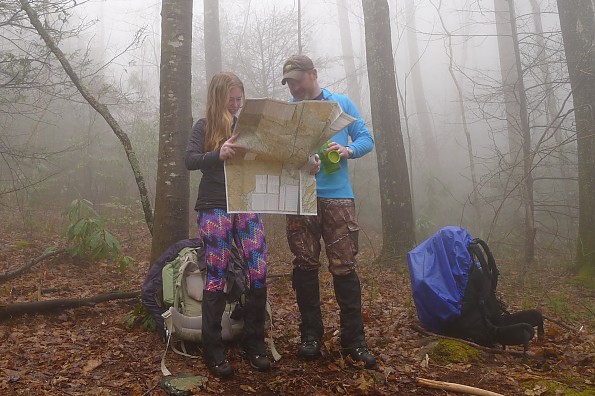 After pulling the Deep Creek/Haoe Lead loop I swing off Bob Mt and tie into the Brush Mt trail where I find the father/daughter team of Mark and Audrey needing a little bit of help to negotiate this most rugged of the Citico trails.  We hike it down and stop for a break and to consult the map.  I hike them down to the South Fork Creek where they camp and I cross for a camp on the North Fork.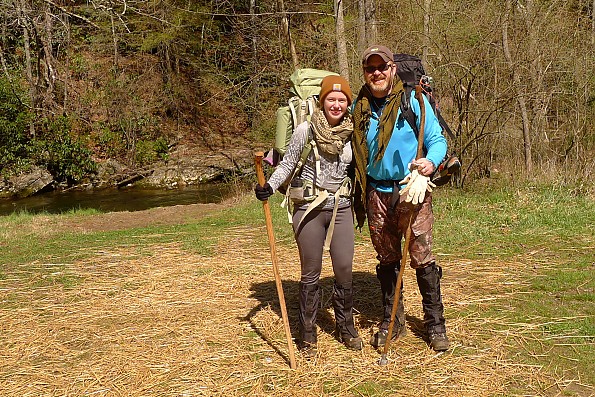 The next day I leave my camp on the North Fork and swing into Warden's Field where I am surprised by the arrival of Mark and Audrey as they crossed the South Fork and swing thru the Fields on their way up the Pine Ridge trail.  We say our goodbyes as I head up the Rocky Flats trail.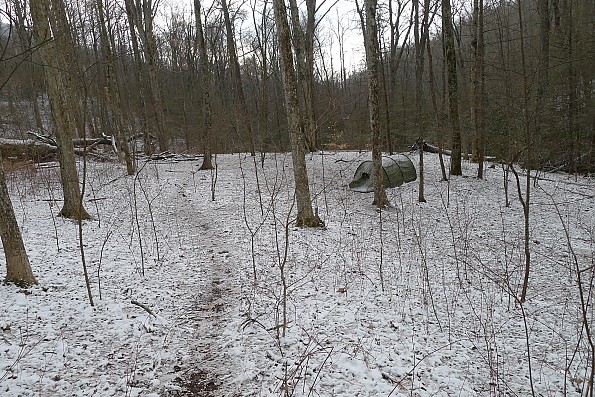 I finish the Rocky Flats and swing onto the steep Mill Branch and set up in Quillen Camp at the top of the Mill and get hit with my coldest night and some snow.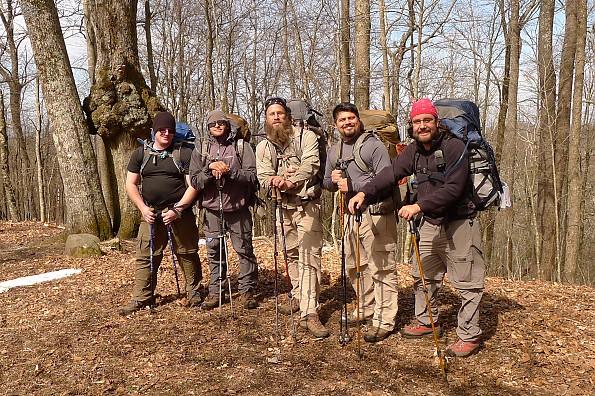 Mill Branch puts me on Fodderstack Ridge south to Cold Gap where I run into the Southern Backpacker Mafia out of Pensacola, Florida out for a 5 day trip.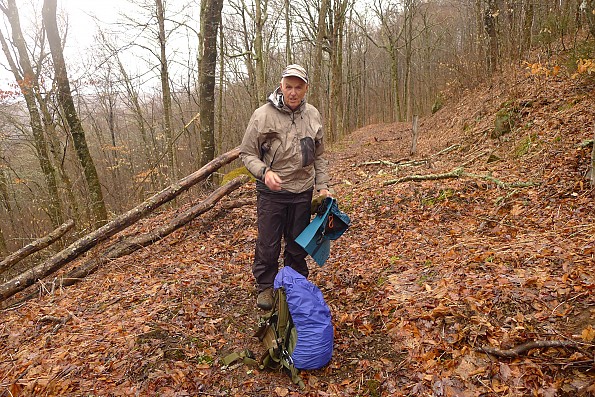 On the last day I run into Coy Williams and it's a treat to hang out with him and hike out with him.