Horn Rimmed Hiker
BRAND REP
2,186 reviewer rep | 493 forum posts
2:13 p.m. on May 26, 2014 (EDT)
My gal and I take a trip together every spring, usually either before or after one of us gets a gig, as a "last hurrah/welcome back" trip. She's off to the East Coast next month where she'll be for the summer.
Decided to make a return trip back up to the Mississippi Palisades.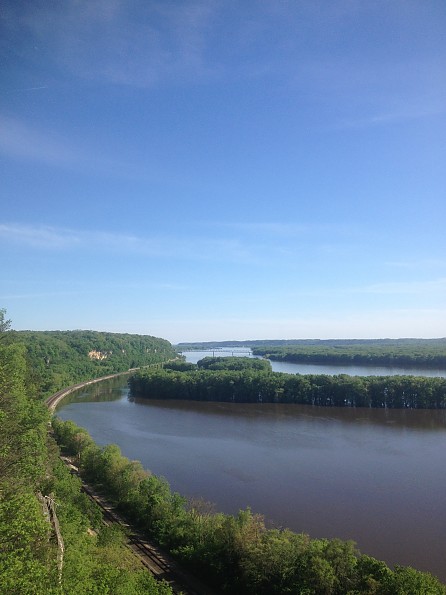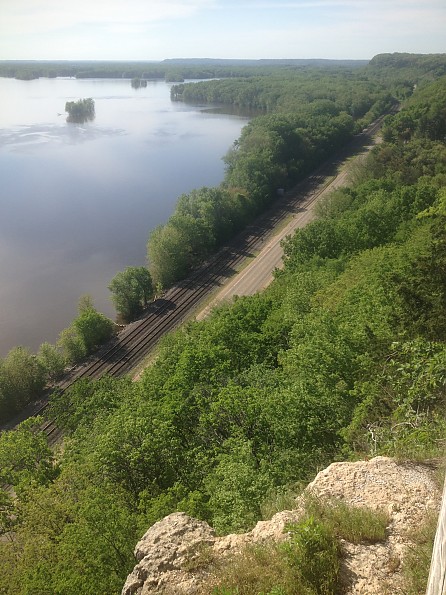 What's it known for?
The park earns the namesake from rock palisades that give you an overlook five hundred feet above the Mississippi River.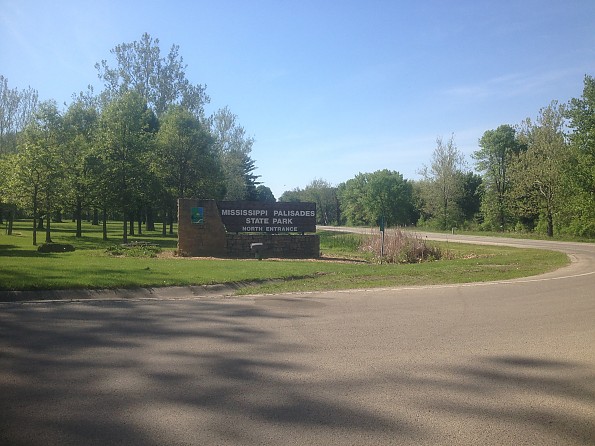 It's NOT known for a proliferation of poets and other such wordsmiths: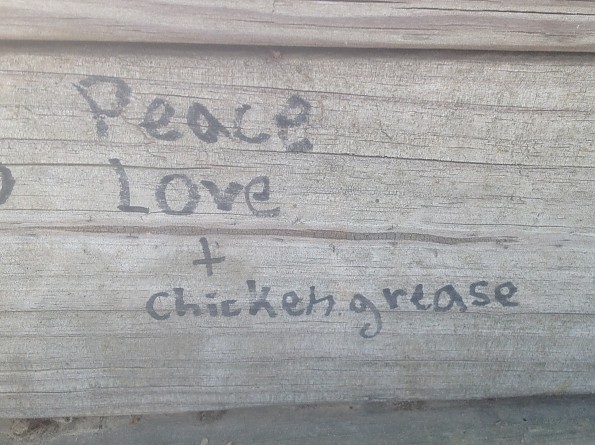 You mean, love, peace, and...nevermind. Hoping you don't write all your assignments in a permanent marker, son.
So, this park.
Rare, in that "big views" and "Illinois" rarely if ever share the same sentence. 
If you're familiar with my trip reports, it's the same place I first got my trail legs and took a solo trip last August. As much fun at it is getting some good 'ol "me time," thought it'd be nice to have some company and have her along if ever I went back.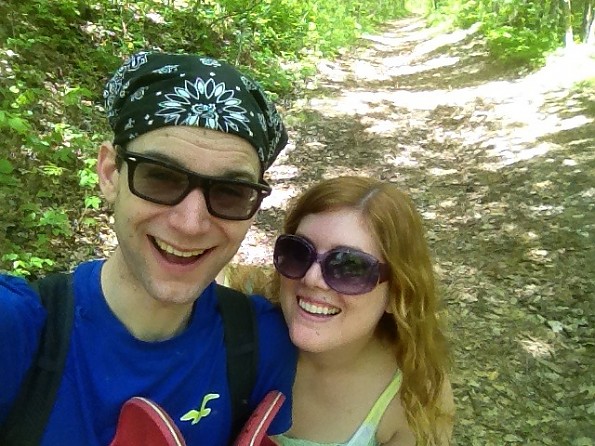 Unlike the trips we'd taken before, this wasn't going to be a car camping trip.
The primitive sites are between a half and full mile into the North Trail System, and a 500' elevation gain that begins right at the trailhead. 
Instituted a new rule: you want to take it with, you best be carrying it!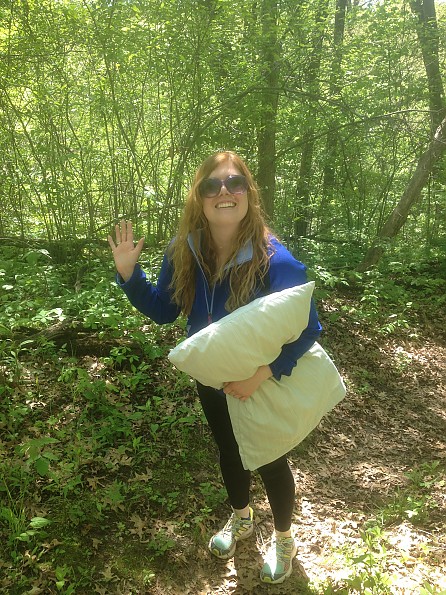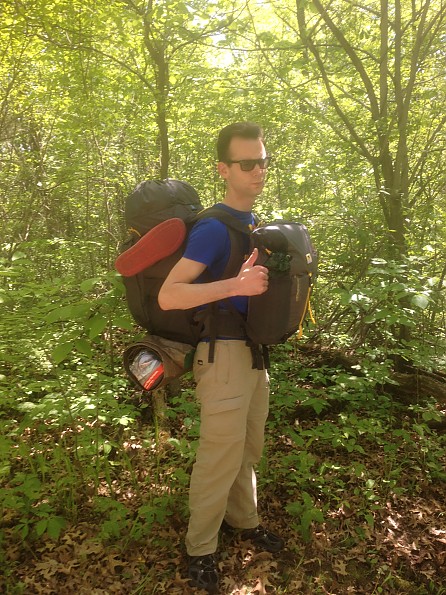 Much the same as last time, the first hill on the Bittersweet is a complete pain in the ***, and doesn't seem to get any less steep.
However, unlike my very first ascent, I wasn't out of breath and spending ten minutes to rest before moving down the trail.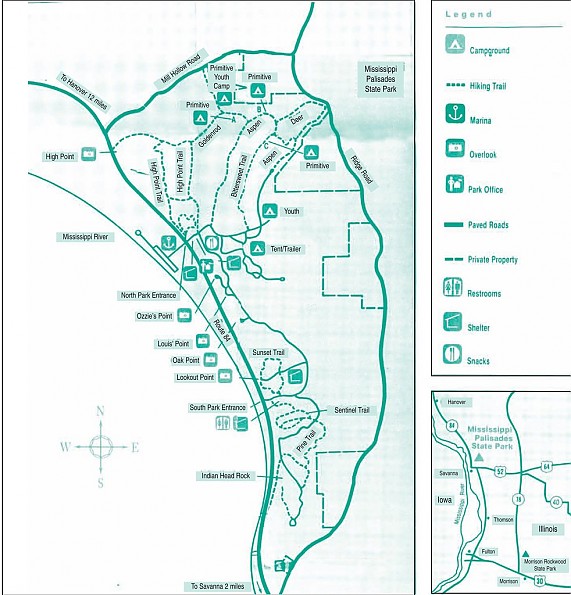 Let me remind y'all, if you're planning a trip, always remember to check if it's a holiday weekend. I requested the time off from work long before I learned this was Memorial Day weekend. Once someone reminded me of the fact, I bumped my alarm clock up so we'd be out the door early Friday morning.
Luckily we got in and had our pick from all three primitive sites without a problem. Trouble with primitive camping up in my parts? It's always first-come, first-served, with no reservations.
Chatting with the one passerby hiker we saw all weekend, we learned that by Saturday night three other dudes laid claim to Site B. And the guy telling me this was on his way to Site C. 
Seems that, somehow, word got out on these primitive sites. Last time I was there, the park staff made it seem like they rarely went occupied. Moreover, they don't make mention of the sites in any printed or published material - at least the most recent of it. The brochures at the check-in station actually DID mention the primitive sites. However, the backside listed Jim Edgar as the Governor, and his last day in office was 1999. Leads me to think they omitted the sites from the most recent publication because budgets dwindled and they may have had no choice but to let them fall to disrepair for awhile. 
But they're in prime shape for 2014, and it's clear park staff have worked hard to keep everything maintained. Picnic tables and fire rings have been moved to minimize long-term impact, and there's no rampant overgrowth like there was last fall.
Site C ain't much different - since it sits in a clearing, little tree cover/shade, and the trail still cuts right through the middle. Initially this seemed like a deal-breaker, but the only person cutting across is likely a camper heading to either Primitive Site B or A.  The only other dude I encountered on the trail the entire weekend was a camper from another site.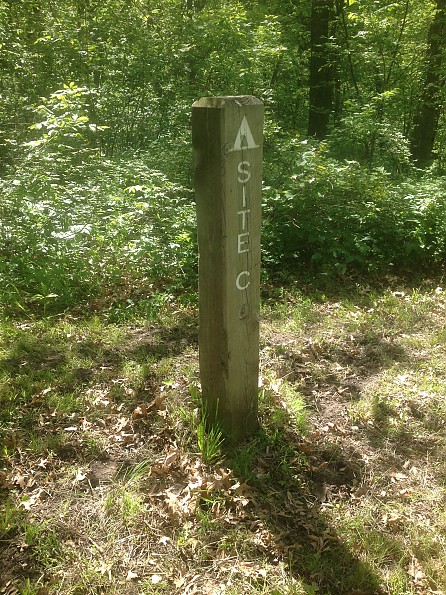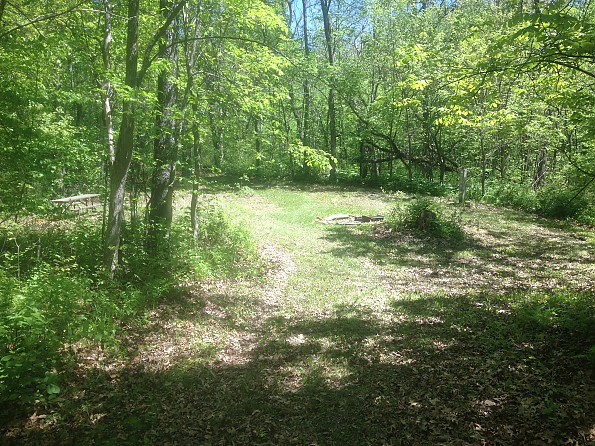 Site B was practically inhabitable for a tenter when I visited in 2013, and this time around, arguably the most well-groomed of the three.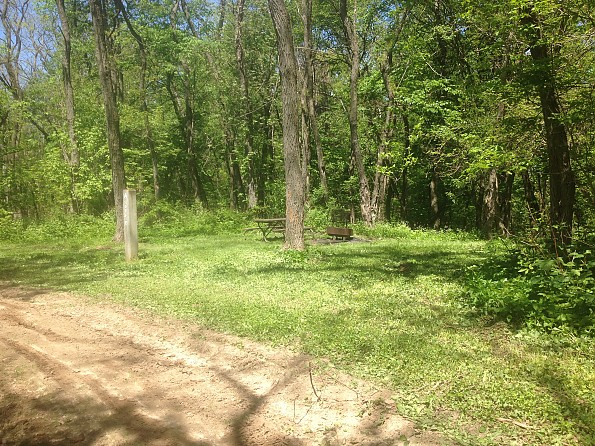 B also has two trees right in the meat of the site, spaced perfectly for a single hammock.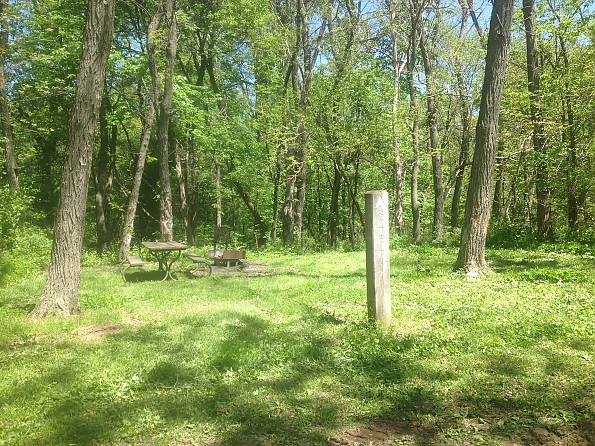 Not my thing anymore, but for those of you who do hang, don't say I never did nothin' for ya. 
Took the same site the second time I did the first time:
Site A.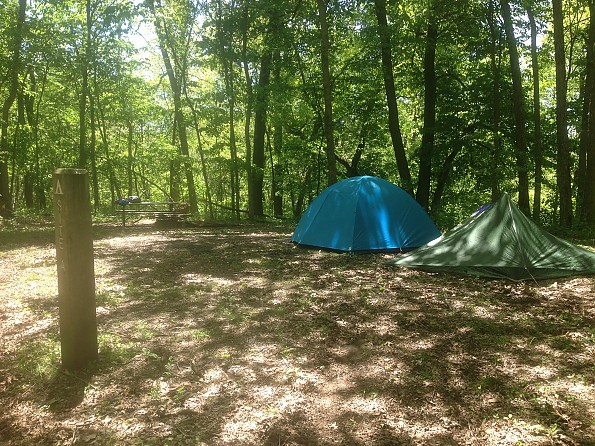 Reviews forthcoming, but took along our MH Optic 3.5, along with an LHG Solo Wedge (used to store gear to gain us more room inside the tent, also, because it's my newest toy).
Both can be faced away from the trail for privacy - this is where the adjacent, opposed to opposite, vestibules on the Optic really shine. 
However, we didn't get any sort of rain the entire weekend, so we ditched the fly and just stuck to the mesh canopy. The Optic 3.5 has some amazing views from inside it, as the large doors create large expanses of mesh uninterrupted by seams.
Made stargazing real dang easy.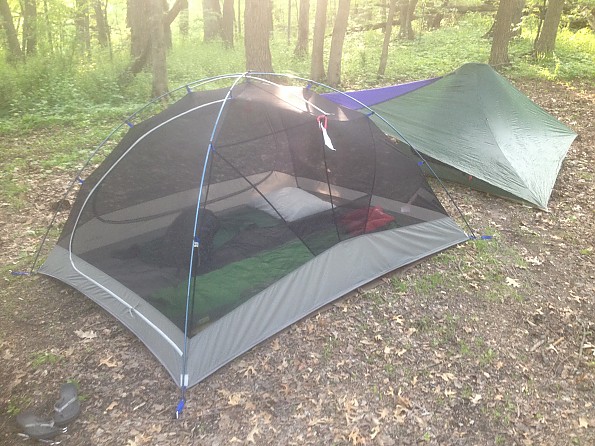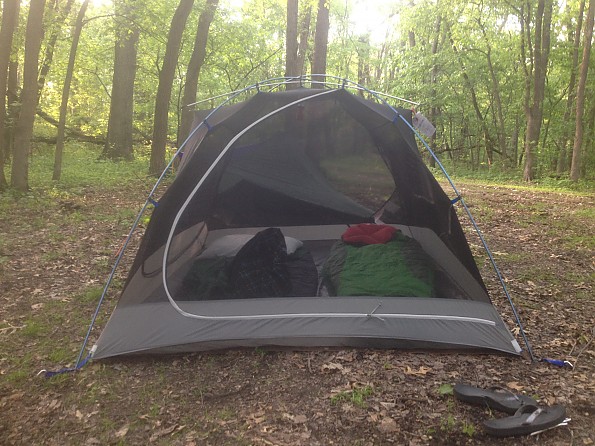 Glad we got the 3.5 version of this tent. We're both taller people, with her being 5' 8" and myself, six feet tall. This version allows us enough room for ourselves AND some left over at the head or foot end. I liked being able to stow my daypack above my head - it holds my essential items and made it easy to access at night. Shelley liked that she could fully sit up, and have her own door to enter/exit the tent. The size was great, the views were better. Our favorite tent, to date.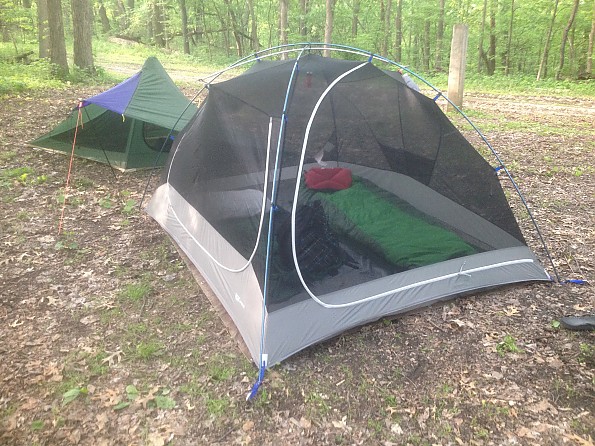 Firewood was easy to find: there's an easement created by power lines where they've put all the dead trees they've cut down. Some mighty big "pieces" of firewood there, but also some manageably-sized enough to take home to camp, too.
Nature's version of free weights, after rockin' the Stair Master they call the "Bittersweet Trailhead."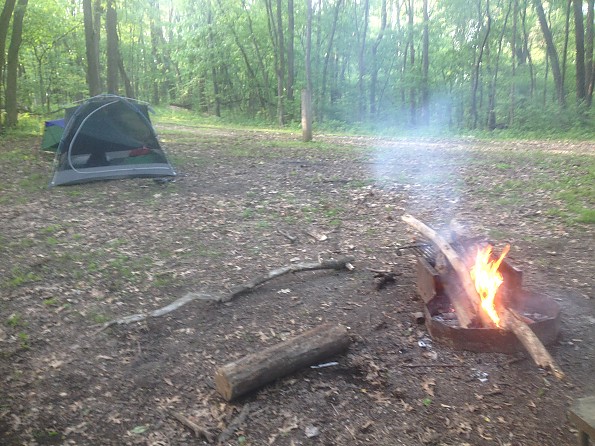 There's nary a place to filter-out water (not even a source to begin with - ironic for a park partially named after a river), so packing it in is the only option. We wound up taking a night hike back down to the campground to refill our bottles on the second night.
Biggest [smallest] problem were the gnats.
@#$%in' gnats.
SO MANY GNATS.
I've never been so swarmed by bugs that I've them flying into my mouth, nose, ears - all that. Our two best defenses were the tent, and the fire. If you weren't inside that tent, or sitting by the fire, you were having a bad time.
Shelley hunkered-down inside the tent and we talked across the site, as I tended to the fire.
Only when it got cool, around 10PM did they let up - didn't help the weather was still, and also didn't help a recent rainstorm left some standing water nearby on the trail. I'm still picking bug parts out my darn ears as I'm writing this at home. 
We ditched any plans of cooking at the site and ate our meals in town, and "in town" meaning either 30 minutes north in Galena, IL, or 75 minutes south in Davenport, IA.
Reminds me, does it still constitute as a joy ride once you cross state lines? 
So what did we do inside the park?
We wound up hiking all of the scenic trails in the South Trail System, most of the North Trail System (simply by coming and going from camp), so we milled-about looking for something else to do.
First time I was here, I blew my legs out after day one, and after 10+ miles of hiking, decided we earned the right to take it a little easy.
Here're some highlights from our hikes: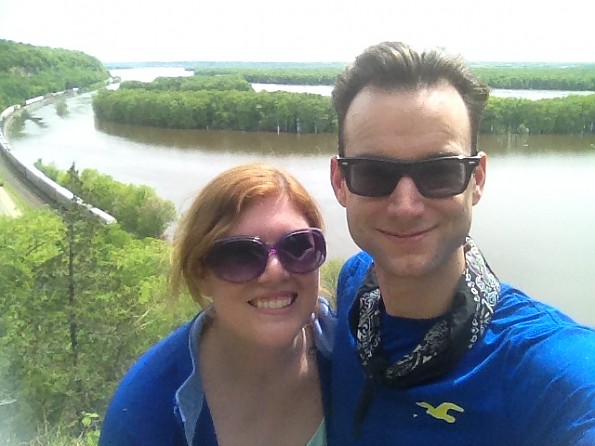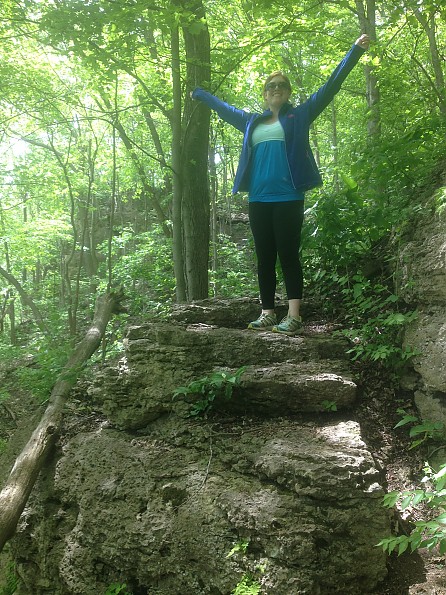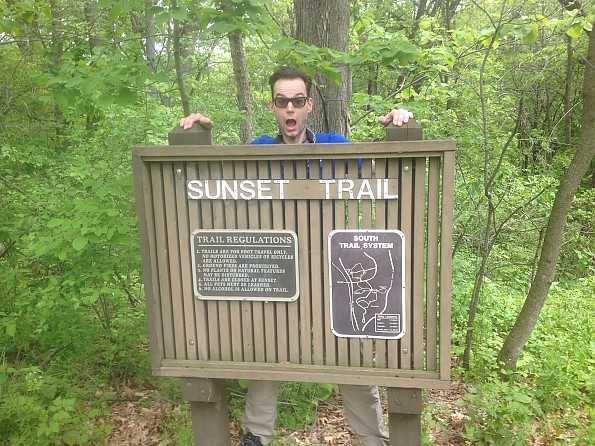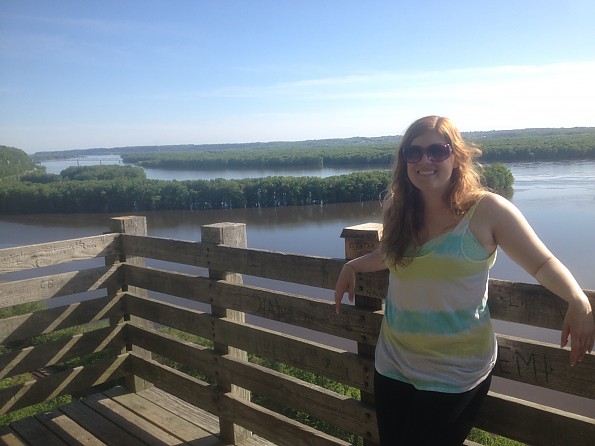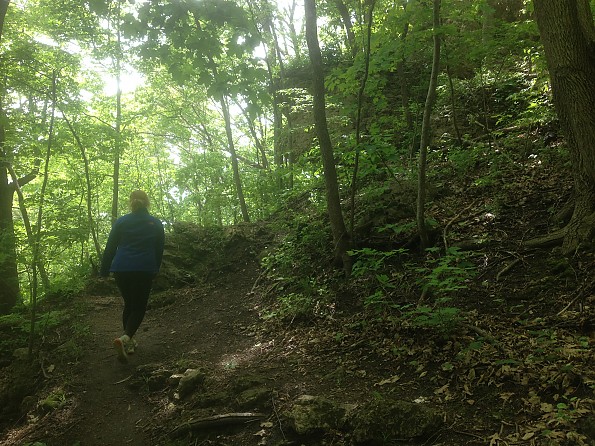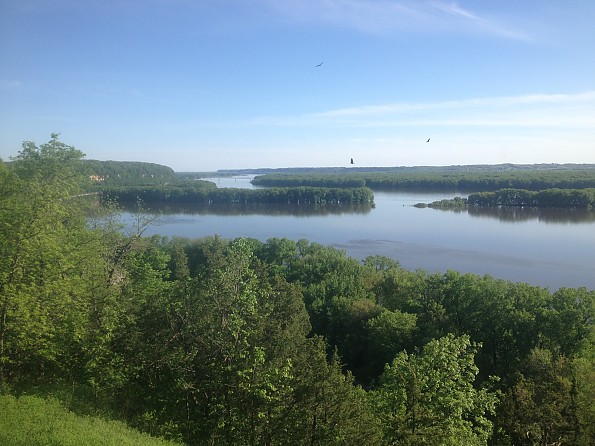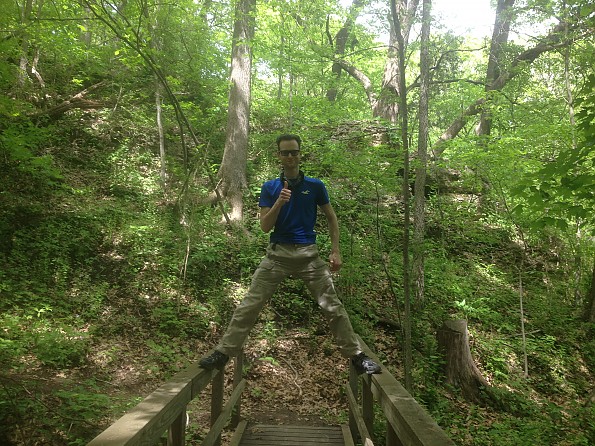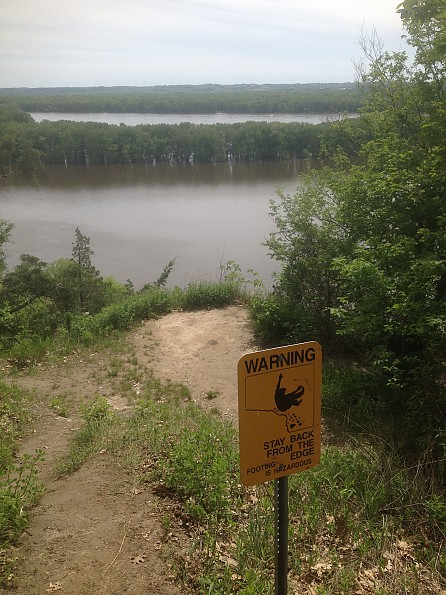 Even saw some rock climbers, as this is one of the few places in IL it's perfectly acceptable (and legal) to climb rocks without getting the police to join you.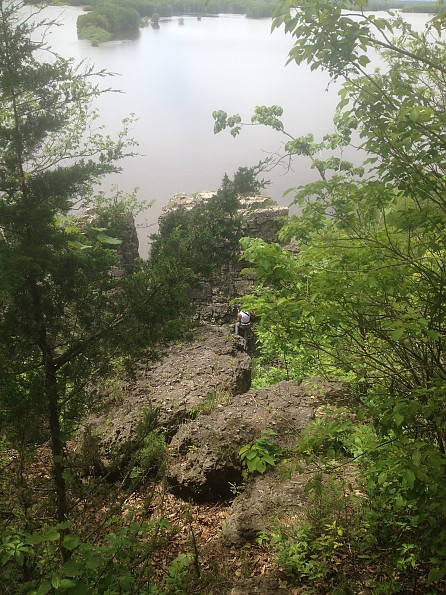 Found ourselves in Galena, IL - nice little historic town just shy of the Wisconsin border.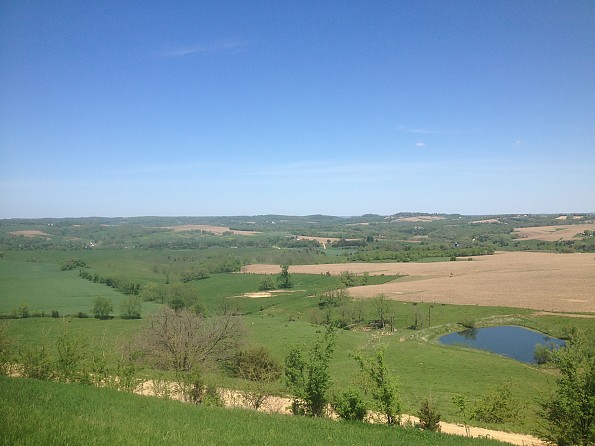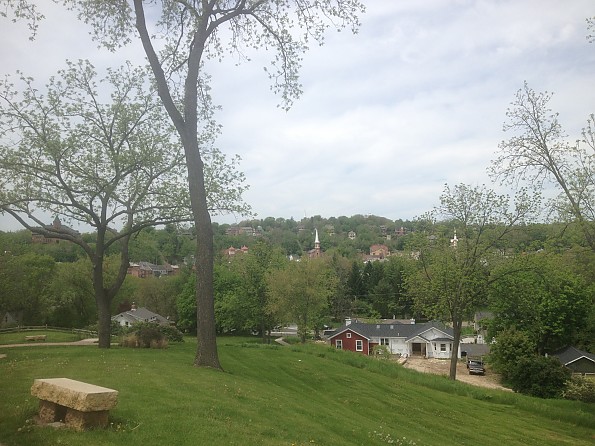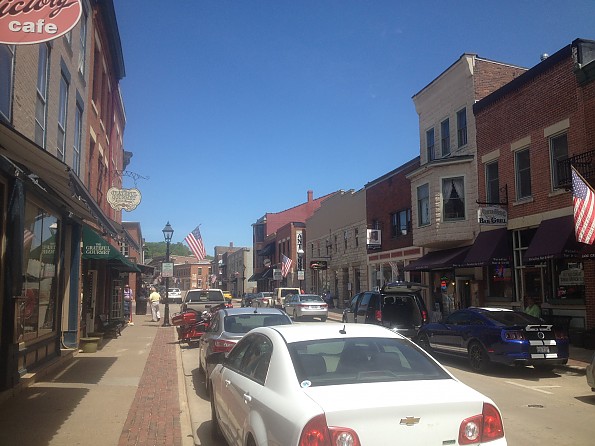 Shelley and I are both big history buffs, so this was our kinda town.
Walked up and down the main streets, and even ducked into the home of President U.S. Grant for a tour.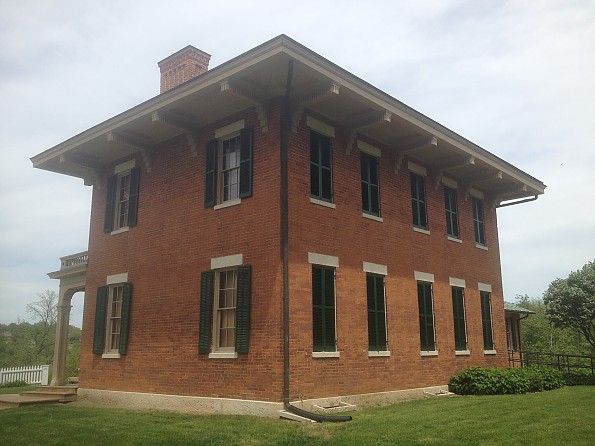 The home's parlor, where the ENTIRE town came through for a reception when Grant won the presidency. He liked that green chair enough to bring it with him where ever he traveled - including the White House.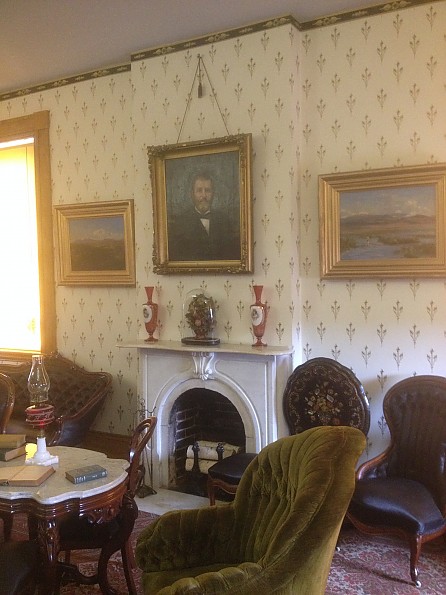 Statue dedicated in honor of his wife, first to be called "First Lady of the Land," later shortened to the plain 'ol "First Lady" we know today. One of only three first women to be honored with a statue. Sits on a hillside overlooking the entire downtown, and easily makes the most picturesque place for a memorial.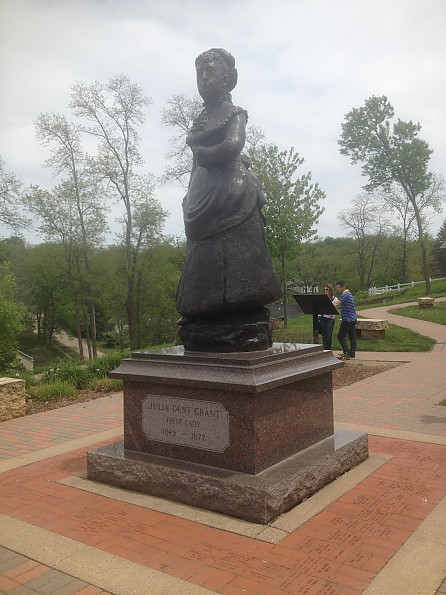 And, with that, this trip hopefully was the well-deserved and well-needed break my own first lady needed. I'll miss her while she's away, but makes me smile knowing we sent her off on a high note.