Danny Wang
500 reviewer rep | 189 forum posts
12:45 p.m. on July 6, 2014 (EDT)
I spent the anniversary of the week of our nation's birth last week with 7 days in Mineral King.  Hands down, this was the most amazing backpacking trip I have ever experienced in my entire life.  Countless alpine lakes, beautiful meadows, cross country scrambling, the spectacular Lost Canyon, and we capped it off with a summit to Sawtooth Peak at 12,300 feet.  This trip truly had it all.  
Here was our itinerary:
Day 1: Trailhead to Pinto Lake via Timber Gap
Day 2: Timber Gap to Little Five Lakes via Black Rock Pass at 11,600 ft.
Day 3: Layover day at Little Five Lakes with a cross country scramble over to Big Five Lakes.
Day 4: Little Five Lakes to the split off of Lost Canyon/Soda Springs.
Day 5: Lost Canyon to Columbine Lake
Day 6: Columbine Lake to Monarch Lake via Sawtooth Pass with a summit to Sawtooth Peak
Day 7: Monarch Lake back to the trailhead and sadly back to our car =(.
I just got back yesterday and I am still reeling from this trip.  Thank you to @lambertiana @Bill S and @Bill H for the info to Mineral King.  Big thanks to @lambertiana and @Patman because your trip reports last summer provided excellent information to the area.  Lastly, the NPS ranger at Mineral King provided some great tips on camping areas and cross country routes.
Day 1:
As per the suggestions of our fellow Trailspace members, as well as the rangers at the Mineral King station, we went all out and fully enveloped my buddy Ryan's Jeep for marmot protection: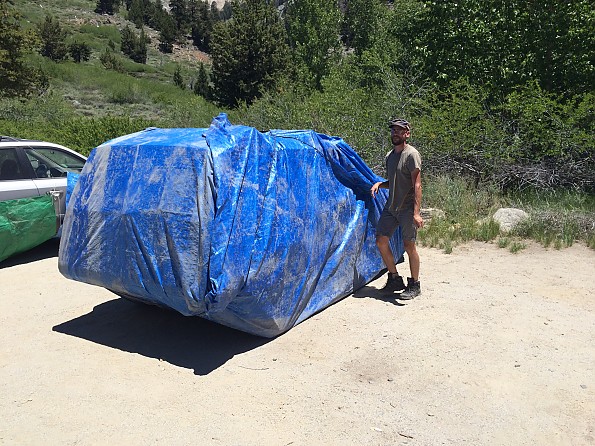 After about 8 miles and 3000 ft of climbing (and one bear sighting during the descent into Cliff Creek) we reached Pinto Lake just in time for the sunset: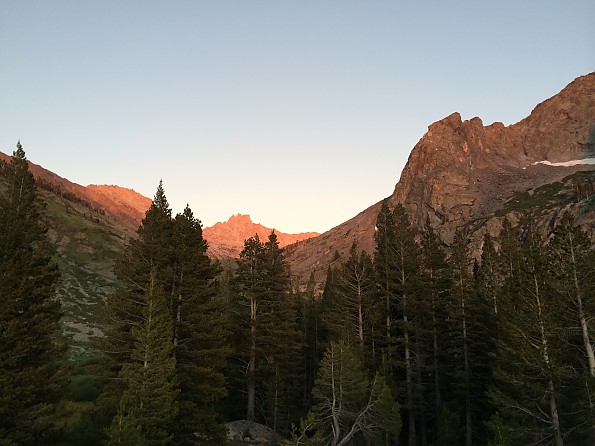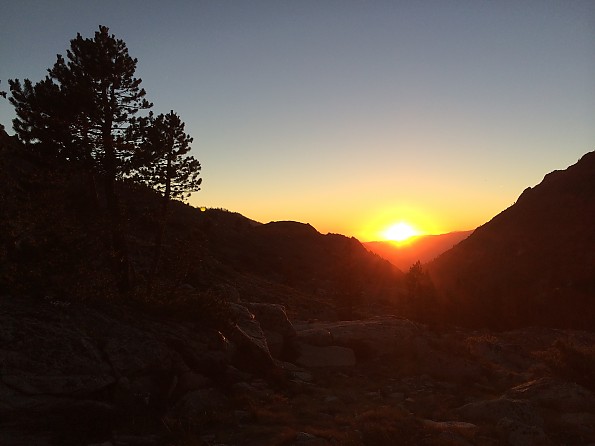 Day 2:
Our big climb of the day was Black Rock Pass, which included about 3000 ft of climbing in a short amount of mileage.  We were treated with views of Sawtooth Peak, as well as Columbine, Cyclamen, and Spring Lakes: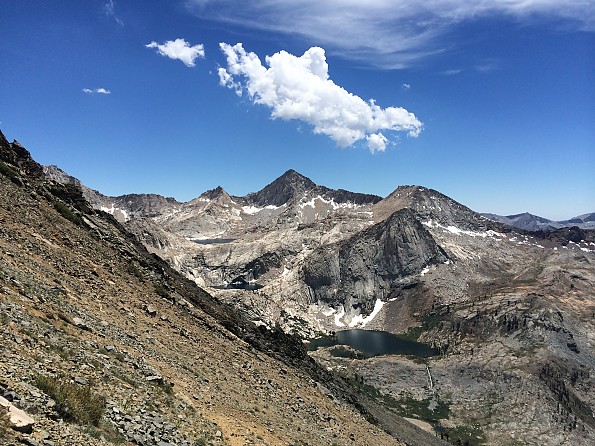 From the top of Black Rock Pass, we were able to see the route we would cross country the next day to Big Five Lakes (the ridge/route we took, as suggested by the NPS ranger, is towards the right hand side of the frame):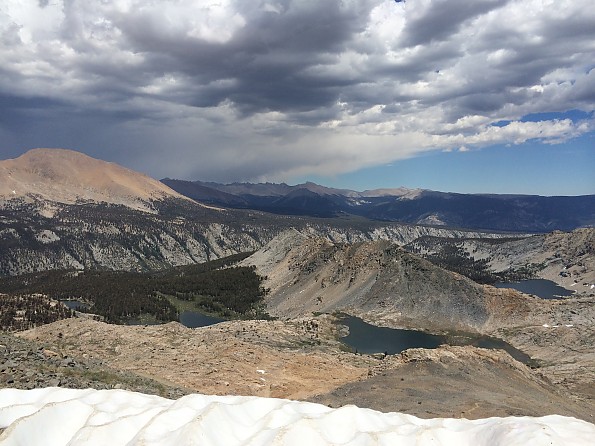 Once we got to Little Five Lakes and the winds started to die down, the views started getting outrageous: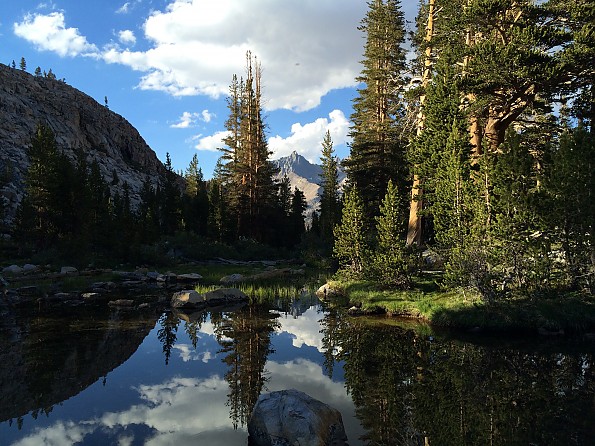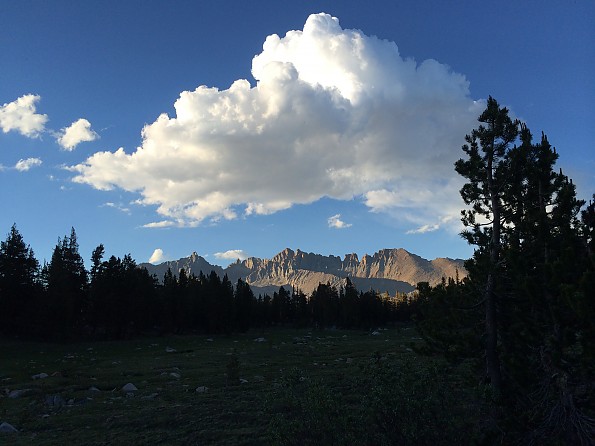 Day 3:
From Little Five Lakes, we used the suggested cross country route from the NPS Ranger at Mineral King to get to Big Five Lakes.  Here's a pic of my buddy, Ryan, on top of the ridge, as we prepared our descent towards Big Five Lakes: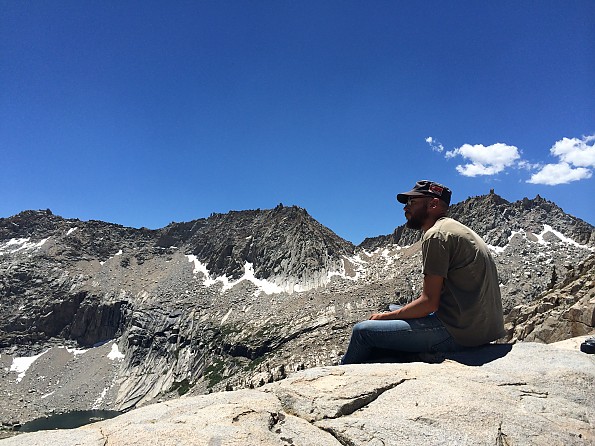 After reaching Big Five Lakes, the views were once again breathtaking: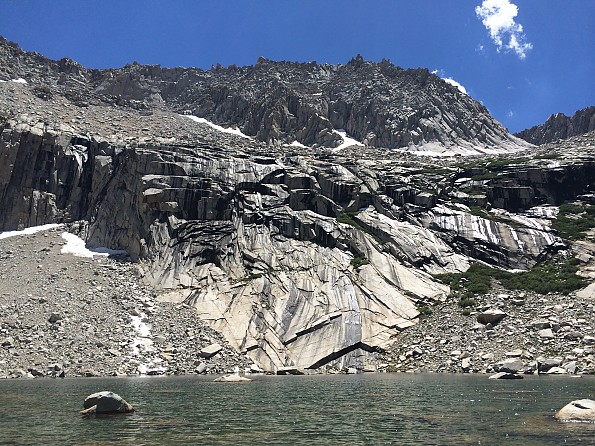 After enjoying ourselves at Big Five Lakes, we returned to our camp at Little Five Lakes and watched the reflections as the day turned into night: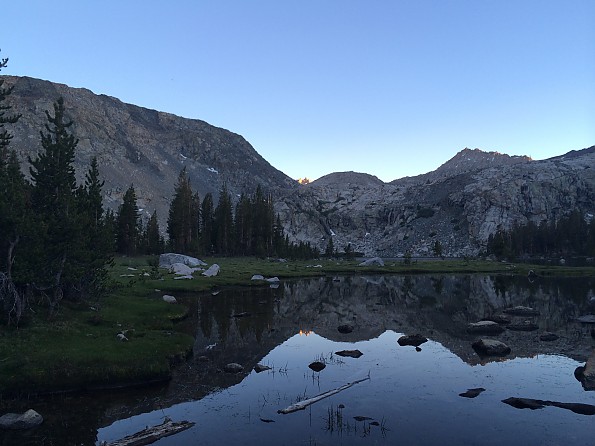 Day 4:
Our fourth day was relatively easy compared to the first two days as we made camp near the trail split between Lost Canyon and Soda Creek.  We found an amazing campsite with firepits and bear boxes located near the water.  Although the views weren't nearly as amazing as other parts of the trip, we felt truly spoiled by all the amenities this campsite had to offer.  Also it was the only place during the entire trip where we weren't constantly hounded by mosquitos: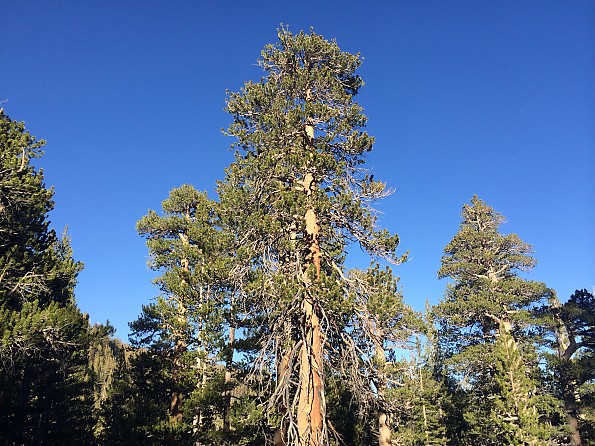 Day 5:
From our camp, we made our way through Lost Canyon to Columbine Lake.  This was also a relatively easy hike compared to our first two days.  We couldn't help but stare at the mighty Sawtooth Peak as we made our way through Lost Canyon: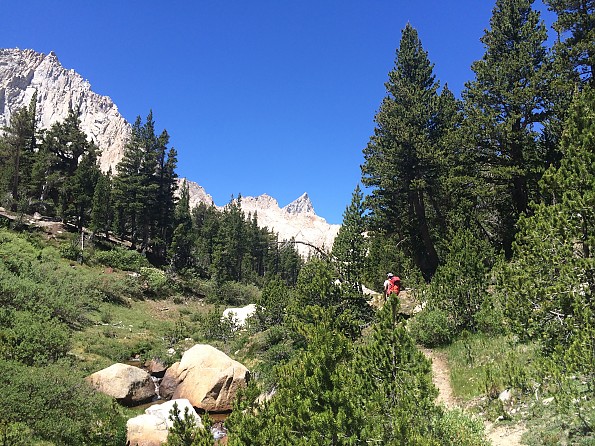 Views of Lost Canyon from the top: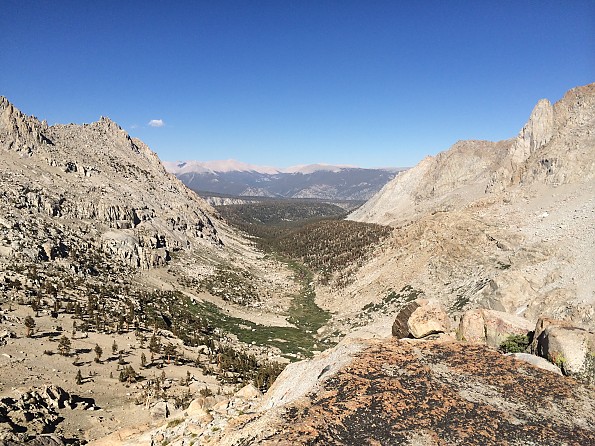 Once we arrived at Columbine Lake, we found some great campsites.  We were very fortunate with campsites throughout the trip.  We both thought that our mid-week travel dates helped with the solitude, as we didn't see many people on the loop: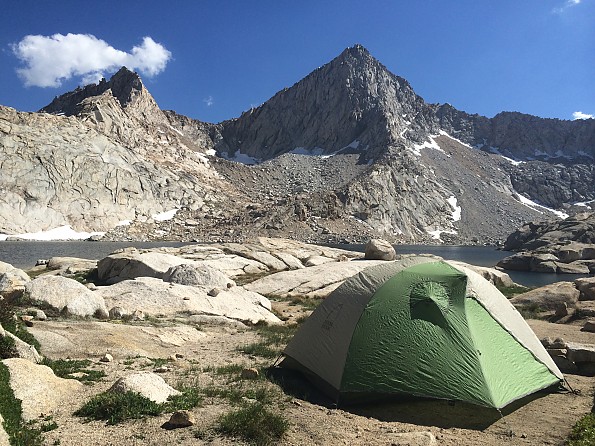 Once again, the sunset brought some spectacular light: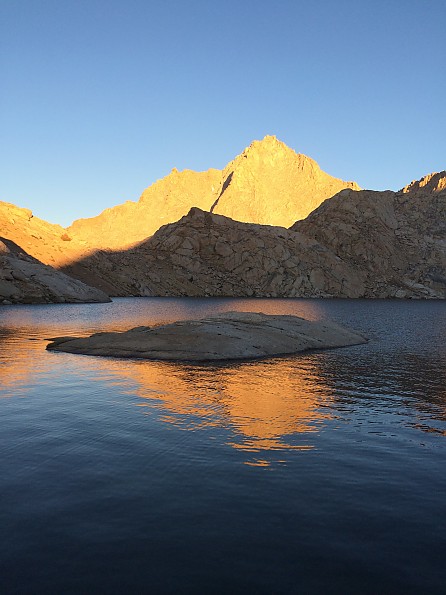 We climbed atop a rock and enjoyed our dinner watching the sunset: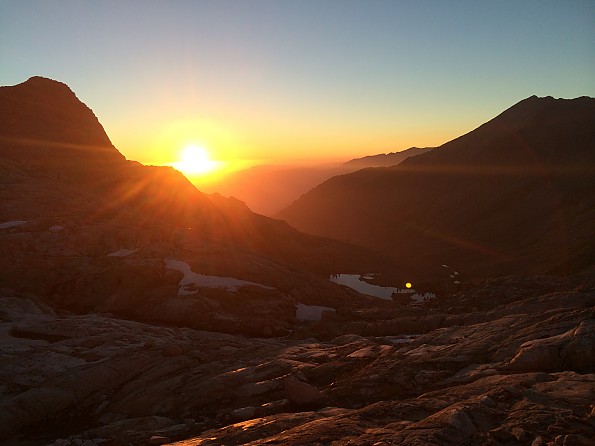 Day 6:
Our last full day included the climb up to Sawtooth Pass as we attempted to summit Sawtooth Peak.  We dropped our packs and switched over to summit packs as we made our way atop the peak.  Once we reached the peak, we were treated to some amazing views of the Sierra: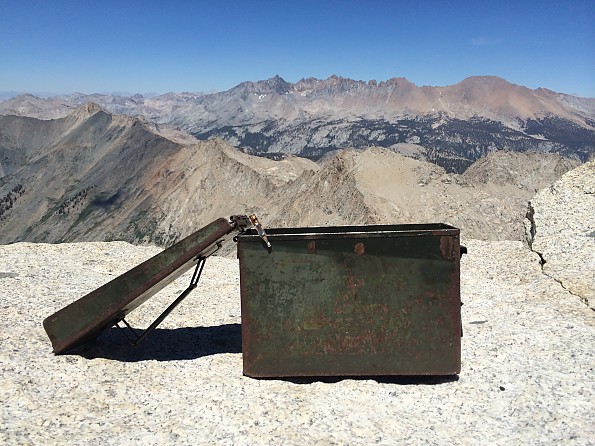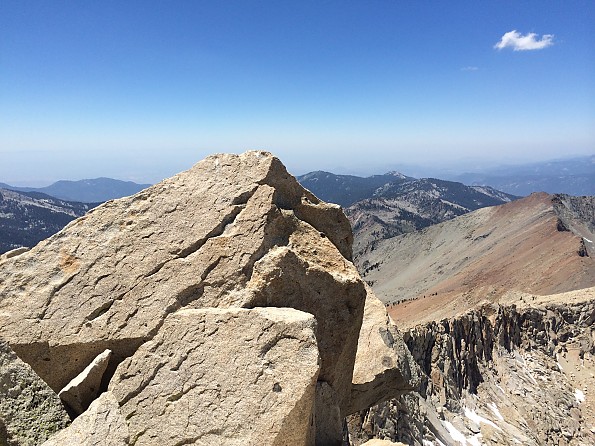 After summiting Sawtooth, we made our way down the scree to Monarch Lakes, where we camped for one last night on our 7-day adventure: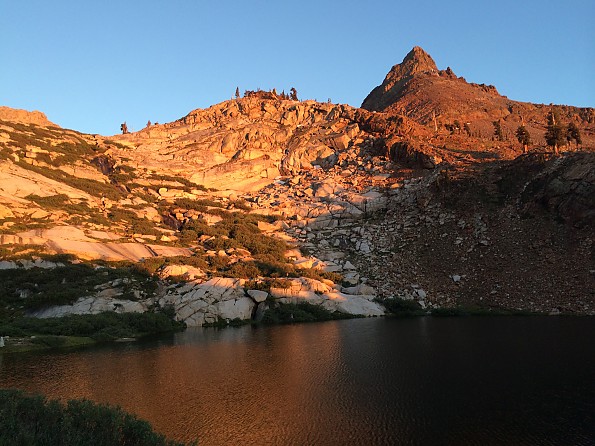 Day 7:
One last glimpse of Sawtooth Peak before we headed back to the car: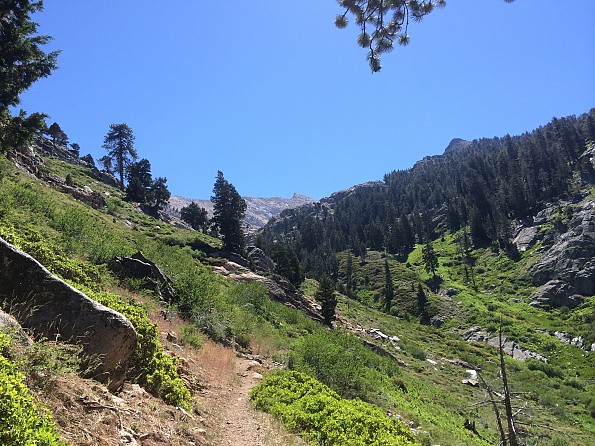 My only regret on this trip was going during the World Cup.  I had 4 years to plan for the World Cup, but the call of the mountains (and I must go!) were just too much.  Of course, once we got back into cell service, I scrambled to look up all the highlights/news/results of the matches I had missed.  I'm pretty bummed that Neymar will be missing the rest of Brazil's World Cup run.  But in the end.. it was all worth it!!!  I'll make sure I won't miss any of the NEXT World Cup 4 years from now!