Ashleigh
RETAILER
REVIEW CORPS
4,256 reviewer rep | 603 forum posts
5:00 p.m. on July 11, 2014 (EDT)
On June 28, Jay and I set off for what we call "the great Northeastern adventure." We first headed to Trenton, NJ, to visit with some of my family that I haven't seen in a long time. We traveled up I-95 and stopped in Philadelphia on the way for a cheesesteak from Sonny's. It was one of the best sandwiches I've ever had! This day involved about 12 hours of driving.
The next day, we drove to Newport, RI, and Cape Cod, MA. We stopped at Easton's Beach while in Newport. It was gorgeous! 
The next morning, we drove to Craigville Beach in Hyannis and laid out on the beach for about half a day. Then we headed into Boston. We stopped at Wahlburgers, in Hingham. Here, we had the best burger we've ever had! After that, we checked into the hotel in downtown Boston, and then headed over to Fenway Park to watch the Sox take on the Chicago Cubs. Fenway was incredible. It was one of our favorite parts of the trip. The Sox lost 0-2 and the game wasn't very exciting, as Jake Arrieta had the Sox in a no-no through 8 innings, but we still loved every second of it. It was definitely an experience we will never forget. I can't say I've had many days better than that one!
On Tuesday morning, we left Boston and headed to the White Mountains. We had initially planned to go dayhiking at Mt. Washington, but the weather looked questionable up there (imagine that), so we decided to drive to Crawford Notch State Park and find a day hike to do.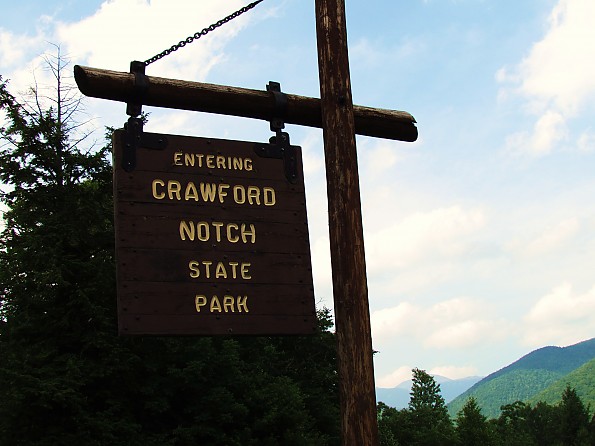 At the entrance to Crawford Notch State Park, you see some of the Presidential Range with Mt. Washington right in the middle.

Mt. Washington surrounded by clouds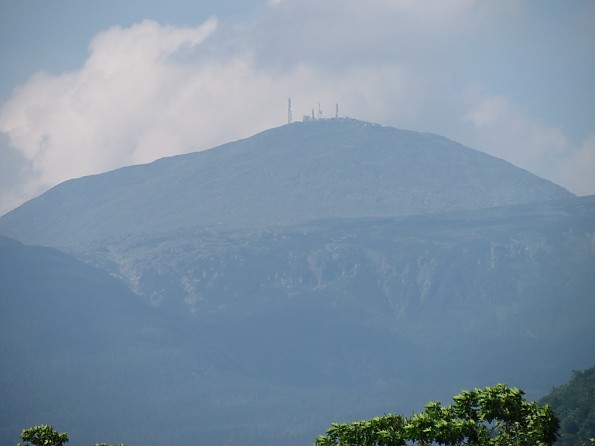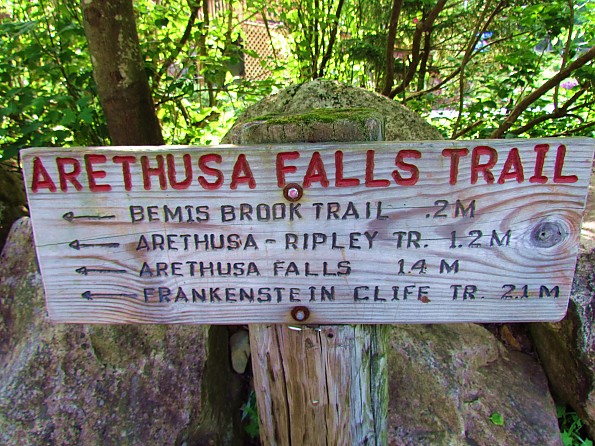 We decided to hike take the three mile (round trip) hike to the 140' Arethusa Falls. Along the way, we met some hikers who recommended we take the side trail to Bemis Brook Falls. I am so glad we did. It is beautiful!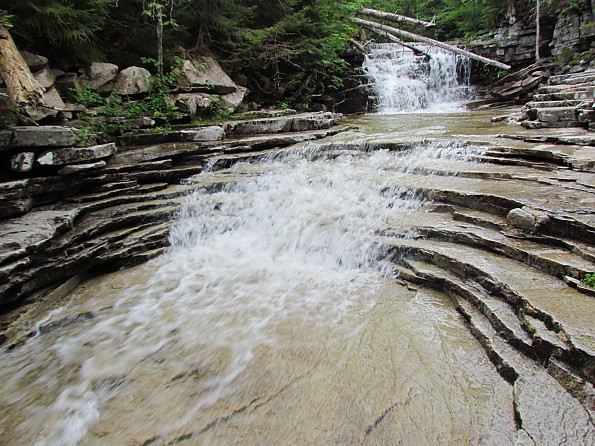 Bemis Brook Falls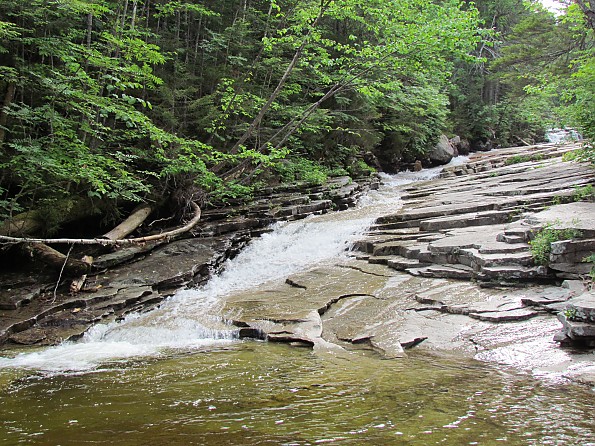 Bemis Brook Falls is easily the most beautiful "small" waterfall that I've seen.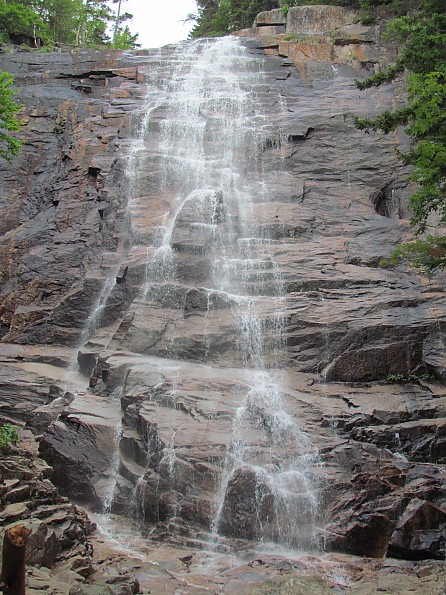 After about a mile and a half, we reached the beautiful Arethusa Falls.It reminds me a lot of Rainbow Falls at South Carolina's Jones Gap State Park.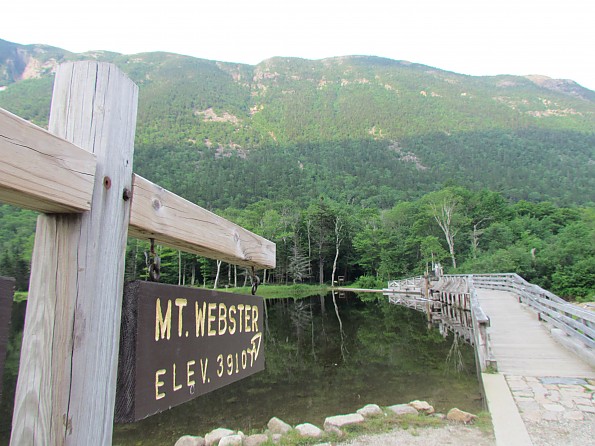 On our drive out of CNSP, we stopped at Saco Lake for a picture. After that, we headed to Franconia Notch State Park, as the sun was setting. It was a pretty incredible drive!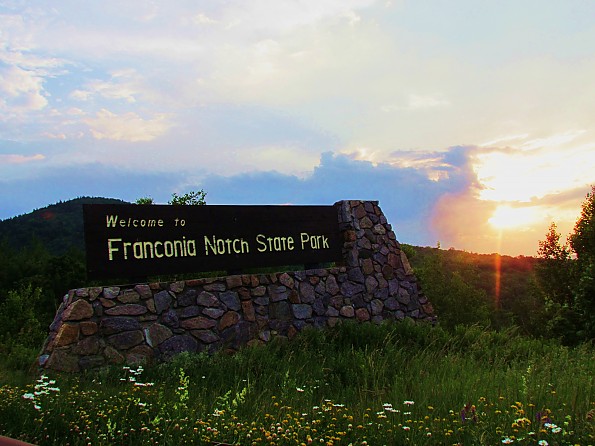 We stayed at Lafayette Place Campground that night. It is a really nice campground! By the time we got camp set up and showered, it was dark. Jay got out the grill to start cooking dinner and he heard what he thought was a large black dog coming through the woods towards us. He said "Come here, buddy! Man, you are a big boy!" then he turned on his headlamp and saw that he had just called a GIANT bear into the campsite, about 20 yards away from us! I yelled at him my usual "Get outta here, bear!" and he casually strolled off in search of someone else grilling delicious dinner, thank goodness. I was worried that he might stalk us, but he didn't. Just to be safe, we secured all our food in the car, hopped in the tent, and went straight to bed.
The next morning, started our nine mile loop hike of the Falling Waters Trail, the Franconia Ridge (on the Appalachian Trail), the Greenleaf Trail, and the Old Bridle Path.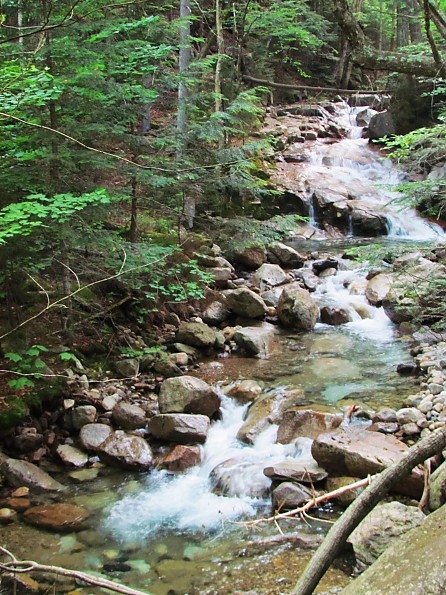 The Falling Waters Trail has waterfalls almost all the way up to the top of Little Haystack Mountain. It is a constant climb and is pretty rough, with large granite slabs, rocks, and roots, but it is so beautiful that it didn't really matter.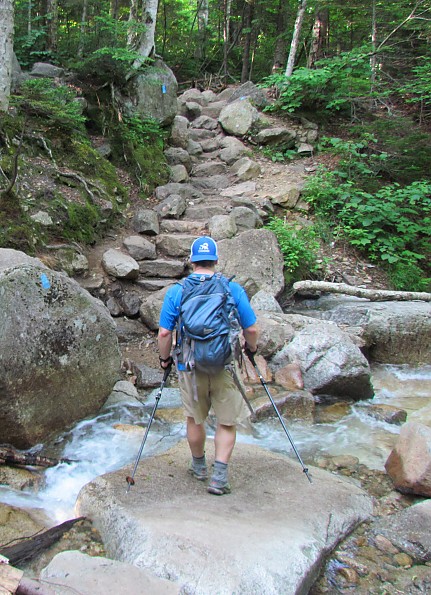 One of several creek crossings on the trail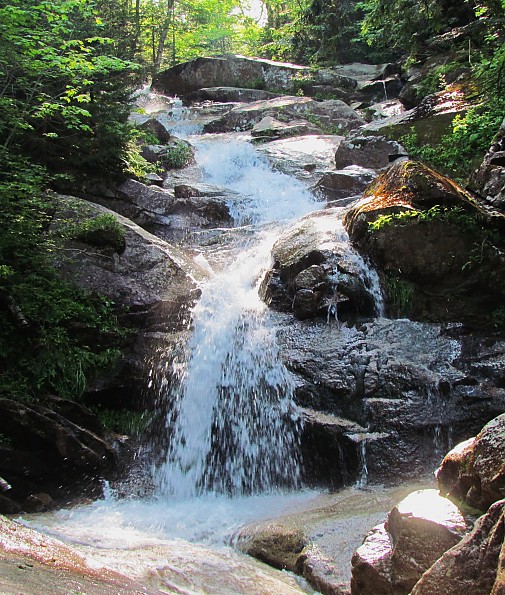 60' Swiftwater Falls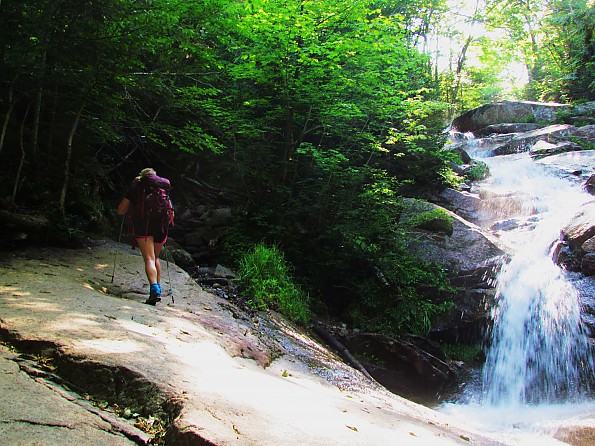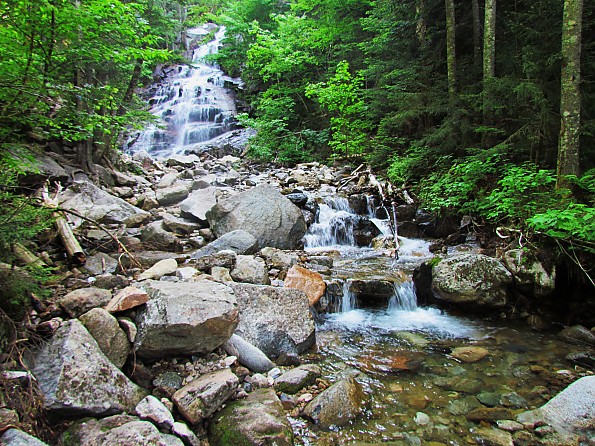 80' Cloudland Falls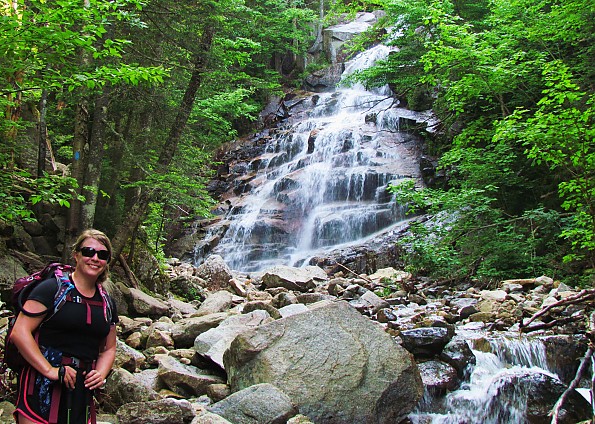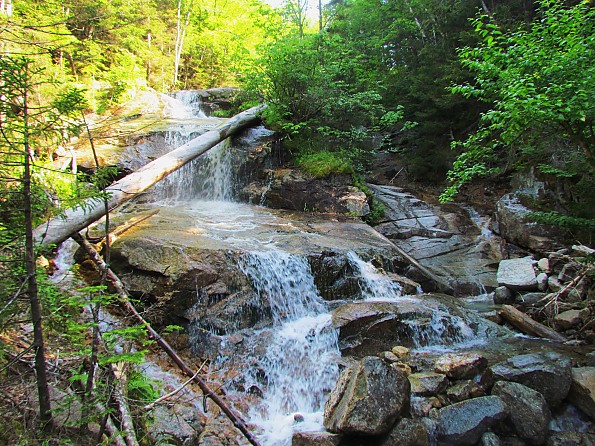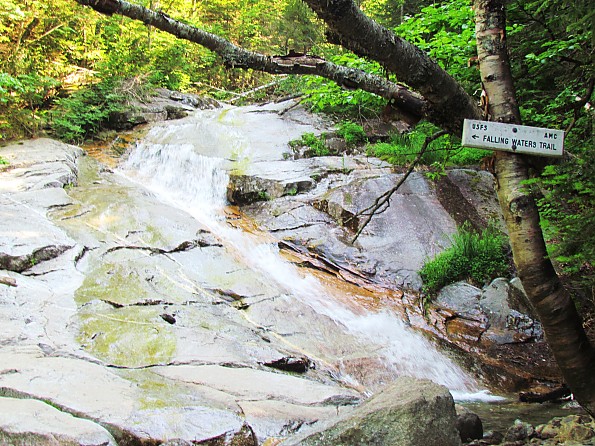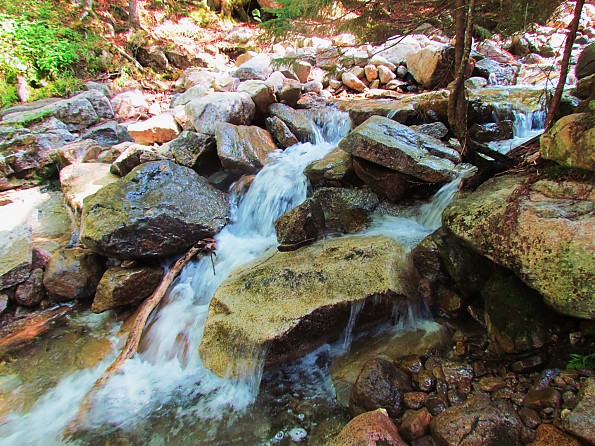 Yes, this trail seriously has THAT many waterfalls!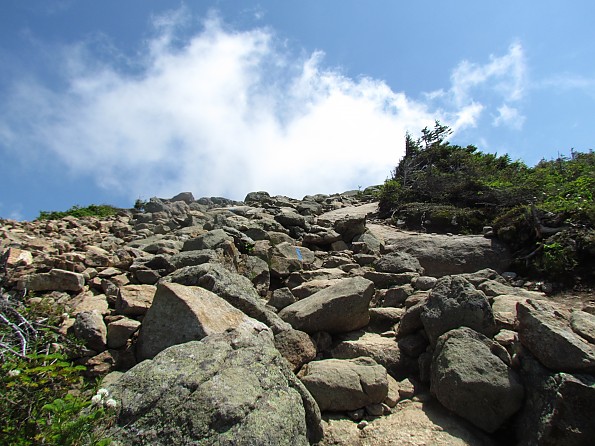 We finally got to the edge of the treeline, but we still had some elevation gain to reach the summit of Little Haystack Mountain and the Franconia Ridge.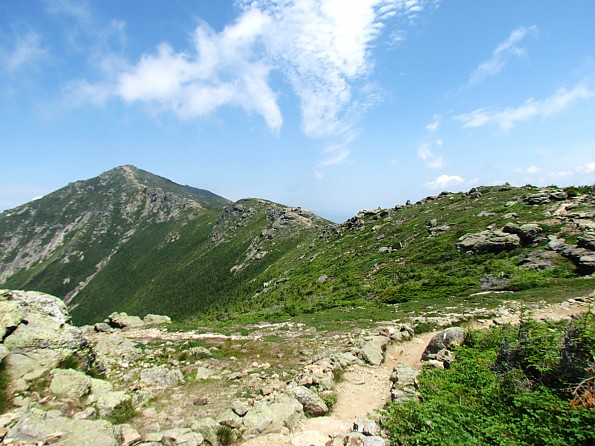 The Franconia Ridge and Mt. Lincoln, from the summit of 4800' Little Haystack Mountain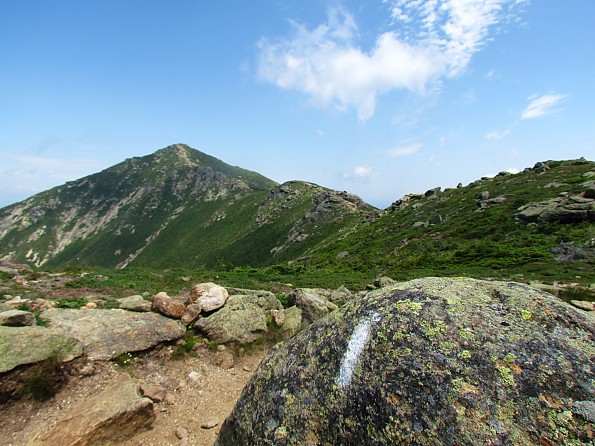 The first AT marker we saw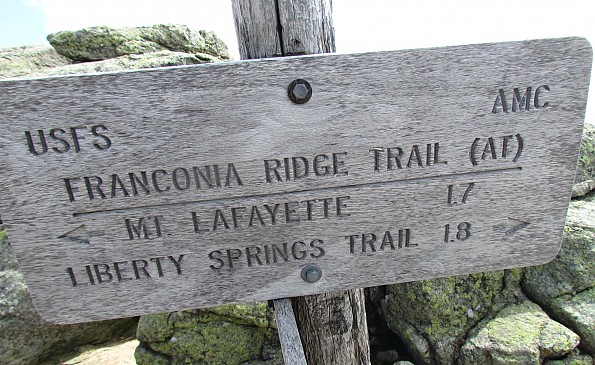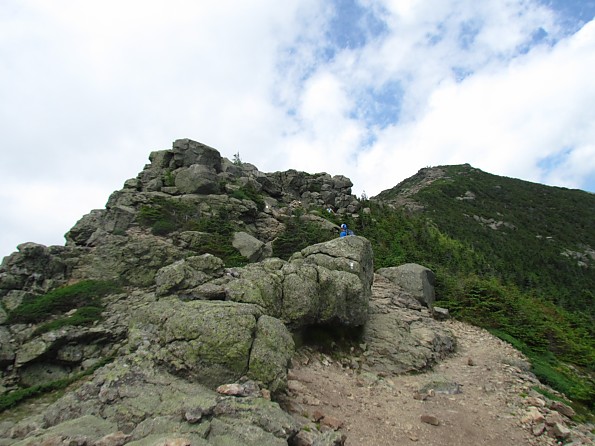 Jay climbing up Mt. Lincoln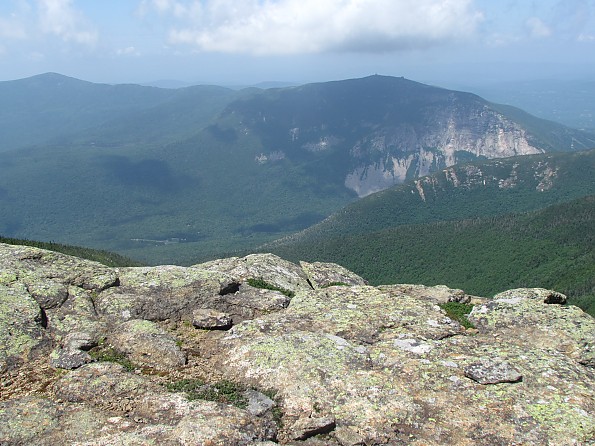 Cannon Mountain from the summit of Mt. Lincoln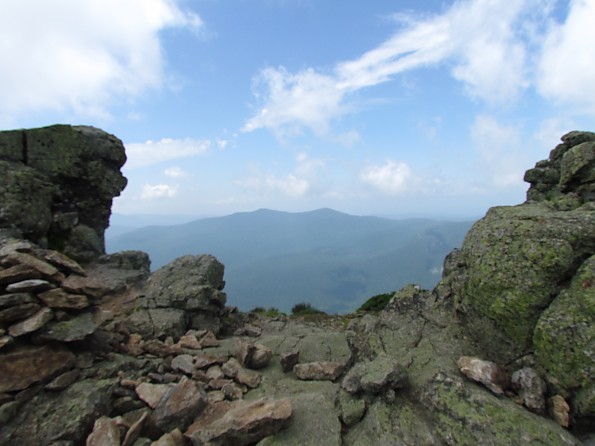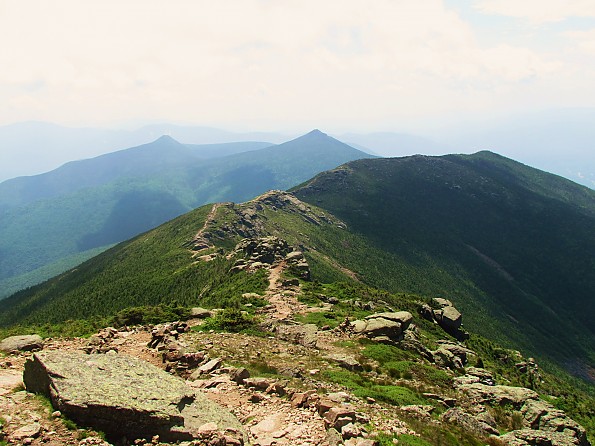 Looking back on Little Haystack Mountain (I think the mountains behind it are Mt. Flume and Mt. Liberty)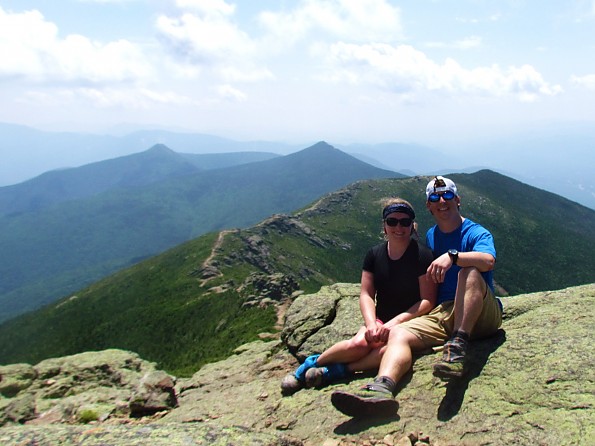 Jay and I on the summit of 5089' Mt. Lincoln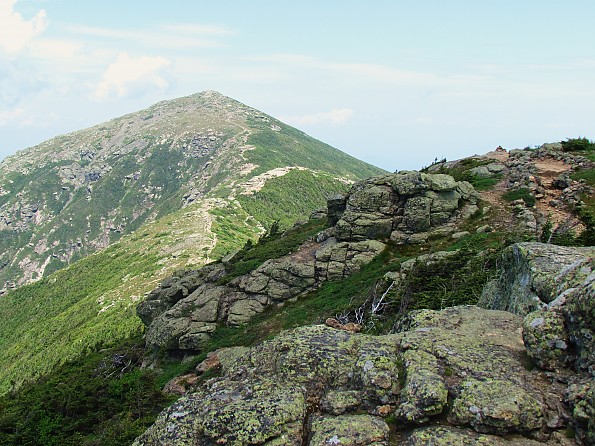 Jay and I on the summit of 5260' Mt. Lafayette
The Greenleaf Hut - The "Croo" here are some of the nicest people I've ever met. I've heard that they carry massive loads of food and supplies up to the huts on tall, wooden frame packs. We actually saw one of the Croo members, Pheobe, carrying one of these loads down the Old Bridle Path and were amazed! First of all, it had to be super heavy and second of all, that trail was very diffucult and dangerous to descend carrying just a pack and water, I can not imagine carrying that huge pack up and down that dangerous trail!
The views from inside the Greenleaf Hut were incredible!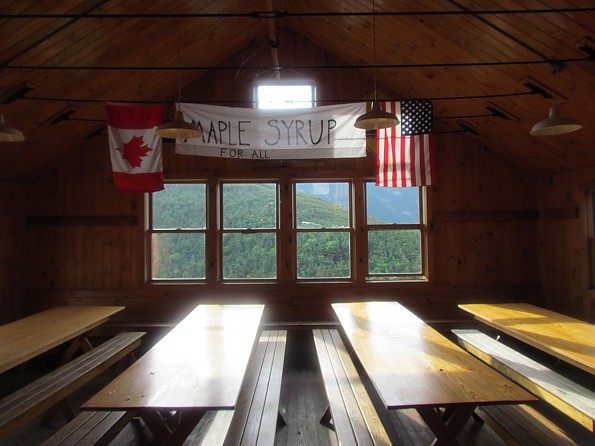 The dining area inside the Greenleaf Hut
The Old Bridle Path didn't have as many nice views as the Franconia Ridge and Falling Waters, but it was still really pretty. All in all, this is one of the most beautiful hikes I've ever been on. It is rough and it has a lot of elevation gain (about 4000'), but it is all worth it!
On Thursday, we had originally planned to go back to Cape Cod to finish exploring the island (and to break up the long drive), but Hurricane Arthur came, so we decided to drive back to NJ that day. My Aunt and Uncle treated us to a wonderful dinner that night. After a good night's rest and a delicious NJ diner breakfast, we headed back home on the beautiful I-81. We saw the most beautiful vistas of the Shenandoah Mountains, and endless views of rolling hills and farmland.
This was the trip of a lifetime. We definitely want to go back one day!