TJ1984
2,009 reviewer rep | 475 forum posts
7:17 a.m. on July 12, 2014 (EDT)
This is the report for day 2 of my 3 day trip to Snowdonia National Park in northern Wales, UK. For day 1 details, and some more facts about my trip, see my report for day 1
Day 2 was the highlight of my trip, and it was something I have wanted to do for a while. The objective was to reach Mount Snowdon (the highest peak in England and Wales at 3560 feet) via Crib Goch (3027 feet, thats the real highlight!).

According to SummitPost:
"For the most part, Crib Goch takes the form of a beautiful, bronzed, knife edge ridge, connecting the mountain's summit with Wales' second highest summit, Garnedd Ugain, and eventually, Snowdon itself. For those who wish to climb it, there is no straight forward route, it's rocky and precipitous nature means, that at the very least, it's a Grade 1 scramble all the way. A traverse of its spikes and spires is widely considered to be one of the best routes of the grade in the country..."


Unlike day 1, weather conditions were variable, with patches of rain and sun. Crib Goch becomes increasingly dangerous when the weather turns going from a Grade 1 - 2 scramble (depending on which route you carve out) to a full on mountaineering adventure.
Like my other trip reports, I'll just give a quick little bit about the gear I used in case anyone is interested: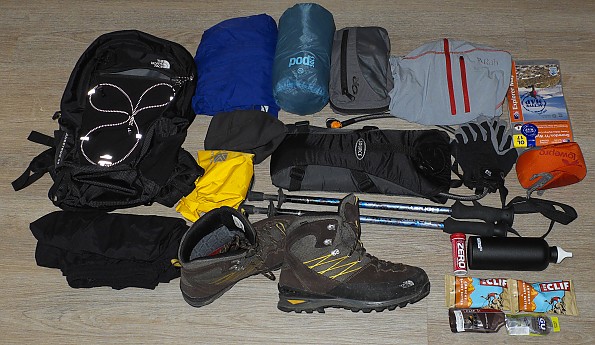 Important bits include the TNF Angstrom 20 backpack, TNF Verberra lightpacker GTX boots which are excellent for scrambling, OR Neoplume primaloft jacket, Fujifilm X20 camera, Fizan ultralite poles, Black Diamond Crag gloves (very important!), TNF Venture rain shell, Rab Boreas pullover for when it gets a little cooler, Sprayway overtrousers just in case, some drybags, MEC windstopper hat, and source 3L bladder. My fuel for the day was 2 cliff bars and two gels. The black SIG bottle is for an electrolyte drink. The OR kit bag contains necessary safety essentials, and I carried a Victorinox climber SAK in my pocket.

The start of the hike however begins at a trailhead that links many paths which ultimately lead to the top of Snowdon. Some of them other than being long and steep are not at all technical (and also full of tourists!), so I thought if the weather really turns, I could always bail on Crib Goch and just take one of the easy routes up Snowdon.
When I arrived at the start of the trailhead, dark clouds were rolling in, but there was also intense sunshine peaking through.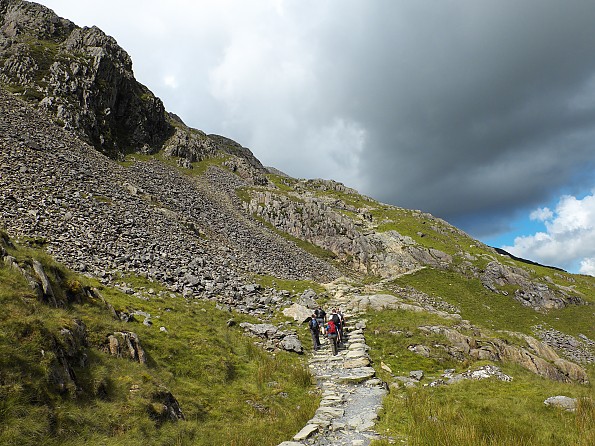 looking back along the path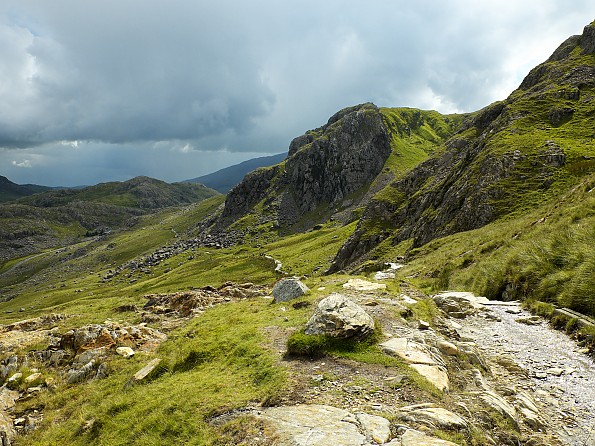 At this point you reach a fork in the path, to the left you go down towards the easy path with the beautiful view of the Snowdon horseshoe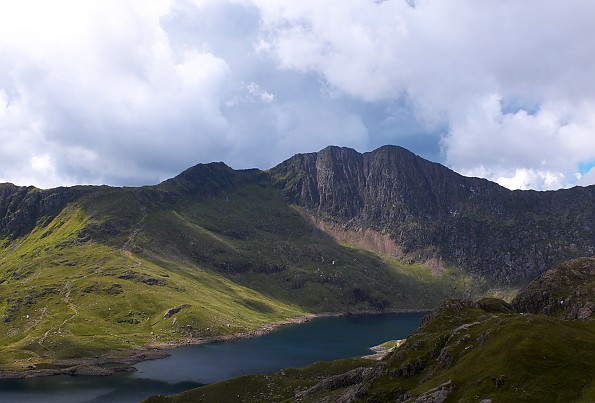 ...as tempting as that was, thats not what the day was about, so I turned right, towards the start of Crib Goch. It looked ominous with the storm clouds rolling in, but it had not rained yet, and I was hoping I could do it before it got too intense.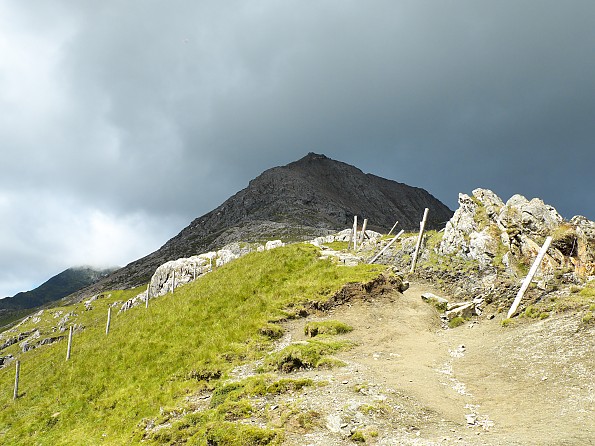 Once I got going, the scrambling was fantastic. There are a great deal of holds and a lot of variety for carving out your own route. Some parts become very difficult and extremely exposed but there are enough options that those who are competent can make it up in relative safety. There are however a number of deaths every year on this mountain. There are ledges wide enough to sit comfortably and take a break, and others are barely wide enough for the width of your boot.

Some other hikers I saw while taking a break halfway up.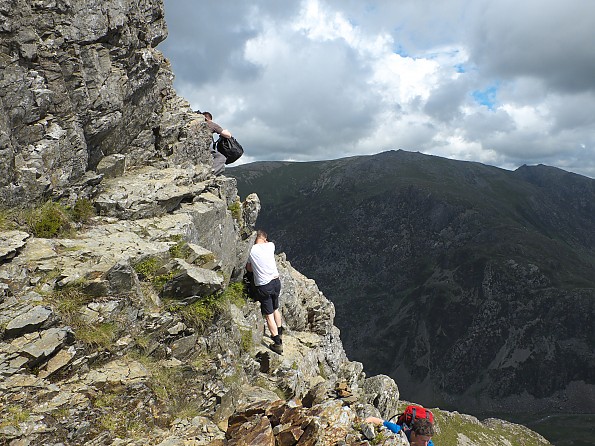 To avoid the congestion, and also for fear of falling rocks from those above me, I went away from any crowds and ended up in some interesting situations. If it wasnt for my (not so great but just passable!) bouldering experience, I dont think I would have had the stomach to tackle some of these routes so exposed with hundreds of feet drop below me. In hindsight, given that I was going solo, I probably should have been more selective and careful, but it was incredibly exhilarating.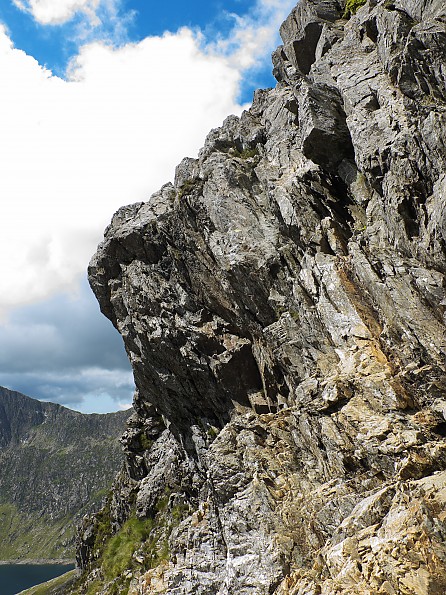 Its a long and rocky way down if you fall!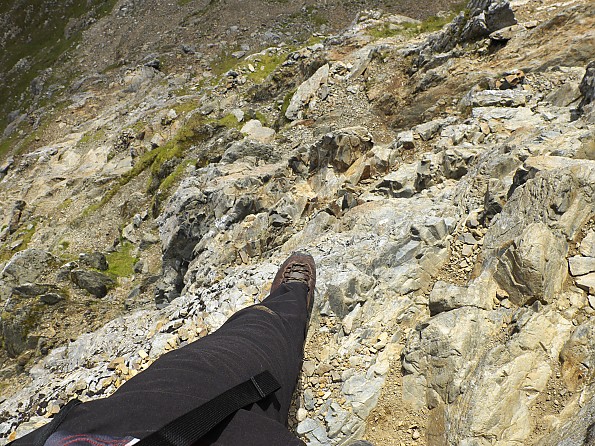 After a little time, I made it to the top in one piece, and without any rain, for which I was very thankful! The next step was crossing the knife-edge arete and the pinnacles with the massive vertical drop to the right (and pretty steep drop to the left as well).
The massive pyramidal peak in the back is Snowdon, and the one to the right is Garnedd Ugain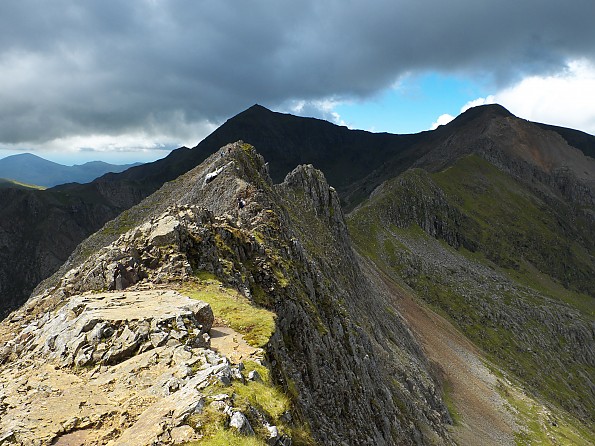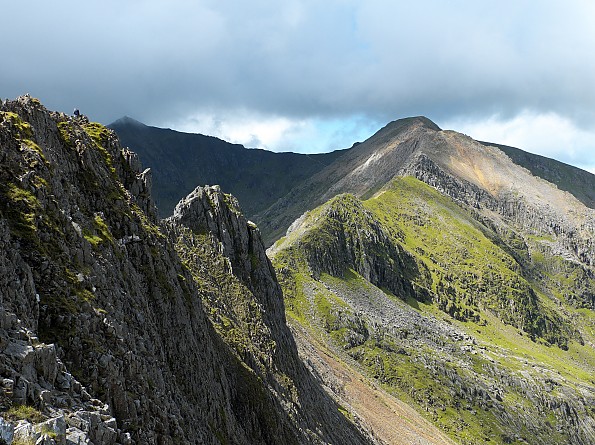 Some fellow hikers resting at the top before the traverse were kind enough to take a picture of me. You can see how dark the skies have gotten.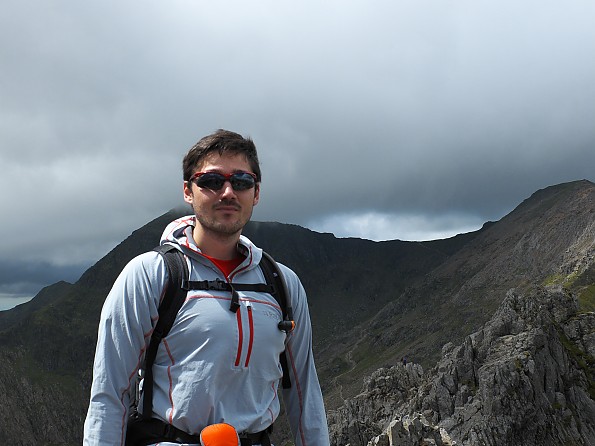 Looking back along the ridge while at the halfway point.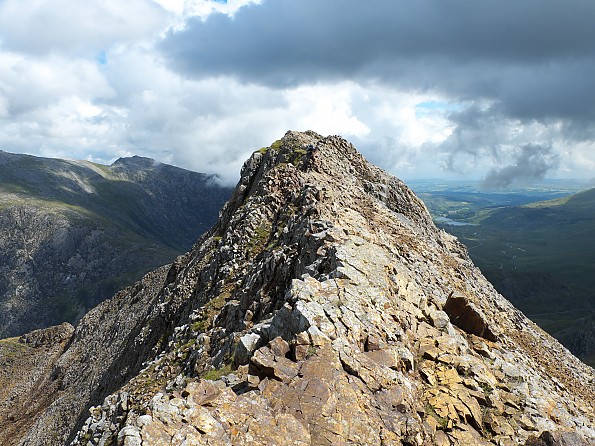 Once I crossed the final pinnacle, I made my way towards Garnedd Ugain which has some easier grade scramble if you tackle it along the top ridge, but you can find some incredible higher grade scrambling if you try to take it on from the side.
I spotted a fantastic line, seemed fairly difficult but I was confident I could manage it. However, about 200 feet up, the rain started, and it started hard! I tried to keep going but the rock became slick as ice. After a small slip and a near miss, I thought it was best to leave it to another day. With a banged up shin (better than a serious fall!) and a bruised ego, I very carefully made my way back down to the path that skirts the steep rock wall and walked until I met up with one of the well defined paths heading up to Snowdon.
At this point there was nearly no visibility and it became incredibly dark.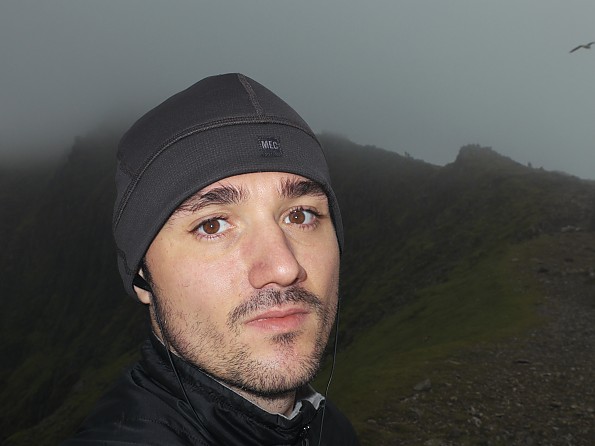 There is an observatory and a tourist rail that goes up to the summit of Snowdon along the other side of the mountain so its quite busy up top with tourists. Usually that stuff bothers me, but I was cold, bruised, and a little tired... so I was happy to see a shop and bought a coffee! In a much better mood, I made my way back along the very long but easy "Llanberis Path" back to where I was staying, Llanberis. Once I descended about 600 feet, the skies cleared up and it was beautiful weather all over again. The mountain in the top right is Elidir Fawr, which I hiked the previous day.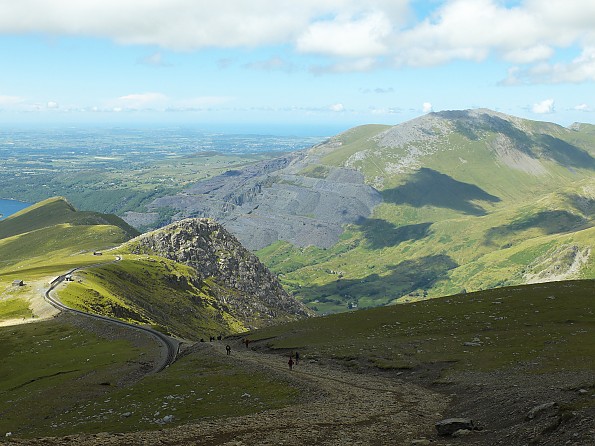 Overall, the day was a great success, and easily some of the most fun I have ever had on a mountain. This was my mountaineering highlight of 2014 so far (even surpassing my trip to Switzerland).

Day 3 to come