6:40 p.m. on August 20, 2014 (EDT)
jchanman33

29 reviewer rep
56 forum posts
My family has a tradition for the last 3 years of all the men/boys getting together for a 3 day hike. This was the 3rd year in a row and we went to the White Cloud Mountains in Idaho to the boulder lake chain. 
We camped about 5 or 6 miles in at a place called quicksand meadows where there are a few areas with quicksand along the river bank.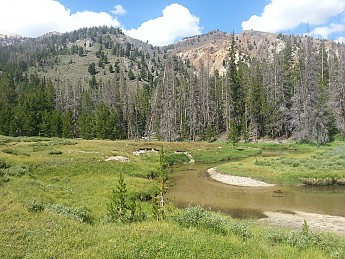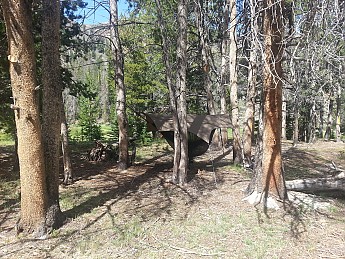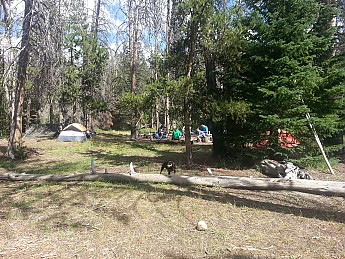 We got there around 4pm and had plenty of time to explore and try to play in some quicksand. I didn't get any pictures of the quicksand but it had been raining for the last week or so before we got there so it wasn't very "quick" anyway. That night it got really cold and I learned why people use under-quilts on their hammock setups.
We woke up in the morning and began the the day hike up to Island Lake 


 When we got there my brother and his son went to one side and me and two other brothers went to the other side. When we almost made it around the lake we figured out why our way was the bad way when we ran face into a 50ft  almost vertical cliff and had to backtrack a bit and hike up and around it. There was no trail the route we were taking to the next lake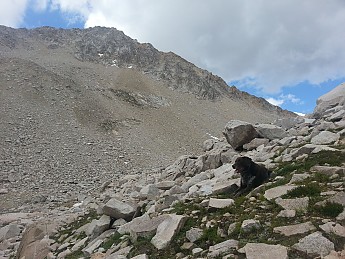 After we got up on top of the cliff we ran into a huge boulder field and had to traverse across it, I was a little worried as I had my dogs with me and was unsure how they would do on a boulder field hopping from rock to rock. This was after we made it across and I decided to give their paws some rest.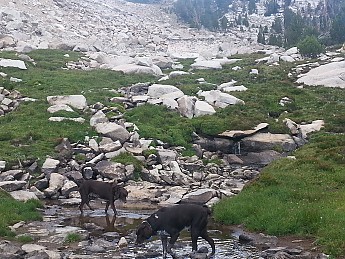 We eventually made it up to the next lake we were going to meet my dad and brother in law with his kid, albeit after a bit of confusion in exactly where we were it ended up being the right spot, Cove lake (they had taken a different route from walker lake instead of Island lake)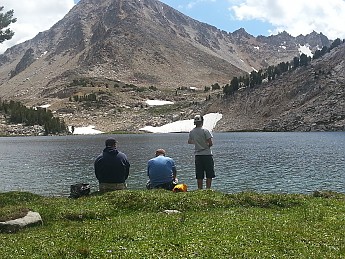 We then hike up to sapphire lake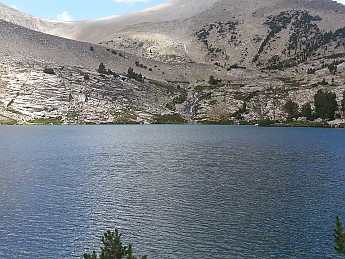 We then worked our way up to Cirque, Slide and Sheep lakes and I was too tired from the climb to remember to get photos. On the way back down we stopped by hook lake and I remebered to get pictures again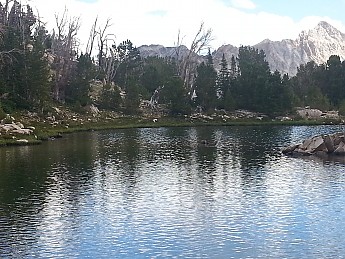 We hiked a short distance to a bluff over looking walker lake, then began heading back to our camp from there.


 We got back pretty late as a few of us are out of shape and began to drag on the way back. We estimated we did around 15 miles that day a lot of it very vertical up or down.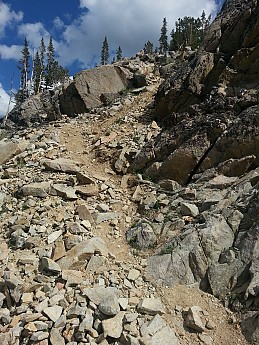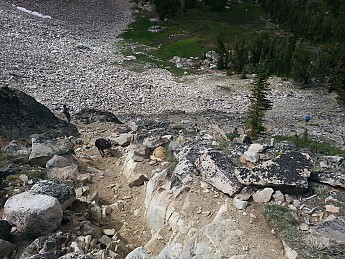 We all ate dinner right away and went to bed pretty much right after as the sun was just finishing going down at around 10.
The next morning my dogs looked pretty feeble, they have hiked before but haven't done much activity lately and are getting old, but once we got moving on the trail they did fine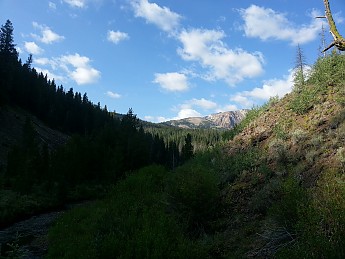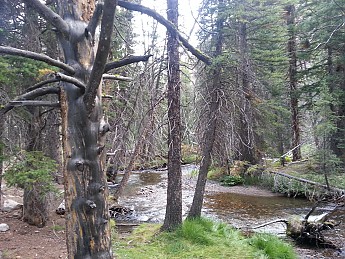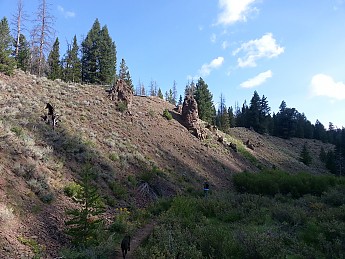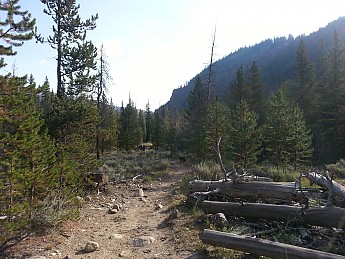 The hike back went fairly quick and was pretty easy. We had a lot of fun up there but as always looked forward to a nights sleep in our own beds.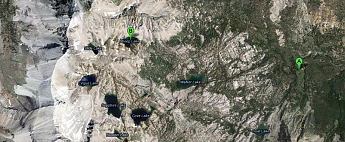 "A" was our camp "b" is sheep lake