9:22 a.m. on August 25, 2014 (EDT)
TJ1984

1,994 reviewer rep
475 forum posts
So this weekend involved a bank holiday Monday. I didnt anticipate being free but managed to be about 5 days ahead on what I have been working on so I wanted to make the most of it. Unfortunately all the more exotic locations had exorbitant travel costs due to the holiday weekend. So I thought it would be great to get to my nearest national park (about 2 hours by public transit), and get some fresh air and give some of my gear a bit more of a test. I set off for the east end of the Brecon Beacons National Park in Wales, which is also referred to as the Black Mountains. 
I'll mention first some of the gear I was using. I definitely didnt keep it lightweight, packing 5 pounds of camera gear, even though all my other stuff is either light, or ultralight. Still this was good practice for this winter when I will be loading up with even more weight for the Highlands.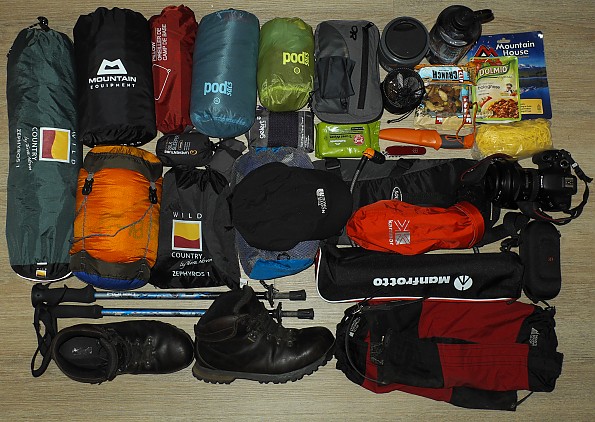 Some details: (and yes I am obsessive about pack organization!)
Tent: Wild Country Zephyros 1 with footprint.
Sleeping: Mountain Equipment Helium 3.8 SIM, MEC basecamp SI pillow, lifeventure silk liner, (in the orange podsacs event compression sac) Blacks Cosmos 400 sleeping bag (90/10 goose down, 1 C-5 C comfort range, down to -15 C extreme), (green podsacs stuffsack) merino top and leggings. and mammut inflatable pillow I use as a body pillow for side sleeping.
Extra clothing: (in blue podsacs stuffsack) OR Neoplume primaloft jacket, TNF venture rain shell, TNF hat, an acrylic beanine and MEC windstopper gloves.
Essentials: OR backcountry bag with almost everything I need, plus Lightmyfire fireknife, SAK climber, (the red drybag) with trovel and garbage bags, microfibre towel, 3L source insulated bladder, and some disinfectant wipes.
Camera equipment: Canon T2i with EF17-40mm F4L lens and Manfrotto BeFree tripod
Cooking/Food: GSI halulite set (with firemaple Titanium stove and primus gas cylinder inside), fresh spaghetti (cooks in 3-4 mins), package of ready made bolognese, 1L nalgene of cooking water, 2 Clif bars, 1 clif crunchy, 1 trail mix pouch, Mountain House custard and fruit (first time trying, and very happy with it!) and finally my newest addition, Lifeventure Ti mug packed with some breakfast biscuits and a small nalgene with Ovaltine and some napkins. This works particularly well as it weighs nothing, and I can start boiling up a drink while eating dinner out of the halulite set.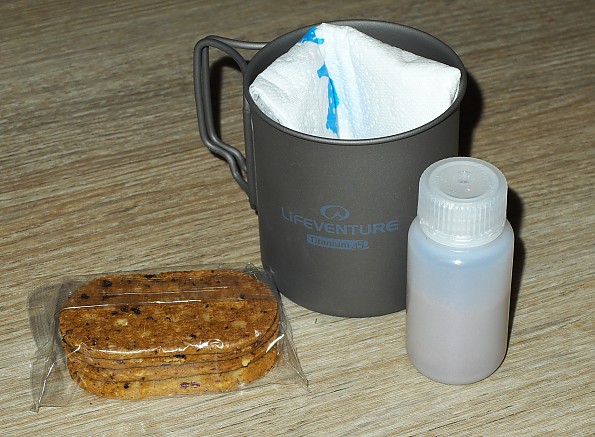 Other items include Brasher Hillwalker II GTX boots, Fizan ultralite poles, and MEC Kokanee II gaiters, all packed up neatly in my Lightwave Wildtrek 60. The boots were a big mistake! They simply cant handle the type of load with the amount of walking I do per day, I ended up with pretty bad blisters at the end of it!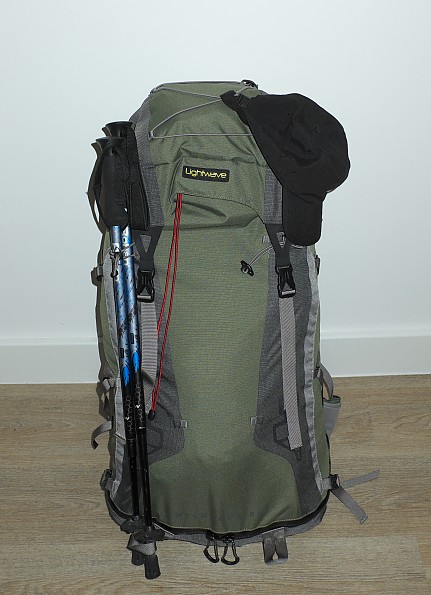 On to the hike now! I planned to do a circular of what is essentially a big horseshoe of what would either be considered big hills or small mountains, starting from the town of Crickhowell.

Notable summits: Pen Cerrig-calch (2300 feet), Pen Allt-mawr (2362 feet), Pen Y Gadair Fawr (2625 feet), and Waun Fach (2661 feet). The overall distance would be 25 miles, which I planned to complete (and did), in 20 hours.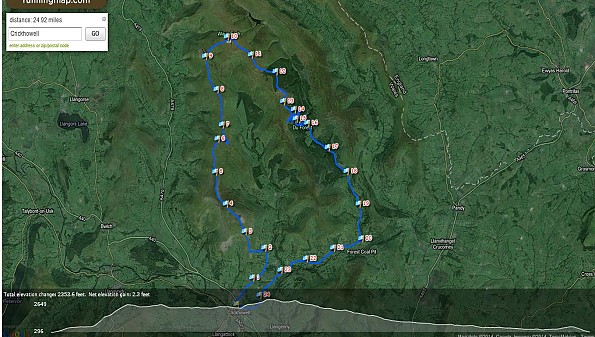 I planned my hike so I hit the summit of Pen Allt-mawr just in time for sunset so I can get some nice photos. My bus was delayed by about 45 minutes due to road closures (accident), and so I had to start at a faster pace than anticipated, which didnt allow for as many photos as I would have liked. Still I had the time to snap these two.
A look down at the trail I took up to the first peak.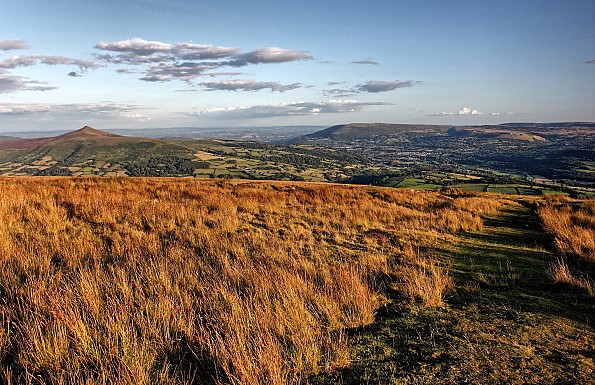 Some beautiful Welsh ponies roaming the hillside!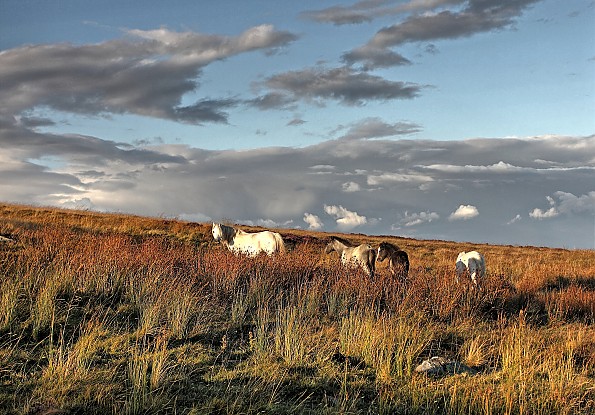 The view of the trig-point of the first summit, Pen Cerrig-calch as the sun begins to set.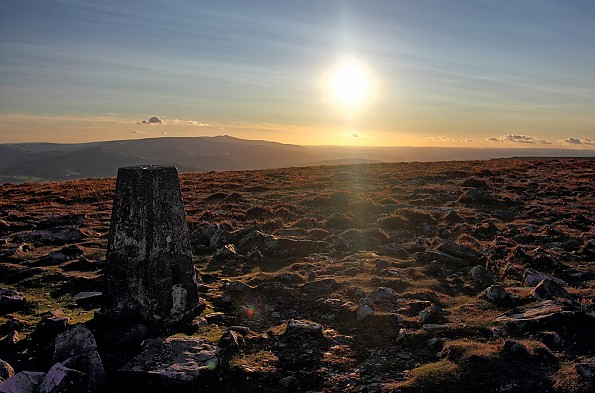 Finally made the summit of Pen Allt-Mawr, and looking down at the rest of the horse-shoe with Waun Fach and Pen Y Gadair Fawr in the background. My camp would be somewhere to the right of the first peak in the foreground. The next day would involve that entire ridge-line in the background and all the way back to the start.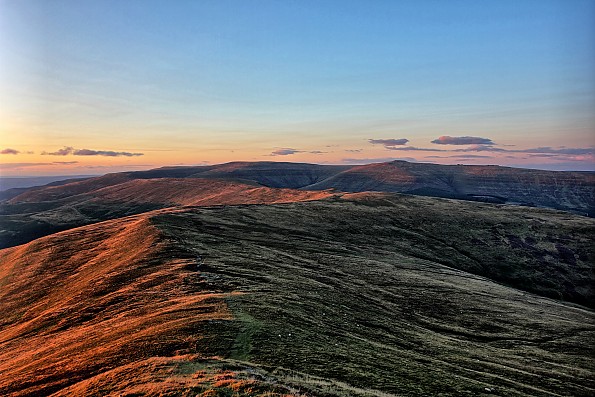 I waited another few minutes and grabbed this shot of the sunset over the Brecon Beacons National Park from the summit of Pen Allt-mawr. The wind started blowing really cold, much colder than I anticipated (never trust forecasts!)! I think I was dressed/packed a little light for the temperature, but I was just on the borderline so it was OK but not great!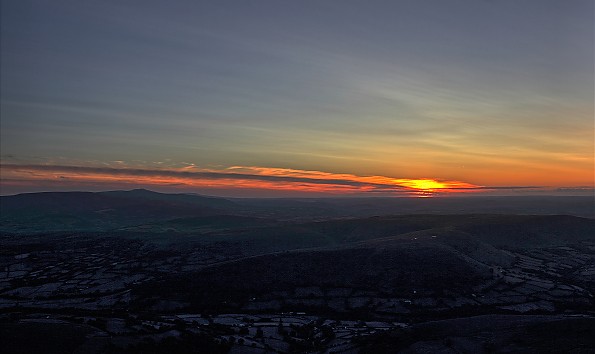 I walked over to where I was planning on setting up camp. The main issue is that most of the hills are a mixture of rocks, or very boggy wet ground, so there is considerable difficulty in finding a good spot.... especially in the dark! I managed to find a good patch to the side of a path off the side of the main trail. Unfortunately it was just about 2 cm of soil over rocks, and it was difficult to get pegs in.
As you can see below, the stock Wild Country pegs that came with my tent were useless! They all bent!! Fortunately, I carry 8 Mountain Hardwear X-stakes which I easily hammered into the ground with some rocks. They held up great! I wish manufacturers would include better pegs with their tents (but that's a rant for another day!).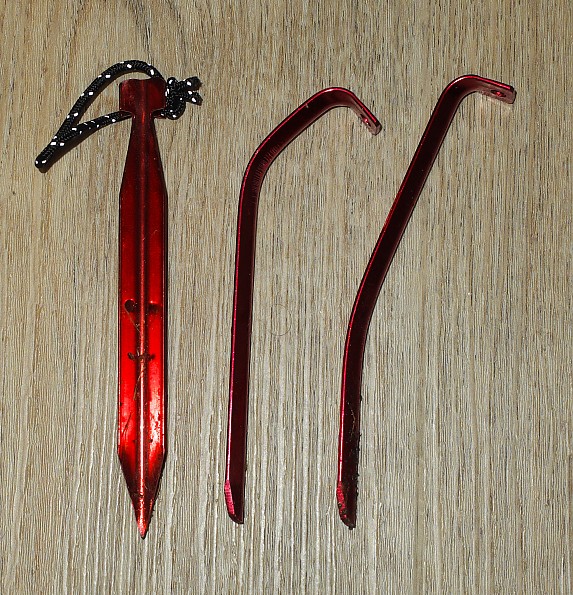 I got all set up, made dinner and went off to bed by about 10. It was a chilly night, but I was comfortable in my bag, and as you can see the next morning when I woke up (5 am) I was mostly in a cloud/mist and my tent sagged quite a bit as it was a very windy, cold and humid night. There was also a great deal of condensation in my tent, it was probably 1 lb heavier after packing up!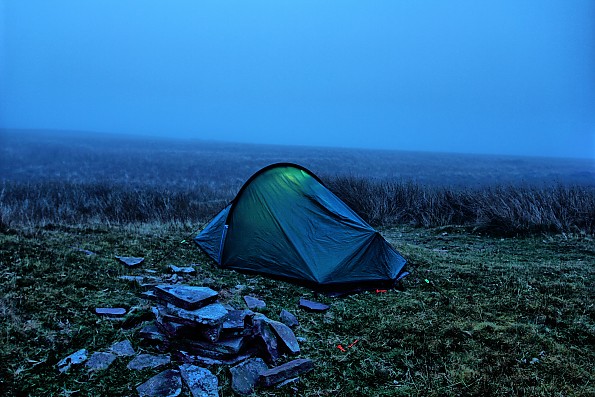 I was hoping to get some sunrise photos, but alas you cant count on good weather in Wales, so I had breakfast, packed up and went on my way.


The clouds started to break up a bit, and I managed to get this shot of the sun over Waun Fach and Pen Y Gadair Fawr.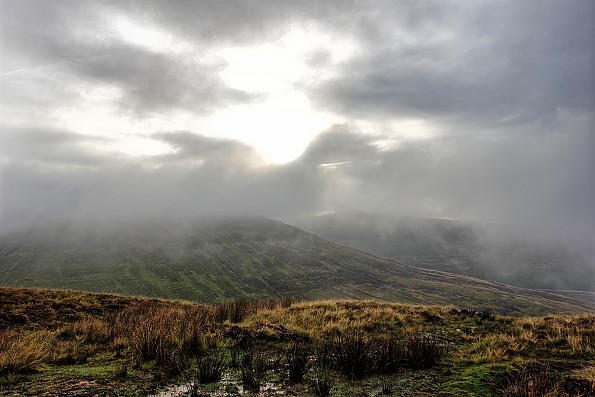 After I got off the main summit, I got to an area where there was obviously a lot of logging in the past, but still a substantial coniferous forest, which is rare to encounter in the UK as most have been logged. Walking through the woods made me feel like I was back in Canada, so that was a nice feeling! (especially since I didnt have to worry about bears!)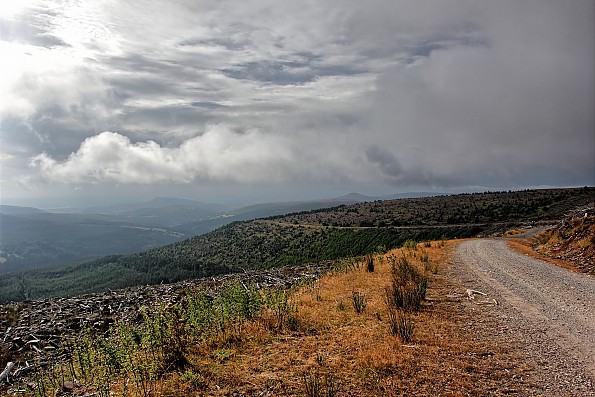 I eventually made my way along the long and winding roads to Crickhowell, where I sat down at a great country pub for a Sunday roast, and then made my way back home.

Overall it was a great little trip and made good use of my weekend. Now I am just resting and letting my feet heal on this lazy and rainy holiday Monday.