BigRed
TOP 25 REVIEWER
REVIEW CORPS
7,403 reviewer rep | 1,272 forum posts
1:54 p.m. on August 25, 2014 (EDT)
I don't think TS or the world needs another day-by-day account of a JMT hike, so I though I'd give it a more general treatment, with notes about the whole process and lessons learned that might be useful for TS members, especially those considering going with a larger group rather than the usual ones and twos. I'll do it in installments on this thread, stick in a few photos, and give everyone access to a gallery with a few more favorites.
How it all started
Sometime last October, my daughter Molly (now 23) called me up all excited with a Big Idea: "Daddy, let's do the John Muir Trail next summer!" She wanted a special way to celebrate the anticipated completion of her Master's degree in June. I thought about it for about 0.0009 seconds and agreed, figuring we'd work out the details later. I mean, I was honored! -- how many dads get invited by their 23 year old daughters to go on a major hike? The initial proposal was that it would be just the two of us, and we would do it fast, as we two are the well-matched pair of greyhounds in the family. But I knew right away that my wife Nancy would want to go too. We had talked about doing it at the end of our 6-month stay in CA a few years ago, but we knew our dog wasn't welcome in the national parks and eventually made other plans. So Nancy signed on, and  then it wouldn't seem right not to have little sister Zoe (19) along…but we would have to find a dogsitter for Ralph, no more flying for that old boy. With the other two along we would have to go slower, but that was fine with me, more time for side trips. I had done the trail solo in 15 days in '81 (guest post on my daughter's blog), and certainly felt no need to hurry the second time around.
As we got started on planning, it occurred to us that it would be cool if Zoe's old 1st grade buddy from Vermont, Annavitte (19), wanted to come along and, what the hey, might's well invite her mom and dad (Pennie and Matt) and little sister Karin (16) too. The eight of us (nine, including Ralph) had a great time together when they all came to visit us in Norway in 2009, and Matt and Anna came out west for a fun canyon tour when we were in CA. I wasn't sure that they would all be able to join us for reasons of prior plans or vacation time or whatever, but let's just say they didn't have to think it over for too long either. Game on!
So here's the whole gang on top of Mt. Whitney.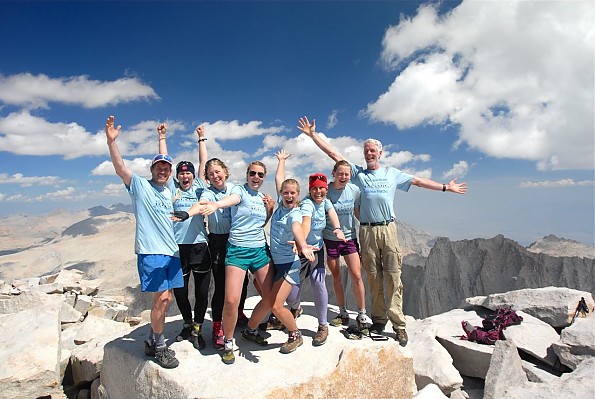 Matt, Karin, Nancy, Zoe, Annavitte, Pennie, Molly, Rick (me)