9:00 a.m. on September 8, 2014 (EDT)
TJ1984

1,994 reviewer rep
475 forum posts
This weekend, I set out with the best intentions of a mini scrambling adventure in the Scottish Highlands. It started with an early morning flight to Edinburgh, then train to Fort William via Glasgow (5 hours later). The end goal was to reach the summit of Ben Nevis (4409 feet, the highest point in the UK), with the goal of doing it via a scramble up the CMD arete (a knife edge linking several other summits to Ben Nevis).
Since this would be a fast (less than two day) outing with the necessity to move quickly, I went as light as I could with my gear. This is all that I packed into my Montane Torque 40L climbing pack, which is what I checked in as hold luggage for my flight.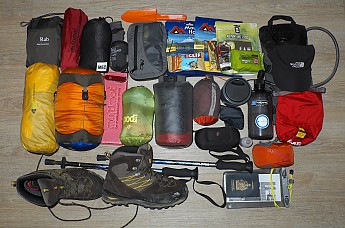 Tent: Gram-counter Gear Litehouse solo tent (only 840g!), with Rab (Integral designs) solo ground sheet and selection of Ti pegs (6 V, 6 5g Ti pegs, 2 2g Ti pegs, and just in case 8 x 13g Ti nails in case of rocky ground).
Sleeping: Multimat Superlite Air mat (in the red stuff-sack), MEC down pillow, lifeventure silk liner, (in the orange podsacs event compression sac) Blacks Cosmos 400 sleeping bag (90/10 goose down, 1 C-5 C comfort range, down to -15 C extreme), (green podsacs stuffsack) merino top and leggings. and mammut inflatable pillow I use as a body pillow for side sleeping.
Extra clothing: (in clear Mammut dry bag which also makes an ambient lantern!! review to come) OR Neoplume primaloft jacket, an acrylic beanine and MEC windstopper gloves. The grey and orange mesh stuff sack contains a Montane Spektr eVent smock.
Essentials: OR backcountry bag with almost everything I need, SAK climber, trovel and garbage bags, 3L source insulated bladder, and some disinfectant wipes.... the small pink/red mat is a multimat compact kumfie which weighs nothing and has lots of uses!... and a podsacs waste management dry bag.
Camera equipment: Fujifilm X20
Cooking/Food: GSI halulite set (with firemaple Titanium stove and primus gas cylinder inside), a selection of Mountain House freeze dried items, 1L nalgene of cooking water, 1 Clif bars, 1 granola, and 1 energy gel.
Other items include TNF Verbera Lightpacker boots and Fizan ultralite poles (double as tent poles!).

The start of the hike!
Of course this being the UK, you cant trust weather forecasts.... and a beautiful clear day already started quite cloudy! I began my ascent at about 5pm, which is when everyone was coming back down. Its a strange feeling passing big crowds all going in the opposite direction, and it certainly draws some stares as to why this weirdo is running up the mountain when everyone clearly cant wait to get down!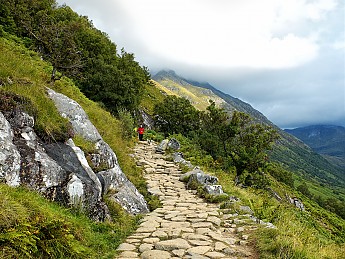 There were a few moments of beautiful light and I managed to take advantage and get some lovely photos. Also a good reason to carry a quality small camera that isnt as much of a hassle as an SLR setup.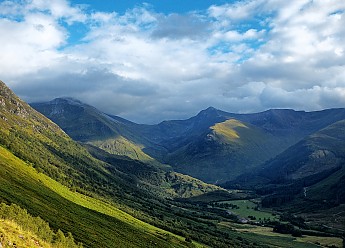 At about 1750-2000 feet, you hit a fork in the road, one which takes you up the main zig-zag path up Ben Nevis, and the other which takes you around to the other side of the massif (and away from the crowds).
I went to the other side! Which has a wonderful open feel.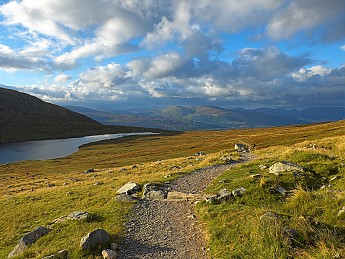 Tired (mostly from a long day of planes and trains), but happy!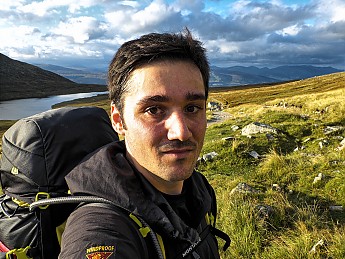 I found this spot just about 5 miles out from the start of my hike, and at 2200 feet. It also faces the entry way into the couloir where I was hoping to scramble up the next day.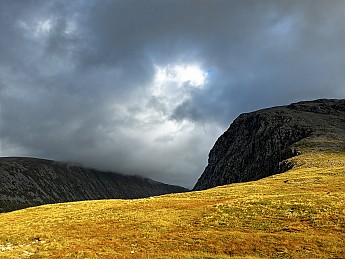 I found a decent spot of dry and somewhat level terrain and set up camp. I was fortunate to get some stunning lighting and skies. At this point I didnt feel so envious of those people heading back down the mountain to sleep in a hotel room anymore!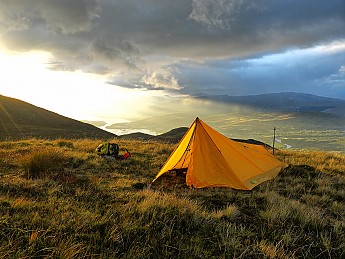 The colours of the sky were really stunning!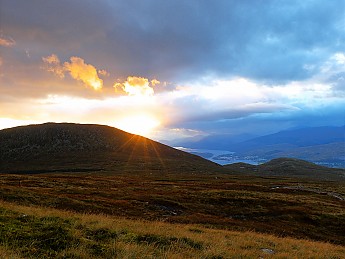 At one point the whole plateau was bathed in bright yellow light.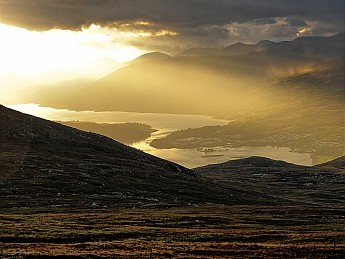 I managed to get this shot just as the sun went down. The colours were not doctored.... in fact I had to tone down the saturation as everything was lit up with beautiful amber tones.
However, you will note the heavy cloud cover already descending over the mountain!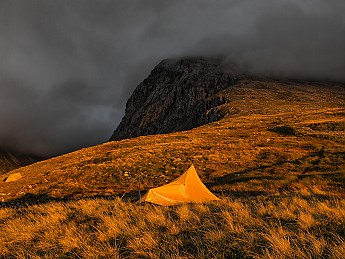 This was my view as I ate my dinner and got ready to sleep.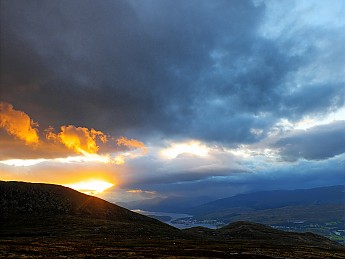 Unfortunately, when my 4 am alarm rang.... I woke up in a cloud, with rain coming down all around me! Not the conditions needed for a graded scramble and a knife-edge ridge in unknown territory. So I went back to sleep for another hour hoping it would clear up a bit. Unfortunately it did not, so it was time for plan B.
I had breakfast, and packed up quickly and started my ascent up Ben Nevis up the more common mountain path. I was disappointed I couldnt do my scramble, but I had to at least summit!
Most of the journey was a solitary trudge up the mountain over scree and boulders with near zero visibility. Once I got to the top you could see down the sharp edged gullies, but visibility was so poor, you couldnt make out more than a few feet ahead.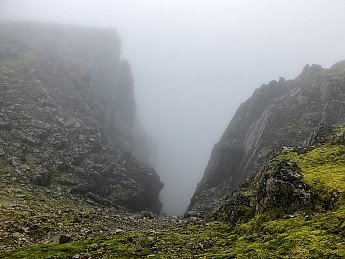 Once at the summit marker, I paused for this eerie photo of the old abandoned shelter and what looks like a mass of rubble strewn all about. It was cold and windy, and I didnt want to waste too much time. I had a train to catch in about 3 hours time, and I still had 7 miles to cover!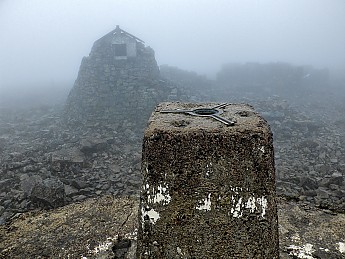 Finally broke past the cloud and fog, but the day wasnt all the sunny at lower levels either!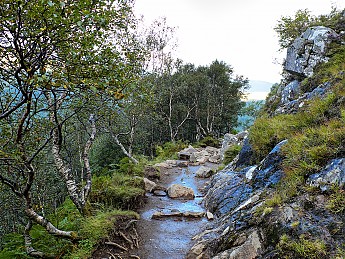 Near the end of my hike, I started encountering people on their way up and was met with tourists offering strange looks, disbelief, and obvious judgement. Some chatted in passing and thought there was something wrong with me for having spent the night up there.... if only they saw the view I had before going to bed, they probably wouldnt hesitate to do it!

I managed to make my train, and repeated all my travels from the day before... I got back to my home in Southwest England past 11 pm. Overall it was an epic-micro adventure of a weekend, and even though I am tired this morning. I am very glad I did it!