Daniel Oates
2,910 reviewer rep | 256 forum posts
5:05 p.m. on September 19, 2014 (EDT)
Had a great time about two weeks back (beginning of Sept '14) with a college friend.  We went for a bit through the Smokies, old stomping grounds for us since we went to Western Carolina University. Of course Western, abbreviated, WCU also means "We Carry Umbrellas."  True back then in college, and it stood true for us on this trip. 
Our plan was to hike from Newfound Gap (middle of Great Smoky Mtn Nat'l Park) to Davenport Gap then just wrap up less than 3 miles the final morning. 
We actually started the first night, Friday, meeting up near our northern exit from the Park.  We car camped and did a disc golf tour on Saturday.  Four courses, finishing at WCU. Pretty cool. We laughed, we cried...mainly cried, it's been a while since we played. 
Hole 17 at Haywood Community College
Plenty of parking at Newfound Gap where we started after a Saturday night at another car camping place in Cherokee. When asked where the best place to set up our tents, the owner said near the headstones.  Little eerie, no ghosts were seen.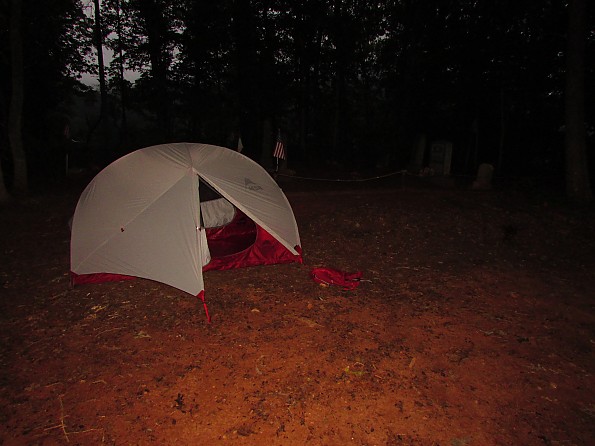 From there to our first AT shelter (lighten the pack weight without tent!) was Tri-Corner Knob.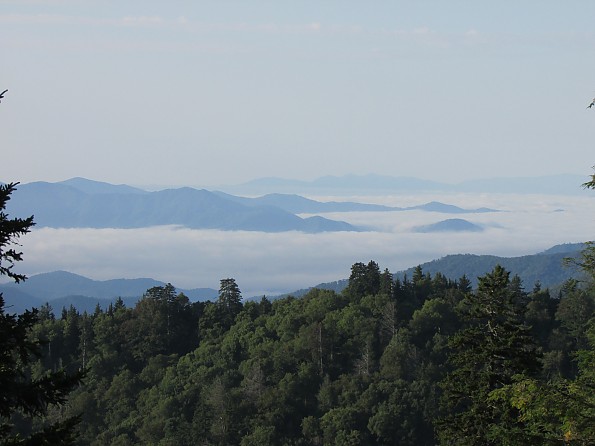 Mainly overcast and raining, but you wouldn't tell from some of the pics. Classic Smoky weather where it'll be clear and then you'll be surrounded by clouds and rain only moments later. Here from Laurel Gap.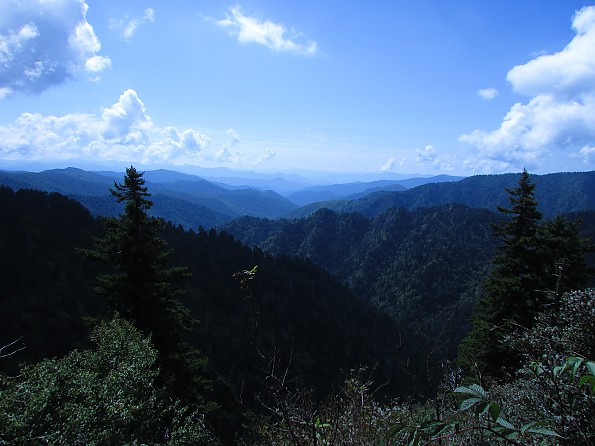 A short spur trail to Charlie's Bunion is definitely worth it.  Only a few miles from the entrance at Newfound Gap, it's absolutely worth a look.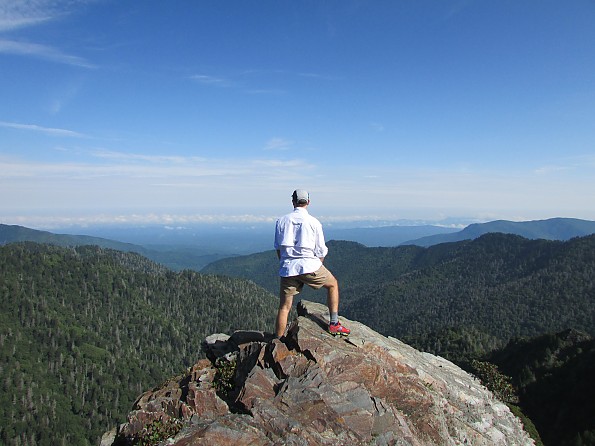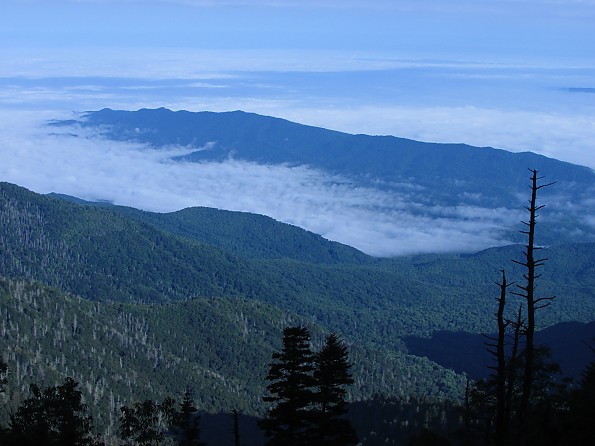 Low clouds after our morning from Tri-Corner Knob shelter.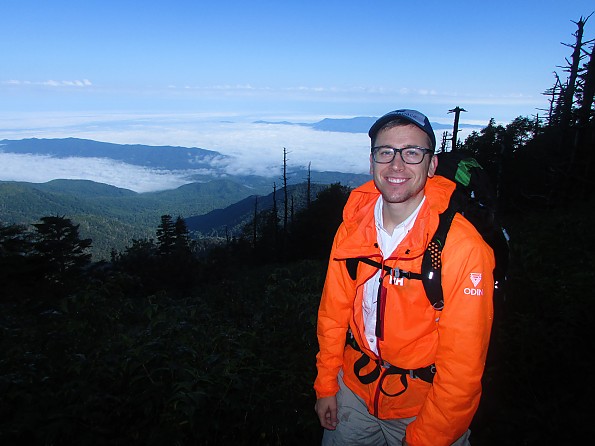 Mainly in different aged woodlines (some old hardwood trails, other new pines, and others with mixed trees and brush). Even so, plenty of places to overlook.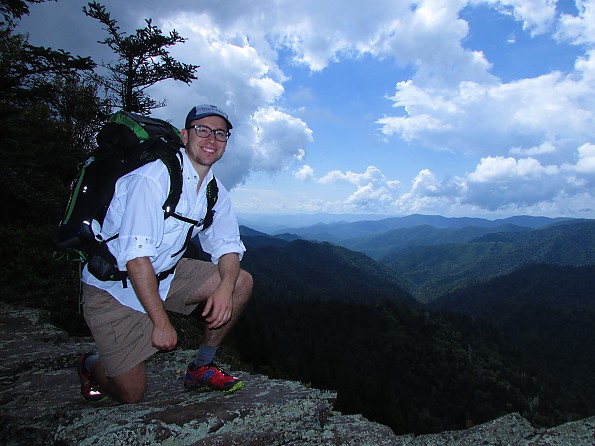 Going northbound from Newfound Gap to Tri-Corner Knob Shelter is about 15.8 miles less any spur trails, slight uphill.  Tri-Corner Knob Shelter to Davenport Gap is about 2/3 flat to downhill and another 16, not including to Mt. Cammerer Firetower.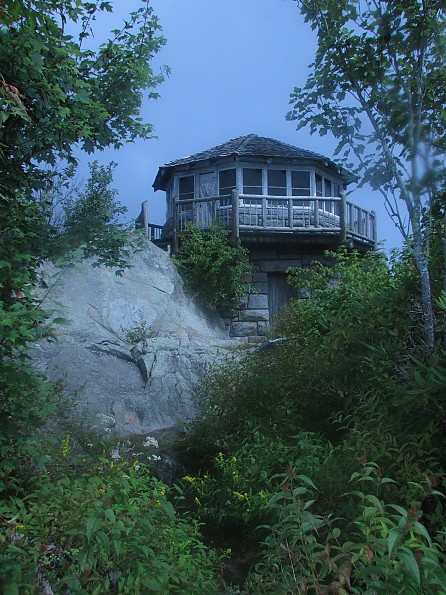 Blue sky in the picture above. In the time it took to walk the 30 meters to the tower...cloud coverage, but we did get a minute or two of clear 360 degrees.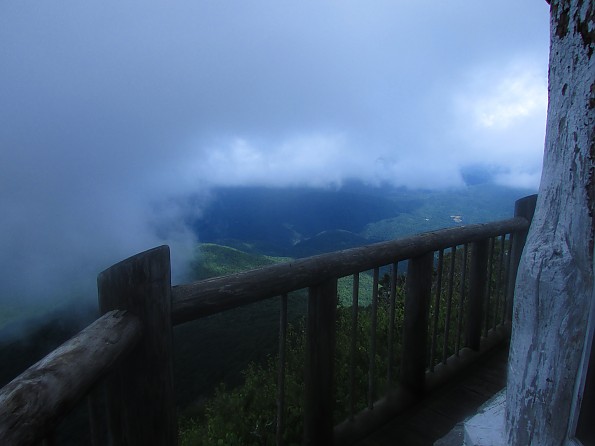 Newfound Gap to Davenport Gap is great full two day hike. We finished at Davenport Gap around 4pm and stayed at the shelter for the night, but with that time could have wrapped up considering we only had 3 more miles to my car.
Davenport Gap shelter...locked in! The only shelter along our path with chain link fence due to bear activity. Had the place to ourselves on our second/last night.
If anyone wants to give it a whirl and will be in the same situation we were (park one car at southern entrance, one at northern), feel free to ask.  I have plenty of advice for the AT parking at the northern part (Waterville Exit 451 off I-40).
Disc golf and backpacking, not too shabby!