11:40 a.m. on June 24, 2015 (EDT)
Jamie Nice

2 reviewer rep
88 forum posts
So the wife and I had a 2.5 day loop planned out in the GSMNP starting and ending at Clingman's Dome.  However, once getting up there we determined it was just too damned hot for for such a demanding hike so we just decided to do a few day hikes instead.  
Our first hike was to the Chimney Tops in the park. It's a 4 mile out & back up to one of only a few rocky summits in the park with no trees.  It was a beautiful hike through the woods with lots of impressive stone steps and several river crossings near the trailhead.  Once you near the top there is a pretty good rock scramble to reach the summit.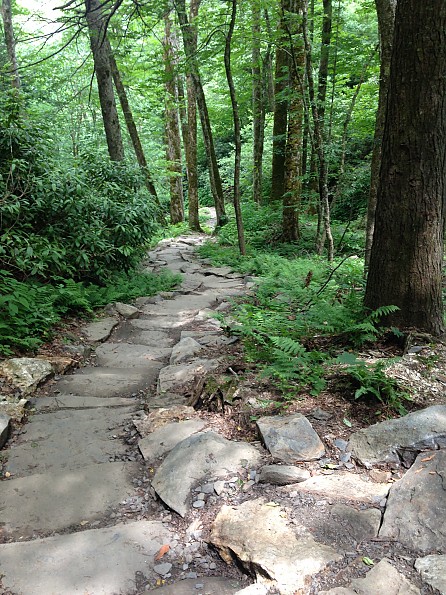 Portion of the Chimney Tops Trail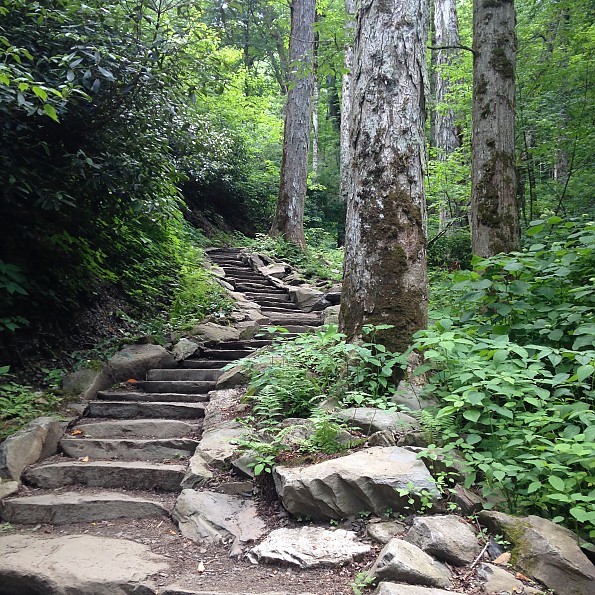 Also the Chimney Tops trail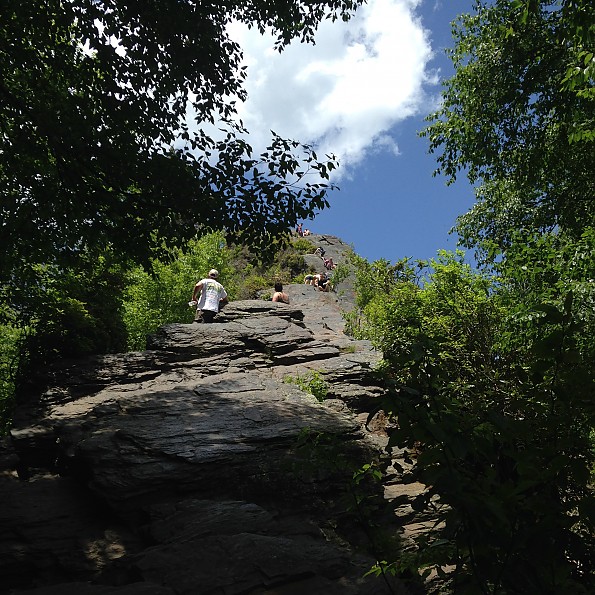 Once you clear the woods you come to the base of this large rock outrcopping climbing into the sky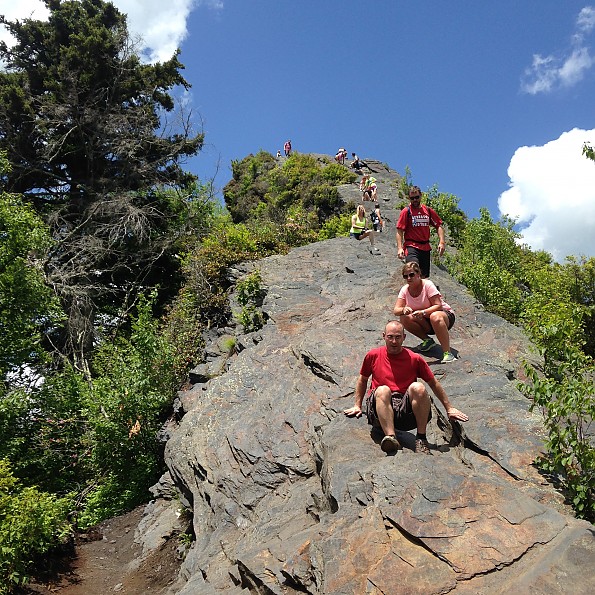 It was crowded though and the rock was HOT.  Made the scramble pretty difficult and you had to wait awhile to let those climbing down to pass as there's not a whole lot of room up there.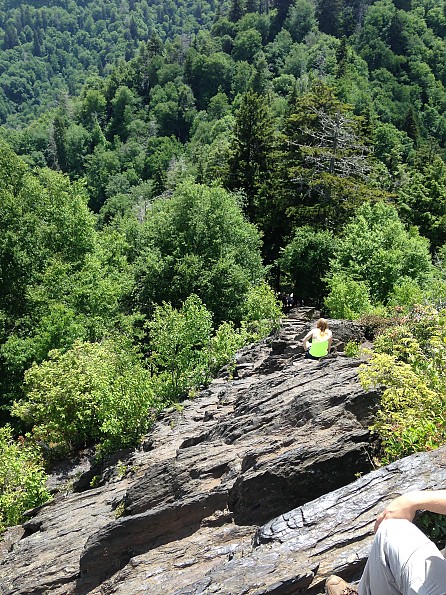 A view down from about 3/4 of the way up.  There were probably still 6-8 people attempting to scramble down passed us, so unfortunately, this was a far as I made it.  A pretty awesome spot though, and I'd love to return and hike this trail again in the early morning to beat the crowds. 
The next day we drove along the Blue Ridge Parkway and hiked a small portion of the Art Loeb Trail.  The trailhead is located on Black Balsam Road which intersects the parkway at about mile marker 420. This trail starts out in the woods but quickly emerges out to several balds.  We had only been about a mile or less when we summitted Black Balsam Knob.  We noticed various campsites and made up our mind that we were going to return here to camp for the night.  We spent another half hour or so exploring the bald before returning to the car.  There were various bear warnings and even some camping prohibitions put in place on adjacent trails, so we stopped on the parkway and ate our dinner prior to returning so we didn't have to worry about taking any food as there is no place to hang up on the bald and I didn't have a bear canister.   We did bring in a couple beers and a bottle of wine to enjoy as we watched the sunset that evening.  We had the whole mountain to ourselves as there was only one other couple camping but they were a few hundred yards away near the top of the first and smaller bald that the trail runs over.  The weather was cool and windy with clouds lurking to the west which eventually provided some rain overnight.  We woke up just before 6am and were treated to one of the most awe-inspiring sunrises I've had the privilege of witnessing.  We spent about an hour or so enjoying the views before packing up and heading back...a very short & easy but no less enjoyable little trip.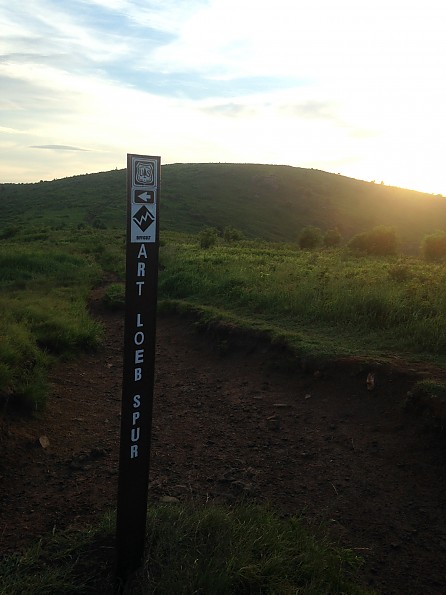 Trail marker with Black Balsam Knob in the background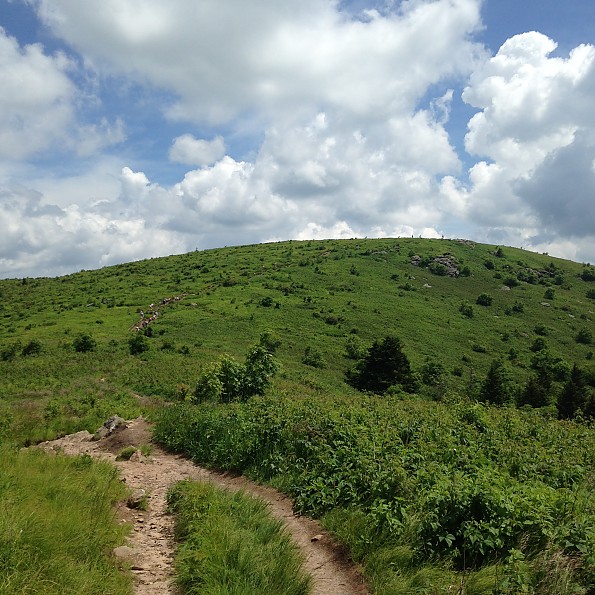 Black Balsam Knob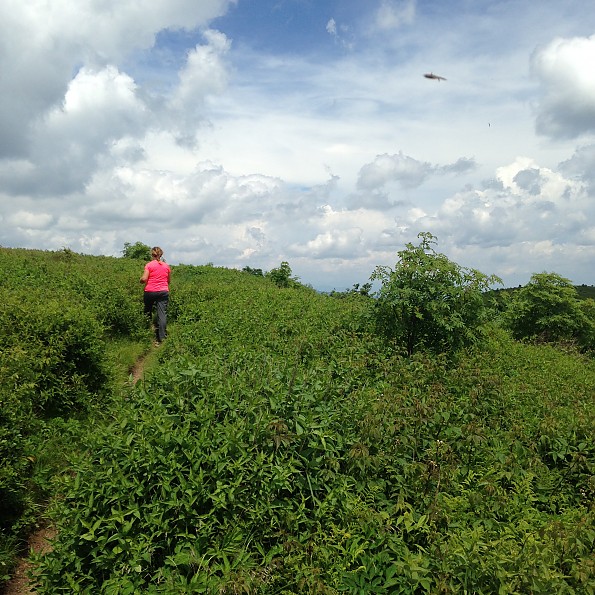 Although it was a little early in the season, there were tons of what appeared to be both blackberry & blueberry plants all along the trail.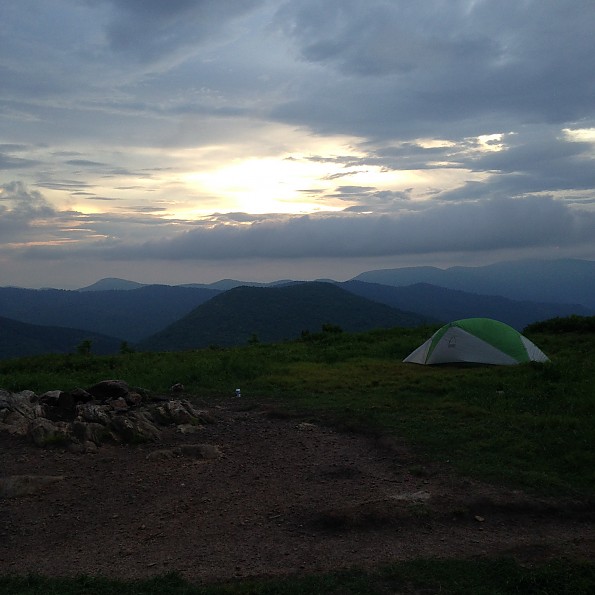 Our spot for the night.  The summit marker is right near those rocks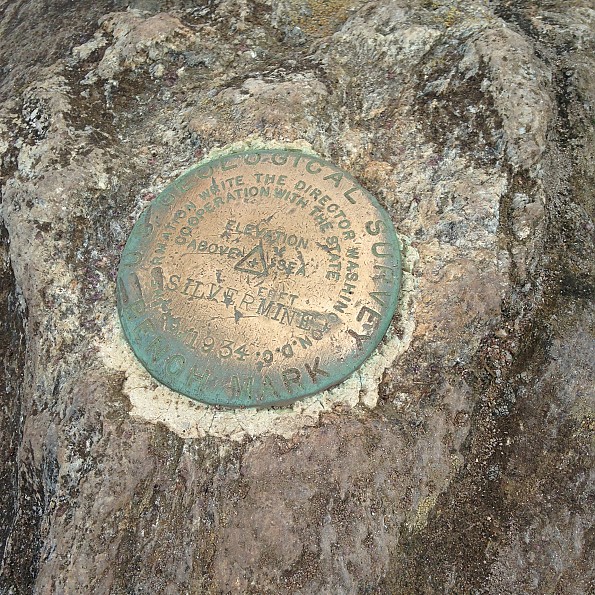 The elevation seems to have worn off over the years but from what I've read it sits at 6,214 feet. 
So although we didn't spend as much time out in the wilderness as I would have liked, we did have a nice little trip and a memorable night out on Black Balsam.  There are great loop opportunities in this area as well for anyone interested.