1:20 p.m. on July 4, 2015 (EDT)
lambertiana

0 reviewer rep
448 forum posts
One of my hiking buddies suggested that we make a quick trip Thursday night while his family was out of town.  We had 24 hours available to us because he had to be back by 5PM yesterday.  We decided to go to White Chief in Sequoia NP, out of Mineral King.  Neither of us had been there before (which I discovered was a tremendous oversight on my part) so the thought of going in after dark had me hoping that we could find things, especially a good campsite, with only headlamps.
We left Visalia a little after 6PM Thursday, and got to the trailhead at Mineral King a little after 8PM.  Apprpaching Mineral King we could see the evening light on Sawtooth: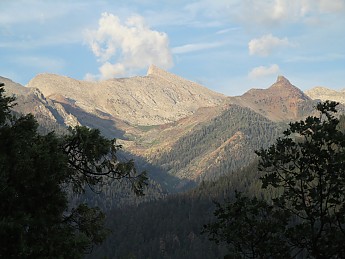 On the drive up, we noticed big puddles on the road, and saw large streams sheeting down granite slabs where we didn't normally see them.  This seemed odd in the drought we are experiencing.  Looking down into the canyon bottom just below Mineral King, we could see that the stream had turned into a raging muddy torrent.  It turns out that they had just had a really gully washer.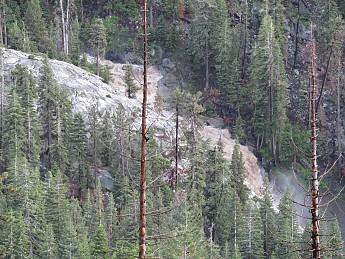 We ran into this little guy by the trailhead
After this it got dark before I could get any more pictures.  The hike up to where we camped was relatively uneventful.  There were multiple washouts along the trail, testament to the heavy rains earlier that day.  When we got higher, many areas had pea-sized hail covering the ground a couple inches deep.  The stream crossing in lower White Chief Bowl was much more than anticipated because everything was running high.  Let's just say my feet were freezing by the time we were across.
The next morning we could see up the canyon.  We noticed that the stream on the right seemed to appear out of nowhere...something to investigate.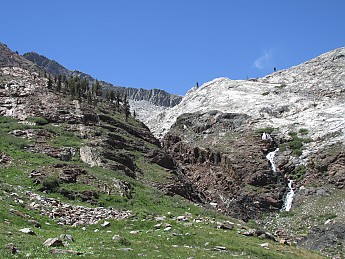 And across from us, nestled in a bowl up high, is White Chief Lake.  In the middle of the picture you can see White Chief Mine, bored into the band of white marble.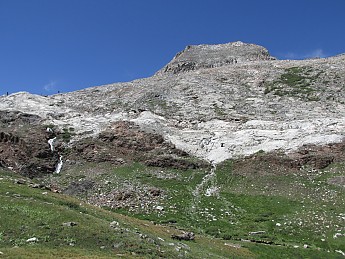 One thing I like about Mineral King is the geologic diversity.  Most of the Sierra is a patchwork of granite and granodiorite plutons (indistinguishable by eye, so everyone just calls it all granite).  But in the picture above, the top is medium gray granodiorite, with the band of brilliant white marble in the middle, and the dark slate/phyllite/argillaceous hornfels on the bottom.
As we started up toward White King Lake (just over the ridge on the right side of the above picture), we came to the stream that seemed to appear from nowhere.  There is a nice waterfall there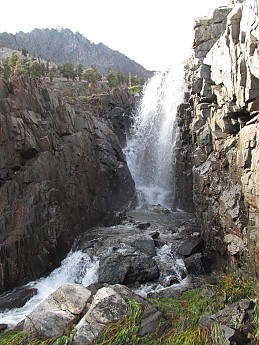 Then just above the waterfall, the mystery was solved - the stream was coming out of a cave: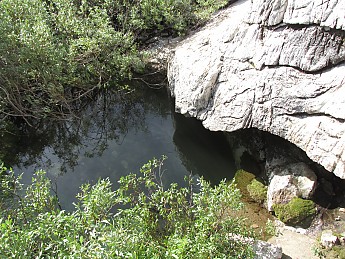 Mineral King is well known for the karst in the marble and limestone.  We started to encounter numerous caves in the marble; most were vertical shafts and we did not have a rope.  They all went out of sight into the earth, I have no idea how deep they really are (the pictures don't capture the depth that was visible to us)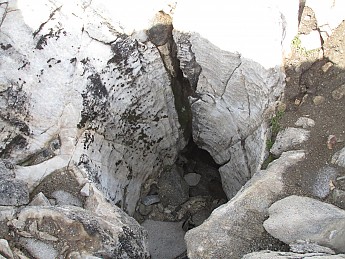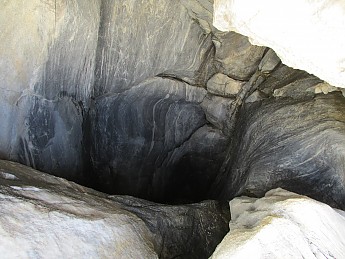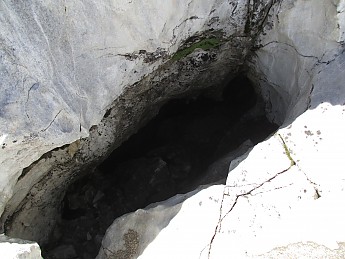 As we went higher we could see into the upper part of White Chief canyon (Patrick, see the foxtail pines?):