LoneStranger
TOP 10 REVIEWER
REVIEW CORPS
11,235 reviewer rep | 1,709 forum posts
1:48 p.m. on October 21, 2015 (EDT)
This is the follow up to last year's BSP/IAT Loop Gone Wrong. Since waiting until Fall to take advantage of the nice cool weather didn't seem to work last year I went ahead and booked this trip for the middle of July.
Long version with more pics and story is available at http://lesstraveledby.net/2015/10/03/bspiat-loop-july-2015/
I modified the plan a bit from last year though the same basic loop down through Baxter and back up on the IAT remained.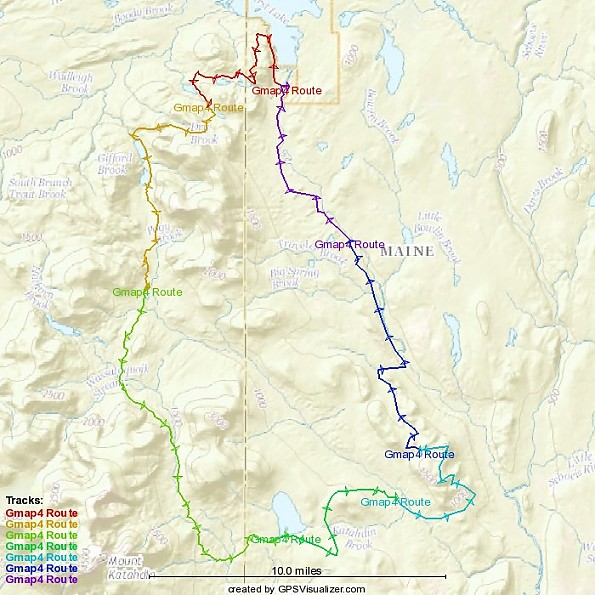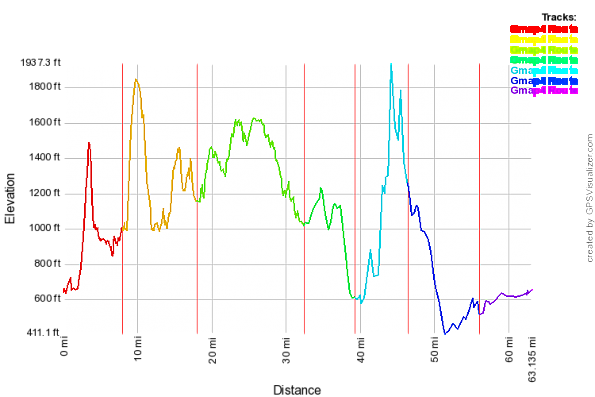 I added a few miles to the first day, camping at Middle Fowler rather than Long Pond. I also swapped the short day on day three for a night on Katahdin Lake and a pretty easy day four. Total miles were close to 70, despite what my hand crafted elevation profile says.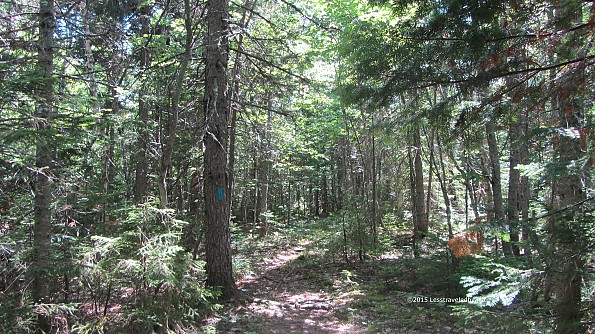 Day 1 started early with a four hour motorcycle ride to my prearranged parking spot at Matagamon Camp. After a couple of miles of road walk up the hill to the ranger station I found the same ranger I checked in with for this loop last year. Then I was finally on real trail!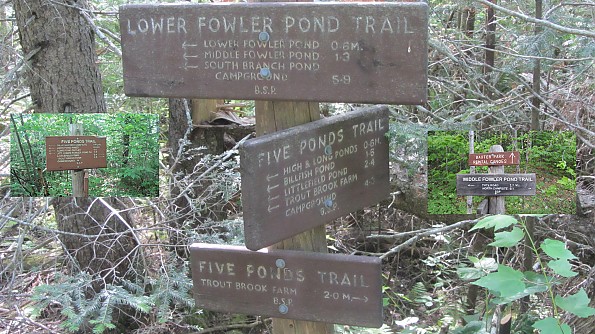 Well lots of trails as my route took me over Horse Mt and then on a tour of the Fowler Ponds area.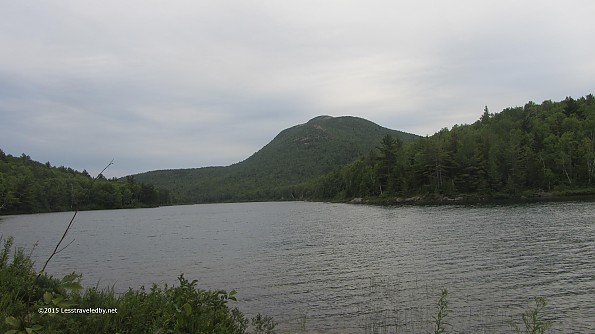 After a quiet night at the north campsite on Middle Fowler I woke to some expected weather. Light mist that passed by the time I finished my coffee.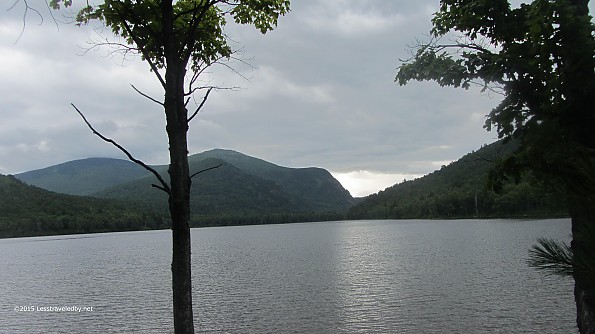 The afternoon view from South Branch looking towards Pogy almost looked like things might be clearing up soon. That was not the case heh. Mist turned to rain turned to downpour and then the storm hit. The last few miles to Pogy that took me hours to cover last year were done at near running pace this time. I arrived at the site with water literally pouring out of my boots.
Day three has no pictures recorded as there were showers off and on throughout plus I had a lot of miles to cover that day. I stopped to say hi at the Russell Pond ranger station but that was my only detour on a direct route to Roaring Brook and the road out of the park.
A few miles of road walk took me to Avalanche Field and the trailhead to Katahdin Lake. The trail follows about three miles of old forest road so is pretty easy hiking. Good thing too because about half way down the trail another downpour hit.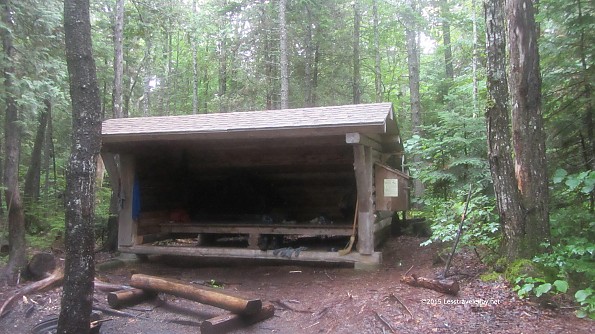 I had this huge six person LT to myself at the lake so there was plenty of room to hang out wet stuff. Changing into dry clothes did wonders, but the weather was starting to take its toll on my body. I seem to recall a snack based dinner heavy on the cookies that night. My feet were especially happy to have some time to dry out.

I'll have to go back again to find out what the lake looks like. Pretty sure there is a great view of Katahdin when you can see it.
Day four was a shorter day with a few miles to exit Baxter via a route that took me right through the middle of the Katahdin Lake Camp. I passed through seeing no one and after dropping off my Baxter paperwork at the box by the exit began my trip north on the IAT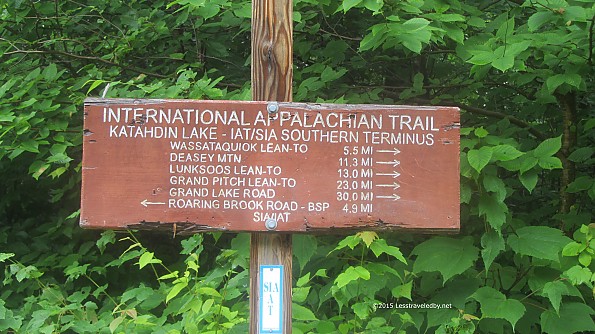 Just 30 miles left at this point. I was wet and the fog would soon turn to showers so I'd be wetter still, but I knew there was an ice cream cone waiting for me up there.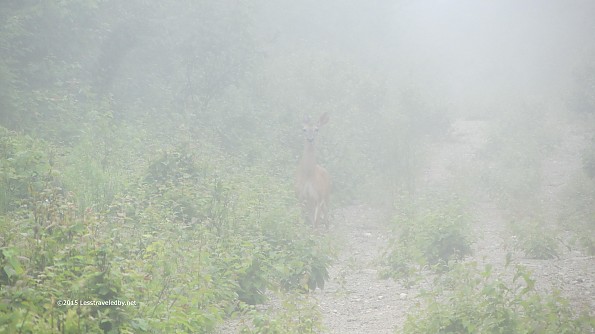 Where the old road was closed in by encroaching brush I was singing to warn the bears I was coming, but in this open section I snuck up on this doe. We peered at each other through the fog for a bit before she jumped and was gone.
I spent that night at the Wassataquoik Stream IAT LT with a nice couple from Quebec. Thankfully their english was good enough that I didn't have to break out my terrible french. They were planning on walking the entire Maine section of the IAT, but oddly enough seemed unaware that they would be road walking for big sections.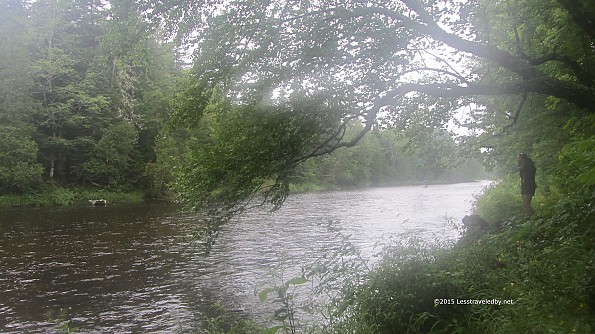 Day five started with a short hike to the only serious ford on the loop. Here they are putting their shoes back on after the big water crossing. This is about the last I'd see of them for a while as they were hiking much faster than me. Turns out they did a 20+ mile day and then had to do two low mileage days to recover.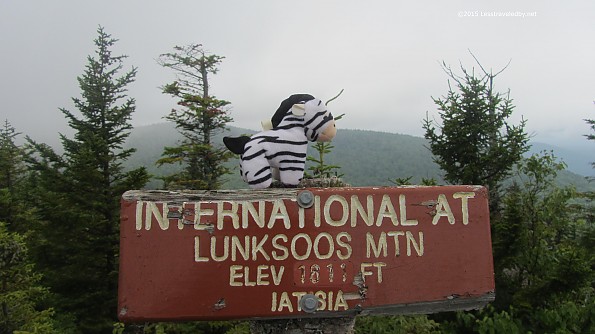 My daughter sent this guy along to keep me company at the last minute. He spent most of the trip in a ziplock so held up pretty well. Right after I took this shot a gust of wind almost blew him over the side of the mountain though.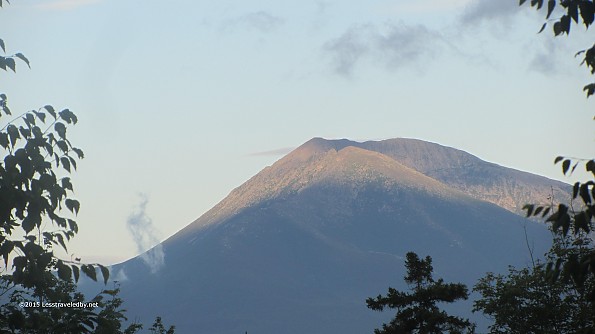 After another wet and starless night this was how Day six started. Enjoy the view while you can. The rain would start up again soon enough heh.
I stopped in at the Bowlin Camps to see if their kitchen might be open. Sadly they had no guests and everything was closed up. The caretakers were worried I was starving and offered me lunch out of their own supplies in return for a few hours of conversation. Two of the nicest folks I have ever met and my wife still thinks I might have dreamed up the whole visit heh.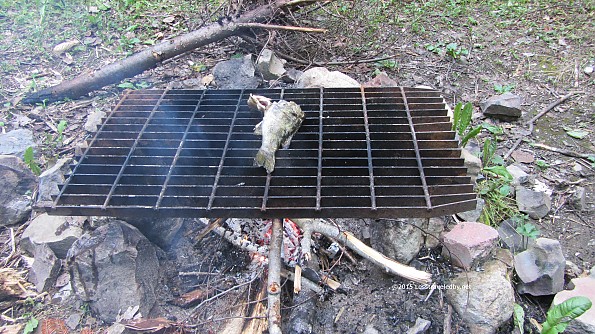 They needn't have worried about me starving. I had some delicious fresh trout for dinner that night. Catching them was easy, but getting a fire lit was quite a challenge. A lesser man might have been having trout soup, I considered it myself at one point heh, but despite all the rain I was eventually able to get a cook fire going. Thankfully this was my last night out so I was able to carefully wrap up the scraps and pack them out without being molested by any of the numerous bears in the area.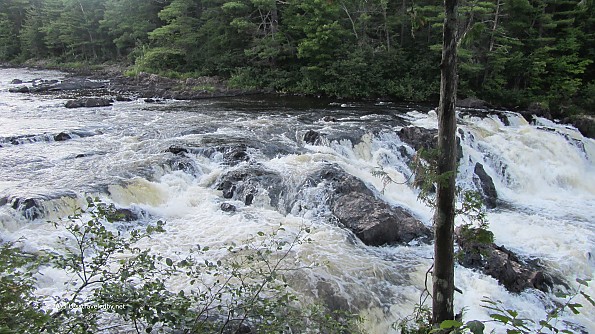 After dinner I took a bunch of pics near the falls that give the Grand Pitch Lt its name.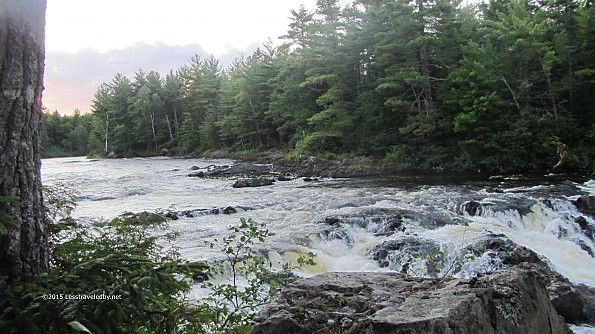 Maybe it was the fresh fish in my belly, maybe it was the views, but I was feeling a little bad that this was my last night out.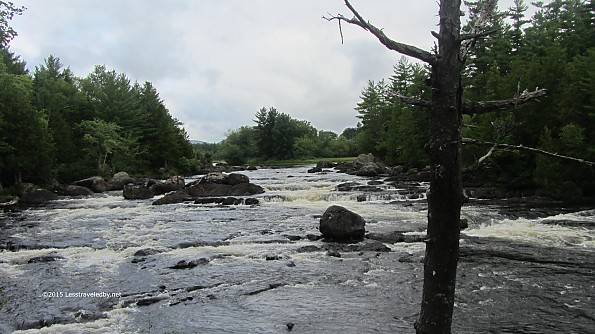 Day seven of course had a few showers, but I was treated to some nice views of the East Branch. I enjoyed my ice cream cone immensely, because that is how they make them, immense!
Then I ran into my French Canadian friends as I began my motorcycle ride home. I pulled over and they ran across the highway to see if that was indeed me. We chatted for quite a while exchanging stories of wet tired feet and delicious ice cream. Then I had to leave them to their road walk as I could hear a cheeseburger calling to me from a few hours down the road.
Fantastic trip pretty much sums this one up despite the weather. There was a certain sense of revenge, which was sweet. Definitely a sense of overcoming adversity. Of course I'm already thinking how this trip could be improved by adding two or three more days. Maybe next year...