LoneStranger
TOP 10 REVIEWER
REVIEW CORPS
11,265 reviewer rep | 1,710 forum posts
8:53 a.m. on November 12, 2015 (EST)
Still catching up after a busy season. Some time this Summer the goal of redlining the Pemi popped into my head. These trips were part of accomplishing that and took me to places everyone goes and a place almost no one goes.
Long versions with more pics and story can be found here:
Zeacliff is a tiny piece of trail that runs directly up the cliff rather than winding around the side of it as the AT does.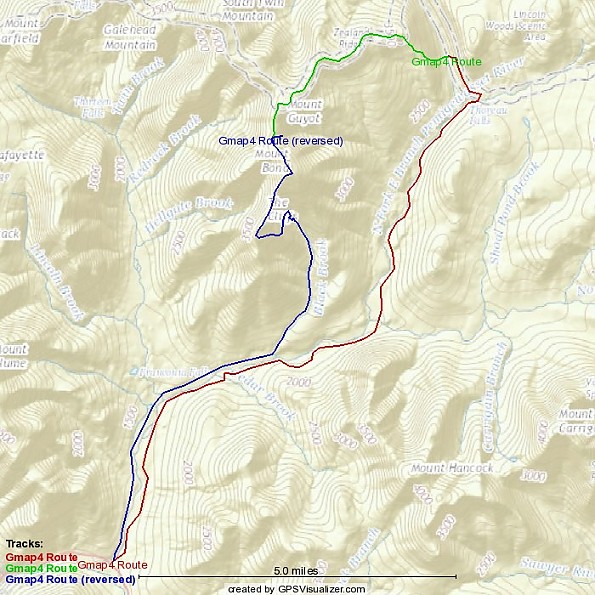 Working counter clockwise around the lollipop the plan was to camp at the base of the cliff and hit it at the start of day two. That meant a long 12 miles or so after the ride to the trailhead.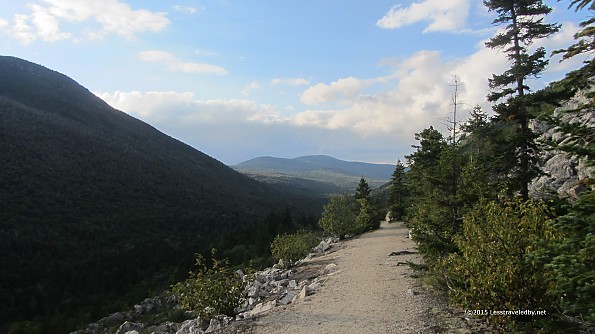 After coming up via Thoreau Falls I got to enjoy the gentle path that is the Ethan Pond section of the AT for a few miles. Then descended steeply on the Zeacliff Trail which really is just a rock hop of the bottom of the boulder field from Whiteface above.
After a peaceful night I awoke to the sound of some NOBO thrus chatting as they hiked past above my head. Then after a quick breakfast it was time to go up. Only a little more than a mile but almost 2000 feet of up.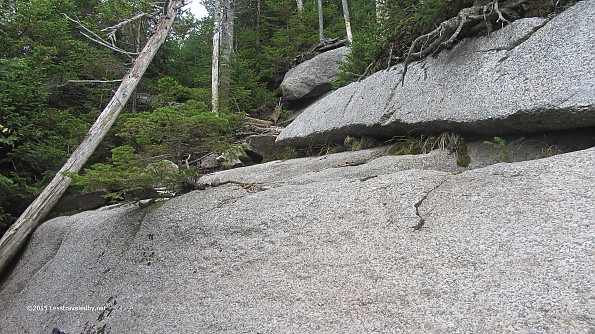 It is hard to capture a climb like this in pictures. They rarely do justice to the reality of what a hiker is faced with. Thankfully that crack on the far left was big enough to get some hand holds or I might have had to try shimmying up that tree.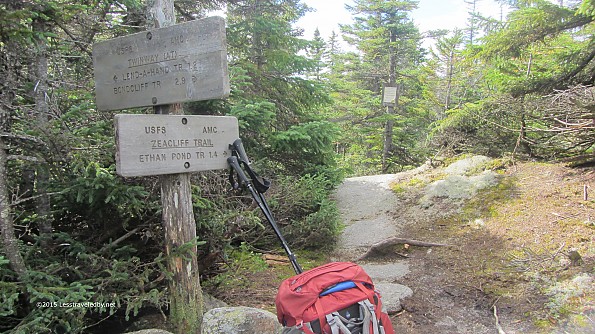 Reaching the top where the Zeacliff Trail hits the Twinway I celebrated with a long, leisurely second breakfast.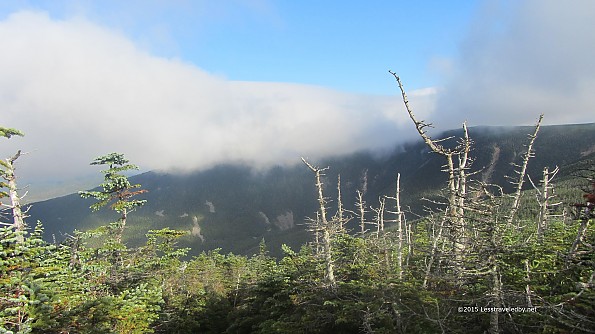 The hard work done I moved on to Guyot for the night and out via the Bonds the next day. Tough work but someone has to do it.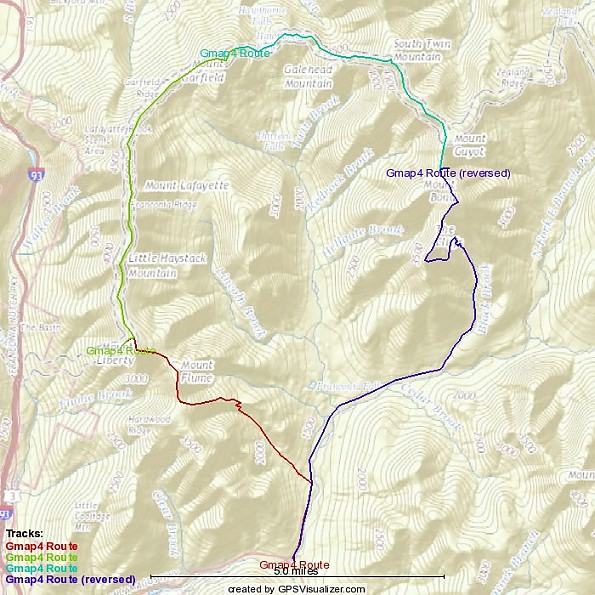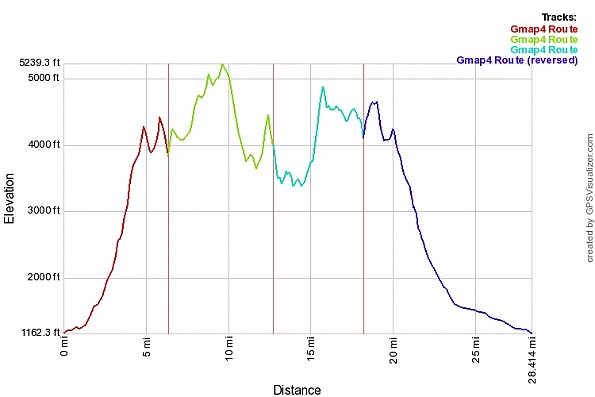 The Traditional Pemi Loop has become a tradition for good reason. The extended time above treeline on the Franconia Ridge would be enough to make most trips, but Garfield, South Twin and the Bonds keep the views coming.
My plan was to go slow and savor the experience rather than making a death march out of it. Four real days of hiking with an extra day to hang out at Guyot and enjoy the Bonds. More people than I'm used to meeting on trail, but not as bad as I'd expected given the time of year.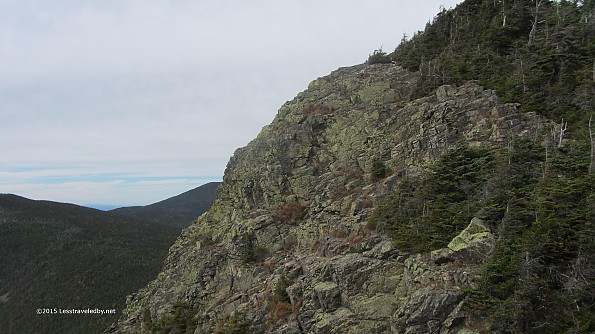 I won't fill up the TS servers with all the pretty pics I took, but a few need to be shared. The only thing more exciting than realizing the trail is going to go up the edge of that cliff is walking on it.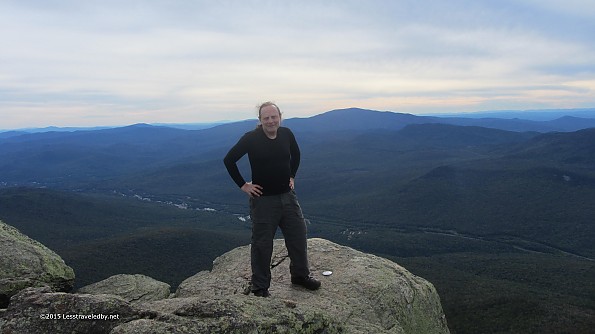 My only regret was that I left my TS hat at home. I hardly recognize me. Thankfully I brought extra stickers along so was still able to spread the good word.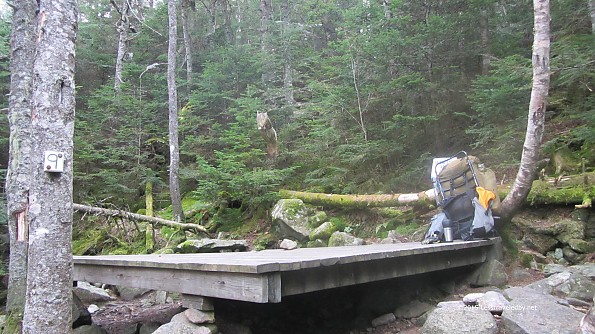 Liberty Springs Tentsite #9 made for a great spot to rest after climbing up to the ridge. Pity it was way down on a side trail, but good water and the farthest three sites all seemed to have good privacy.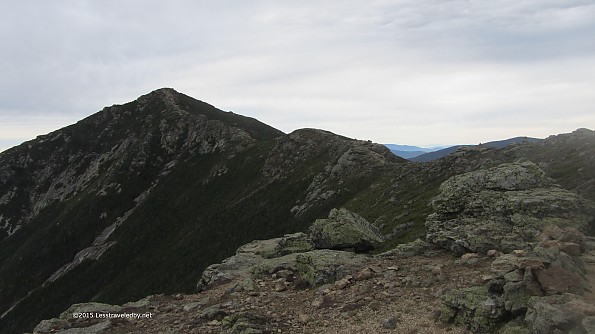 Day two was spent on Franconia Ridge. Totally exposed I was thankful for the lack of wind rather than mad about the cloud cover.

Looking back at the ridge from near Garfield summit. Despite 27 snack breaks I was really looking forward to dinner. Not a lot of miles, but a long day of hiking.
Garfield campsite was pretty gloomy and I didn't take any pics there. Nice enough spot, but the water supply is well below so fill up for the night/morning before going up. This one, like Guyot, has a shelter for those who want a communal experience.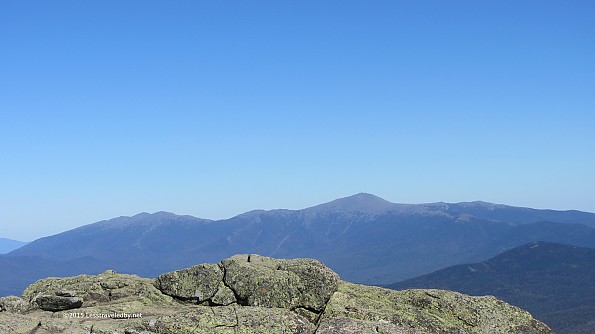 South Twin summit looking towards Washington. Second visit here was much easier than the first. I have a feeling there will be more.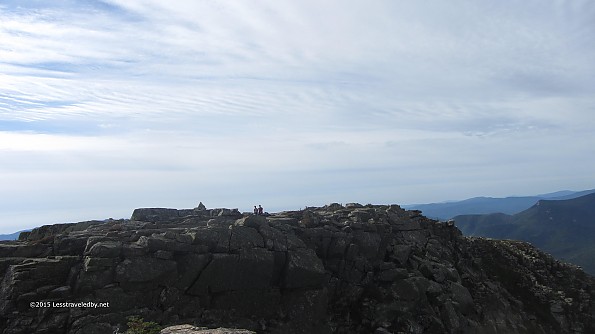 After a very relaxing day off that was only interrupted by a climb to Bond summit for lunch I headed out on day five with some very happy legs. I am going to have to do that more often!
After using them as props in my picture I stopped to chat with these folks. They were from the UK I believe and were have a blast exploring the Whites. Most everyone I met on this loop seemed to be having a blast actually, myself included.
Check out the link at the top to see more pictures, but I think I've shown enough to tempt you into going to see these spots for yourself. If you go keep in mind the weather can play havoc with your plans in these mountains. Come prepared and be flexible.
The AMC campsites are a good place to plan your trip around. There are few legitimate back country sites along this route and with the heavy use it sees it is better to concentrate impact into the managed areas. They charge a small fee ($8 this year) but in return you get use of a bear box, tent platform or shelter and their lovely composting latrines.