LoneStranger
TOP 10 REVIEWER
REVIEW CORPS
10,823 reviewer rep | 1,688 forum posts
2:13 p.m. on May 19, 2016 (EDT)
After a long winter of fighting the weather and family schedules I finally managed to get out for a couple of nice loops last month. As usual you can find the longer versions with more pics on my site by following the links below so I don't blow up the TS servers.
Four Day Bonds/Thoreau Falls Loop - April 2016
Stillwater/Shoal Pond/Thoreau Falls Loop - April 2016
Bonds Loop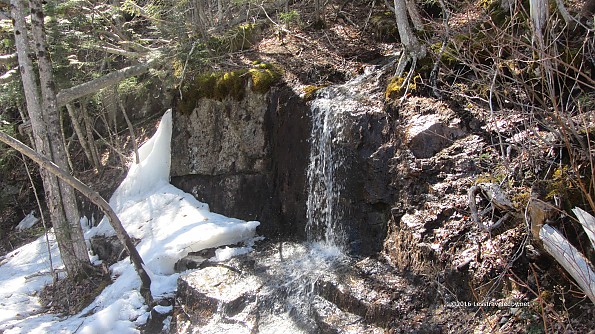 This trip was taken the second week of April and while the little snow there had been had long since melted there were still some patches of ice remaining even at lower elevations.
With a late start and the days still a bit short I opted to camp in between a couple of the Black Brook crossings, saving most of the elevation for the second day.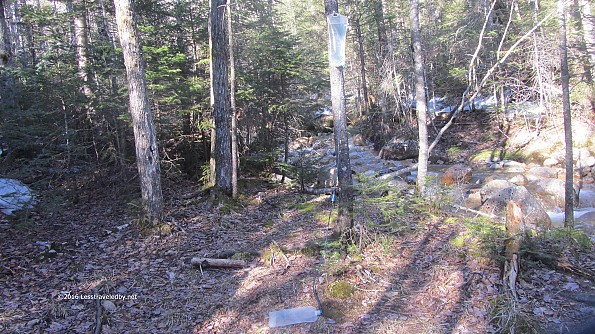 The late afternoon temp was in the 40s so I broke out my cobbled together gravity water filtration system. Platy bags on either end with the mouthpiece pulled off and a Sawyer Mini in the middle. I have a full sized Sawyer I'm going to start using now that the risk of freezing is pretty much over, but even the Mini worked well enough to make it way better than squeezing ice cold bags of water.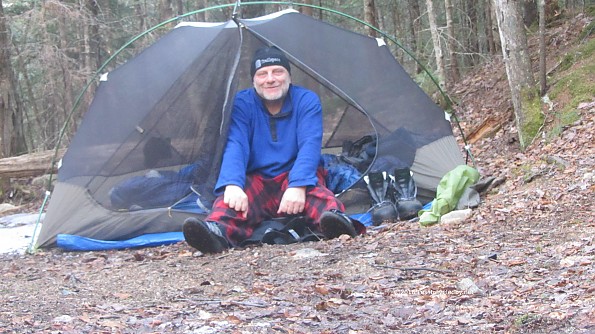 I put the roof on later but first job was to get fuzzy and the second was to have some dinner. Plenty of time to worry about the roof later.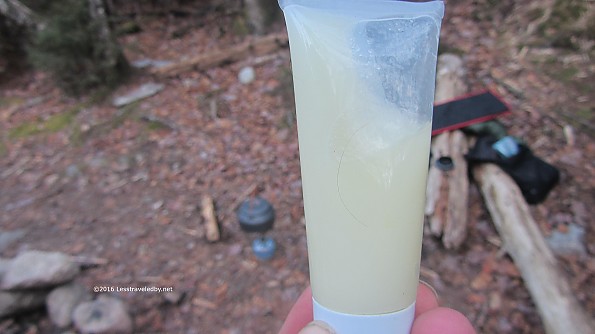 The thermometer said it was about 20°f in the morning while my tube of olive oil said less specifically that it was a bit chilly.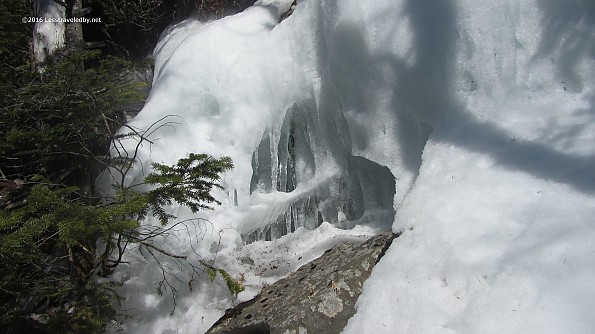 The patchy ice  become a fully ice covered trail pretty soon so it was Hillsounds most of the rest of the way up. This was an especially interesting ice flow that was probably going to last for a while longer.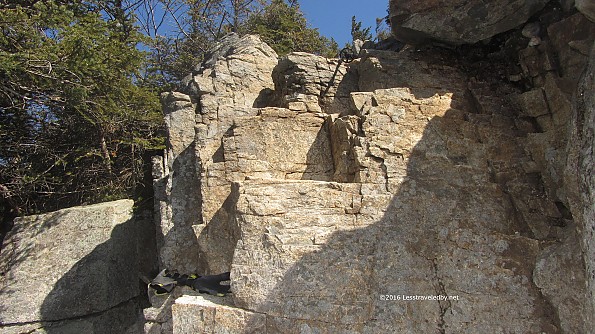 I heard someone jokingly refer to this as the Hillary Steppe recently. Thankfully it was ice free so I took off my spikes, tossed my poles up and scrambled up to the top.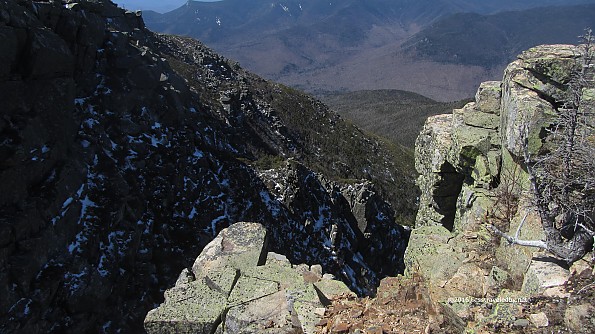 It was a beautiful clear day up there on the cliffs. With only a light wind there was no need to rush off in search of shelter. I enjoyed the fact that I could get close to the big hole in the ground without fear of being blown over the edge.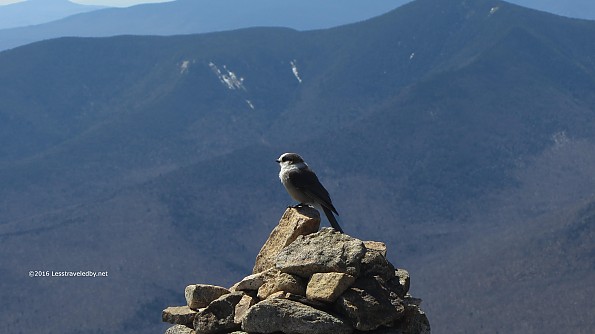 After an icy climb up to Bond Summit which required me to put my spikes back on I was met by my old nemesis the Gray Jay. Oddly enough this one was working alone so he wasn't as much trouble as usual. Again the wind was light so I enjoyed some time there on the summit.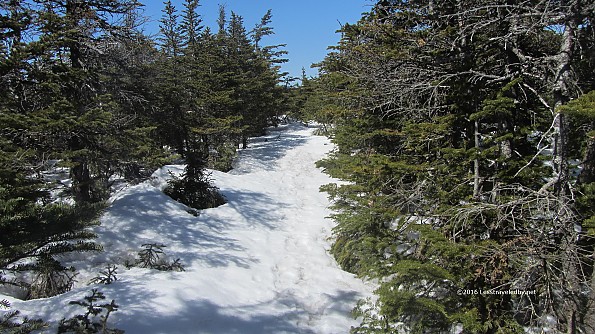 There was some actual snow on this side of the mountain. I took full advantage and performed several controlled butt slides on my way down to the Guyot campsite.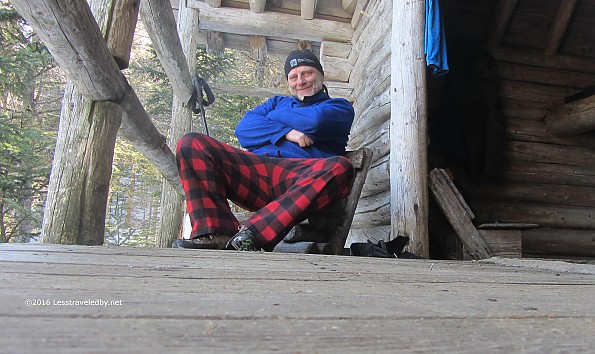 I had the shelter to myself for the afternoon. Later I'd be joined by two separate individuals who hiked into camp wearing shorts. A strange and hearty folk these New Englanders be. It was another chilly night, around 20°f but this time I opted to fire up a handwarmer which made for a very snuggly sleep.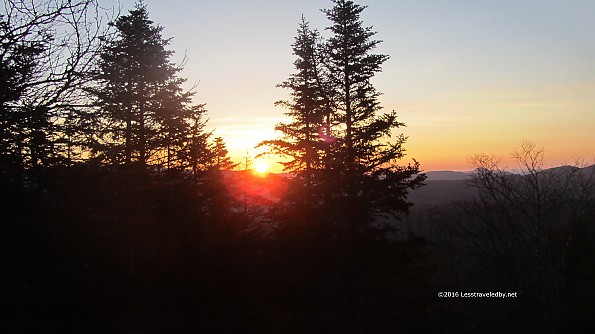 Beautiful sunrise from the front porch of the shelter. With no need to rush off I spent some time under my quilt and then made a great cup of coffee to start the day.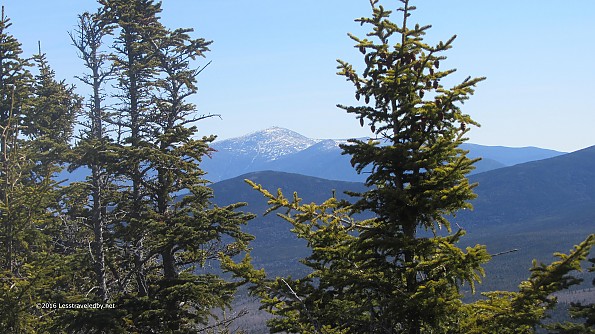 Not many pics from my trip across the Twinway towards Zealand due to the ice danger. I was pretty focused on keeping my spikes stuck in on the more tilty sections, but I had to stop and catch this view of Washington through the trees.
After that it was down the steep and very icy section that leads to the Zealand Hut where I filled my water bottles, ate lunch and chatted with the hutmaster for a bit. He had day hiked down to climb Carrigain via the Desolation trail the day before and had a nasty cut on the back of his leg from a slide he'd taken.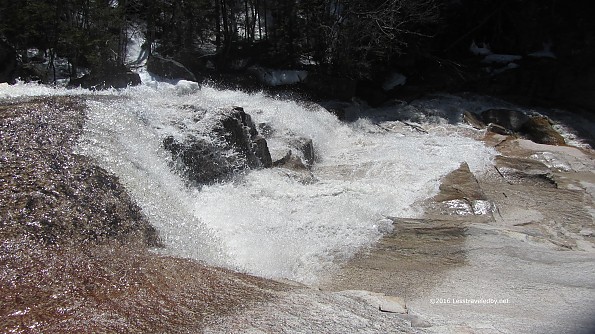 A quick stop at Thoreau Falls for an afternoon snack and then it was time to head down the North Fork to find a campsite for the night. No more pics to share, but I will leave you with this video I took before leaving the falls.
Stillwater/Shoal Pond Loop
A couple of weeks later I headed out on a three day loop primarily designed to let me put some miles on a pair of Limmer Standards I've been breaking in. That seemed like a good excuse to take it easy and not do any real climbing.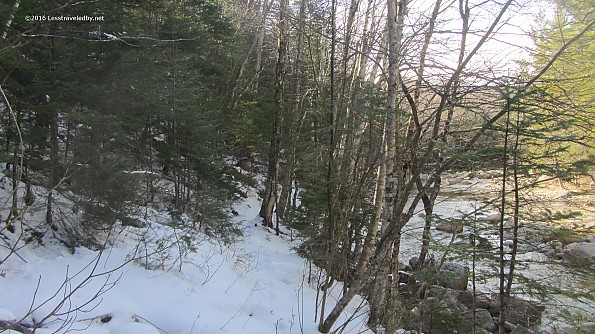 Between visits one of the few actual snowfalls of the year fell. I started out on dry trail but about six miles in I found the trail covered in about 8 inches of snow.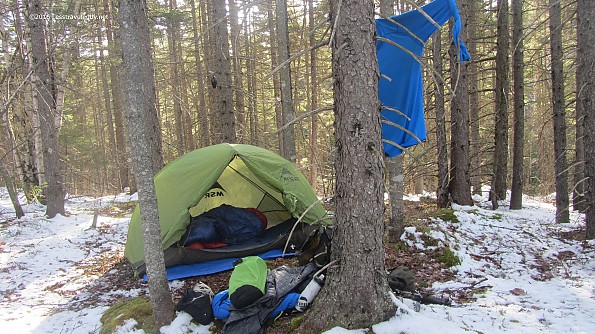 I stopped just shy of the Stillwater area to set up camp on a knob above the river. Much warmer to sleep away from the water especially with the hill for the cold to drain down. The fact that I brought both my quilts didn't hurt either and I slept quite well that night.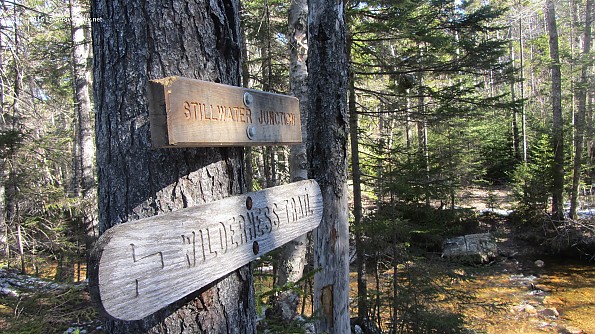 My thermometer said it was about 27°f in the morning, but it warmed up nicely in the sun from there. Too bad I'd spend most of the morning in the shade as I headed up towards Shoal Pond. Still, hiking is a good way to keep warm and I even did some bushwhacking which really warmed me up.
The trail crosses the brook many times on its way up to the pond and there was a lot of ice on the rocks which made things interesting. There were more than a few false starts and mid stream reroutes, but I managed to make it the whole way without falling in.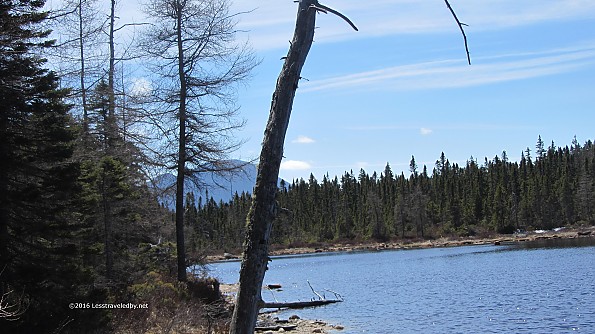 I found a sunny spot near Shoal Pond to have a lunch break. Looking back towards where I started the day I could see Carrigain rising beyond. Probably about time to think about climbing that beast again once I get these boots broken in a bit more.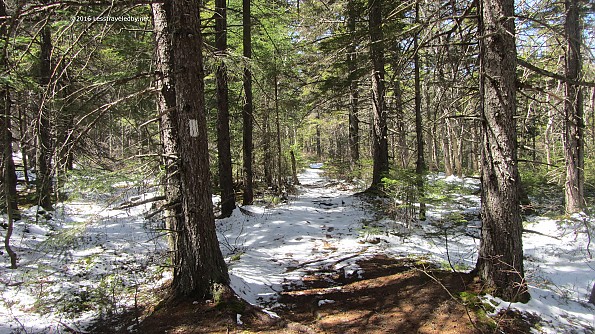 There were still a few patches of thick ice hiding under the new snow on the AT. It would be silly to survive the wilderness sections of this trip and then break my leg on the well groomed half mile of AT I had to travel. Thankfully I survived this section just fine too.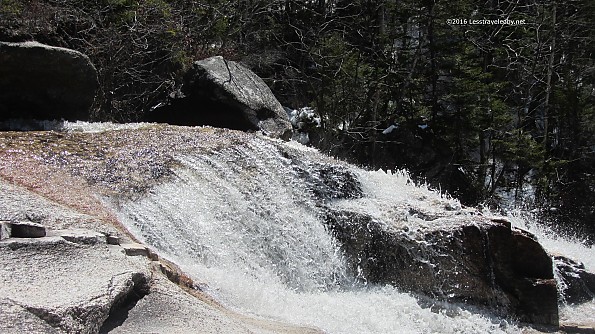 Then I was back at Thoreau Falls once again. The snow made things look even better than the previous trip and I had plenty of time to hang out and take pics.
I was a bit worried about trail finding with the heavy snow on the ground in this area. The Thoreau Falls trail is not blazed and without a visual clue on the ground takes some effort to follow. Then to my amazement I found footprints on the other side of the falls. Someone had walked out and turned around, leaving me plenty of clues where the trail was without having to put much effort into it.
The following day I met the person who'd made these footprints. He was doing a series of day hikes and was headed out to Stillwater as I was heading back to the trailhead. I think he thought me a bit mad for being so appreciative, but it really did make my day easier to find those footprints.
So that's April in the books. Front yard landscaping has cut into my free time this month, but I did indeed squeeze in an interesting Carrigain trip a couple of weeks ago. Look for that report soon though pics will be sparse as not only was it very treacherous but I've been having problems with my aged camera not working well in the cold. Hope you folks are getting out when you can!!