BigRed
REVIEW CORPS
7,508 reviewer rep | 1,300 forum posts
2:12 p.m. on August 23, 2016 (EDT)
With both daughters all grown up and out of the house, and our two-family JMT hike two years behind us, my wife and I set our sights on the Wind Rivers for a romantic wilderness getaway for just the two of us, the first such in many years. Planning proceeded in fits and starts over the winter but by our departure date of July 9 we were more than ready to go.
We needed to lighten up in order to carry 10 nights/11 days' worth of food, but we also wanted to maintain a modicum of comfort. We managed to get starting weights down to about 22 kg/46 lbs for me and 18 kg/40 lbs for my wife, including a 1.2 kg bear can (BV500) each, his and her Atmos 50/ Aura 50 packs (1.4 / 1.3 kg), a Big Agnes Copper Spur 3 (about 1.8 kg), one 1.4 kg rectangular down bag to use as a quilt, two NeoAir All-Seasons with a couple kit and homemade silk double mattress cover (about 1.5 kg total), and an MSR Windburner with both 1 and 1.8 L pots (700 g total) as the major gear items.
As it turns out our summer adventure began on a sad note. We flew first to Boston for visits with friends and family, but had to leave my best buddy Ralph back in Norway in somewhat uncertain condition. His back legs had been getting weaker and he was having a hard time getting up the stairs. We left him at home in the care of a friend of the family who we kept in close touch with. Within a few days he was unable to stand and perform necessary bodily functions, so I made a round trip back to Norway to spend a last night with him before taking him to the vet to put him to sleep. Not a great beginning to our vacay but totally the right thing to do. He was about 12.5 very full and eventful years old.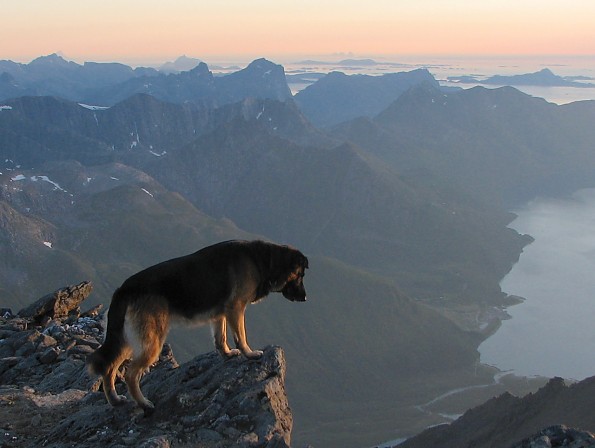 Ralph digs the view from Helglandsbukken, 2008
After all that we flew onward to Salt Lake City and then drove to Jackson Hole in a rented car. We looked into using buses but it turned out we would save little money and lose time and convenience as compared to the rental option even though we would leave the car parked at our exit trailhead for 10 days (partly because of the high cost of a shuttle from the exit trailhead back to SLC).
Before starting the hike we stayed one night in a B&B in JH and another at one of the campgrounds in Teton NP, and took a shakedown hike with full packs on easy terrain on one day and on the second a half-day hike up to Amphitheater Lake at almost 10,000 ft to acclimatize.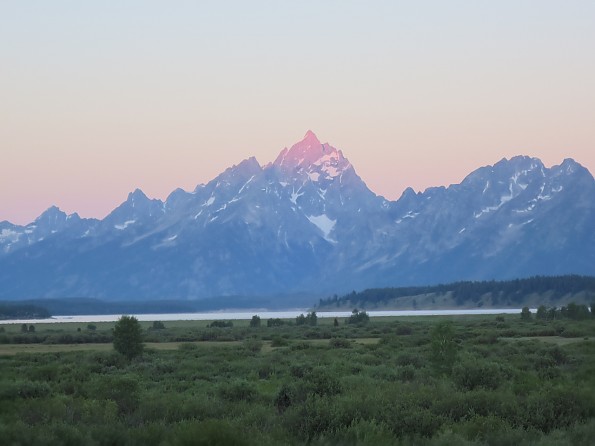 First light on the Grand Teton
The plan from there was to use the afternoon after our half day hike to drive to our exit trailhead at Big Sandy and arrive early enough for a final reorganization of gear and food before dark. A shuttle would then pick us up at 9:00 the next morning and drive us around to the Green River Lakes trailhead where we would start our hike. But on the road through the mountains south of Hoback traffic was stopped due to a forest fire that threatened the road.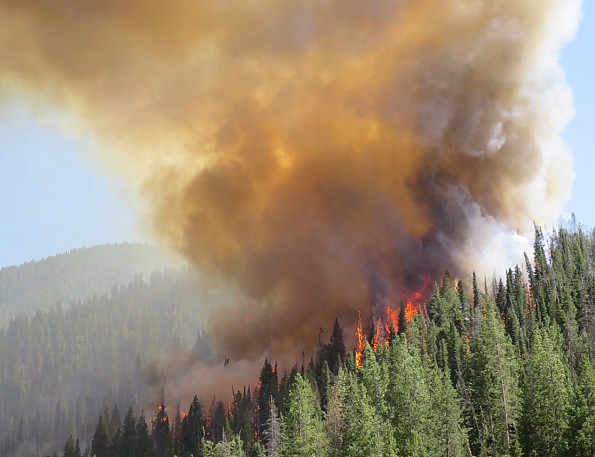 The beginnings of the Cliff Creek Fire
We were told they might get it under control in an hour or two and we could try to wait it out, but we decided quickly that we would have to take the long way around, adding something like 5 hours to our drive, to be sure to make our rendezvous with the shuttle. It was a good call, because the fire grew into the Cliff Creek Fire and was still burning when we passed through the area 10 days later, although they did get the road open within a few days. We ended up crashing at a motel in Marbleton and getting up early to finish the drive in the morning.
The shuttle went as planned and we were at the Green River Trailhead by noon.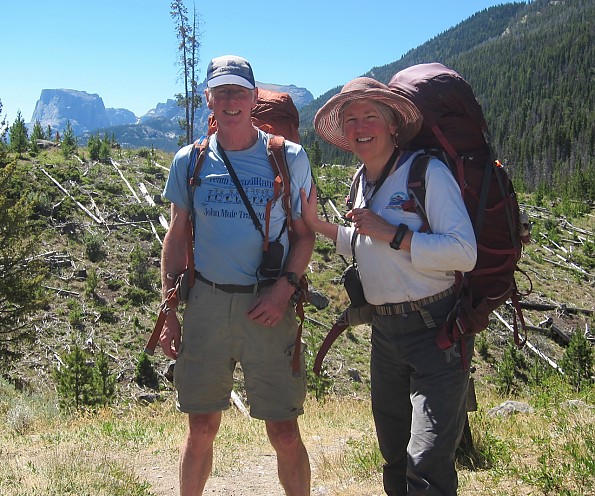 Finally at the Green River Lakes Trailhead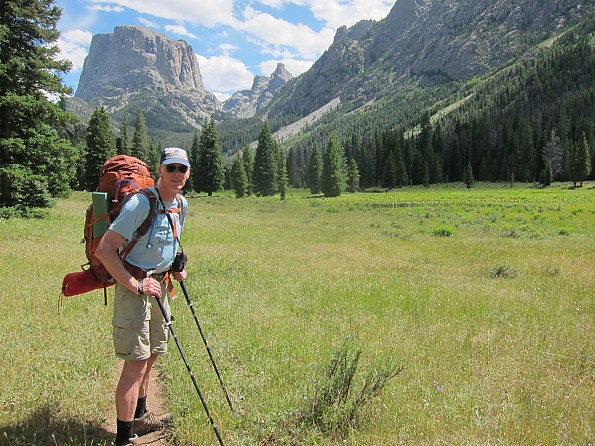 Squaretop Mtn. dominates the view in the Green River Valley
Then at about 5 miles in we stopped to talk to some CDT hikers and Nancy went to show off her fancy Salewa boots only to notice that the outer sole of one was starting to peel off.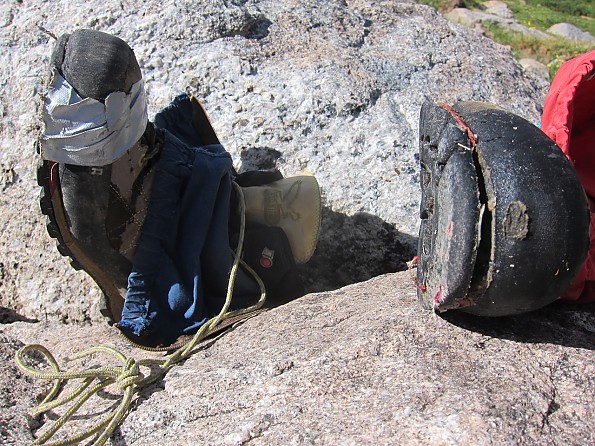 The boots that change our plans
We got about 10 miles up the Green River valley that day and in the evening tried to repair the boot using the boil-in-bag hot glue from an old Thermarest repair kit. It didn't hold, of course, and both boots deteriorated further so by the end of the next day, almost 20 miles in at Peak Lake and with Nancy burning through our supply of duct tape it became clear that we would have to change our plans. We cancelled the off-trail shortcut over Knapsack Col to the Titcomb lakes that we had planned for the next day, and instead took the long, on-trail way around to camp in the lower reaches of the gorgeous Titcomb Basin.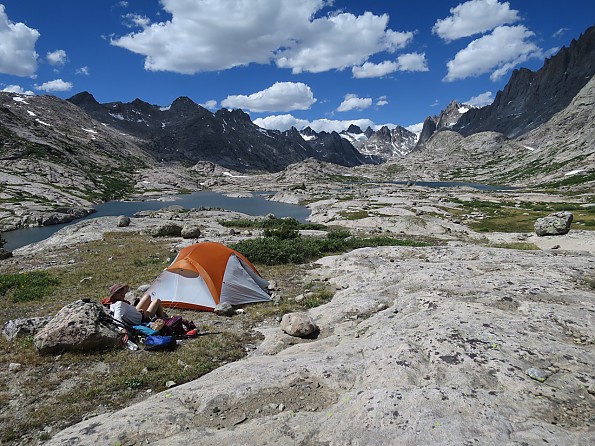 Our home for two nights below Titcomb Lake
Nancy bummed some gorilla tape from at least two passing hikers to freshen up the tape job enough to keep us going. At Titcomb we took a rest day that I used to summit Fremont Peak, which was mostly a bouldery scramble, very similar to a lot of peaks in Norway but much higher at 4189 m / 13745 ft, with great views of the range all around and of the flat expanse of the Fremont Glacier to the east.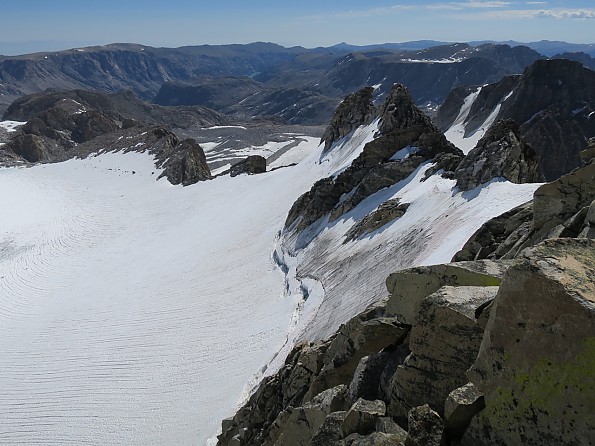 Bergschrund and part of the Fremont Glacier
Then we hiked out 15 miles to the Elkhart Park trailhead where we bummed a ride out to Pinedale so Nancy could get some new shoes (Brooks Cascadias) at the Great Outdoor Shop (nice people). We stayed at a motel, where I discovered that I had dropped my GPS at Elkhart. We paid for another shuttle to take us back to Big Sandy the next morning so we could finish our hike with a loop based from there, and our driver was nice enough to take us up to Elkhart first, where I found my GPS lying on the ground in the shady spot where I had taken my pack off. All's well that ends well.
From Big Sandy we went up along the west side bench to camp at Malms Lake, over Washakie Pass to Valentine Lake, then along the Lizard Head Trail to Bear Lake and out via Cirque of the Towers and Jackass Pass. All of that was very beautiful of course, including the Lizard Head Trail, which is a high, pretty level traverse with good wildflowers and sweeping views of the main crest of the Windies.


Panorama from Windy Peak on the Lizard Head Trail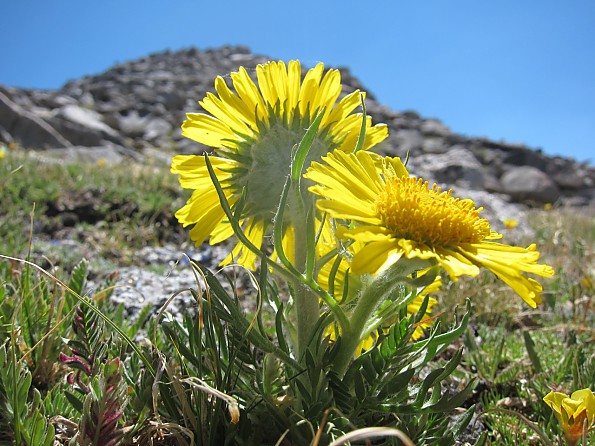 Old man of the Mountains (Hymenoxys grandiflora)


Cirque of the Towers panorama
I made quick side trips to Washakie Peak and Windy Peak. We had food for another day or two but decided we would just motor on out and use the extra days for something else, which turned out to be a visit to Craters of the Moon in Idaho.
The weather was great pretty much the whole time. The only time we saw rain was a 30 min thundershower/downpour on the evening we were in Pinedale, although we did watch a few showers drift by at a distance at our camp in Titcomb.
So in the end we had just 7 nights out and one in town instead of the 10 nights we had originally planned. I had my hopes up for, and we paid for the shuttle so that we could do, a north-south through hike, but as it turns out we could have done separate 4-6 day loops out of Elkhart and Big Sandy and covered much of the same territory, except that we we had also planned another 10 mile off-trail link-up on the east side that would have been bit more off the beaten. No regrets, though. We overcame the various setbacks that we met along the way,found that we could make OK time at altitude while carrying up to 10 days' worth of food, and we're still talking to each other! Not bad for a couple of old goats.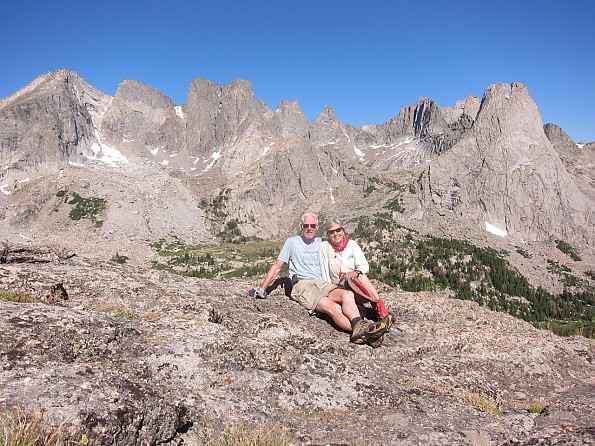 Bukkene bruse
Photo gallery with nigher res versions of these and many more photos