5:33 p.m. on September 4, 2016 (EDT)
Elizabeth McCoy (K-Rider)

628 reviewer rep
59 forum posts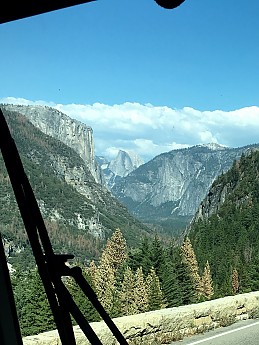 A jaw-dropping site coming out of the tunnel!
8/4 Flew from Seattle to Fresno then took the YARTS into Yosemite.  When the bus dropped me off I was feeling awesome. I'm finally here after months of planning and preparation. I found my way to Backpackers camp and set up camp. Then explored the park. 
8/5 Woke up early and said goodbye to my friend I met there who was starting the JMT today. She was solo hiking too, as her friend bailed at last minute. I headed down to the wilderness station to pick up permit for overnight hike somewhere. I was supposed to catch the bus early this morning to the Porcupine Flat trailhead but woke up late due to crazy headache all night. I got a permit to do Snow Creek via Mirror Lake. I made my way to Mirror Lake about 1130 and started hiking. After the first couple hours the difficulty of this trail was setting in. It was a steep climb that took all day. When I finally reached a place I could camp there was a sign with camp closings due to bear activity. I hiked about 1/4 mile beyond that area and set up camp. I was exhausted and emotionally drained. It was hot! 
I built a campfire in the huge established fire pit and made dinner. Then rinsed clothes and hung them out to dry (a chore that would become a daily habit on the JMT). I fell asleep around 2100 only to be awakened by 3 bears wrestling with my bear canister. I yelled at them and made all kinds of noises, and it took them nearly 30 minutes to leave the area. I ran out to check the canister for I was certain that they got in it. Nope! Still closed and intact. I couldn't believe it. I went back to my tent and fell asleep. I awoke again around 0300 to same thing but was too exhausted to get up. I shined my headlamp out their way and yelled. Then fell asleep. 
8/6 I woke up next morning and it was still intact but dirty and 50 feet from where I left it. After eating breakfast and packing up I set out for the hike down the canyon back to Mirror Lake. It only took me a couple hours to get down. I then walked to Degans Deli and got a hot sausage egg and cheese croissant and a cup of coffee. Best meal ever! I was so hungry!! Then I recharged my phone and texted family to let them know I would be starting the JMT in the morning. 
Made my way back to Backpackers camp and met so many new friends. Then walked over to Half Dome Village for a shower. Very refreshing! I ended up hiking back to Half Dome Village that evening too for some real good food for dinner and bought some last minute stuff from the mountaineering store there. 
8/7 woke up early and headed out for the JMT feeling a million emotions and a little bit of fear of the unknown. 
Wow I can't believe I'm here! I started up the paved trail feeling short of breath and thinking all kinds of crazy thought like how am I going to do this when the altitude is already kicking my but! This whole first day was hard!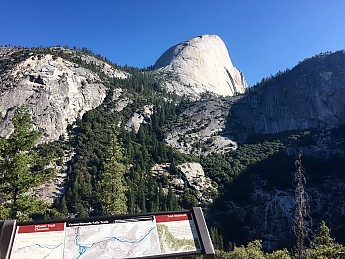 Just amazing beauty everywhere!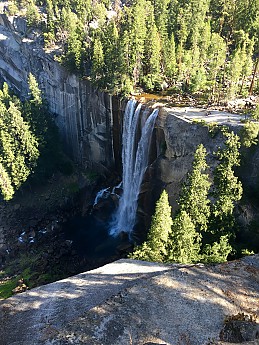 Nevada Falls ? Or Vernal Falls ? I forget
It took me all day to reach LYV I was feeling sick, like heat exhaustion sick. I was starting to question this whole trip. I finally made it to LYV around 1500 and I was supposed to hike Half Dome today but I was already feeling dead. I contemplated a sunset hike up there and then a sunrise hike up there. I didn't want to leave without doing it. It bothered me all night that I wouldn't get a chance to do it. 
8/8 I woke up the next morning and hung around camp late into the morning. Chatting with friends and thinking about the mileage I had to get in today. I hiked out and when I got to the Half Dome junction I saw some friends I met and they were chanting "do it! " " do it ! " "Liz you gotta do it, this is what you came for!" . I agreed. I hid my bear canister and pack at the junction and took an UL day pack up to the Dome. It was beautiful!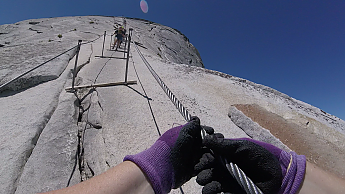 Starting up the cables! Woo hoo!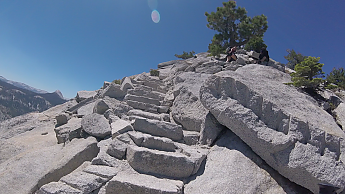 The hike up to the cables was scary in itself!! Very steep!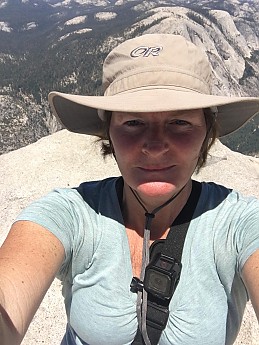 Resting  on top! feeling completely amazed at how beautiful it is up here!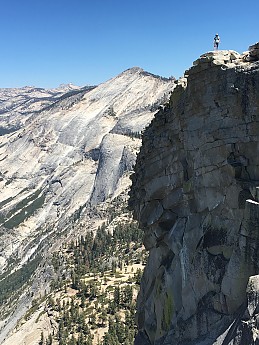 This picture does no justice to the real thing! 
I reached the junction back to the JMT at 1530! With no water left! Feeling exhausted! I wanted to pitch the tent here and sleep, but I had to go on. I finally get a stream after another couple of miles. I stopped for a much needed water supply and late lunch. I rested about 30 minutes then onward. I was supposed to be at Sunrise High Sierra camp tonight! I knew that wasn't happening. I hiked until dusk and made to a camp about 2 miles before Sunrise High camp. There were some other hikers there that I met earlier that day on the Dome.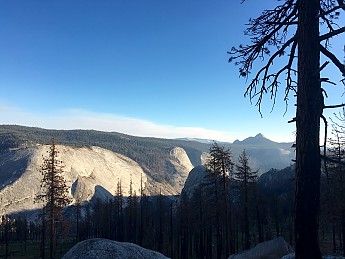 Somewhere on the trail before High Sierra Sunrise camp 
8/9 Woke up early and set out for what would be a very long and emotional day to Tuolumne Meadows.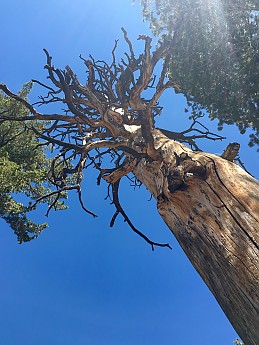 Very cool looking trees today on the trail, hiked through a burnt section that was so mysterious looking.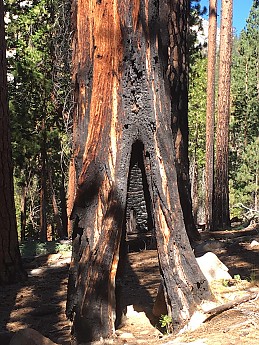 It was a very hot day today! Felt like 100F 
When I finally made it to High Sierra camp I was so tired! I stopped to get water, they had running water up there! Yay! I met some employees of the camp there and they gave me an apple and some trail mix and cookies! I was so grateful! I had given a lot of my food away in LYV to some hikers who were out of food and I left myself a couple meals because I knew I was re supplying in Tuolumne Meadows next day. So these goodies made my day! 
I continued on the trail and it got hotter and hotter! I only passed one person on the trail in the next 3 hours. I started getting low on water again and was scared that I wasn't going to reach a water source for a while. 
I finally reached Cathedral Lake and met up with a friend. I was so happy to see a familiar face! And to get more water. I took a rest at the lake and ate some food.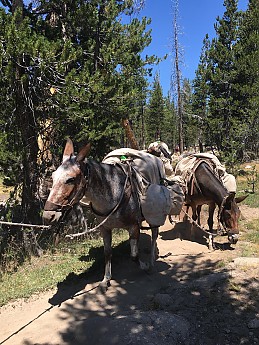 i shared the trail with lots of horses and pack mules 
Finally reached Tuolumne Meadows at about 1745 and hurried to the bus stop to get a shuttle in to the lodge area. The shuttle guy passed me twice without stopping, then my friend showed up and we both waited patiently feeling beat down from today's hike. I couldn't feel my feet! I think I hiked about 15 miles today.  Finally a ranger stopped (Sally) she said hop in, and gave us a ride to the lodge. She told us to fill out a report on the shuttle not picking us up, she said it was a real problem this summer with shuttle guy. 
We got to the lodge put our name on the dinner reservTion list for 1830 and checked in to our tent cabins and took a well needed shower. We then met for dinner and we sat with 6 other people, it was nice to meet other hikers and hear their stories. When I got back to my cabin I made a fire in my wood stove and settled into bed. I was asleep before my head hit the pillow! Slept 8 hours!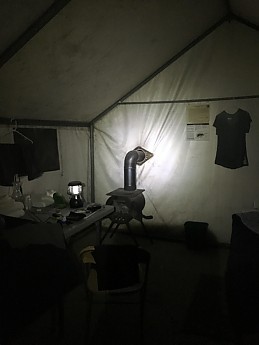 Inside my tent cabin at Tuoumne Meadows
8/10 woke up and took another shower and had an amazing breakfast with my friends and a whole new group of people. Then made my way to the store to get my re supply package, I walked because it was too early for shuttle.