1:43 a.m. on September 22, 2016 (EDT)
whomeworry

125 reviewer rep
3,496 forum posts
The South Lake–North Lake loop trail out of Bishop is epic, no exaggeration.  But don't take my word, Google it.  John Muir considered the Evolution Creek section of this trail (part of the PCT/JMT) as one of the most scenic parts of the Sierra.  
I have walked most sections of this loop as parts of other hikes, but never all of it in one trip.  The guide books suggest taking eight days, including a rest day, to walk the circuit.  Some hikers we encountered were doing it in six; our plan was to geezer along at twelve days, including three zero days.  Overall the hike covers about sixty miles with over 17,000' total elevation change, and crosses three high passes, each over 11,000' in elevation.
We chose to do the loop in reverse, starting from North Lake.  The standard start from South Lake is alleged to be easier, given South Lake is a higher start than North Lake by several hundred feet, but IMO the grades of the ascents are less severe in the reverse direction, more than canceling out any elevation gain difference.  The trending weather conditions called for highs in the mid-sixties, lows in the mid-thirties, and a slight chance of rain. 
The plan called for camping near water sources that were free of upstream trail crossings, draining basins experiencing little if any human activity.  Such water sources on this trail would not require any treatment.  We did, however, bring the means to treat water, should we have to draw on less reliable sources.  Indeed our plan was disrupted, and we ended up several evenings at camps where the water warranted treatment. 
Day One: zero-dark-thirty to dusk
This hike is a shuttle trip.  We traveled in one vehicle, thus we had to make arrangements with a third party to drop our ride at the end trailhead, then  drop us at the starting point.  It is best to arrive the day before so you can make these arrangements.  Don't let this logistic issue discourage you; there is always seasonal help working at the resorts on the mountain that will do this for a reasonable fee, and additional shuttle help can also be found by asking around down in Bishop.  Our shuttle driver was Sarah, a seasonal worker at the Cardinal Resort, below North Lake.  She accepted the commission to drive us, provided she can be on station when her work shift starts at 7:30 am.  This consideration and our estimated pace required we start the day at first light.

The trail from North Lake climbs 2,000' to attain Piute pass.  We choose to camp west of the pass on the high plain of Humphry's Basin above Summit Lake, near where the descending trail crosses first water.  The view from camp, while spectacular, was only a prelude of visual delights yet to come.
Day Two: we're going down!
The second day of hiking was slated to be our toughest day on trail.  It's almost entirely downhill, but our planned destination at Aspen Meadows requires we hike eleven miles and descend almost 3,500'.  Stan, my trail companion awoke with a petulant stomach.  A few hours into hiking down Piute Canyon it became apparent his guts were not on board with the plan, and the rustic nature of the trail only aggravated his struggles.  We ended the day in Hutchinson Meadows, having covered just five miles, camping near where the Piute Creek Trail meets the Pine Creek Pass Trail.

Day Three: the forced march
If we were to get back to plan we needed to make up ground.  The original plan called for us to camp at McClure Meadows.  That would entail a thirteen mile hike, including a 1,400' descent and a 1,500' ascent, a tough day by anyone's standard.  Given Stan's guts, we decided to shorten the objective to the bridge at the junction of San Juaquin River and Evolution Creek. Portions of the Piute Creek Trail are very rugged, with "steps" as tall as four feet!  The portion of the trail below Pavilion Dome was confounding, with a maze of alternative paths leading the descent through dense short brush.  Stan gave his best effort and we ended the day a mile short of the junction, camping at the bridge crossing a mile below our intended objective.   Despite this camp being on the JMT/PCT "freeway" only one other party was camped in this vicinity.  As it was we had the entire Piute Canyon Trail to ourselves, not seeing another soul until we joined the JMT/PCT at the Piute Creek Bridge crossing.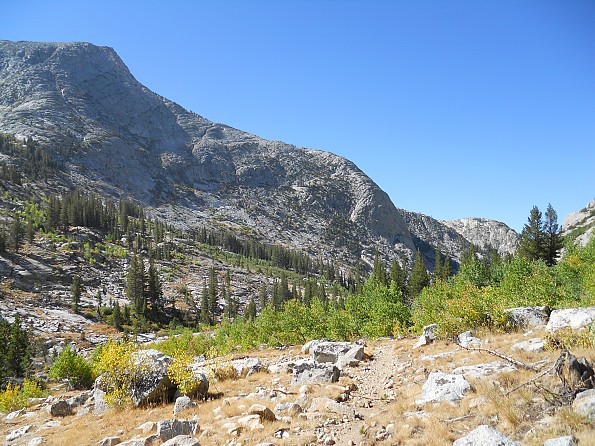 Pavilion Dome viewed from Piute Creek Trail.  By all means click on the images, herein, to view in higher resolution.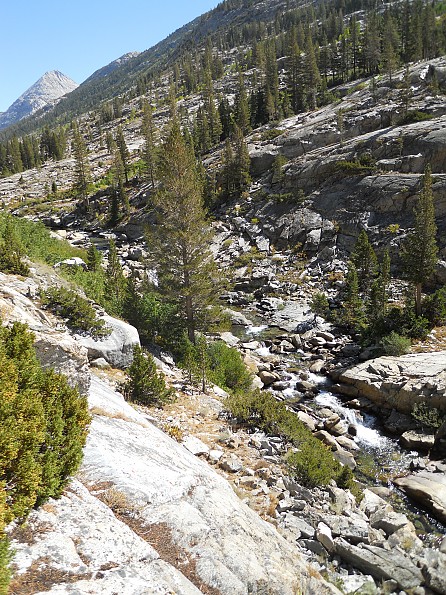 Piute Creek as viewed sixty feet above from trail.  The creek is more or less a continuous series of plunge pools from Pavilian Dome until its confluence with the San Joaquin River, two miles down stream.
There is a significant difference between the engineering of the JMT/PCT, and the Piute Creek Trail.  Both trails have their steep sections; however the JMT/PCT afforded the traveler a better route over obstacles; the steps were less severe on the JMT/PCT and the trail followed a more logical route over the terrain.  Furthermore the cobble rubble used to fill the pathway was well worn on the JMT/PCT, facilitating a more compact and stable footing.  It seems the unworn, broken edges of the rubble along the Piute Canyon Tail (and most secondary trails for that matter) resist settling, and feel unstable under foot, relative to the JMT/PCT.
Day four: hiking away a zero day
Day four was intended to be a zero day at McClure Meadow, located midway up Evolution Valley.   This is a great location for a rest day, I highly recommend planning accordingly.  While in Evolution Valley, make it a point to step out into the meadows where the stunning beauty of these meadows can be fully appreciated.  As it was we needed to hike Day 4 to get back on the planned itinerary.  Fortunately Stan was over his gastro bout and we had a fine day on trail.  We camped near the ranger's hut, sharing the vicinity with two other parties.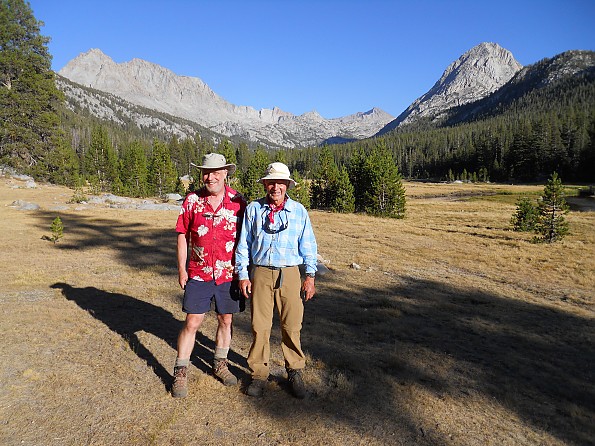 The obligatory group shot at McClure Meadow, looking south east up canyon.
Days Five and Six: Evolution Lake
Day five was slated to be the second most easy day of the trip, a 4 ½ mile climb to Evolution Lake, located at the mouth of Evolution Basin, gaining a reasonable 1,200'.  The nightly low temperatures steadily declined as the trip progressed.  The daily clouds grew more ominous, but dissipated at nightfall.  On the up side the evening air was completely still throughout the entire trip; often you could strike a match without need to shield from the breeze.  At Evolution Lake our night time lows dipped to just above freezing.  While this was within the anticipated temperature range, Stan had brought a sleeping bag rated for 40˚F, thus he was forced to wear all his layers to bed.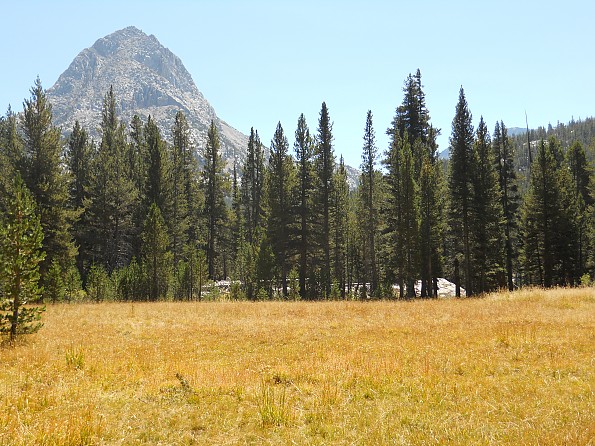 The Hermit. as viewed from Colby Meadow.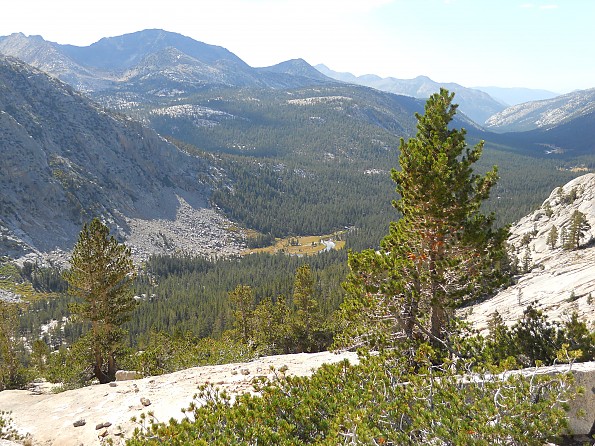 Evolution Valley, as viewed just off the trail leading to Evolution Basin.  Colby Meadow is in the center of the image; further down valley one can also see McClure Meadow (right edge of image) and Evolution Meadow (just beyond McClure Meadow).  Great vistas are to be had by minor side excursions from the trail. 

We planned our zero days to coincide with the scenic highlights of the trip, and Evolution Basin was another such location.  Our rest day activity consisted of a leisurely stroll around mile long Evolution Lake.  It felt very good resting after five days of hiking!  The scale and grandeur of Evolution Basin is spectacular.  Every which way you turn has you looking at one post card vista after another. While the pictures are indeed breath taking, they fall short at conveying the true spectacle of this basin.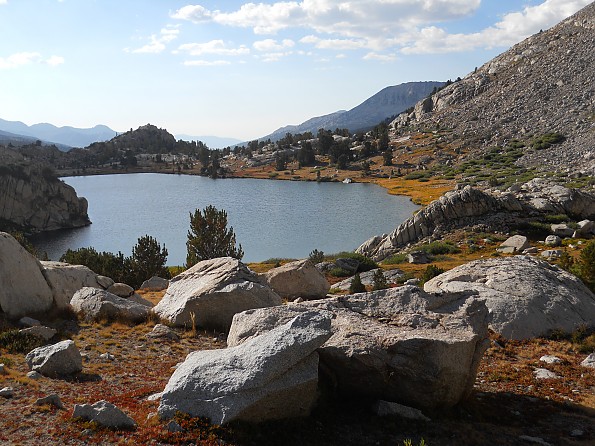 Our camp was near the top of the rock pile at center right of image on the near horizon, along the north shore on Evolution Lake.  Evolution Lake is a very popular stop, yet we did not feel crowded.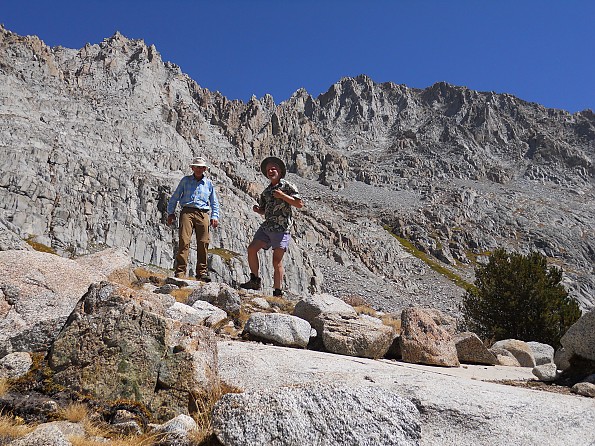 Looking north, from the back porch of our camp at Mt Mendel massif.  This formation towers almost 2,500' over us, lending it an intimidating presence, given its rotten and unstable disposition.  Any significant rock fall headed in our direction would definitely tumble right through camp.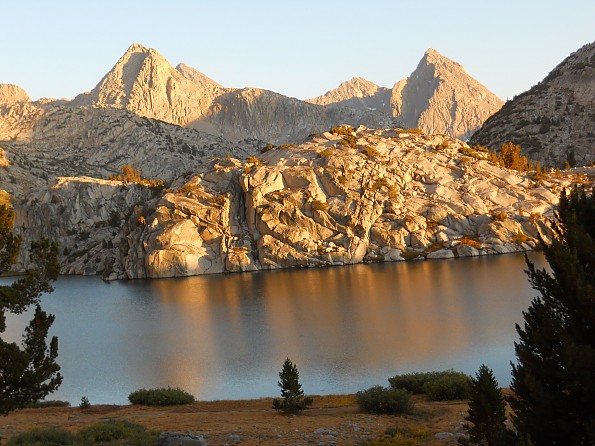 Evolution Lake at sunset from the front porch of our


camp: looking SE, with Mt Darwin (left) and Mt Spencer (right) prominent on horizon.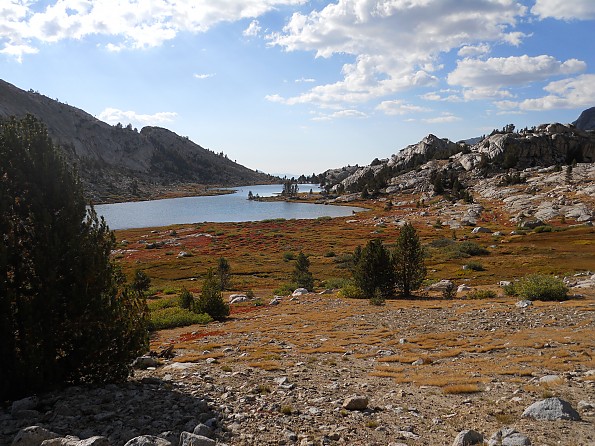 View of Evolution Lake, looking NW from JMT/PCT.  Note the pretty rust fall color of the ground cover.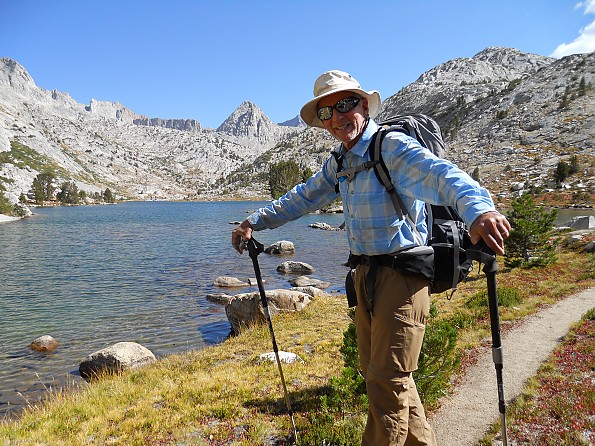 Stan on day hike around Evolution Lake.  While the JMT/PCT passes along the north and eastern shores of the lake a very good uncharted fisherman's trail circles the other shoreline.  In fact this and the alternate uncharted trail along the south bank of the creek in Evolution Valley are suitable back packing paths for those looking for a less crowded experience while traveling through these areas.  There are camp sites along these alternate paths, albeit few in number and harder to spot.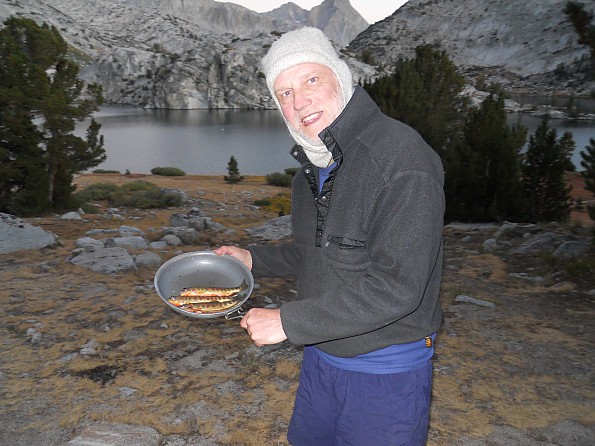 Zero-day dinner main course of golden trout at Evolution Lake was obtained in ten minutes.   
Day Seven: Over Muir Pass to Helen Lake
The day starts with the hiker traveling head long into upper Evolution
Basin, where giant peaks and the Sierra Crestline dominate the skyline.  This is a true alpine environment, about as good as it gets for those who appreciate travel above tree line.  We saw only a handful of hikers along this track.  The daily clouds gathered as we climbed toward the pass.  We started the walk in shirt sleeve weather and bright sun.  At Muir pass we stopped for a break, and watched as clouds and rain west of us crept up from Goddard Canyon.  As intermittent light rain, snow and hail overtook us, we departed the Muir Hut; meanwhile temperatures dropped 35˚F.  Scuttlebutt from other hikers informed us Helen Lake was gusty and exposed, so we decided to extend the day, hike past Helen Lake and camp just above the second lake below Helen Lake.  Our stats for the day had us walking seven miles, ascending 1,100' and descending 1,000'.  Camp sites along this stretch of Le Conte Canyon are hard to find; we ended up availing to a well-worn marginal site just off the trail.  The temperature continued to decline, testing the limits of Stan's kit at night.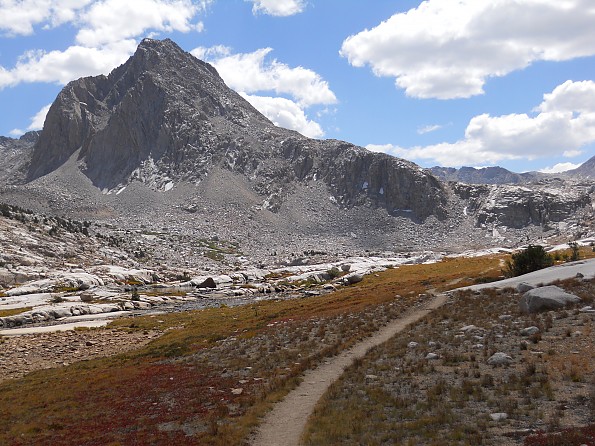 JMT/PCT as it winds along shore of Sapphire Lake,  past Mt Huxley.


Panorama of Sierra Crest and box canyon east of Sapphire Lake, featuring (left to right) Mt Haeckel, Mt Wallace, Mt Fiske and Mt Huxley.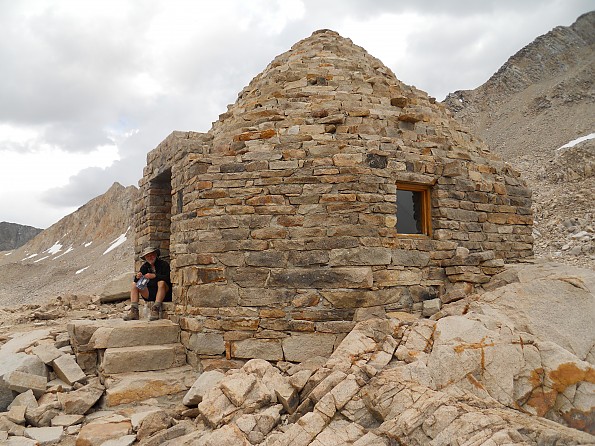 Wa'dup? Nothing, just hanging out at the Muir Hut.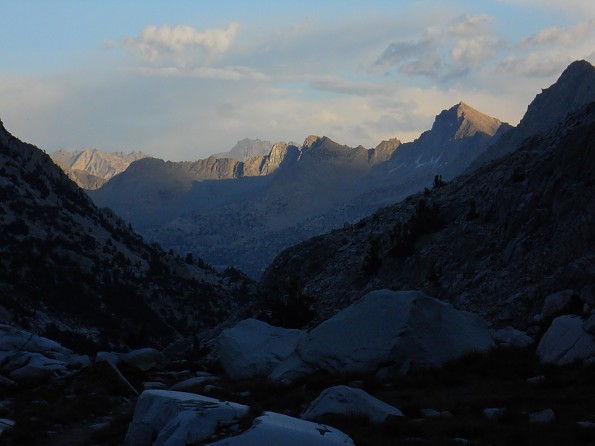 Last light.  Looking down Le Conte Canyon from our camp below Helen Lake.

Day Eight: Upper Le Conte Canyon to Little Pete Meadow
The sun came with dawn to clear skies, warming our damp, chilled bones.  We took our time shaking off trail rust and getting under way.  The trail was mostly moderately steep, descending 1,900' feet in six miles.  The Le Conte is deep.  Dropping down Le Conte Canyon the hiker rightfully feels as if the Sierra is swallowing him whole; the Black Divide and Sierra Crest, both with peaks exceeding 13,000' define the canyon ridgelines.  The trail appears to descend into the very bowels of the earth.  As the trail passes an unnamed lake near 10,200' the canyon opens up, and one can easily observe the classic "U" shape trench profile and copious polishing of canyon walls, both the telltale of glacier activity.  The canyon appears as an oversized gallery hall lined with giant monumental monoliths.  As the trail winds toward Little Pete Meadow one is given a glimpse downstream where Le Conte Canyon merges with Palisades Canyon.  We camped at the head of Little Pete Meadow, having the area all to ourselves.  It was the first time in four days we camped below 9,000'.  We slept sound in still, thick air.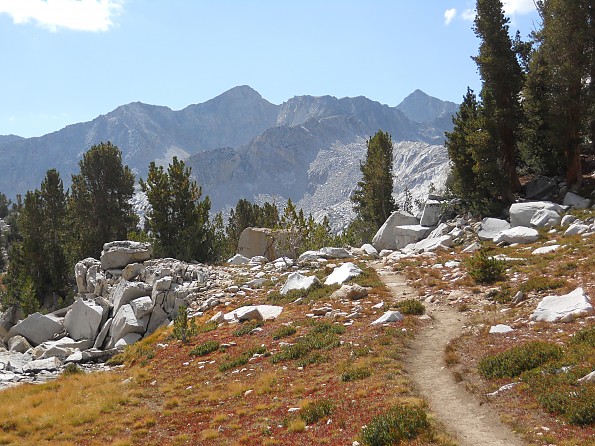 View down canyon, from upper Le Conte Canyon.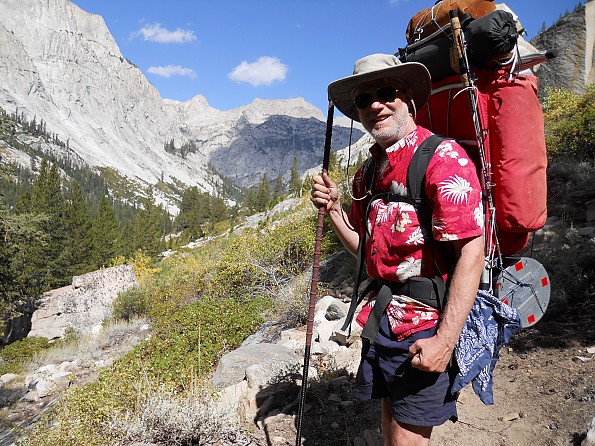 Moi, with upper Le Conte Canyon in Background.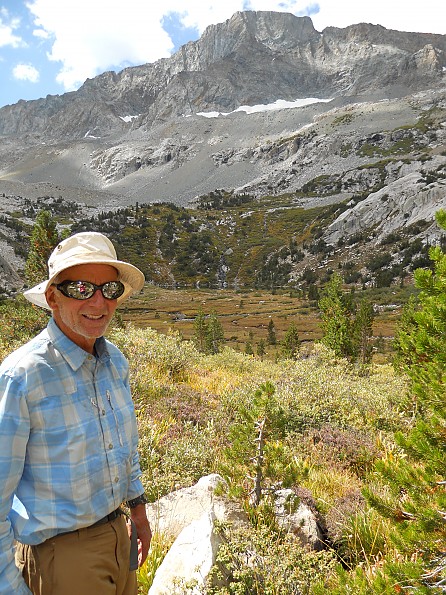 Stan, across from a meadow at the base of Black Giant.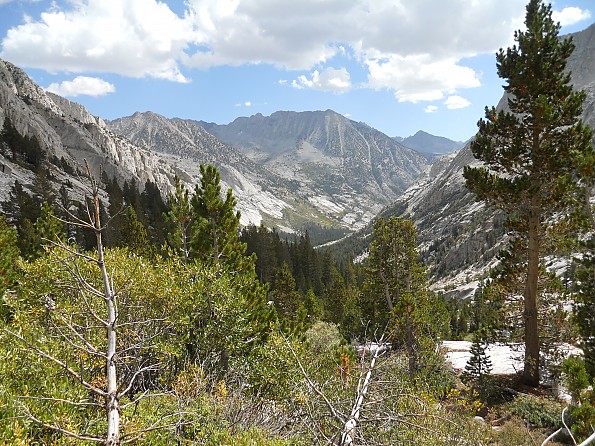 Le Conte Canyon with Big Pete Meadow, (center of image) as viewed from trail near unnamed lake at 10,350'.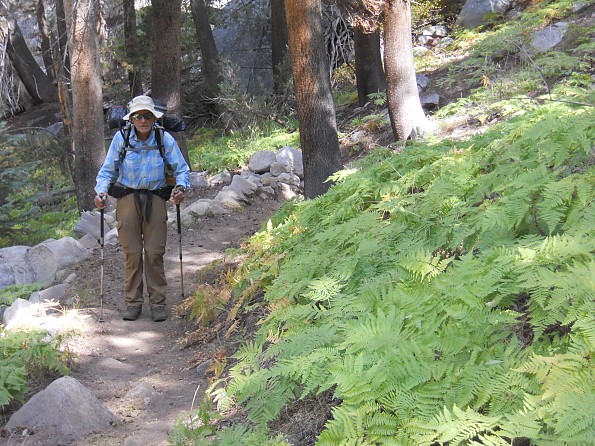 Stan strolling through a fern garden in Le Conte Canyon.

Day Nine: Little Pete Meadow to Upper Dusy Basin
This day's itinerary was the second most difficult day, according to the plan, but reorganizing the milestones of the first few days defaulted this stage as the most difficult day.  The hike up into Dusy basin covers six miles, with 2,400' elevation gain to reach the large unnamed lake at 11,250' SW of Mt Agassiz.  The day started out sunny, but clouded up as the day progressed.  We did not get rain, but some clouds remained at sunset, fore telling a fundamental change in the weather.  Conversations with hikers coming fresh from civilization over Bishop indicated it rained in Bishop with night temps in the mid-thirties, and a cold snap with more weather was anticipated.  The sun set taking the warmth with it.  I had on all of my layers and was barely comfortable in the still air.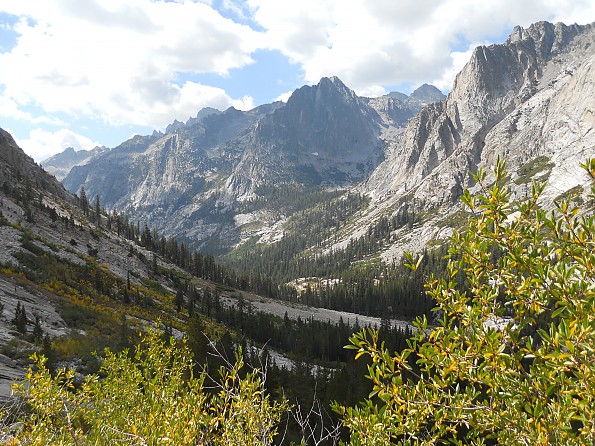 The Citadel, as viewed from the Dusy Basin Trail.  Note the classic "U" shape of this glacier carved valley.  The scale of this image is hard to comprehend - The Citadel rises over 3,500' from the valley below.  It is impressive in the flesh, to say the least.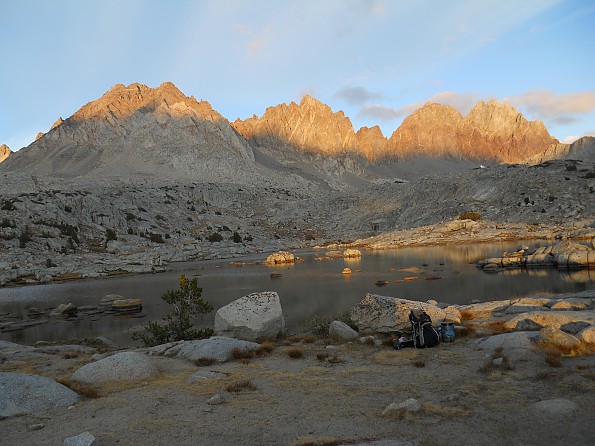 The Sierra Crest above Dusy Basin from our lakeside camp at sunset. Left to right: Mt Agasszi (ele 13,893'), Mount Winchell (ele 13,781'), Thunderbolt Peak (ele 14,003', and North Palisade (ele 14,284').  In fact this trip passed quite a few 13,000 plus peaks en route.


 
Day Ten – The bug out We awoke to ice on the lake shallows.  This observations and information from other hikers lead me to consider night time temperatures dipped to the low teens, perhaps even into the single digits.  Stan "endured" the chill and was probably 15˚ below the minimal comfort level of his kit.  We discussed his situation.  The plan was to hike over Bishop Pass, camp at Ruwa Lake, enjoy a zero day there before a short hike out on the last day.  But weather advents had us reconsidering.  The layover at Ruwa was intended to be an R&R day of leisure and sightseeing – totally optional.  A zero day is no fun if you are cold, and Stan was cold.  It made little sense for him to shiver when the car and warmth were less than four miles further down trail.  Thus it was decided we would cut the trip short, and hike all the way out, turning this day's work into a 7 ½ mile walk, gaining 500', then descending 2,100' to the road head at South Lake.  We mused at the notion of all the UL hikers we passed, trying to make do with sleeping and insulating layers that were barely sufficient to address forecasts that previously called for lows in the thirties.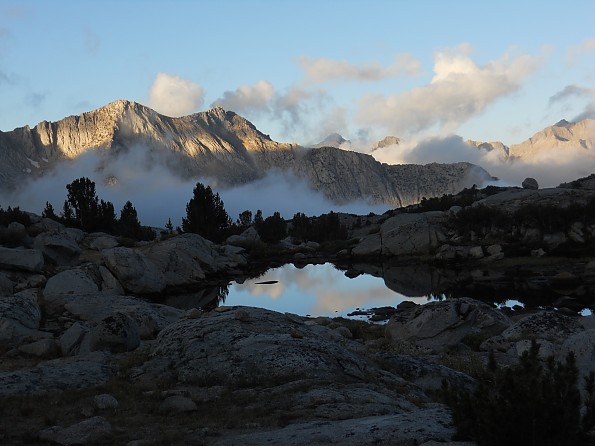 Dawn over Giraud Peak.  Looking SW down Dusy Basin, clouds rising from lower Dusy Basin (near), and Le Conte Canyon (beyond).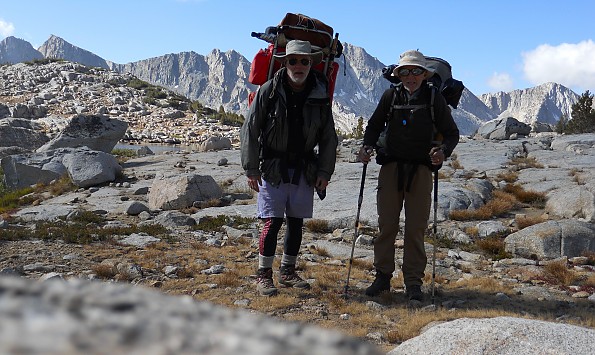 Starting out from our Dusy Basin camp for Bishop Pass.  Temps were hovering around freezing and only got colder as we climbed.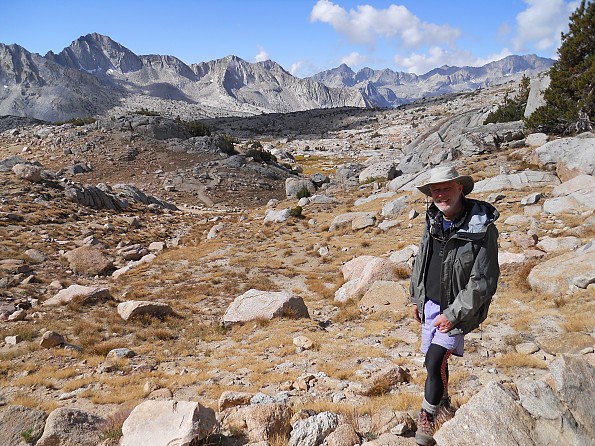 Looking down into Dusy Basin from the final course of switchback leading to Bishop Pass. From this vantage the ridgeline of Le Conte Canyon is a continuous ridge of very high peaks across the entire horizon - mountains as far as the eye can see.  This image is only a third of that vista.  I tried to get a panorama view, but the composite did not stitch together properly.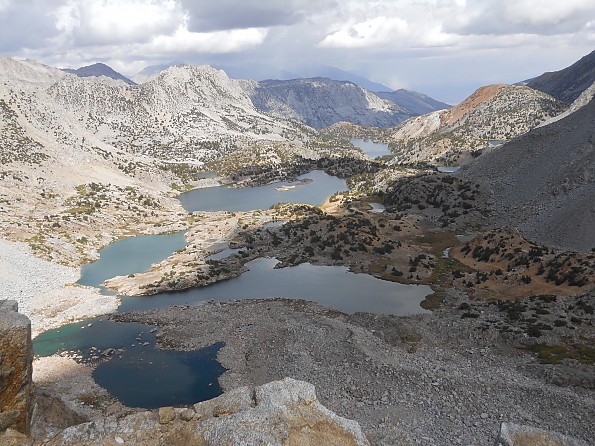 The View looking north from Bishop Pass, down into the basin above South Lake.  The precipitation, seen here, was occurring where we were headed.  It ended up being snow, lending me to assume temps at the pass were in the low 20s, accompanied by a 15 - 20 mph breeze.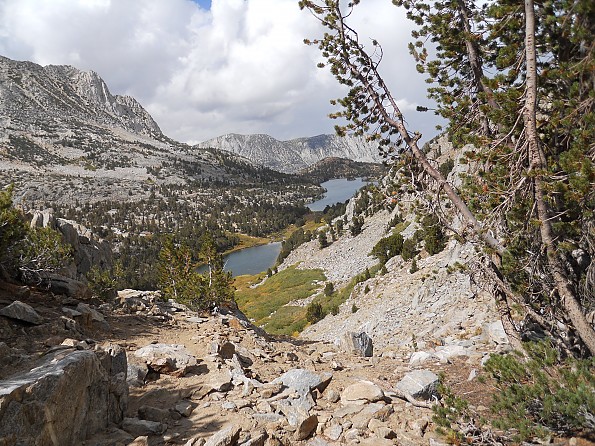 Hiking the Bishop Creek drainage, approaching Spear Lake and Long Lake.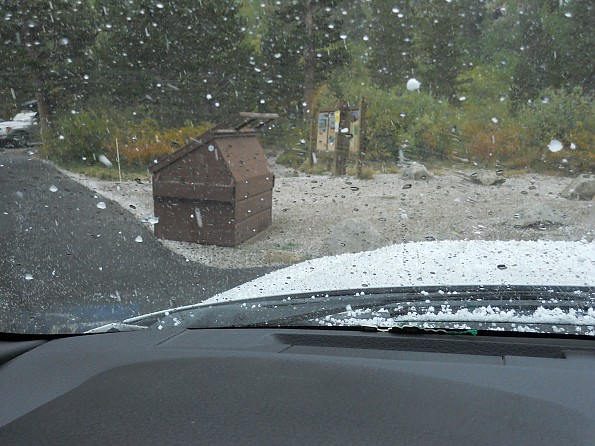 A classic image of the trailhead dumpster (!), as seen from my vehicle.  Note the snow flurry and accumulating white stuff on my wipers and next to the dumpster.  Good thing for my companion we decided to bug out, for he was not equipped to deal with these conditions.




We made good time attaining Bishop Pass, but did not spend too much time there as the temps and breeze produced a wind chill factor near zero.  As we descended the pass we observed the clouds in the lower canyons were generating precipitation, and moving up canyon.  Our descent into the upper basin below the pass brought warmth, and we were back to shirt sleeves, but that didn't last for long.  The ascending clouds caught us as we dropped below Long Lake, and by the time we passed the Marie Louise Trail junction, a light dusting graupal snow was collecting on the ground.  By the time we had the car pack and underway, a steady snow shower was under way.  Despite the weather, I did not have to pitch my tent the entire trip.  I believe this a new record for me: ten days straight sleeping under the stars in the Sierra.  We left the mountains and arrived to sunny, warm Bishop, hot showers and a pizza with our name on it!
Ed