7:12 p.m. on October 6, 2016 (EDT)
Patman

TOP 25 REVIEWER
REVIEW CORPS
2,272 reviewer rep
2,191 forum posts
I was set to go on this trip last year but cancelled last minute due to the forest fires that blanketed the entire park in smoke.
So I finally made it!
However, I didn't have the weather that Joshua Taylor did on his excellent GNP trip that he recently shared with us here .
Unfortunately it rained, hailed and sleeted for a full 5 of the 7 days; often the only thing to see was fog or the ground at my feet. But I had one really pretty day where I saw the sun and at least got an idea of how amazing those views could be; I also had some nice weather windows that I enjoyed to the fullest. I would be lying if I said I wasn't massively disappointed to miss all those incredible views. But this trip made me ponder the concept of perspective more than once.
As I started across the Highline trail I was bemoaning the dense cloud cover. But after summiting Swiftcurrent Mountain where I experienced a brutal storm attack whose winds literally knocked me sideways and blew off my glasses, whose sudden cold stopped all my cameras from working, and whose driving rain stung my face so badly that I had to cover up with my gloved hands, I gained perspective....cloud cover wasn't so bad after all. :)
And more still, after being back at work for a few days and dealing with those stresses I found myself considering that even a stormy mountain top wasn't so bad. Perspective again!
Well, on to the pictures and short video; Most of my pictures worth sharing were taken within the same time frames of weather windows so I don't have much to reveal in the report.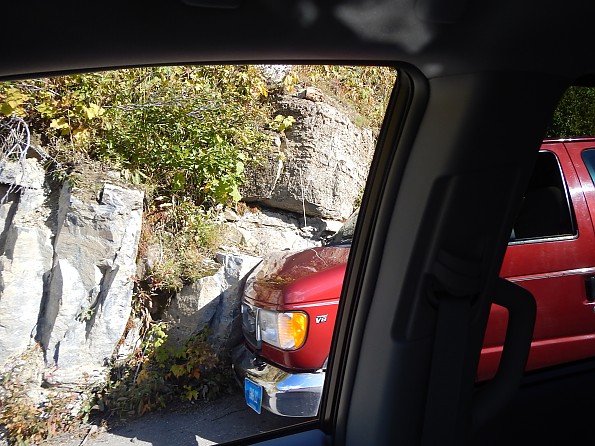 *Crunch* Going to the Sun Road requires concentrated driving. This person didn't I guess. They surely have a different perspective now too (I bet).

This was the view from the Swiftcurrent Lookout (summit) before the storm hit.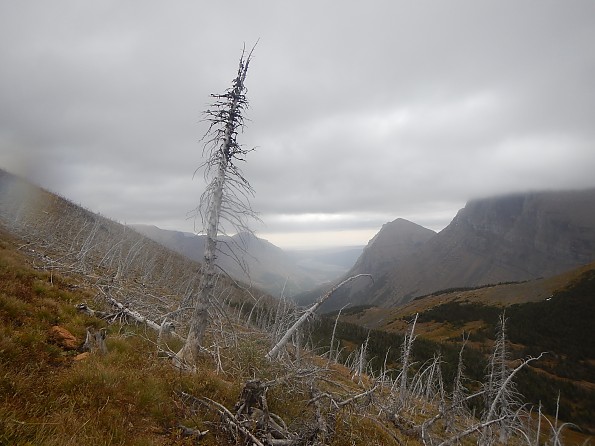 And this was a hopeful moment of clarity after the worst of the storm passed and after my camera finally recovered from the cold on the way back down to the pass.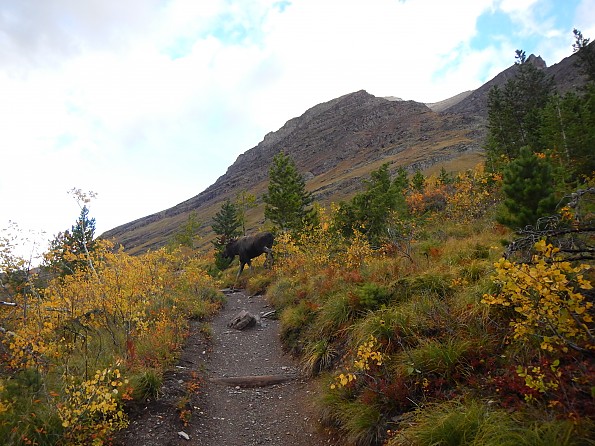 The next morning a huge moose crossed in front of me on the way up the Ptarmigan Trail! Now that was super cool.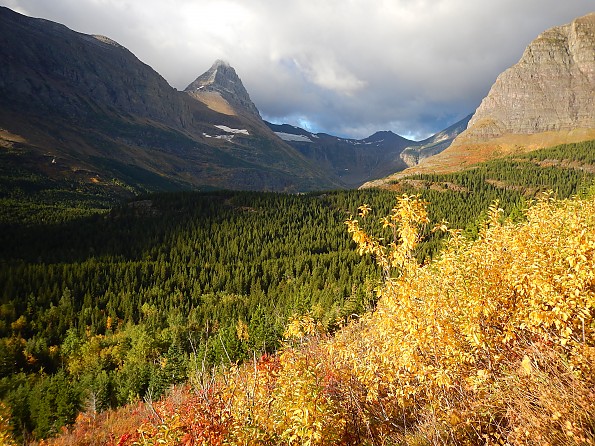 A few minutes more and I was rewarded with this fabulous sunny moment and color.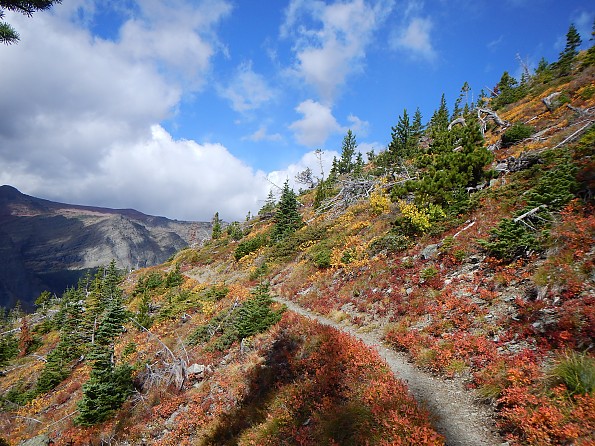 On the way down to Elizabeth Lake I think.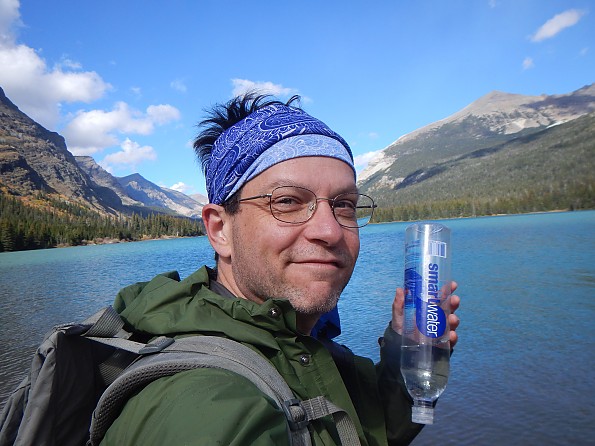 Fishing with my water bottle as a reel.
I tried some hand-lining in a pattering rain at Elizabeth lake but didn't catch anything. I had some camping neighbors that did quite well with full fly rods however, so I know there were fish in there.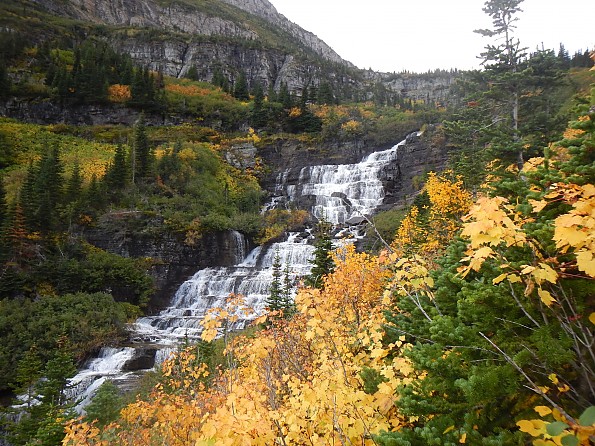 A beautiful fall on the way up to Stoney Indian Pass two days later.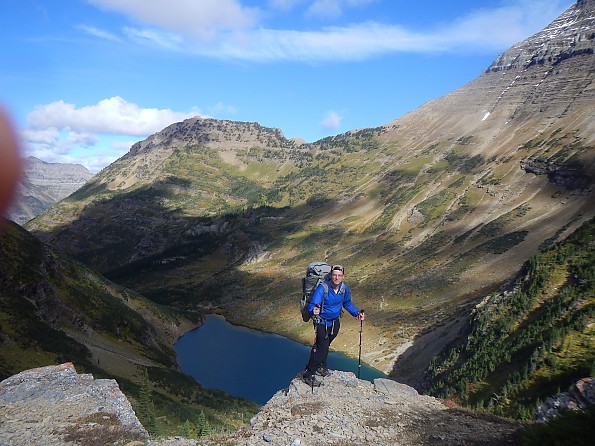 A fellow hiker took this for me at Stoney Indian Pass on my magic day.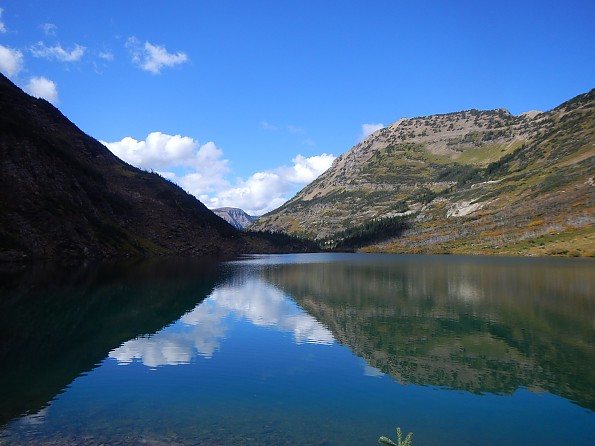 A view of Stoney Indian Lake from the head end (camp was at the foot). I fished this lake for hours and hours but I'm pretty sure there was nothing in it. You could see the bottom from every vantage.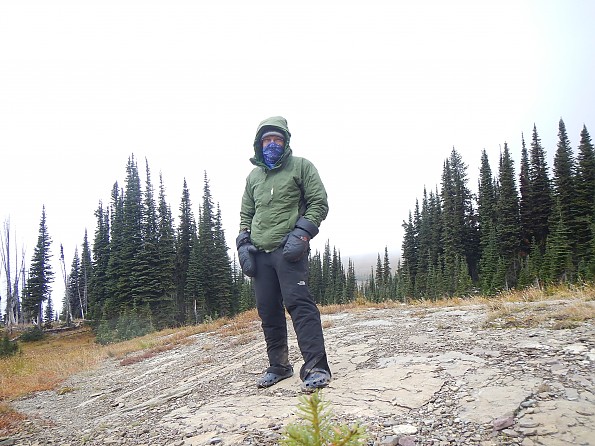 Hear I'm wearing every piece of clothing I brought to stay warm while walking around Fifty Mountain Camp. I'm guessing it was near single digits F. I had on: a base layer of merino wool, a second synthetic shirt, a wind shirt, a down sweater hoody, rain jacket, running pants, rain pants, thick wool socks and expedition class Nilas down mitts. It was the only way to be comfortable outside of the tent that afternoon.  It hailed sideways for hours up there and the wind was so fierce you couldn't stand it. I even had a mishap with my tent where the wind caught me adjusting a foot stake and torqued the pole on my Big Agnes Fly Creek causing a small break near a joint. I was able to repair it well enough by wrapping paracord around it as a repair sleeve.  I want a do-over for that camp and will be back to get it someday.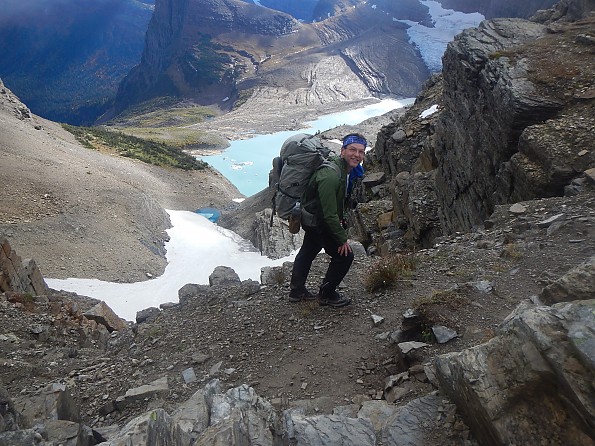 Here I'm at the Grinnell Glacier Overlook on my last day out.
And now the short video that mostly only shows the pretty moments. Full screen is best:
Happy Trails!