12:44 p.m. on October 28, 2016 (EDT)
LoneStranger

TOP 10 REVIEWER
REVIEW CORPS
9,694 reviewer rep
1,573 forum posts
The first two were quick, one-night trips intended to be the last warmup for the legs prior to starting the LT. This area on the Maine / New Hampshire border has some of the roughest terrain I've hiked so definitely a great place to test legs. The third one was a consolation trip when I finally was able to get back on trail after a month of being stuck at home.
Long versions with a lot more pics can be found here:
Two Nights on the Grafton Loop
Baldpates August '16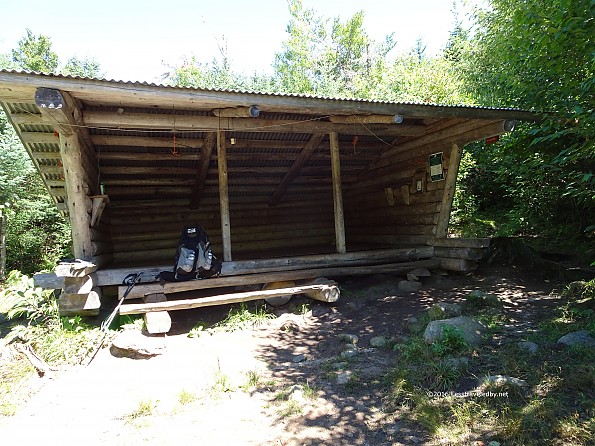 Leaving the parking lot mid morning I timed it nicely for an early lunch at the Baldpate Shelter. The brook was running pretty well in the woods beyond though I didn't need any water. The tent sites looked functional enough as well. Always having marched right past this site without stepping off the AT it was neat to get here with time to spend exploring before moving on.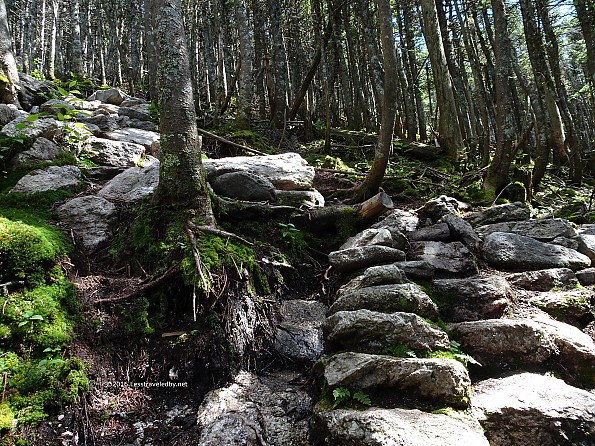 The real climb of West Baldpate begins just after the shelter spur. It isn't very far on the map, but it has some relentless climbs up rocks that are either piled up to make stairs or just piled up.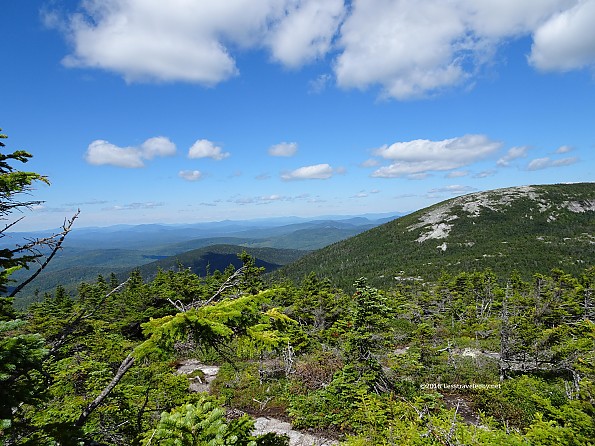 The reward for reaching the top is the view of East Baldpate as well as a good chunk of Maine beyond. For now there is just a short, but steep descent into the col and then the climb up the open rock face.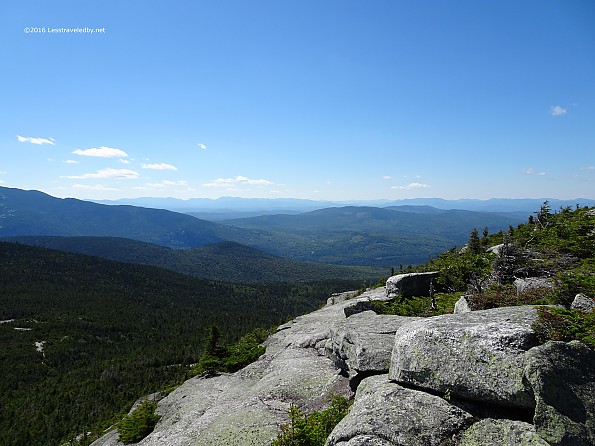 After a quick trip up the slabs it was time to take off the pack and soak up the views. Well and some cheese and sausage, but mostly views.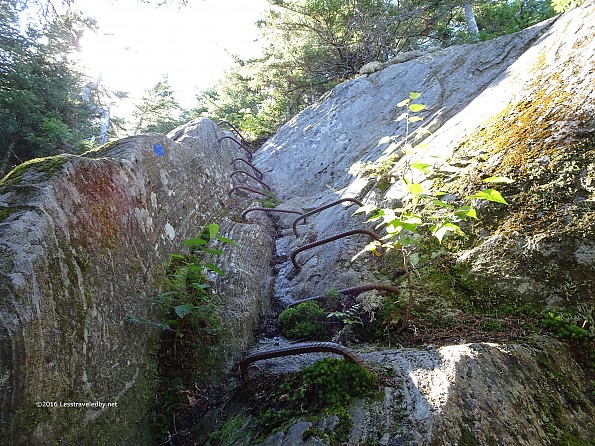 Then it was time to leave the AT and follow the blue blazes of the Grafton Loop. This ladder makes the climb down much easier and I don't complain using it on the way back up either. There are very few improvements on this rustic feeling trail so the rare bog board or ladder is really appreciated.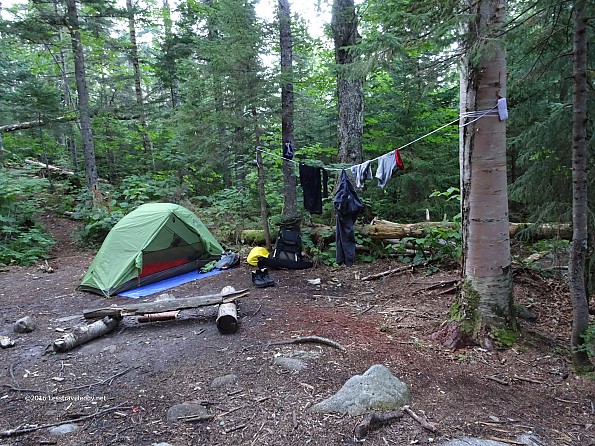 The East Baldpate campsite is two or three miles of hard trail below the peak and has a network of unimproved tent sites near a small brook. I have never seen another person here or on the trail in this area. Always get a peaceful night of sleep in this spot it seems.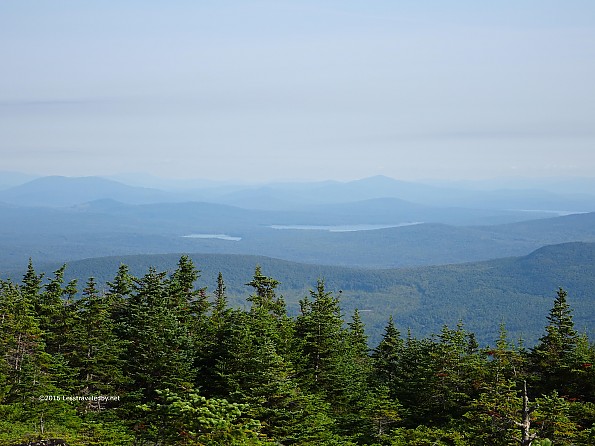 The next morning it was time to head back the way I'd come. A strong breeze on the summit kept me from taking too many pictures that day.
Speck Pond August '16
This was supposed to be my last trip before the LT so I wanted another challenging hike. I've climbed Old Speck several times but had never followed the AT south from there to Speck Pond.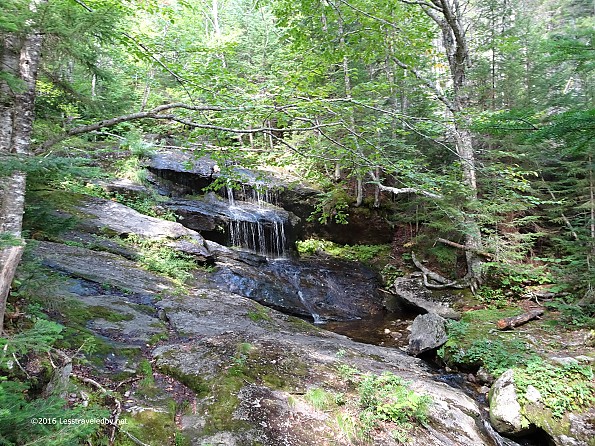 On the climb up Speck I could see things were pretty dry after a Summer of little rain. There was still some water in the channel, but this brook was all but empty.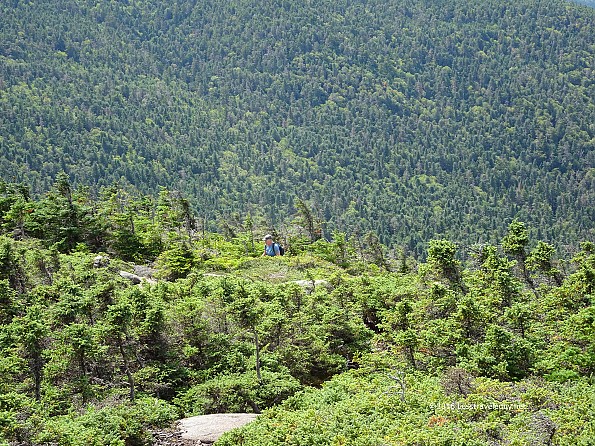 After hitting the summit it was neat to explore some trail I'd never been on before. Soon after leaving the top of the mountain I came out on a bit of an exposed rocky area. Stopping to take pics I heard this guy coming for a few minutes before his head popped into view.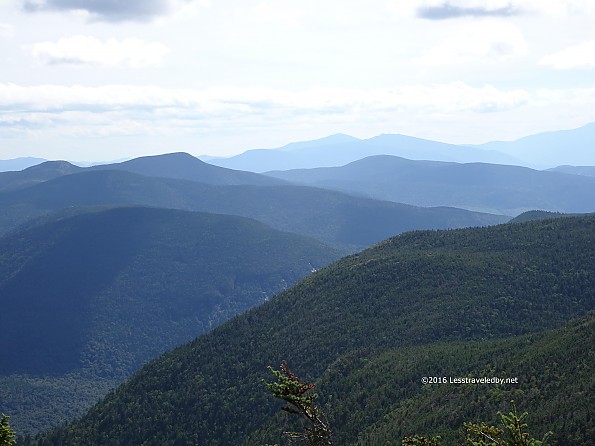 Looking at the Mahoosucs is a lot easier than humping a pack up and down them. I enjoyed the view and the knowledge that I was only headed down to the pond for the night. The down turned out to be some pretty interesting rock sections that required some strategy to descend. I ran into a couple of slackpackers headed up, one of whom was cussing up a storm about the climb.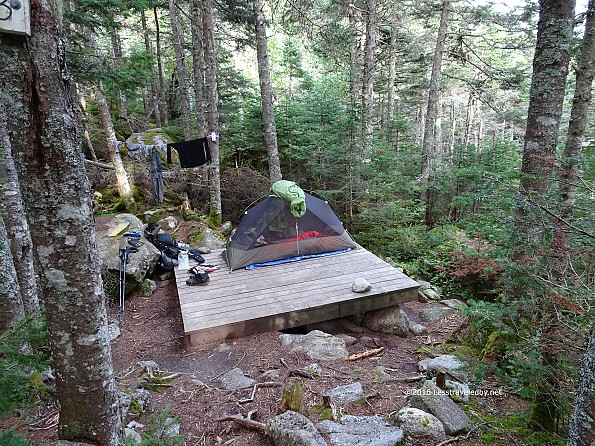 This was my first visit to an AMC site all year and I was surprised to find the fee was $10 now. I did get a platform with nice drainage which was good since rain was expected. Oddly enough both my neighbors had the same exact Hubba tent though they put the roof on right away. I had mine ready to roll out in a hurry.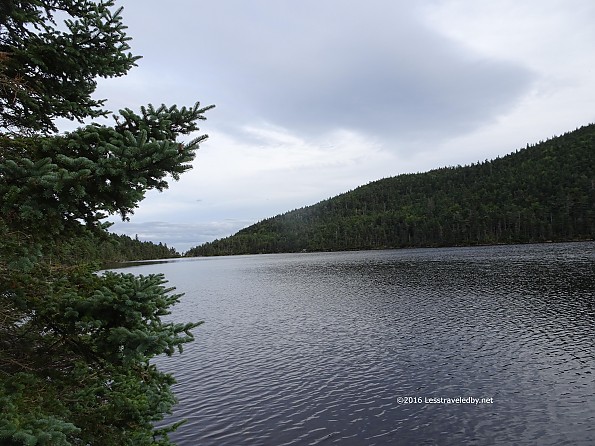 There was time to visit the pond after dinner with just a threatening sky. A neat spot, but not very large. I'd imagine it is a bit of a zoo when the bubbles are passing through. I hear they've torn down the old shelter and will be building a new one come Spring.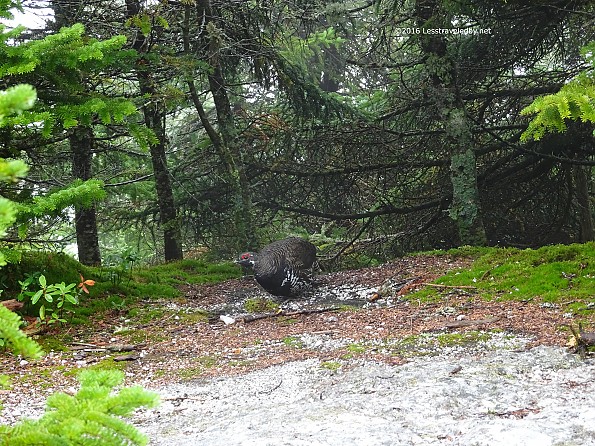 Hiking back out the next day after the rain was a wet experience. I kept the camera stashed except to get a few shots of this Spruce Grouse. Getting back to my bike I noticed something looked odd about my rear tire. Looking closer I realized it must have been coming apart on the ride up because I could see a stripe of steel belt showing. My attempt at limping back to civilization only lasted a few miles before I had to abandon it in favor of a very long and very very expensive flatbed ride home.
That was unfortunately the final nail in the coffin for my plan to do Vermont this year. Tow and tire cost twice or more what I'd planned to spend on the trip. With some other issues going on in our lives that was just as well I suppose, but still a bummer.
Couple Nights on Grafton Loop October '16
Ended up off trail for almost a month before getting a chance to get back out again. When I could go I decided to do my annual aborted attempt to go all the way around the Grafton Loop Trail. On previous attempts I've been stymied by frigid rain, excess heat, weak legs and lack of spirit in various years. On reaching the highway in the middle I have always opted to road walk back to the scoot and go get a cheeseburger heh. It is my white whale in some ways and that makes me laugh.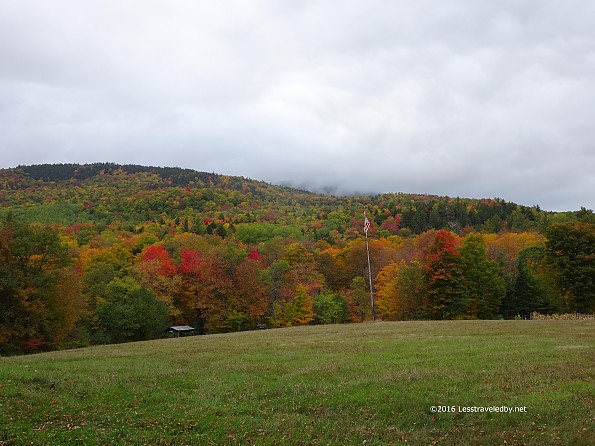 I didn't have great weather to start and had to climb into the clouds for the first few hours before the ceiling lifted a bit. Fall color was about as good as it was going to get this year.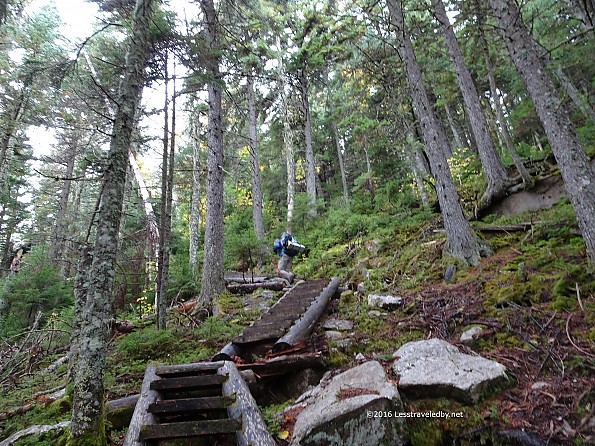 Never meet anyone on this section of trail so was surprised when this guy came climbing up into the mist where I was eating a snack.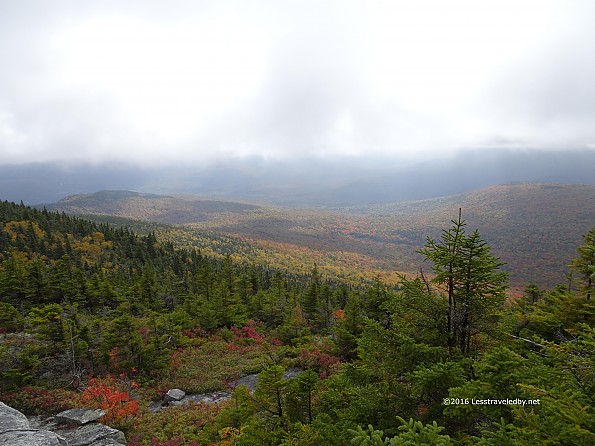 There were some views as Sunday River Whitecap opened up near the summit, just not the sort I'd been promised. Seems most of the sky was the nice clear blue that had been forecast, but the mountains I was in had snagged these clouds and weren't letting go...or maybe it was the other way around.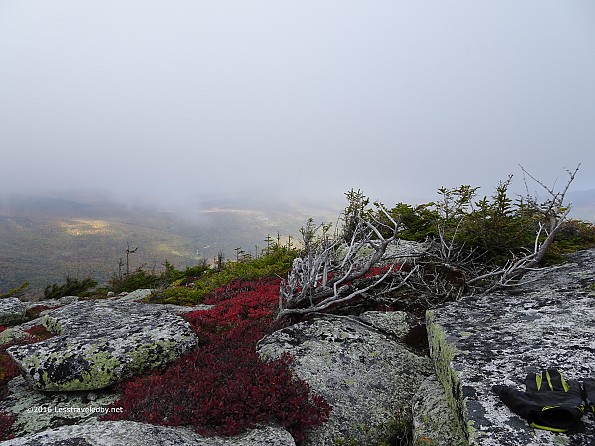 This is one of my favorite mountains to spend time on, but this day it was a bit wet and cold for my liking. It looked pretty though so I stayed long enough for my legs to start cramping up. Seems taking on this climb after a month of slacking was angering my quads.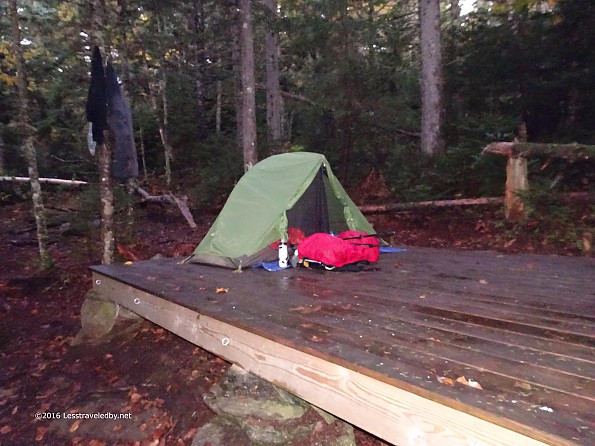 After an amusing climb down from the top and then around Slide Mtn I reached the Bull Run site in time to eat dinner by the light of my UCO A-120. This pic is from the next morning when I astoundingly got up before sunrise and left camp a little after 7am. Not bad for a wet, chilly October morning when sleeping in would feel nice.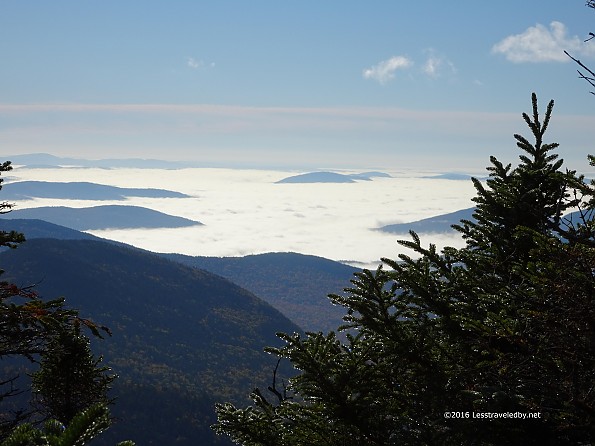 Climbing the mountain early has its rewards! I knew if it looked this good half way up that the top was going to be even better. Climbing Old Speck from this side is easy compared to the AT from either direction. With views like this too it makes for a great way to start the day even if I was getting wet all over again.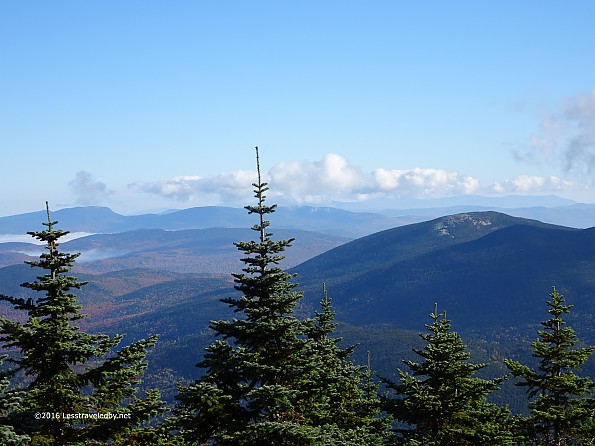 The peaks were all in the clear now. Just enough clouds on the horizon to make them look painted in. Perfect day for pictures or just looking in amazement.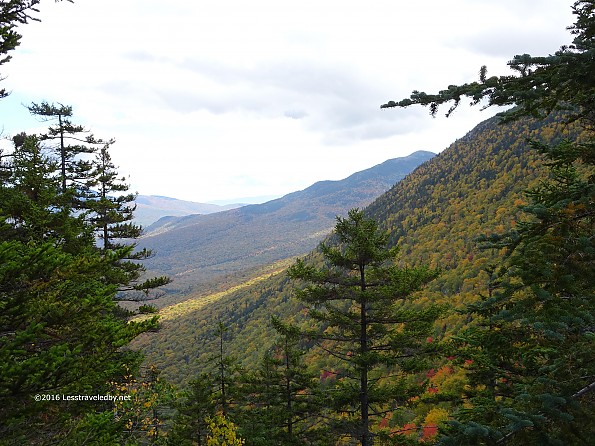 Working my way down the steep trail towards the notch there were a few spots where the colors were in view. I stopped for lunch at the parking lot and then rather than going to find a cheeseburger I crossed the highway and headed up towards the Baldpates.
Looking at my watch as I approached the shelter I had to do some hard math. I had about three hours of daylight left and probably closer to four hours of hard hiking to reach the next campsite. In between was some rugged trail that I know from experience is on the dark and gloomy side of the mountain. It was easy to choose to camp at the shelter because I had a secret weapon with me...an extra dinner! I could camp here and still have enough food to take two more nights to finish the loop.
That plan would have worked too, maybe, but I made the mistake of checking the weather forecast. If I stayed it said I'd get wet climbing down the mountain and on the bike ride home. I opted to play it safe since cold and wet is very dangerous on the scoot.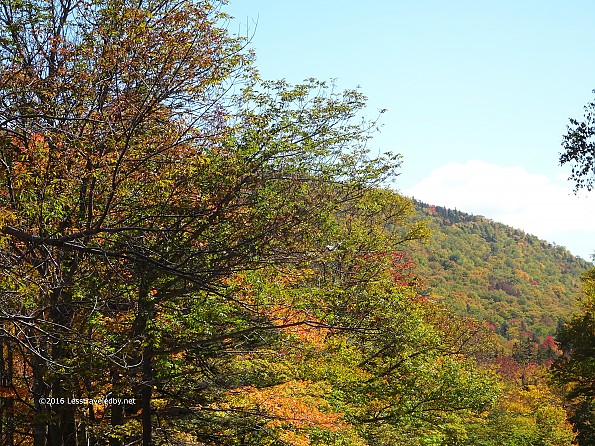 Watching the weather from home it looks like that rain may not have actually showed up, but watching weather from home is always easier than being out in it. I have no regrets. This was an amazing Fall trip with some great views, a lot of time alone and some nice folks met along the trail. I guess I'll have to go back and try again next year.