12:15 a.m. on December 15, 2016 (EST)
Jason Berry

148 reviewer rep
118 forum posts
Took a 4 day 3 night solo trip to an area of the Smokies I had never hiked in before. Due to weather forecasts for cold weather and rain, I left my one person tent that is on its last leg at home and took an Eureka alpinelite 2XT. This and the extra clothes forced me to drag out my old(22years) 80 litre Gregory to haul everything. This put me at 36 lbs., about 6 more than I am used to and I felt it the second day.Started out Sunday morning from the parking area at Deep Creek campground. Deep Creek trail here is an old road that is probably packed with tourists in summer, and for good reason as it is absolutely gorgeous. You quickly hit one of the highlights, Tom's branch falls.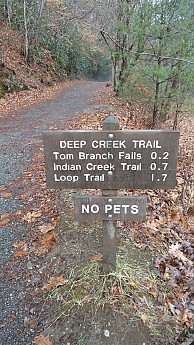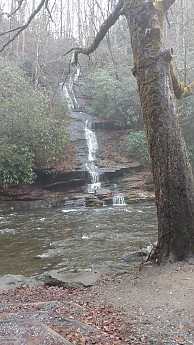 You continue on the roadbed sticking close to deep Creek until you reach the intersection with Indian Creek trail where Deep Creek turns into a back country trail.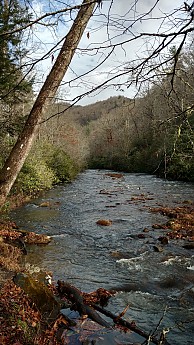 After reaching campsite 60, a nice campsite that showed recent sign of bear activity, you start climbing over finger ridges and dropping back down to the creek until you get to campsite 59. It's a nice level spot next to Deep Creek but I didn't take any pictures as I was focused on getting to campsite 58 and setting up camp.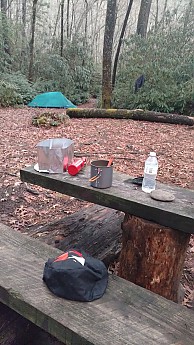 Found I nice spot that was level and looked like it wouldn't pool during rain. Had a nice but cold night, then woke up to rain Monday morning. I tried to wait it out but eventually had to break down the tent in the rain and get moving on up Deep Creek trail past the Horace Kephart memorial to Martin's gap trail.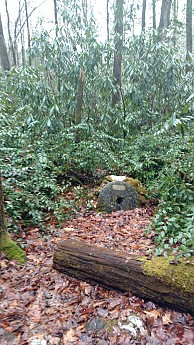 Martin's gap trail is decent little climb to Sunkota ridge trail.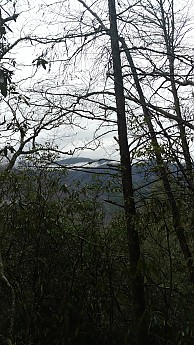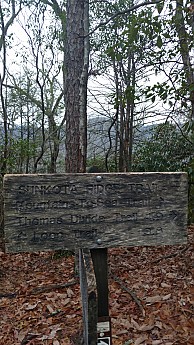 At Martin's gap/ Sunkota ridge intersection I headed north on Sunkota ridge/Benton Mcay/ Mtns to sea trail to Newton bald trail and campsite 52. Worn out and hungry without a level tent site I didn't get many pics during this stretch.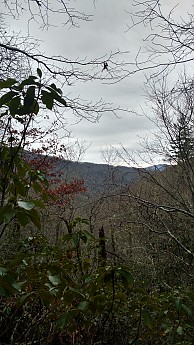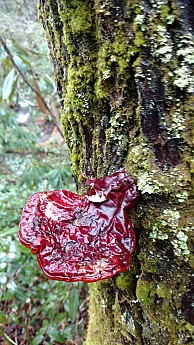 Woke up to rain again but just fixed breakfast and broke camp and got moving.Backtracked a little to catch Thomas divide trail, about half way through Thomas divide I saw the only bear of the trip. It was raining pretty hard and if the bear hadn't "grunted" at me I would have never seen it. With the bear only 20 yards away sitting on his butt and rocking left to right on its front paws I quickly decided to not reach for the camera and just yell "hey bear"and keep walking while glancing back over my shoulder. Bear watched me for a few seconds then laid back down. I continued on, making more noise than I had been and caught Deeplow gap trail to campsite 51. Crossing a crooked bridge with a loose handrail on the way.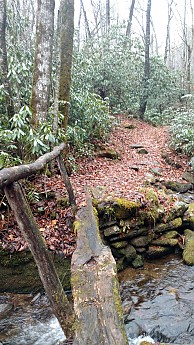 When I arrived at 51 I became concerned about bear activity. Because they have chewed up all the handgrips on the pulley system. These concerns amounted to nothing as I was the only thing crazy enough to be out in the weather.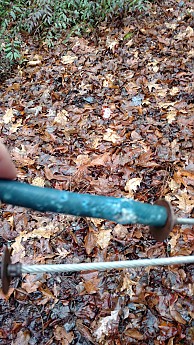 After setting up camp I waited out the rain and around 8 pm I was able to fix dinner in a light mist. Notice the water puddled on the roof vent, fortunately it stayed on the outside.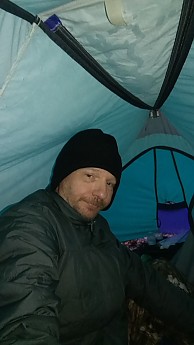 Wednesday morning was rain free and with just a 4.5 mile walk back to the car I slept in,had a big breakfast, loaded up the legend and meandered down to Indian Creek trail, which is also an old roadbed to Indian Creek falls then Deep Creek trail back to the car.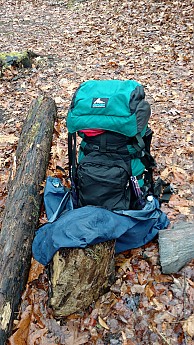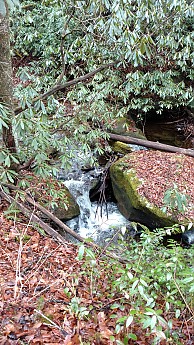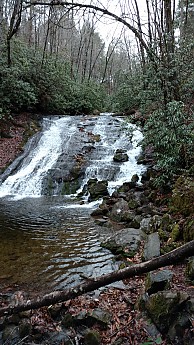 The most surprising part of the trip is that I didn't run into any other hikers during the whole trip.... i can't imagine why no one was out.Even with the rain I would make this loop again because I'm a crazy old hiker and that's what we do. And when you get home after dealing with rain and your girl friend is out shopping, this is what the bedroom looks like. The tent was soaked but between the fan and the carpet it dried out quickly. Everything thing else was just a little damp but a few hours with a fan won't hurt it.