1:56 p.m. on December 22, 2016 (EST)
LoneStranger

TOP 10 REVIEWER
REVIEW CORPS
9,694 reviewer rep
1,572 forum posts
Thought I'd take a break from spamming KRs and post up the final TR of the regular season. Scheduling and weather have limited things to day hikes since then sadly, but this 3 night outing was a nice way to end things.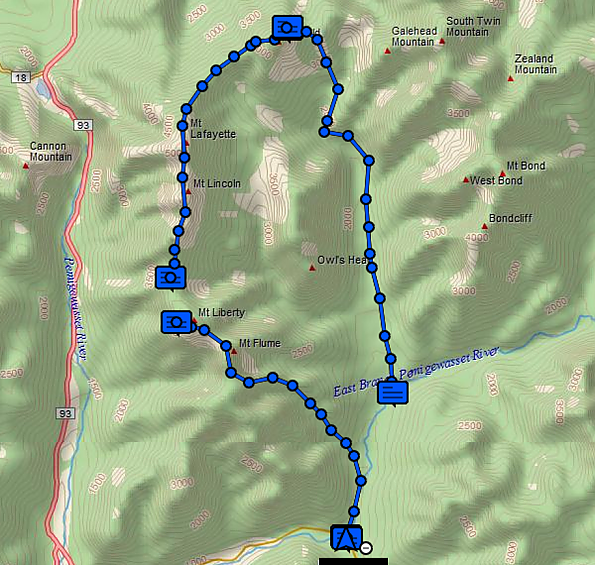 I just grabbed a shot of the map on the Delorme site that shows a rough idea of the route based on my inReach data. The gap on the left is from forgetting to turn it on when I started out on day two. The gap on the right seems to have been a system outtage of some sort, but you get the basic gist of what I mean by "semi" Pemi. I headed up along the ridge like usual, but cut down the middle rather than going around to S Twin and the Bonds.
You can see the full version including 76 pictures and a lot more babbling about walking in the woods on my site (http://lesstraveledby.net/2016/11/22/semi-pemi-three-night-october-2016-fall-color-trip/) if this whets your appetite.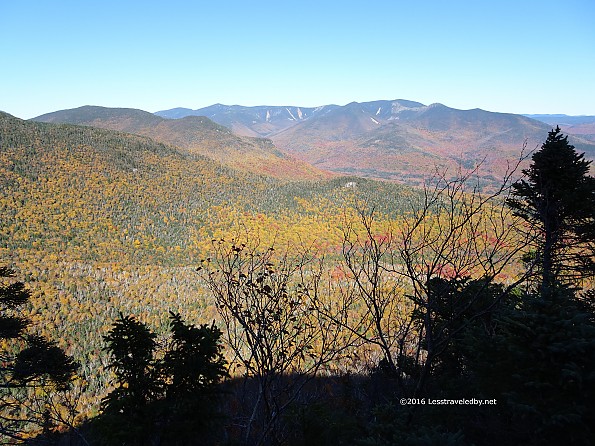 This was middle of October and color was just past peak in this part of the Whites. Weather was nice and cool for climbing which was good because the days were already getting short.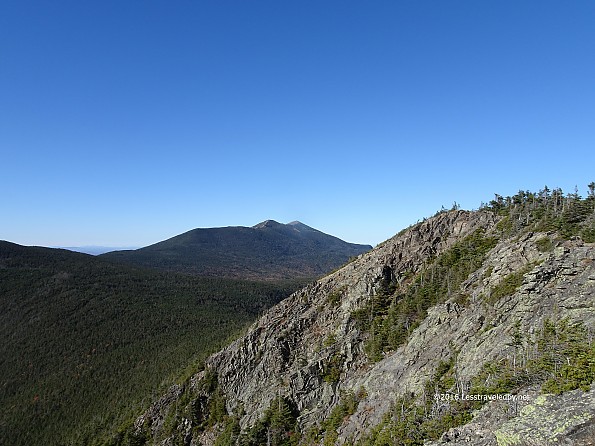 Popping out on the ridge opened up the views but also the exposure to the wind. It was just some playful gusts, no big deal. Still was enough to make me watch my step around the big hole next to the trail. Nice preview of the next day on the horizon in this shot.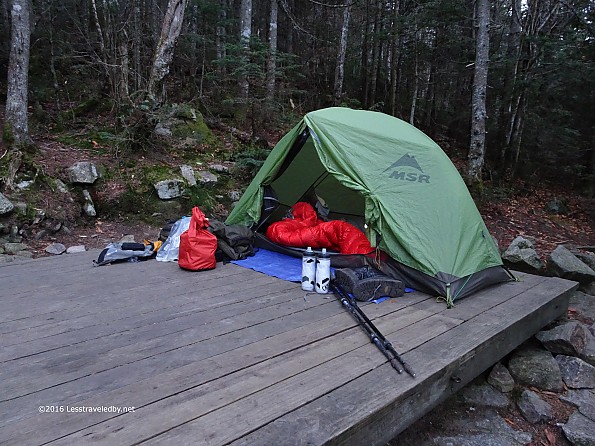 Camped at Liberty Springs that night with what appeared to be a full house of other folks out enjoying the loop or at least part of it. The AMC hosts had abandoned the site for the year so we didn't have to pay rent. The spring was just barely a trickle flowing off the piece of wood jammed into the rocks. Filling a bag took a long time so I made a point of loading up for the next day after dinner.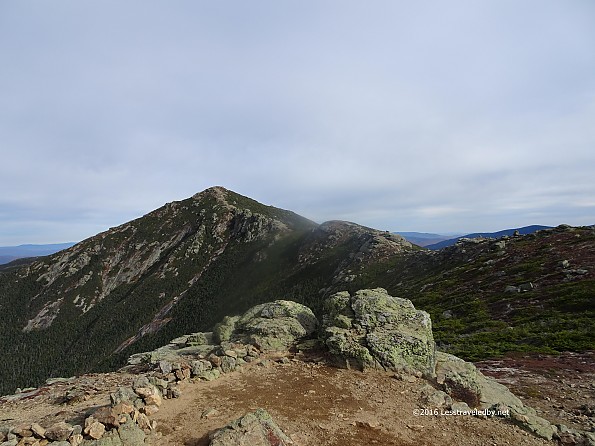 Franconia Ridge was mine for at least two minutes before I started seeing day hikers. Lots of folks out that day though they weren't dawdling because the wind was blowing hard.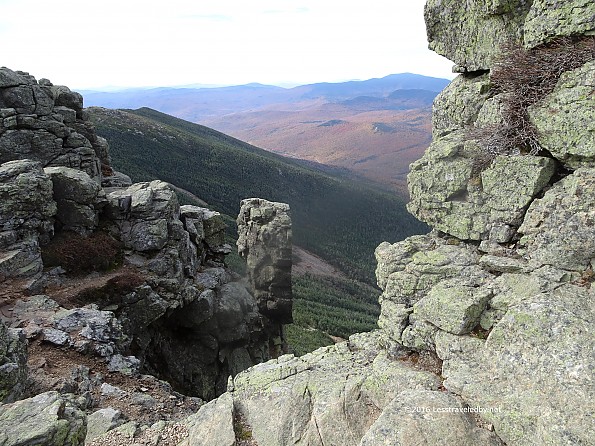 The few spots with relief from the wind were usually filled with snacking hikers. If they weren't I sat down there and snacked heh. It was probably blowing a steady 30mph but the gusts were enough to wobble the legs at times. Definitely a good day to be hiking with poles.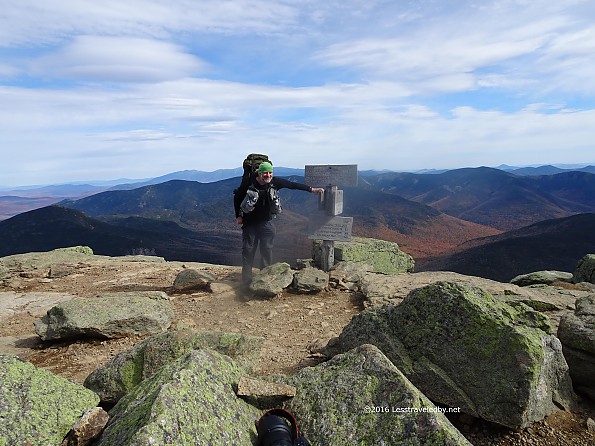 Classic pic on top of Lafayette except this time I'm not leaning on the sign to look cool. I'm hanging on to it so I'm not moving when the picture was taken.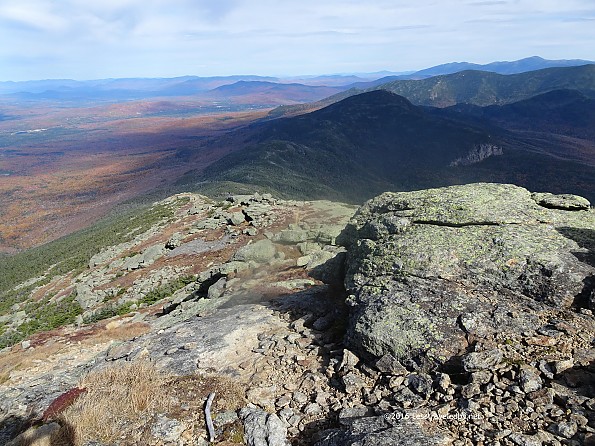 Bittersweet to reach this point as the crowds fall off here quickly, but soon after so does the trail as the end of the ridge requires dropping down before heading up to Garfield.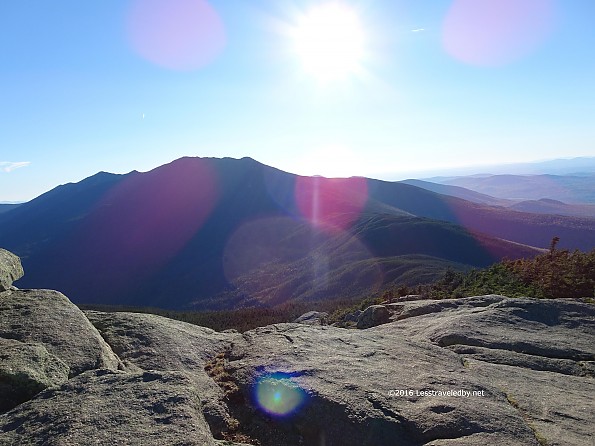 Looking back at the ridge from on top of Garfield through an epic lens flare. There was temptation to hang out here and watch the sun set, but I knew I had another slow trickle spring waiting for me down below and a steep rocky descent to get there so better to enjoy it and move on.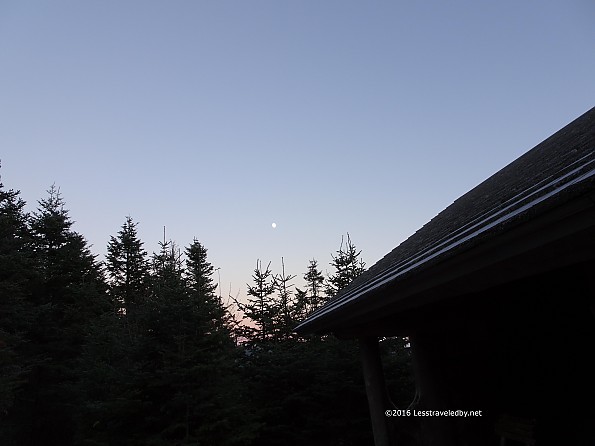 Again there was a lot of folks out for a cold and windy October night. The shelter had six of us inside and there were several tenting parties that came in as well. Normally I'd set up on a platform, but with the wind blasting this side of the mountain I was glad to sleep with the crowd. Well mostly I tossed and turned, but still better than what the tent would have been like.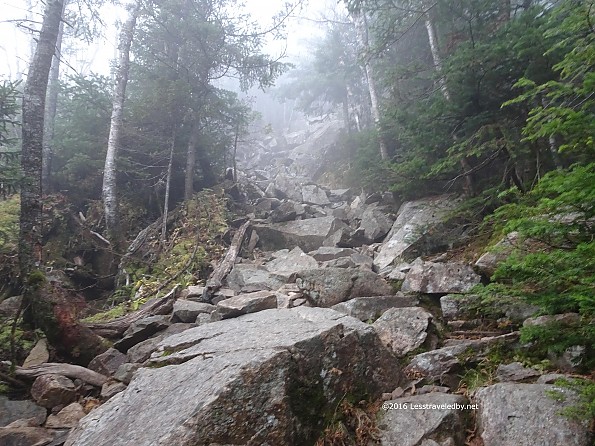 Clouds moved in overnight and everything was in the mist the next morning. Coming down this section of trail was interesting to say the least. Thankfully I was getting off the rocky AT and turning onto the Franconia Brook Trail to head down into the forest.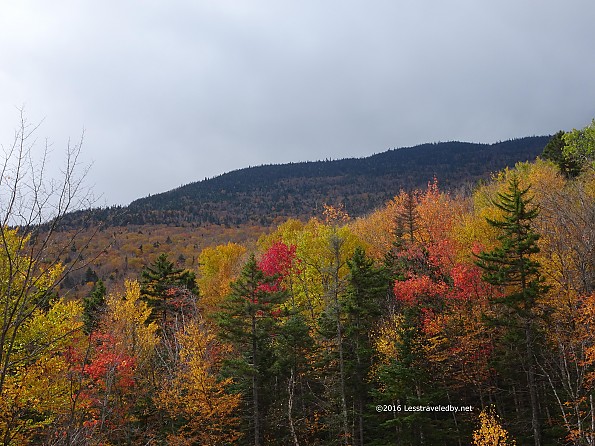 Weather was definitely moving in but even with the heavy sky there was still some color in the trees. I stopped for second breakfast then opted to keep moving on to see how far I'd get before the skies opened up.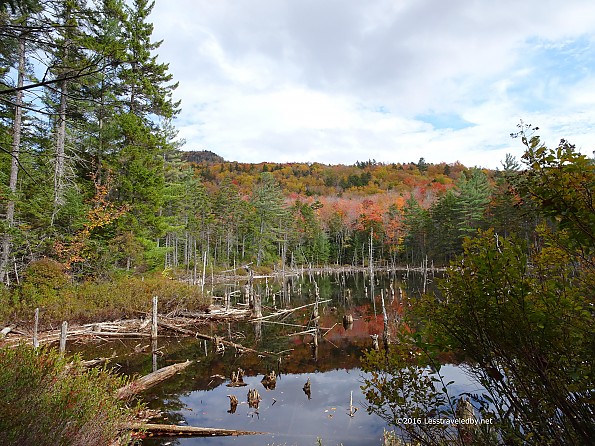 This pond was low, but I recognized the landmark and knew I was progressing down this trail rapidly. I stopped to take some pics, then stopped for elevensies a bit down the trail at a convenient blowdown.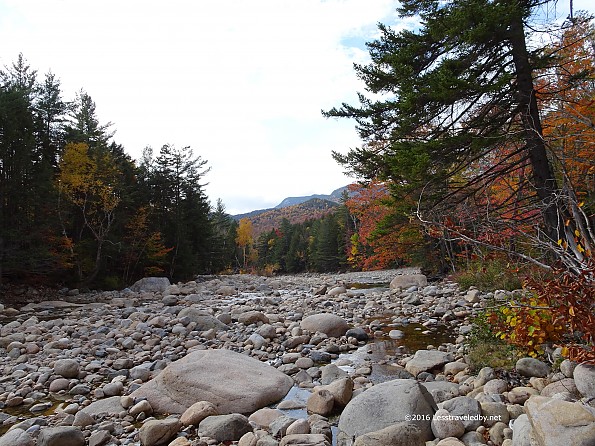 Rapidly running out of trail I decided to bushwhack over to the tent sites on the other side of the East branch of the Pemi. I was amazed to walk across on rocks without taking my boots off. The deepest channels were a bit of a challenge, but I'd never gotten away without having to take my boots off and wade this crossing.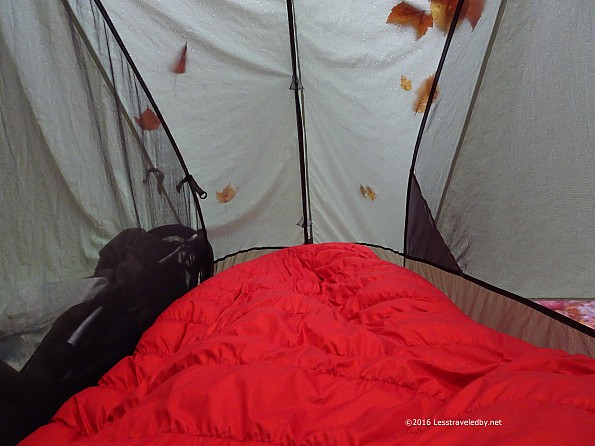 Thankfully I set up camp before working on an afternoon snack because the rain finally found me. I dove into the tent, ate and then napped vigorously while several waves of rain came through. Just before dusk it let up so I jumped out and made dinner. It gave me just enough time to cook, eat and clean up before the rain started again.

The Hubba up in the trees waiting for me to return from a trip to the bear box. Sadly I forgot to take my garbage bag out of my pack and a rodent found it. Some minor damage to the mesh of the pack and a major shredding of plastic to clean up.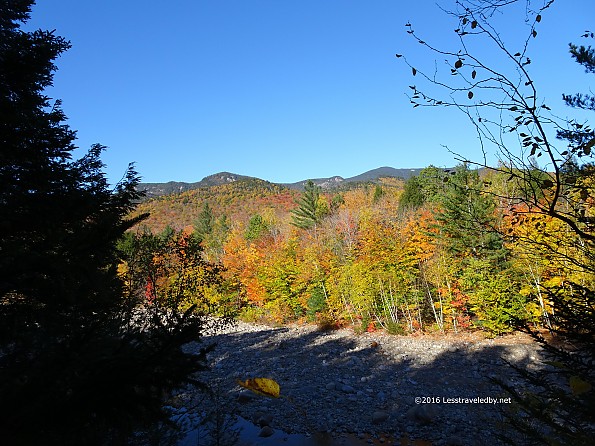 Too pretty of a morning to be grumpy about that or anything really. I had a few short miles back to the scoot and seem to recall enjoying them immensely.
I was playing around with taking video on trail with my wife's old iPhone on this trip. It was too windy to do anything on the ridge, but I put this together from stuff I shot on days three and four. It comes with music so turn volume up or down as applicable before starting.