12:25 p.m. on December 23, 2016 (EST)
g00se

11,779 reviewer rep
1,399 forum posts
I have friends who live in the heart of caving regions. I literally know a guy who goes out and finds new caves in Missouri after work every afternoon. While I could say I'm "envious" of such access, the truth is when I go caving it's an event. It's a journey. It takes planning, arranging days off work, finding places to stay. I wish I could cave more. I wish caves were more accessible in Illinois. But I like the fact that each trip is an experience that stays with me long after it is over.
In early December, I joined with two other cavers to travel to T.A.G. (Tennessee, Alabama, Georgia) for three days. Specifically, we traveled to Bridgeport, AL. In fact, the home we stayed in was in the "backyard" of Russel Cave National Monument.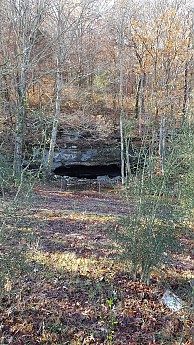 One of 2 caves behind the house where we were staying. This cave was accessible (although we never went in). The other cave is actually an alternative entrance to Russel's Cave National Monument and would be a felony to enter. 


On the first day of our trip, we drove to the base of one of many Cumberland/Appalachian Mountains in Alabama, and started hiking towards the top. We were told if we had summitted the peak, we would have crossed into Tennessee.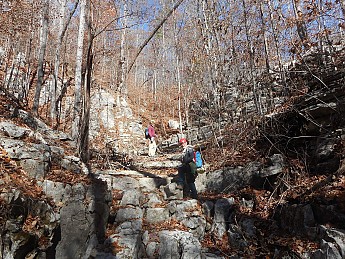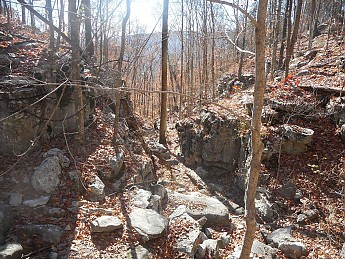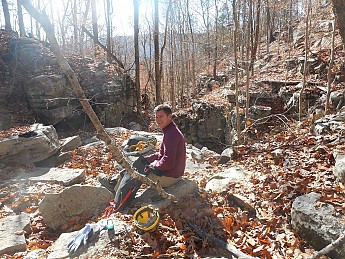 Don't blink, or you'll miss the hole near this natural bridge. Welcome to McBride's Cave!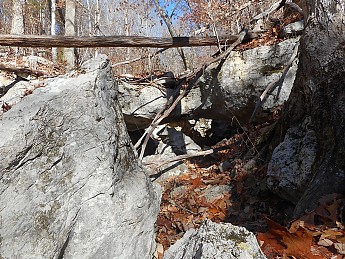 McBride's Cave was an amazing experience. Nine vertical drops ranging from 28'-90'. This was a pull-down trip, meaning, we take our rope with us. After the first drop, there is no go back up. You must continue going down until you reach the bottom of the mountain.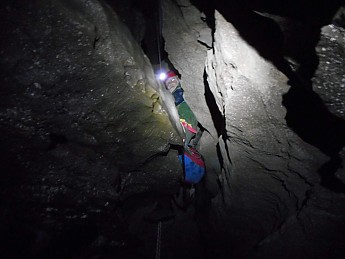 Ralph coming down the first drop.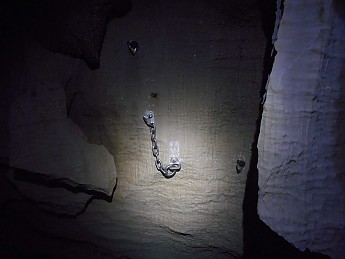 This is a pull-down anchor point. The rope is put through the ring attached to the bottom bolt. The chain and upper bolt are backups. (Note, the two older bolts no longer used.) Then the rappel is either going down on a double rope (see pic above), or the rope is tied with a butterfly knot on a 'biner to prevent it from passing through the ring (see pic below). Once down, cavers pull down the side of the rope the knot is on to retrieve it.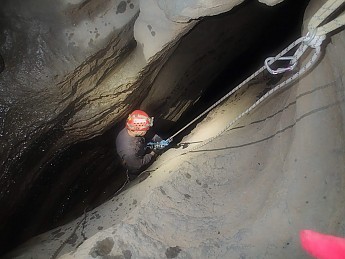 Me on one of the drops in McBride's Cave.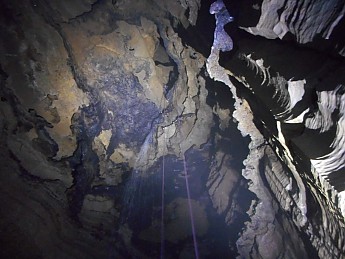 Looking back up after a rappel.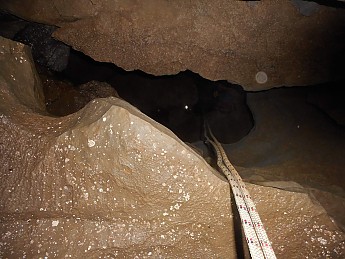 Ralph coming down the first drop.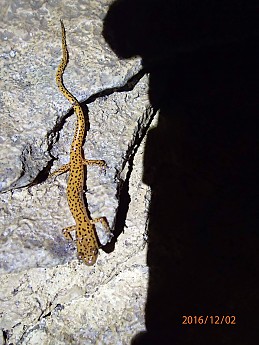 Todd photographed this lovely cave salamander.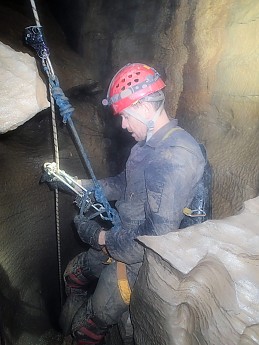 Rigging into the 5th drop in McBride's Cave.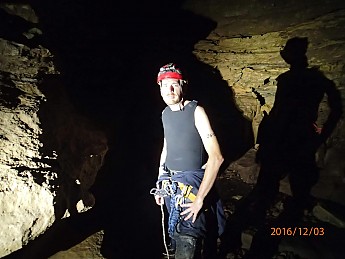 We were wearing wetsuits and polypro for the wetter portions of the cave, but I was definitely overheating after a few drops. Todd snapped this pic of me stripped down while we waited for Ralph to descend.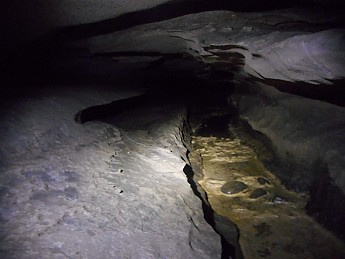 As much fun as the drops were, the last 1/2 mile(?) out of the cave is a hands & knees crawl over chert rock embedded in the limestone. This translates into your pack being caught if you try to drag it behind you. Really unenjoyable.



On the surface, I discovered I managed to drown my camera in a wet passage. So I don't have pictures of our visits to Iliad Cave & Sinking Cove Cave. Iliad was a down & up trip. Sinking Cove another pull down. 
There are so many pits & caves in T.A.G. that I want to visit. I can only wait with anticipation to the next trip.