BigRed
TOP 10 REVIEWER
REVIEW CORPS
7,348 reviewer rep | 1,261 forum posts
1:03 p.m. on December 25, 2016 (EST)
It's a rainy Christmas day and daughter #1 is away at her fiance's family's place so it just three of us, a quiet time to reflect on the year's events. I have already reported on this summer's two big trips in the Wind Rivers and Quetico, and a couple recent weekenders, but realized I never got around to reporting on our summer '15 two-part hike in the Sunndal and Romsdal mountains. I did a variant of this hike in the easterly direction with my younger daughter Zoe in '09 and filed a report but used only an external photo gallery which is now gone. It's one of my favorite hikes in Norway, very rugged and a bit off the beaten path, and my wife had never done the whole thing, so we decided to give it a go, this timegoing west. This will be a longish TR but hopefully will give a pretty good impression of the mix of wild mountain scenery and some of the mountain hut and summer farm traditions you run into on this particular hike. Here's an overview map of part 1 from ut.no in case anyone wants to follow the route.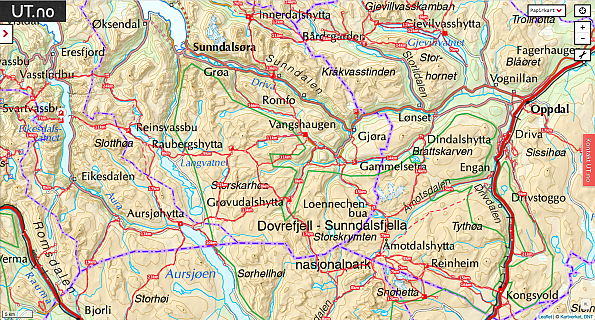 (Connect the dots! Our route starts at Kongsvold lower right)
On June 29, we (me my wife and Ralph) took the train to Kongsvold, a one-hotel whistle stop in the Dovre mountains, not far from where I have some research sites, and immediately hit the trail.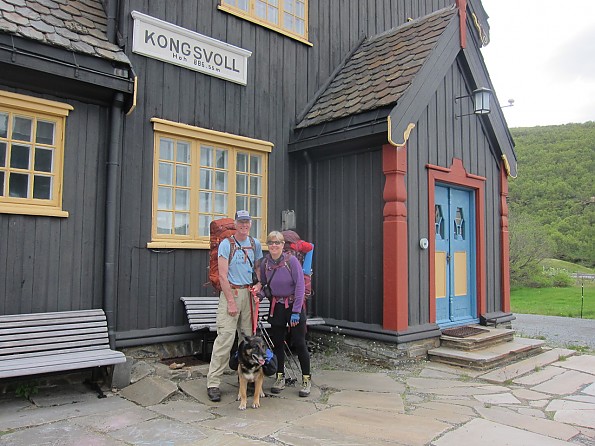 (Kongsvoll station)
About five minutes out we encountered a group of muskox maybe a hundred meters off the trail, too far off to get good photos with my little camera. They were introduced into the area in the 30s, pretty much eradicated during WWII and then reintroduced after the war. Now there is population of a few hundred animals, with ups and downs due to winter starvation, virus outbreaks, and the risks of living near a railroad line.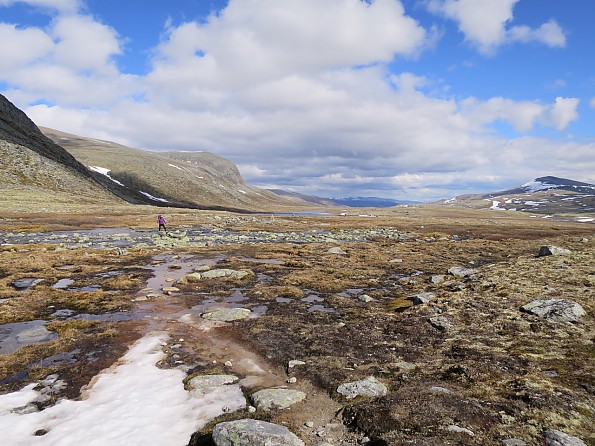 (On the way into Reinheim)
We hiked about 15 km and stayed our first night at Reinheim, a large-ish self-service hut that used to be the main base camp for doing Snøhetta, at 2286 m the highest mountain in Dovre, before the reopening of full-service Snøheim in 2012. The latter hut was closed shortly after it was built, back in the 50s when the military took over a big chunk of Dovrefjell as a firing range. Now you can take a bus in there to do Snøhetta as a day hike and stay the night if you like.
On day two we got an early start and stopped in for lunch at Åmotdalshytta, in a broad valley south of Snøhetta. It was after lunch that we found out what we were really up against – it had been a cold June so the snow melt was late. Hiking in snow wasn't too much of a problem, but the streams were still swollen with snowmelt.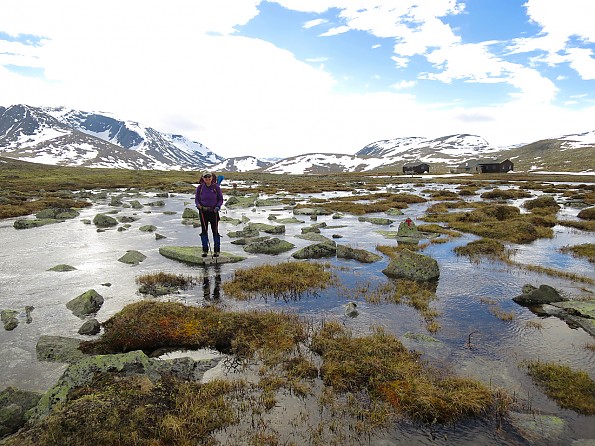 (Between a rock and a wet place)
After one knee-deep crossing my wife expressed some doubts about continuing, but we made it the rest of the way to Lonnechenbua, a tiny two-two bed stone hut high up by a still-frozen lake. In '09 my daughter and I had taken a different route, so this was a first for a me, and bit of a disappointment, rather dark and musty, and the last people to stay hadn't cleaned up properly, among either things leaving some dirty pots. Grrr. As regular users we are always careful to clean up thoroughly, that's how the lightly supervised system of self-service works, so it's distressing when others fail to do their part.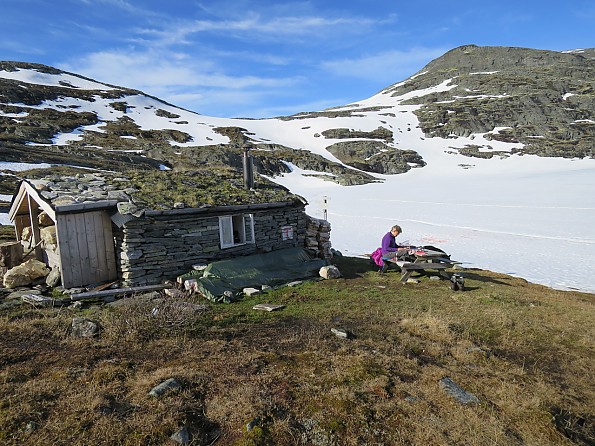 (Lonnechenbua)
In the middle of the night a Polish couple showed up after an epic hike up the valley that included some treacherous stream crossings. The hut has only two beds and we were in them, but they had sleeping and sleeping bags and it wasn't raining, so they "slept" out – it doesn't really get dark in Norway this time of year. We cleaned up and left the hut to them in the morning, and I imagine they seized the opportunity to catch up on sleep in the semi-darkness of the hut.
Based on beta from the new guests, we went off-trail and over the shoulder of a mountain to avoid the rough trail along the lakes, but still had to cross a raging torrent on a small foot bridge with no handrail and not-quite knee deep water flowing over it. Getting Ralph over some of these crossings can be interesting, but he was pretty fearless about it.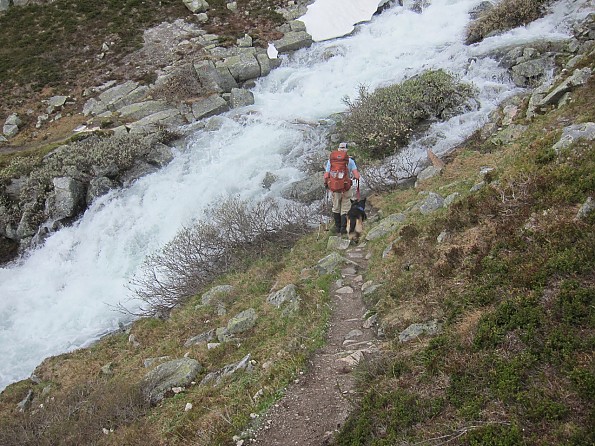 (see the bridge?)
There are various route options on this end of the hike. We decided to continue on to Gammelsetra, an old favorite where we spent few nights during the Christmas holiday in our first years in Norway. It's an old summer farm (seter) converted to a tourist hut, including the old farm house, the old barn converted to a low-ceilinged winter hut, and a one-bed dog hut, where we stayed, all surrounded by a fence to keep the sheep out. The surrounding valley is verdant, and connects through via Dindalshytta almost to Oppdal, where Zoe and I finished our '09 hike.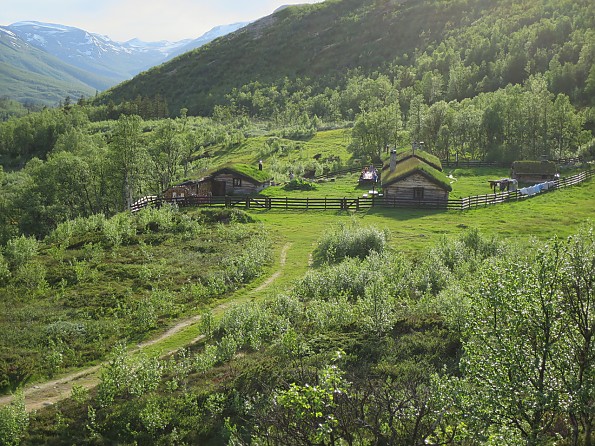 (Gammelsetra)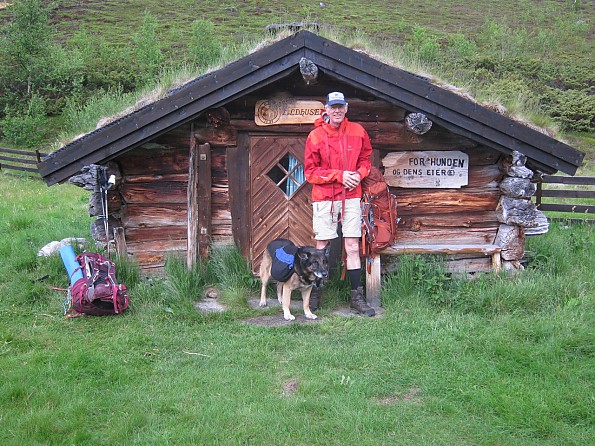 (The dog hut at Gemmelsetra; the sign on the right says "For the dog and its owner")
This time we were going the other way. We headed down into the depths of Åmotan, where five good-size rivers converge over waterfalls and cascades into a deep gorge. At the bottom two of the raging rivers are crossed by small suspension bridges, and there is a wet meadow that is continually blasted by spray from Sviufossen, a big waterfall that empties straight into the gorge.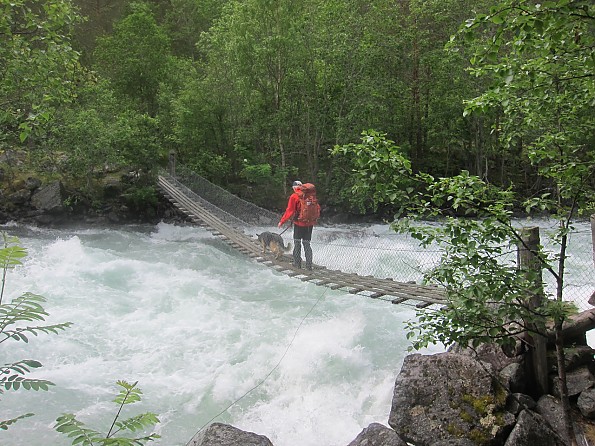 (Bridge over the Linndøla River)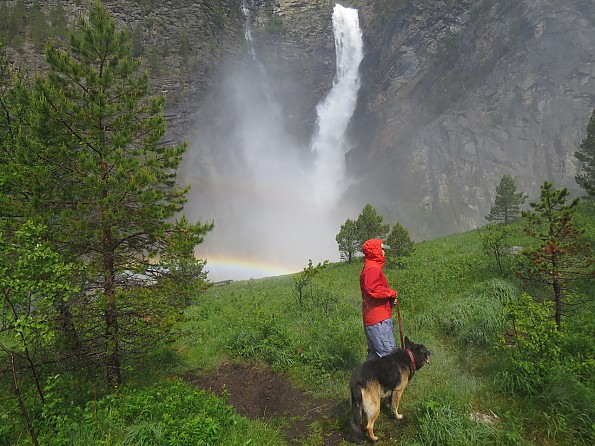 (Sviufossen)
From there we took the very steep trail up out of the gorge and towards Vangshaugen, our next hut. Faced with a choice between walking a dirt road or a muddy trail, we took the road, where a nice guy who had a cabin in the area stopped and offered us a ride. We pointed out that Ralph was soaked from a swim in the river but we spread a towel for him in  the back of the station wagon and the driver was cool with that.
Vangshaugen was built in 1910-1911 as one of several fishing-hunting retreats in the area by Ethelbert Lort-Phillip, one of a couple of rich English dudes that took an interest in this part of Norway. It's a bit reminiscent of an Adirondack great camp, a nice log building perched on a knoll overlooking a mountain lake, with number of outbuildings of varying age and condition, including a newer annex with two and four bunk rooms and, of course, a dog hut. The upstairs interior of the main building is decked out in rustic comfort, with antique furniture, leather comfy chairs and sofas, and glass-doored bookcases full of old books. And they have showers!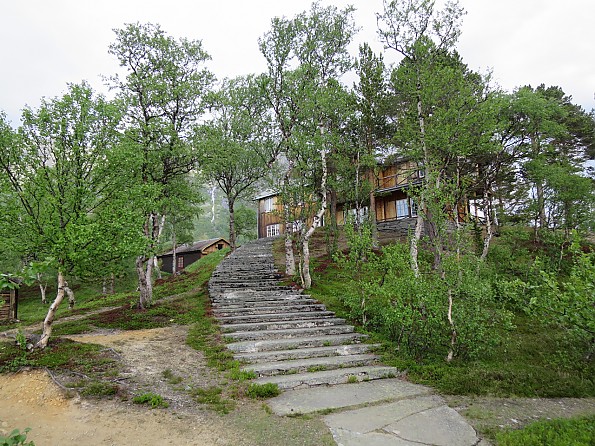 (Vangshaugen)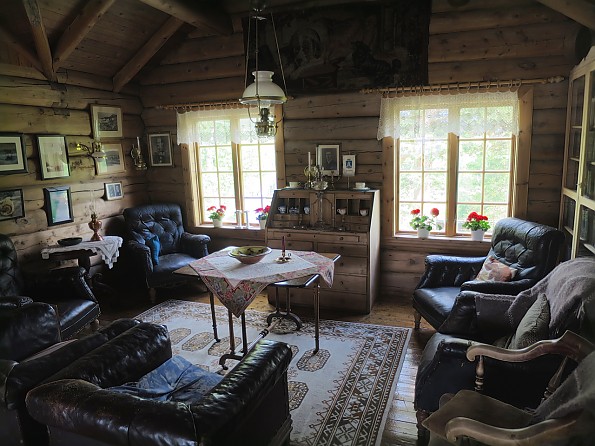 (Vangshaugen interior)
The weather forecast for the coming days was for heavy rain, so it was here that we decided to abort. We had one more nice day and used it to hike in and stay a night at Grøvudalshytta and see if we could find some of an endemic species of alpine poppy that  grows only in this valley (we didn't). There's an operational traditional summer farm close by where you can get  waffles cooked over a fire with fresh made sour cream and strawberry jam and buy a few other dairy products. Ralph's favorite part was the sheep.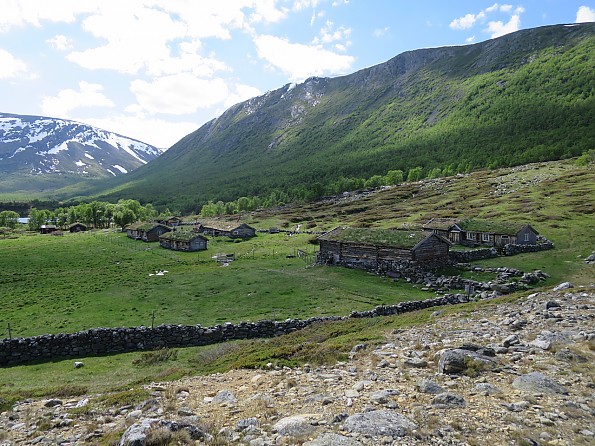 (The summer farm in Grøvudalen, also called Gammelsetra)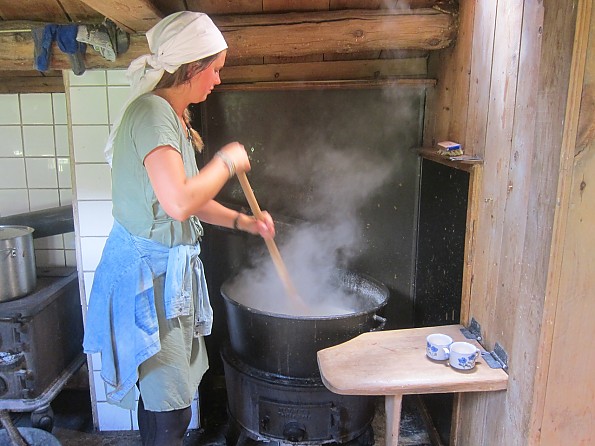 (Making cheese)

(Close encounters of the sheep kind)
We hit it off with  the host (vertina) at Vangshaugen, and she gave us a ride down the valley to Gjøra, where could catch a bus up Sunndalen to Oppdal and from there the train back to Trondheim. She was looking for summer help to fill in a two-week gap, and Zoe took the job, so Nancy and I returned for a couple nights later in the summer before the three of us plus Ralph did part two of the hike.
To be continued...