2:13 p.m. on April 24, 2017 (EDT)
Phil Smith

1,310 reviewer rep
410 forum posts
Last week my snowshoeing partner and occasional hiking buddy Chad texted me "Monadnock next Sunday, you interested?" I asked the boss if I could work Saturday instead of Sunday, and after getting the OK I said I'd meet him there. 
After getting out of work Saturday I packed my gear in the Jeep and made the 3-hour drive to Monadnock State Park, where I camped overnight. Chad planned on leaving his house around 0730 Sunday and I didn't want to stay home and have to get up no later than 0600 in order to shower, eat, and drive to his house. By 1900 hours I had my camp set up, a fire started, and water to rehydrate my dinner boiling on my ~20 year old Primus stove. The Mountain House beef stroganoff with noodles was much better than one of the MREs I'd brought would have been! I'm glad I decided to stop to pick up a small cook set (and a couple freeze-dried entrées) at the Concord NH Eastern Mountain Sports. 
After dinner I sat in the camp chair by the fire and listened to the owls. From their calls I was sure they were great horned owls, and their presence is probably the reason I didn't hear any of the normal scurrying of rodents in the leaf litter. It had been grey & rainy all day but the wind had picked up since I arrived, a sure sign that the nearly perfect hiking weather that was forecast for Sunday was blowing in. In what seemed like the space between one heartbeat and the next, the clouds cleared and I was treated to a view of unbelievably bright stars between the trees. Even though the city of Keene is only 10-15 miles away, there's next to no light pollution. Which is as it should be, human beings seem to want 24 hours of daylight then complain they can't sleep at night. 
By 2200 I was ready for bed so I let the fire burn down, made sure everything on the table was secured well enough to keep the wind from blowing it away, and doused the fire. I didn't fall asleep the instant my head hit the pillow because I was thinking about the next day's hike, and also because I was still enjoying the night sounds. Even when the animals are used to the fires and sounds of a busy campground, there's a subtle but noticeable difference when the fires are put out and the human activity dies down. At best guess I'd say I lasted 15 minutes before I was out, and except for 2 nature calls during the night (I'd been drinking a lot of water that day to ensure I was hydrated) I slept through the night. 
Around 0700 I awoke, and got up about 15 minutes later. First order of business: boil water for breakfast. Once that was started I got the boots I'd be wearing for the hike out of the Jeep, by the time I got them laced up the way I wanted them the water was boiling. This morning's fare: Backpacker's Pantry chicken curry vindaloo. While that was rehydrating I opened the 2nd rainfly door for ventilation, turned the sleeping bag inside out to air out, and grabbed everything else out of the tent. I hate having to rush in the morning, so having 2 1/2 hours to break camp and get everything packed for the trip home before Chad arrived was nice. 
Chad showed up a little after 10, and has his son Richie and friend Jay with him. They spent some time adjusting clothing for the expected temps, made their necessary after-drive pit stops, guzzled pre-hike water, and by 11 we were hitting the trail. 
Mt Monadnock is the highest point in southern NH at 3165' (965m), is nearly 1000' (305m) higher than any other terrain within 30 miles (48km), and has a prominence of 2150' (660m.)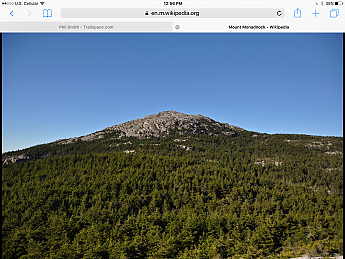 Our trailhead was at about 1360' (415m) elevation, and horizontal distance between perpendiculars from the trailhead to the summit is only about 7000' (2135m), so a bit of arithmetic tells you this is one steep trail! The trail we took to the summit, the White Dot trail, is 2.2 miles (3.5km) long and is the steepest, most direct route to the summit.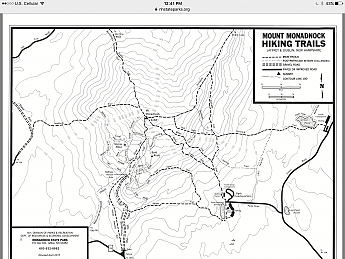 The White Dot trail starts out at a moderate incline but when you get to about 1800' elevation it really steepens for the next 900' of elevation gain. The few 1-200 yard/meter flatter spots between near-vertical spots are a welcome break! From 2700-2900' the trail levels out, and the last 250' starts off steep but gradually levels out near the summit. It was a difficult "trail" due to being rocks, boulders, and ledges almost the entire way. There was very little walking involved, you stepped and climbed from rock to rock, often with small puddles in depressions. Again I was thankful for the traction provided by my Asolo Fugitive GTX, with careful foot placement I never slipped regardless of whether the soles were wet or dry. 
Maybe 3/4 of the way up there's a sort of false summit with good views from the northeast to the south. If you look closely you can see the skyline of Boston, 60 miles away.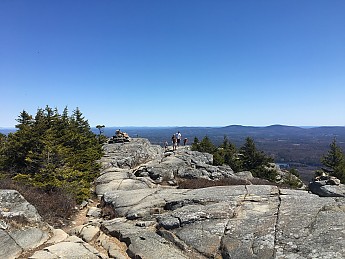 My friend Chad, Jay & Richie had gone ahead.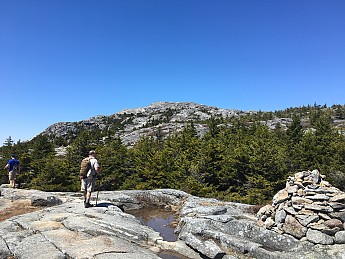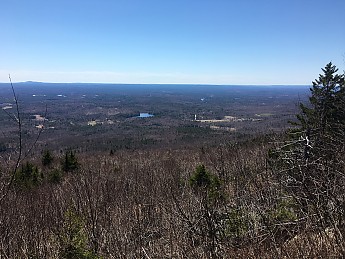 After a short rest here (not my first!) we continued toward the summit. From here on we were on bare rock for the most part, but still with plenty of rock-hopping and scrambling. As we approached the actual summit we realized just how many people were climbing. We knew there'd be a lot because of the full parking lots and from how many we'd seen on the trail, but seeing them all in one place was different. There had to have been well over 100 people of all ages, from 8-year-old kids to people in their 60s. Singles, couples, and large groups. We found a place to rest and take pics, and when the actual summit cleared out we took a pic on it.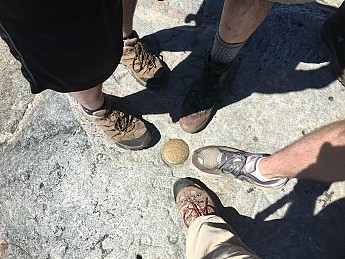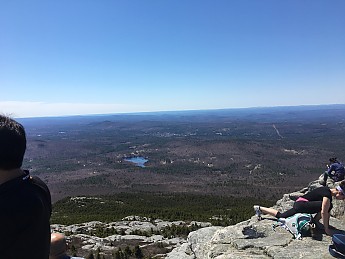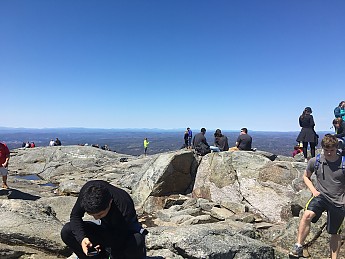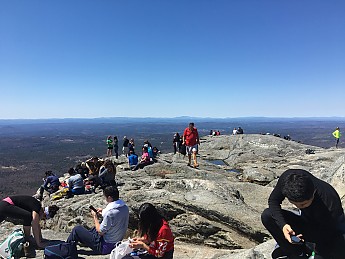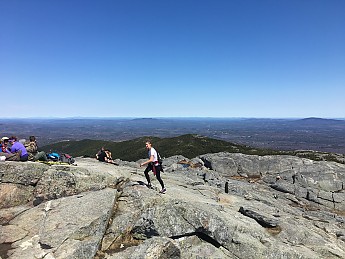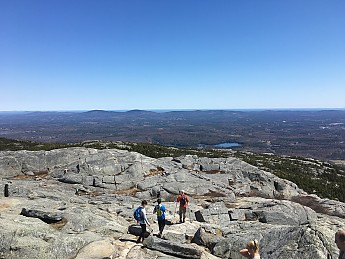 Chad again. There was a lot of great scenery on the mountain! The views of the surrounding countryside weren't so bad, either.