4:34 p.m. on May 5, 2017 (EDT)
Phil Smith

1,310 reviewer rep
410 forum posts
I'd started to write this the day after the hike but never got past the outline stage. LoneStranger's most recent trip report inspired me so I decided I'd flesh it out as the sincerest form of flattery. 
Mount Chocorua, at 3,490' (1064m), is the easternmost peak of the Sandwich Range, part of the White Mountains. It's purported to be one of the most photographed peaks in the world, and is visible from much of western Maine and central New Hampshire. (Not my pic.)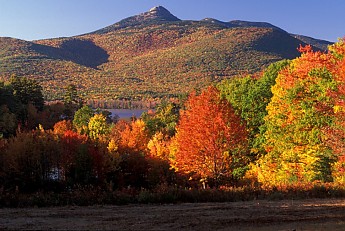 Around the beginning of March I texted my snowshoeing partner Chad and asked if he wanted to climb it on Saturday, March 11. The reason I chose that weekend is because A) there'd still be snow on the ground, and B) it'd be cold. By cold, I mean subzero temps. The high temp at the summit on Saturday was supposed to be around -15F, with wind chills in the mid -40s. Sunday's weather was more mild, with forecasted temps at the summit being maybe -5F and wind chills around -30F. Chad told me he'd see what his wife had planned and get back with me. 

A couple days later he texted me and said the temps were too extreme for him, so he was going to pass. I decided I was going alone; a few hours later he said he was game if we went on Sunday instead. So Sunday morning I showed up at Chad's house loaded down with cold weather gear for him as well as myself. 
Chad had never spent any length of time in subzero temps like we'd be experiencing, so I gave him a quick lesson on not becoming a cold weather casualty. Above all, avoid sweating! The importance of this cannot be overstated - damp clothes and damp skin can KILL you. Continuously monitor yourself and if you feel yourself starting to sweat either reduce your activity level, ventilate, or remove a layer. We then hopped in the Jeep and headed out on the 90 minute drive to Chocorua.
All geared up at the trailhead. Temp is around 0-5F. 
The last trail marker sign before the summit. We took the Champney Brook Trail, it's 3.6 miles from the trailhead to the summit. It seemed like a good place to add a couple layers for the temps & wind above the treeline.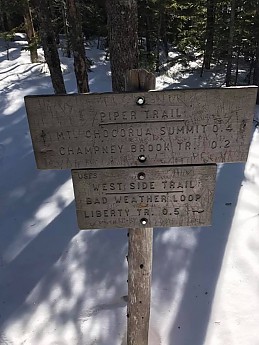 The last steep climb before the treeline. The snow was packed hard on the entire trail, so we had to use spikes for traction.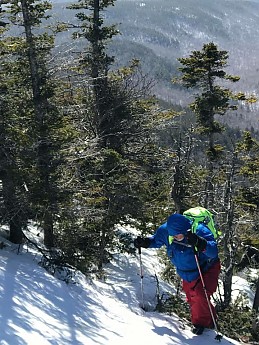 A bit of scrambling to the summit. There was enough hard ice up here that I wished I'd had real mountaineering crampons. I got about halfway to the summit from here (we circled around to the right to avoid the wind as much as possible) and stopped because of a few very close calls due to wearing my Sorel Conquests. Even with my Hillsound Trail Crampons I was losing my footing because of the boots' overall lack of rigidity. This summer I'm buying some mountaineering boots for next winter's hikes!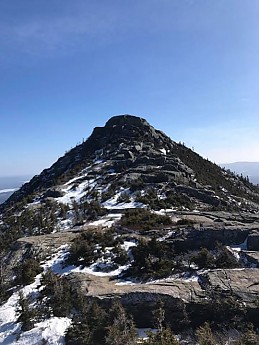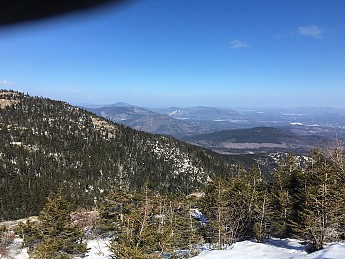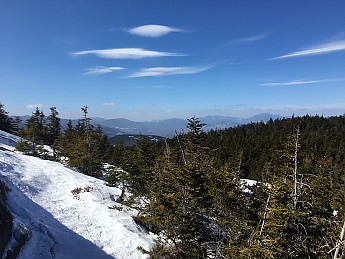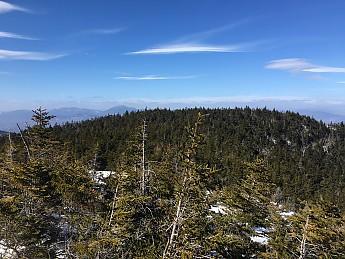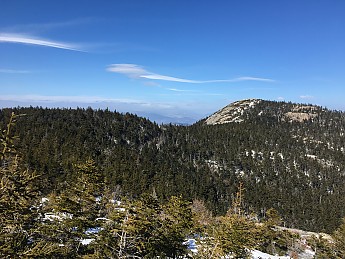 We were both pretty much starving when we got back to the Jeep sometime around 1700. I hadn't eaten anything but a Clif bar since breakfast and was SO looking forward to hitting the Pizza Barn in Ossipee, but let Chad talk me into the American BBQ instead. The smoked brisket & pulled pork sandwich I got was enormous, and I couldn't finish it all. I won't say it was better than the Pizza Barn, but I don't regret our choice. LOL

Once we were done we wedged our now-fatter selves into the Jeep and drove the remaining hour to Chad's. When his wife saw that he was alive she was visibly relieved - being *somewhat* of a worrier she was SURE they'd find his body sometime after the snow melted. Mine, I don't think she cared if it ever got found, after the way I dragged her husband out. I still had another hour to drive to get home, so after 10-15 minutes I headed out and managed not to fall asleep on the drive.