8:45 p.m. on May 26, 2017 (EDT)
Charles Polidano

1,277 reviewer rep
19 forum posts
The West Highland Way is a long distance trail in Scotland running from Milngavie near Glasgow to Fort William near Ben Nevis. It is officially 154km (96 miles) long. I decided to walk it over eight days, meaning I would walk a leisurely 19km (12 miles) per day on average. I hoped that this would allow me to properly enjoy the Way.
Of course it is impossible to break up a long-distance walk into equal stages. The distance I walked each day varied from 14km on day 6 to 29km on day 3. Actual distance always varies from official distance, and I did 166km (103 miles) in all.
I camped every night except night 4 (Tyndrum – camping cabin) and night 8 (Fort William – hotel). I carried all my gear with me. My rucksack weighed around 14 and a half kilogrammes, or 32lb.
Day 1 (Friday 12 May 2017) – Milngavie to Drymen
The day started with an equipment glitch. As I was walking from my hotel in Milngavie to the official starting-point of the Way, my handheld GPS unit (a Garmin eTrex 30) refused to display its map, so I was seeing my track against a white screen. My GPS had never done this to me before. I tried switching it off and on again, but it refused to turn on. As a last resort I changed the batteries and, hey presto, suddenly my GPS was working fine again.
Not that I really needed the GPS. The West Highland Way is so well signposted that I could have walked practically the entire route without looking at my GPS or even my guidebook.
The terrain on this day was mostly urban parkland or agricultural land – pleasant but not spectacular.
I camped at Drymen Campsite, also known as Easter Drumquhassle Farm. Facilities were basic but adequate for a first night.
The official starting-point in Milngavie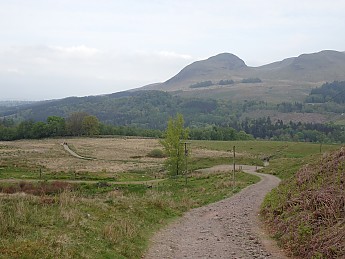 The trail winding beneath Dumgoyne hill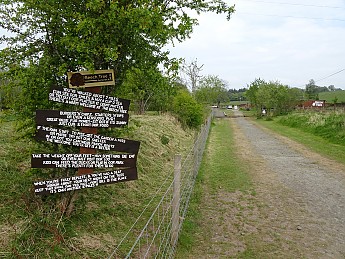 The Beech Tree Inn, right on the trail
Day 2 (Saturday 13 May) – Drymen to Sallochy
This day's route led from Drymen to Garadhban forest, followed by a climb to Conic Hill and a long descent to Loch Lomond. Parts of Garadhban forest had been logged. The clearings looked sad although new saplings were rising among the tree-stumps.
As I approached Conic Hill it started to rain. Conic Hill itself had its head in the clouds, so I stuck to the trail over its shoulder and did not climb to the top.
I found the descent to Loch Lomond tough going. I had a bite and a rest at Balmaha before proceeding to Sallochy, where I was camping for the night.
I passed a house named Sallochy so I thought the campsite must be near. But I walked on and on and it was nowhere to be found. I thought I must have missed it, but a kind couple led me on to it. It had been only a short distance ahead. Good thing I didn't turn back.
Sallochy campsite was basic but beautiful, even though the midges were out when it was not raining.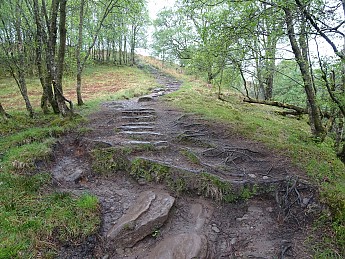 Heading to Conic Hill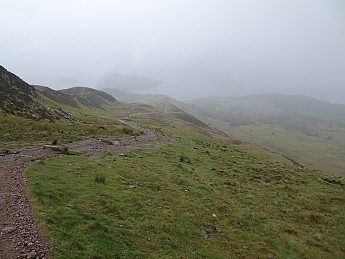 View of Loch Lomond from Conic Hill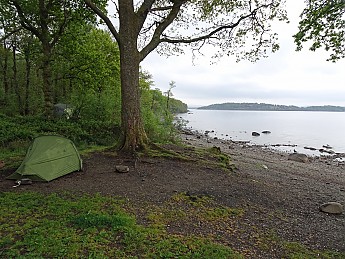 Sallochy campsite
Day 3 (Sunday 14 May) – Sallochy to Inverarnan
There are two route options along the shore of Loch Lomond: a low route which stays close to the shore but is tough in places, and a higher-level route which is easier but less scenic. I followed the low-level route. In places it involved scrambling rather than walking and I had to watch my footing, but it was lovely.
The weather was highly variable, going from bright sunshine to heavy rain and back in the space of minutes at times. It seemed that every cloud drifting overhead was dumping its load of rain over the lake.
Then came a climb to Inverarnan and Beinglas campsite, where I spent the night. Beinglas was superbly well equipped – easily the best of the campsites where I slept.
This was the day on which I covered the most distance. The official distance of this stage was 22km, but that was starting from the village of Rowardennan. Sallochy campsite was some 4.5km short of Rowardennan. Even allowing for this, the distance was an underestimate. I walked some 29km in all.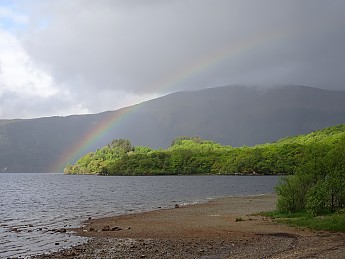 Rainbow over Loch Lomond, as seen from Sallochy campsite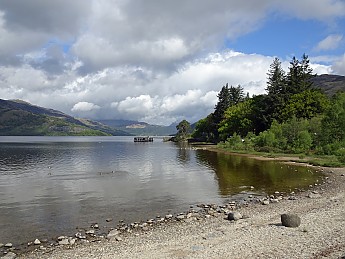 Rowardennan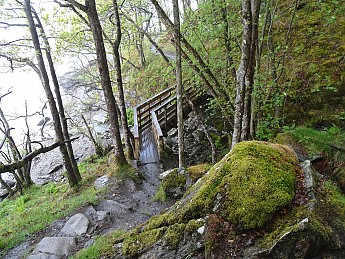 Section of trail by the loch shore
Day 4 (Monday 15 May) – Inverarnan to Tyndrum
The trail from Inverarnan followed a road and a railway, cutting across each on more than one occasion – including by means of a "sheep creep" or tunnel through which you have to walk stooped. I had to remove my rucksack otherwise I'd have ended up on hands and knees.
This stretch also includes some forest walking and, indeed, it contains the only forest on the West Highland Way that has not been ravaged by logging.
The weather was overcast and rainy, but it was a fairly constant gentle rain – the sort of rain I enjoy walking in.
I spent the night at Tyndrum By the Way campsite, where I had booked a cabin. The cabin had two bunk beds. There were no bedsheets – you had to use your sleeping bag – but even so it felt like luxury to sleep on a proper mattress.
The walking during these four days had been good but, with the exception of Loch Lomond, not spectacular. There were almost always reminders of civilisation, in the form of traffic noise if nothing else. The Way seemed to be tantalising me with promises of what was to come, but it had yet to show me its best.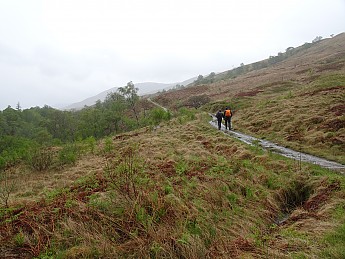 Setting off from Inverarnan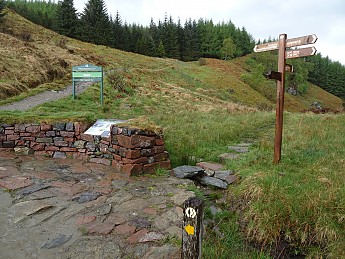 Half-way point of the West Highland Way
Day 5 (Tuesday 16 May) – Tyndrum to Inveroran (not to be confused with Inverarnan)
This day the Way finally began to deliver on its promises.
At first the route followed a road and railway up a narrow valley, but then the valley opened up and offered splendid views. The trail carried on to Bridge of Orchy, where I stopped for lunch, then to Inveroran, and remained excellent throughout.
The weather was good for much of the walk. But as I climbed the ridge between Bridge of Orchy and Inveroran a storm blew up. The wind drove the rain into my face like a hail of needles. It was as though the Way was exacting a price for having finally shown me some of its riches. But I enjoyed the challenge of walking in such weather.
Camping was a different matter, however. This night I was camping at an unofficial camping spot by a bridge beyond the Inveroran Hotel. It was my first time wild-camping in the UK. Mercifully the rain had stopped by the time I pitched camp, but the clouds continued to threaten and the wind remained strong. I wondered if I was in my right mind camping in such weather in the middle of nowhere.
Gradually, however, other campers turned up. I told myself that if I was not in my right mind, at least I was in plenty of company. The sun came out, too, and treated us all to a splendid evening.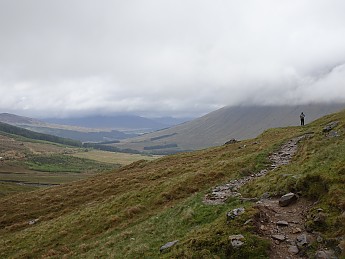 Valley beyond Tyndrum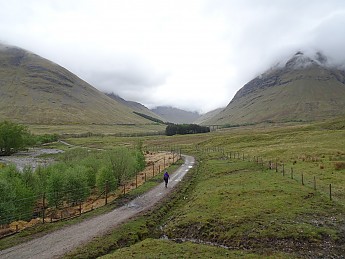 Beinn Dorain and Beinn Odhar looming over the trail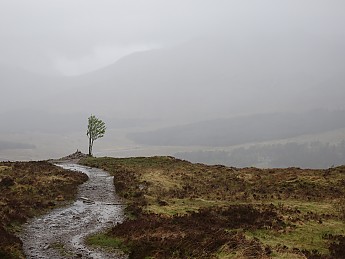 Solitary windswept tree, shot by solitary windswept photographer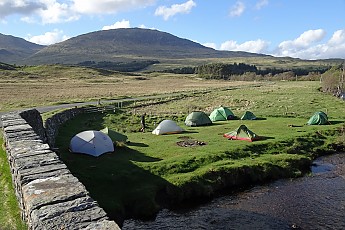 The unofficial camping site at Inveroran
Day 6 (Wednesday 17 May) – Inveroran to Glen Coe
Today was West Highland Way gold. The route crossed Rannoch Moor, a place of austere beauty. Coming within sight of Buachaille Etive Mor, a great hill that looks like an alien implant on the landscape, was the cherry on the cake.
My guidebook warned that Rannoch Moor was exposed and walkers should be wary of bad weather on this stretch. I felt that after the weather I had encountered en route to Inveroran, I could cope with anything Rannoch Moor threw at me. But as it happened the weather was excellent.
I camped at Glen Coe Mountain Resort, two kilometres short of King's House Hotel – a better-known waypoint – at the entrance to Glen Coe valley.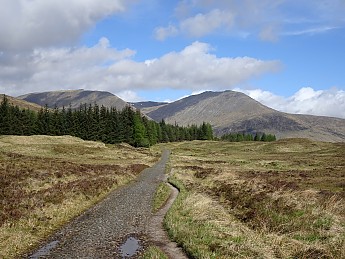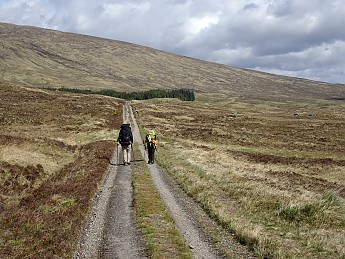 Both photos above: crossing Rannoch Moor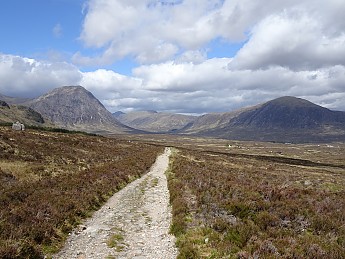 Approaching Glen Coe, with Buachaille Etive Mor on the left
Day 7 (Thursday 18 May) – Glen Coe to Kinlochleven
This was another spectacular day. The Way took me through the mouth of Glen Coe where, once again, the trail came into close proximity to a road. But after a while the trail turned away from the road and uphill to the famous Devil's Staircase – really just a switchback path up the hillside. The top of the hill is the highest point on the whole Way.
The trail traversed more excellent terrain as it turned into Leven valley, until it began a long, knee-jarring descent to Kinlochleven.
I camped at the MacDonald Hotel on the north side of Kinlochleven. The hotel campsite offered fantastic views of Loch Leven.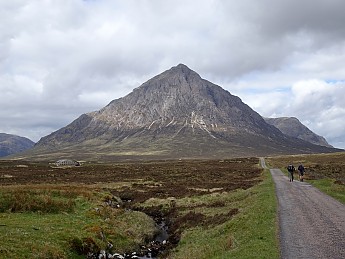 Buachaille Etive Mor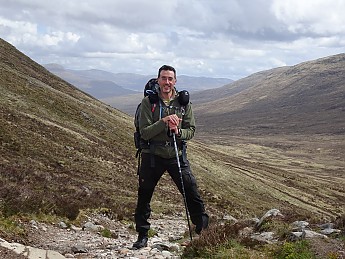 Climbing the Devil's Staircase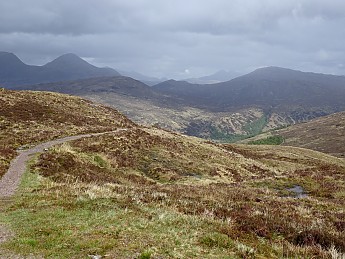 Looking towards Leven valley
Day 8 (Friday 19 May) – Kinlochleven to Fort William
The last stage of the Way started with a climb to the heights north of Kinlochleven and joined the Lairig Mor, a high pass through some spectacular terrain. Later on the trail went through forest. It gave me a grand view of Ben Nevis before descending to Glen Nevis and Fort William.
As I reached the forested area I was surprised to find that large areas had been cleared of trees. Only the stumps remained. Logging was going on right there and then, and there were signs warning walkers to stay on the path. At one point the path went between two denuded hillsides.
I was even more surprised to find that the logging was being carried out by the Scottish Forestry Commission. On its website the Commission claims to be managing forests in a sustainable way, but stripping whole hillsides bare does not seem very sustainable to me. To be fair to the Commission, it does plant saplings among the stumps. But those saplings will take years to grow, and when they do they will probably be cut down in their own turn anyway.
I realise that all the paper and wood that we use has to come from somewhere. But could logging not be done selectively rather than through clear-cutting? The 50,000 people who walk the Way each year don't do it for the privilege of seeing acres of tree-stumps.
As I began the winding descent to Glen Nevis on the final stage of the Way, the trail widened considerably and showed obvious signs of use by vehicles. All those logs had to be transported out, of course. I felt I was no longer walking the West Highland Way – I was walking the West Highland Logging Road instead.
I finished my walk at Nevis Bridge on the outskirts of Fort William. This had been the original end-point of the West Highland Way. The current end-point, featuring a well-known statue by David Annand of a walker with sore feet, was on the other side of town. But my own legs were sore after walking 166km, and my hotel was in the opposite direction. Besides, there seemed no logic behind the location of the current end-point except that of channelling walkers through Fort William's commercial centre.
However, I did visit the official end-point the following morning. Its location might be illogical, but the statue is excellent. The walker's expression – looking into the distance with a half-smile, as if thinking of the hills where he has just been – could not appear more human if it were on a real person's face. It mirrors my own feelings when I think of the West Highland Way. The Way has its bland bits, but the good bits are superb. Walking the Way is one of the life-experiences that will stand out in my memory in the years to come.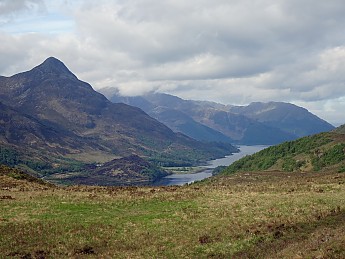 Loch Leven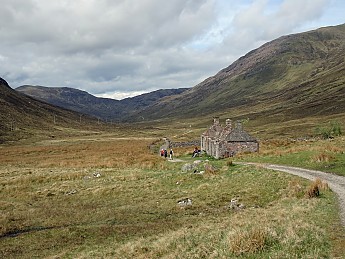 The Lairig Mor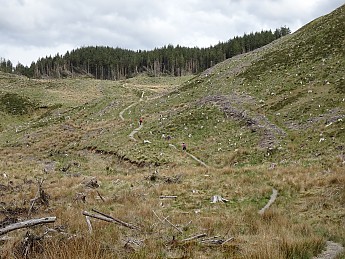 Clear-cutting on the West Highland Way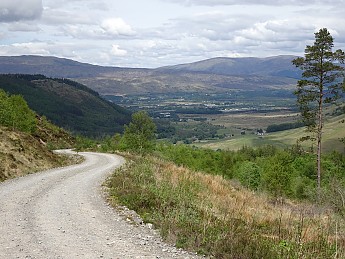 The descent to Glen Nevis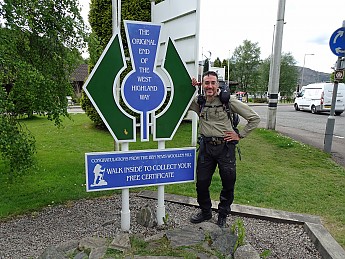 Original end-point at Nevis Bridge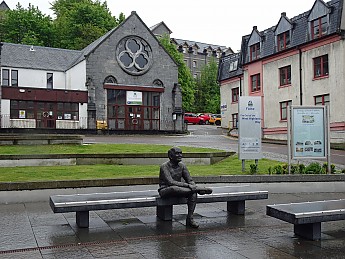 Current end-point with Mr Sore Feet