11:19 a.m. on August 20, 2017 (EDT)
lambertiana

0 reviewer rep
448 forum posts
I haven't been out much this year due to having no available vacation time for long trips.  But I have been able to get out for a few dayhikes.  Yesterday I went to White Chief Lake, out of Mineral King in Sequoia NP.  There is a trail that goes to White Chief bowl, which we used as a jumping off point.  Not far in from the trailhead you get to the lower White Chief basin:
White Chief Lake is on a shelf at the base of the short cliff about 3/4 of the way up the slope in the above picture.  There is no trail, just a lot of scrambling up the face to get there.  The lake itself is, by sierra standards, nothing much to write home about:
The reason I like White Chief Lake is not because of the lake itself, but because of the views from the outlet.  There is a small pool in the outlet stream right on the edge of the big face, and it takes on the appearance of a zero pool, with the southern end of the Great Western Divide as a backdrop (Patrick, the peak about a third of the way in from the left in the first picture below is Sawtooth):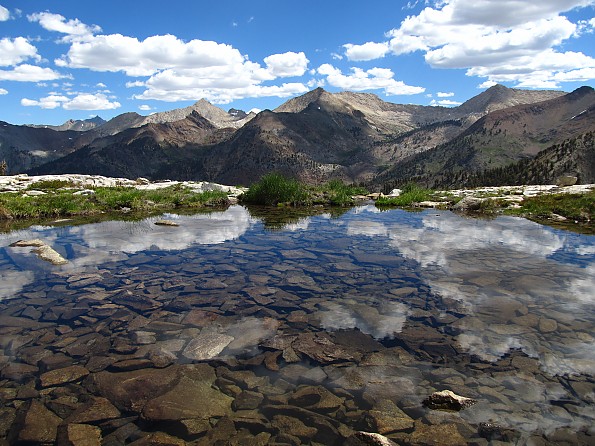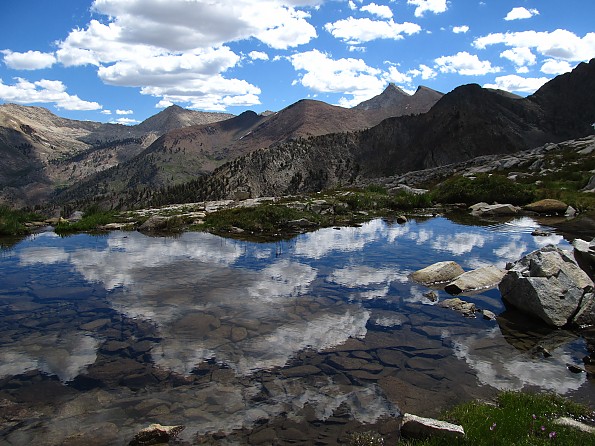 White Chief also has a lot of interesting geologic features - Two different granodiorite plutons, with a large remnant roof pendant with marble, schist, slate, and hornfels.  There is a lot of marble with a well developed karst, and numerous caves.  Here is a stream coming out of one of the caves: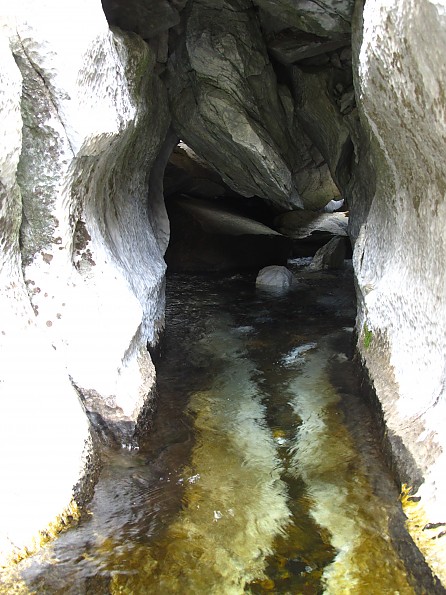 At White Chief Lake, the clouds were building quickly, so we didn't stay there for long.  It is far too exposed to be a good place to stay during a thunderstorm.  After we got back to the trailhead we stopped for burgers at Silver City, and we could hear thunder coming from the area where we were that day.