FlipNC
TOP 10 REVIEWER
REVIEW CORPS
4,666 reviewer rep | 1,707 forum posts
8:57 p.m. on August 27, 2017 (EDT)
My wife and I had a couple of days free between family events in Pennsylvania. We decided to take a short overnight backpacking trip in West Virginia, as we wouldn't have time to do a 16-hour round trip home to see the total eclipse. So it was off to the Dolly Sods Wilderness...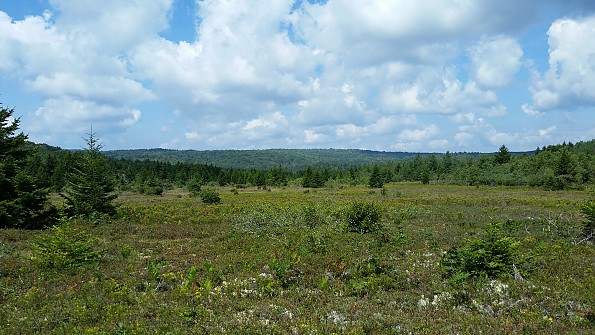 For those not familiar with the area, the Dolly Sods are basically a plateau of rolling hills bisected by a couple of large streams.  Around 4000 ft elevation and relatively undeveloped, the area was once used as a bombing practice range for D-Day...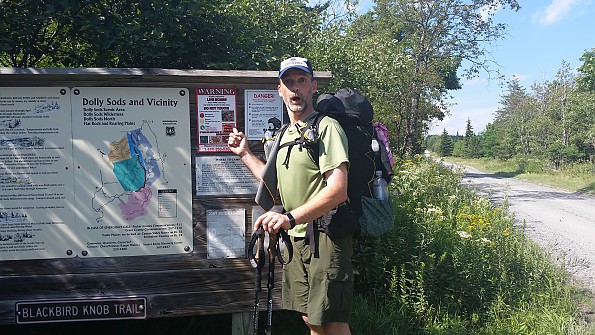 There are warnings about un-exploded ordinance still present in the area, although from what I understand the last find was in 2014.The parking areas were busy with campers and day hikers, but we soon lost most of the people as it was a Monday.  I imagine this area is very busy on weekends.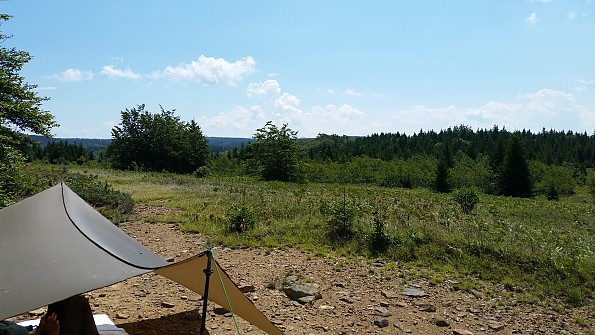 After starting at the Blackbird Knob Trailhead, we had a short hike in and diverted north on the Red Creek Trail. We set up a luxury shaded lunch area in an open spot with great views to the south so we could enjoy the partial solar eclipse.

My wonderful wife had packed a couple of pairs of eclipse glasses that we bought back in the mid-2000's.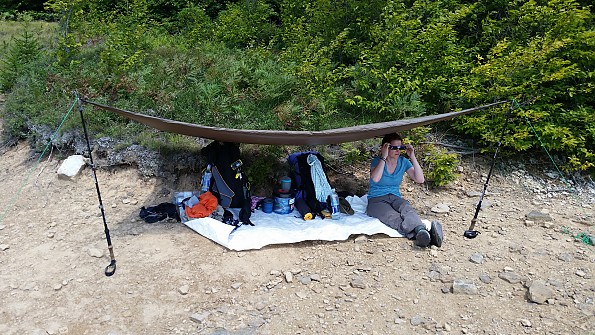 Our lunch tarp was folded back and we enjoyed the first half of the eclipse...no great photos unfortunately as camera equipment is too heavy for my old knees!
After we reached the maximum partial eclipse, the temps for an August afternoon were a fantastic 70 degrees so we decided to hit the trail again and take advantage of the cool down, and pause every once in a while to check on the back half of the progress of the moon over the sun.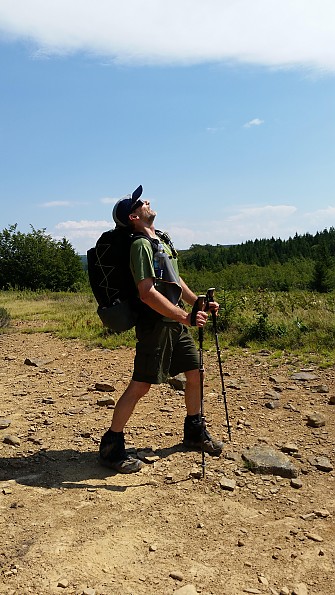 We had a beautiful afternoon walk along rolling hills and across pretty streams...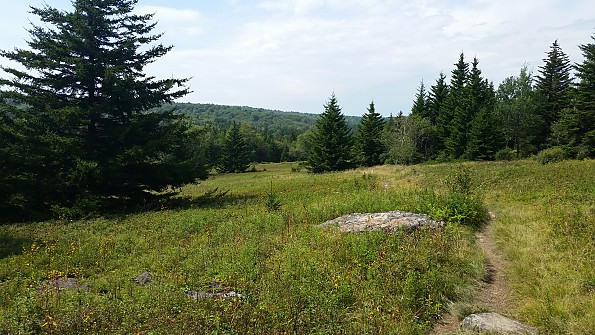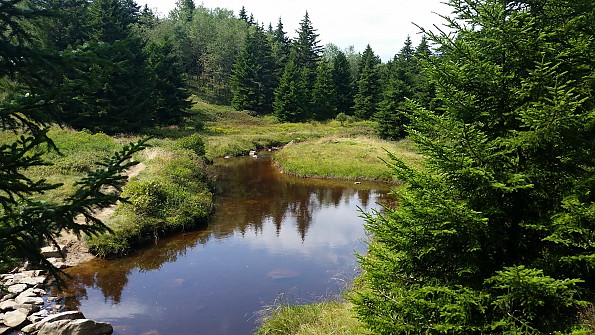 After a last check on the waning eclipse...
We then descended along the rocky and muddy Big Stonecoal Trail.  The amount of mud reminded me a lot of the White Mountain boggy areas - the Dolly Sods is well named!
Although planning to hike into the evening after the long eclipse/lunch stop, we found a fantastic campsite that couldn't be passed up...I usually don't use established camps if I can avoid it but how can you walk past the Camp of Thrones?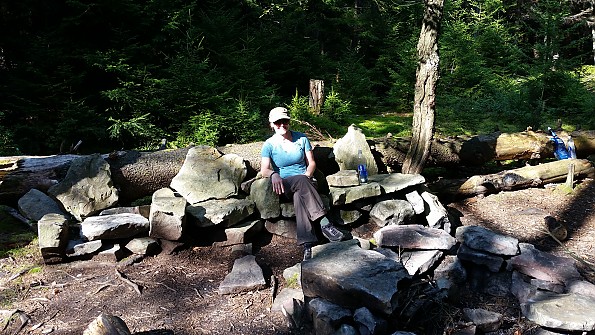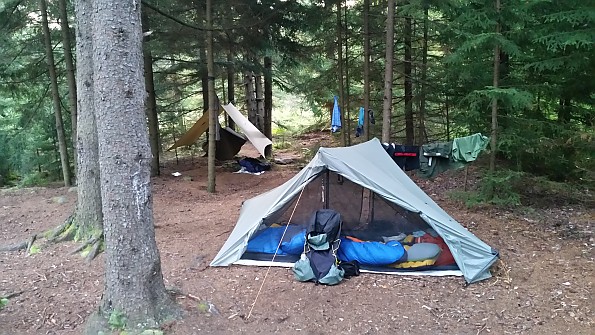 A peaceful starry night and relatively cool morning allowed for a nice hike down to the Rocky Point Trail through many of the varied natural communities in the Dolly Sods.  It seemed like we changed communities every time we blinked...the next few photos were taken within 45 minutes of each other...
grassy slow-moving stream valleys,
open bogs,
partially shady evergreen forest,
fern covered pine forest,
scrubby bog areas,
large rocky streams,
and rocky outcrops.
My wife and I really enjoyed the morning hike as it wasn't too wearing except for sections with small shifting rocks, and the temperatures stayed relatively cool.
After a very steep but short climb up to the Lion's Head, we arrived at a really great view and lunch spot. 
I searched for a while but found no man-made features in the viewscape.
You are not likely to fall off the edge unless you are silly...this is as close as I was allowed to go to the edge!
but watch your step as the cracks and crevasses between the rocks are deep...
The afternoon hike was much warmer than the previous day and we were wishing for another eclipse to cool it down!  Fortunately the open high country was broken by forest copses and pretty stream valleys to camel up and take breaks.
Due to our family commitments we had to cut our trip to one night, and missed out on the northern section but we really enjoyed this beautiful wilderness.
I'll be back to further explore this fantastic area and all the trails!