9:45 a.m. on August 30, 2017 (EDT)
LoneStranger

TOP 10 REVIEWER
REVIEW CORPS
9,709 reviewer rep
1,576 forum posts
Just a few months behind on trip reports because I've been too busy going to stop and talk about where I've been. Playing catch up now because there are still big plans on the calendar coming up. Here are a couple from earlier in the Summer, one with my girls and another with the Boys from Texas.
Long versions with more pics and babbling can be found here:
http://lesstraveledby.net/2017/08/21/the-south-turner-mtn-expedition-family-baxter-trip-june-2017/
http://lesstraveledby.net/2017/08/29/pogy-pond-wassataquoik-lake-baxter-with-the-boys-2017/
Katahdin Stream / Roaring Brook / South Turner Mountain with the Girls
This trip was originally booked so that the girls could pick me up after I'd finished the planned 150 mile AT section from Caratunk, but I pulled the plug on that trip after one day due to safety concerns. The weather had been extremely wet during the Spring and on into June. The trail was literally slimy with the rocks one usually would use for traction in wet conditions slick with a film that even my Limmer Standards wouldn't stick to. After falling three times on the first day I opted to come home via car rather than ambulance so instead of walking to Baxter I drove up with the girls.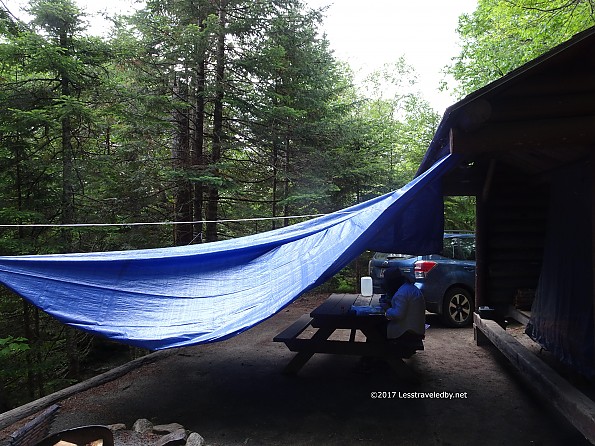 We had LT 10 with the stream running right in front of us and the AT following the campground road to the Hunt TH right behind. With weather expected we rigged for rain on arrival and were glad we did.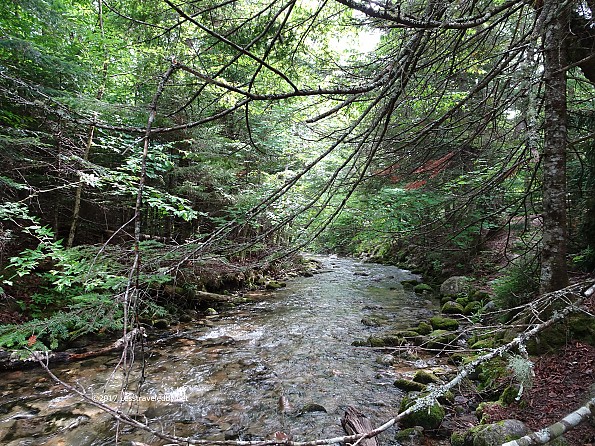 Katahdin stream not only was nice to look at, but the sound did a great job of masking any noise other campers might have been making. Despite being in a campground we didn't feel too crowded which was nice.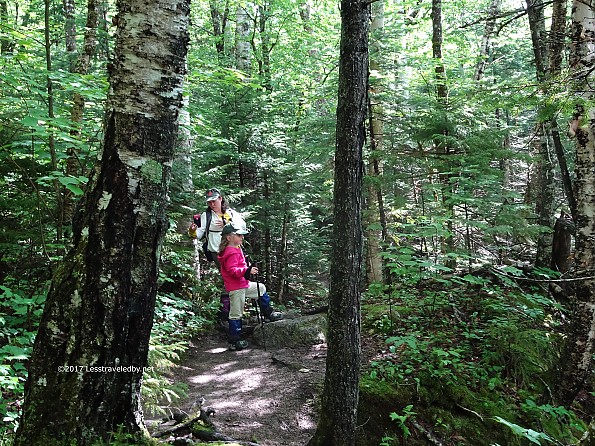 The next day started with a leisurely breakfast as we watched a stream of day hikers head past our LT towards the Hunt Trail. We packed up and moved the car to the day use lot before heading that way ourselves.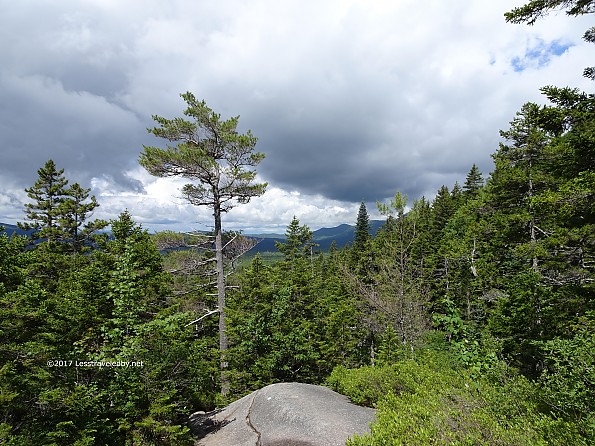 We weren't planning on going all the way up since we had a big climb planned for later in the trip. Still, once my daughter starts up a trail it is hard to get her to stop so we went farther than expected. Eventually a storm rolled through and the rain was enough to convince her we should turn back.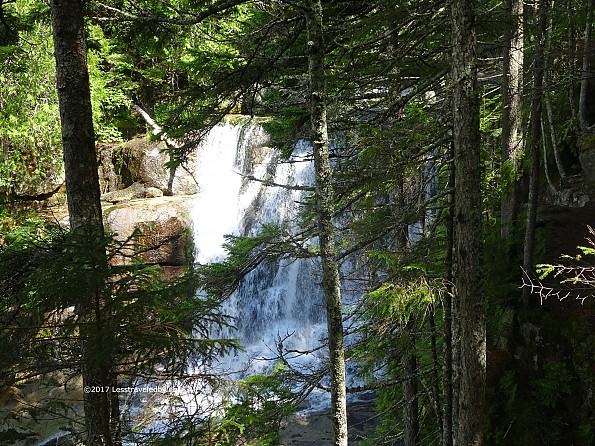 Not before we'd reached this fantastic falls though. This was my first time on the Hunt Trail and I have to admit I enjoyed the lower sections because it was such a gentle climb filled with beauty spots. The real climb starts soon after, but we avoided all that hard work.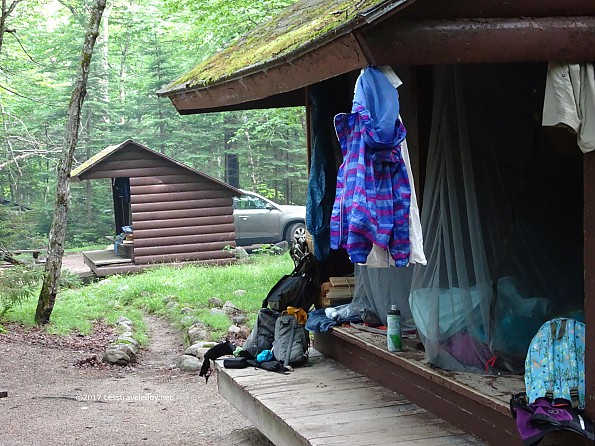 We moved over to the Roaring Brook campground and into LT 4 right on the brook there. The neighbors were close, but again, the sound of the water filled our ears so we didn't mind. We were too busy feasting as we love to eat well when we are car camping.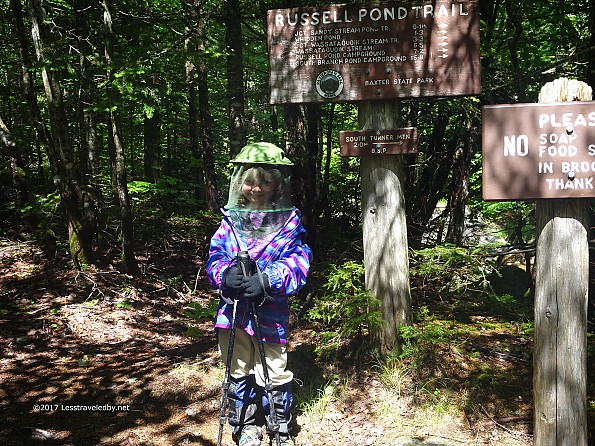 Then the day we'd been waiting for had arrived. My daughter had been looking forward to making an attempt at climbing South Turner Mountain since the previous Summer. I wasn't sure she could do it, but was happy to let her try.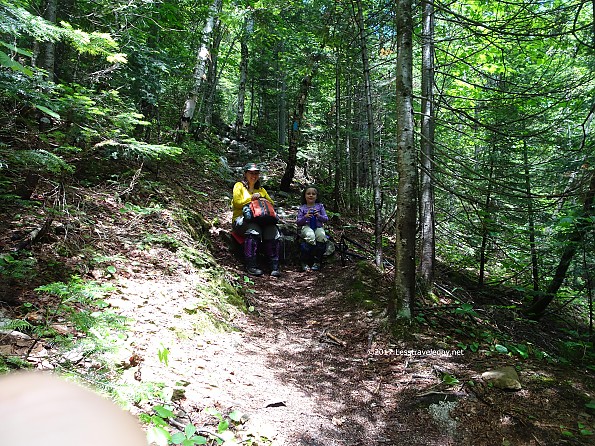 We took our time as the trail was short, but quite steep in places. There were lots of breaks for water and snacks as we pushed our way up and up.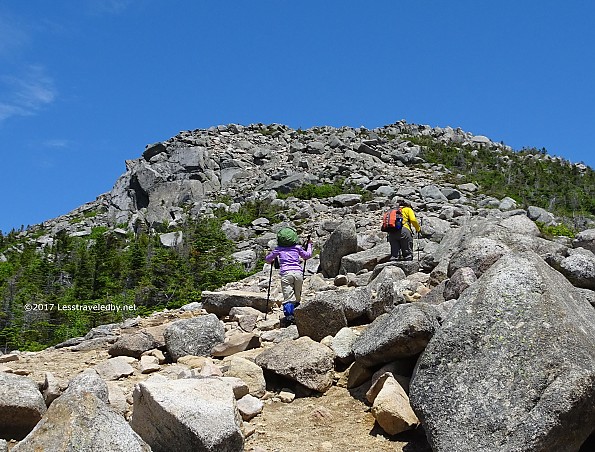 Finally we were faced with the scramble to the top. From here to the summit I walked right behind my daughter with hands at the ready to catch her in case of a fall. She was fearless, her mother surprisingly brave, but daddy was nervous the whole time.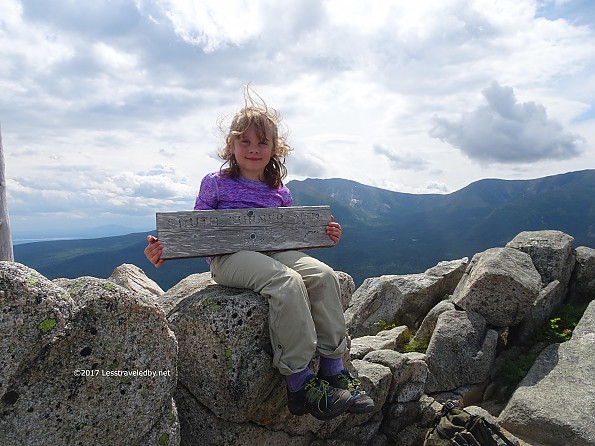 Steep climbs, rock scrambles, 3100' peak? No problem! What a great place to have lunch too!!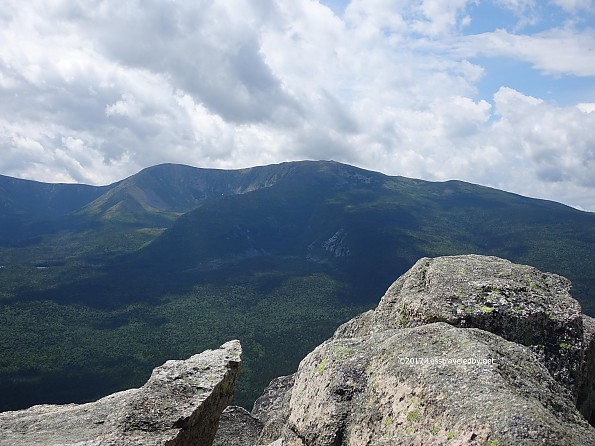 Of course from here Hamlin and Katahdin looked climbable to her. Not this year, but soon...
Pogy / Wassataquoik Lake with the Boys from Texas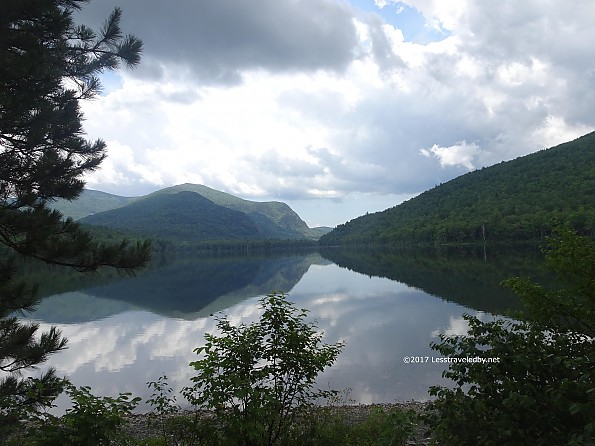 The Boys wanted a relaxing trip this year so I did my best to take it easy on them. Six miles to Pogy on day one, six more to Wass Lake on day two, an off day there and then reversing the process back out. Of course the weather decided to make it hard on them as it usually does and we got rained on for the entire hike in on day one. I did get this beauty shot of South Branch Pond before the skies opened though.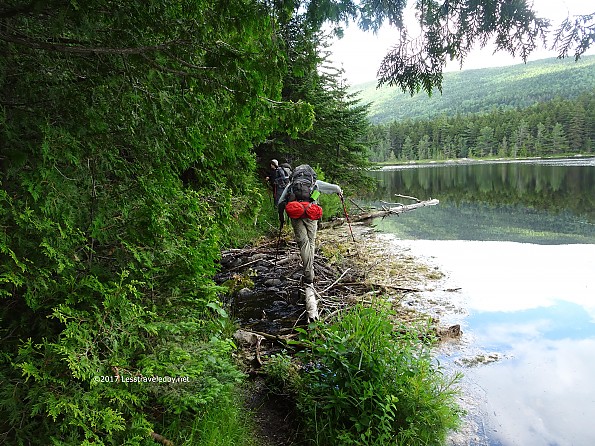 Day two looked a little better though we were all hiking in wet clothes again. Passing through Six Ponds the skies were starting to clear a bit.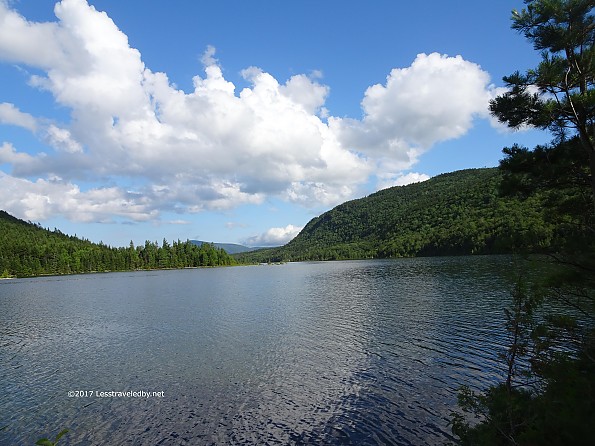 By the time we got to our LT on Wassataquoik Lake it was turning into a really nice day. Spirits were definitely picking up once the wet clothes came off and we all dried out from the trail.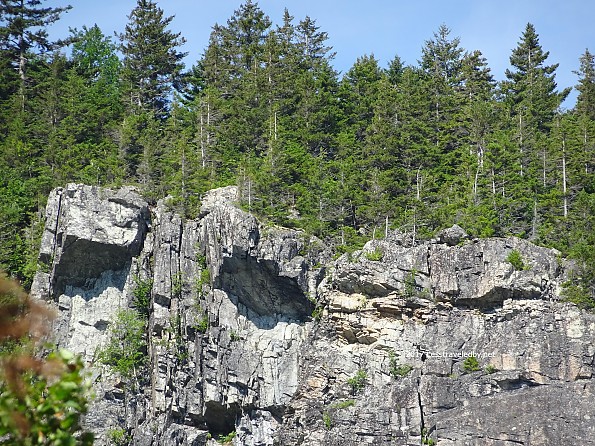 This part of the park had a different feel to it from many of the other spots I've visited. Lots of exposed cliffs and mountain ridges ringed the big lake.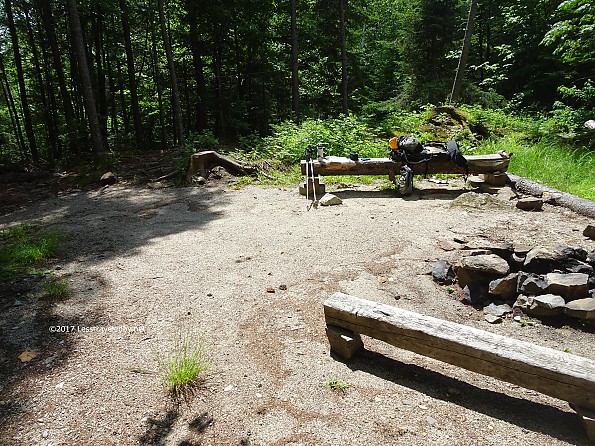 On our day off I hiked up to the Little Wassataquoik Lake tent site to scope it out for a planned family visit coming up. This gave me a chance to make some measurements to determine which of our shelters would work best there. When taking the girls out I always like to have a solid plan in place for taking care of them so this was worth the effort for me.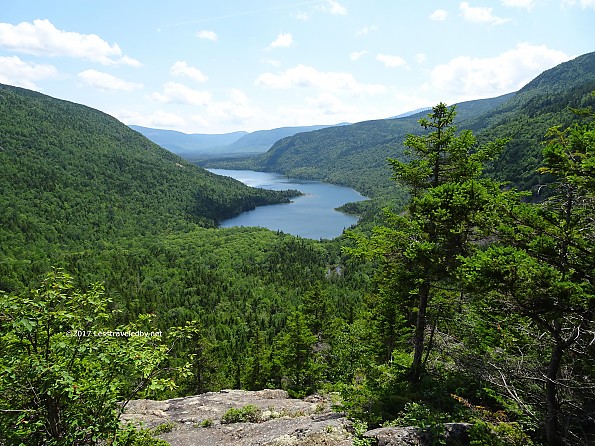 There were some fringe benefits such as the view from this lookout on top of the cliffs near the tent site. It was a bit of a climb up there on a spur, but well worth the effort on a beautiful day like this.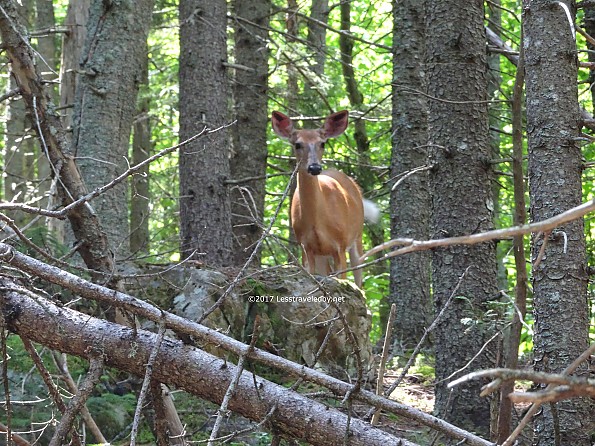 There also was this bonus beauty on the way back towards camp. She and I spent some time looking at one another as she tried to figure out what I was up to. By staying motionless I managed to get her to come to me which is much easier than chasing a deer as anyone who has tried can tell you.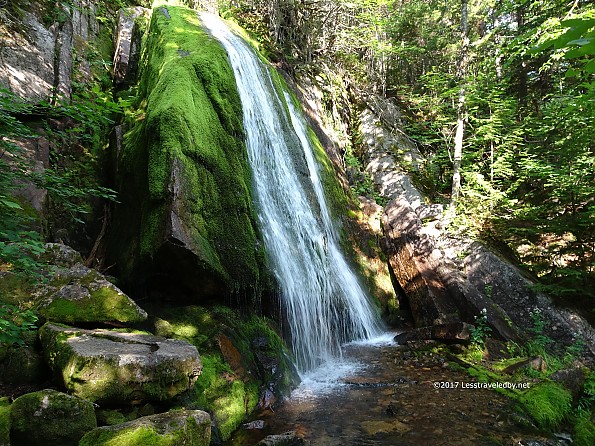 Day  four we stopped by Green Falls on our way back towards Pogy. It had been a pretty wet Summer up til that point so the flow was nice for July.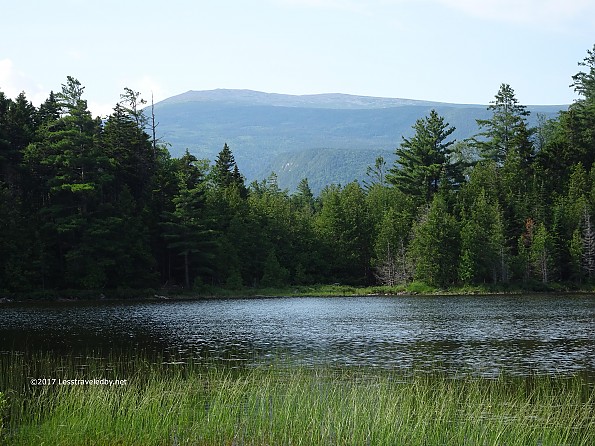 Then it was back to Pogy for one last night. We could never have guessed the excitement to come as we spent a long, sweltering afternoon relaxing in the shade there. Then a classic mountain thunderstorm came rumbling up the side of Katahdin before swinging in our direction.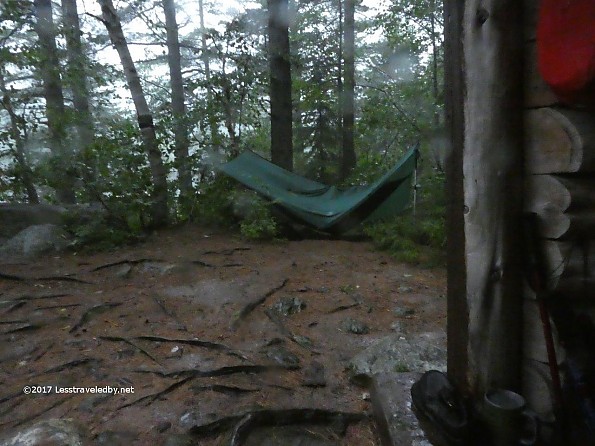 My brother caught this pic of my collapsing tarp from the safety of the LT. We went from dead calm to a hurricane with sustained winds driving a heavy rain sideways for an extended period of time. The Tato toggle holding my tarp to the ridgeline slipped under the assault and if you look closely you can see my hand poking up from inside holding it up so it didn't fill with water and crush me :) That toggle is never used without a double hitch now that I've learned my lesson.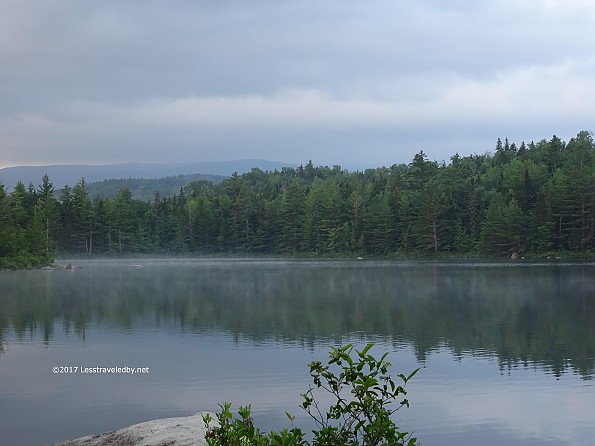 Our last day started out looking threatening and no one was very happy about more wet trail. We did have cheeseburgers waiting for us out there somewhere though so we were well motivated.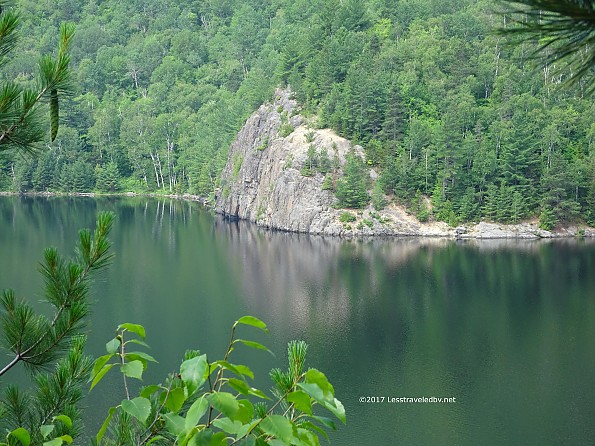 About half way through our six mile hike out the trail quickly changed from soaked to dry. While the storm that hit us had been intense, it hadn't been that wide, at least in this direction. On the drive out we found numerous branches and even entire trees laying across the road. What it lacked in size had definitely been made up for in power. Well at least it gave the Boys from Texas another tale of Baxter adventures to share when they got home. Hope it doesn't give them an excuse not to come next year :)