2:14 p.m. on September 1, 2017 (EDT)
BigRed

TOP 10 REVIEWER
REVIEW CORPS
6,460 reviewer rep
1,183 forum posts
I had the (paid-for) privilege of spending the month of July at the Rocky Mountain Biological Lab (RMBL, pronounced Rumble) near Crested Butte. We had an ambitious work schedule collecting branches of aspen trees at different elevations, measuring photosynthesis in the field, then bringing leaves back to the lab for weighing, drying, and other analyses. My main partner in crime was my Master's student, Jolanta, who hails from Latvia and will write her thesis using the mass of data we generated.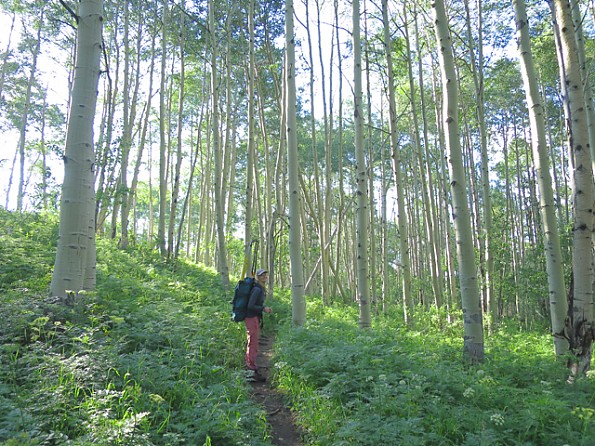 Jolanta in aspens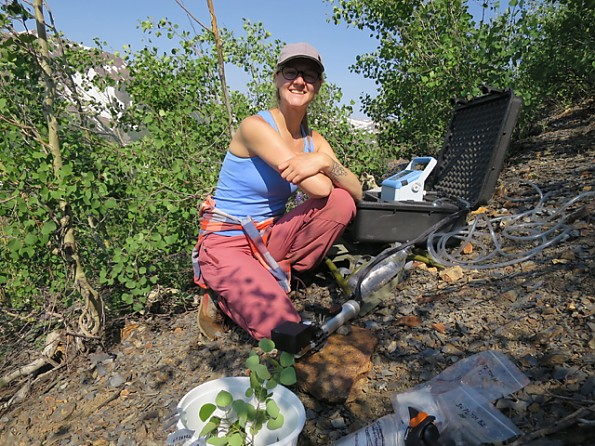 Jolanta running the gas exchange system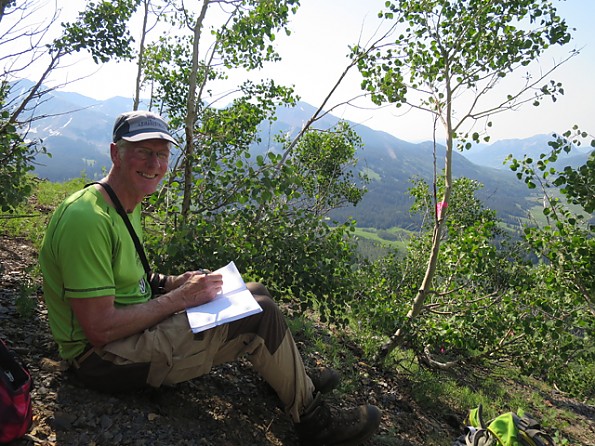 Hard at work in my TS cap
Most days we headed up the hill early, did our field work, then spent most of the afternoon in the lab processing leaf samples -- a good way to beat the more or less daily afternoon rain showers. We collected samples using a pole slingshot to fire a line over a branch, then using a wire survival saw or just trying to otherwise break the end of the branch off -- crude but effective.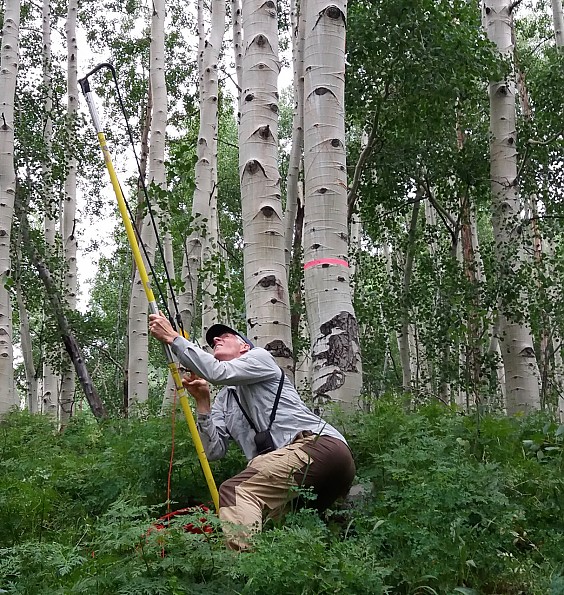 Slingshot action
The lab is on the site of the old mining town of Gothic, with the old town hall converted into a visitor center. There are couple of big new buildings -- a well-equipped lab, a community center where meals are served, some older buildings with meeting rooms, and dozens of cabins of various size and comfort level.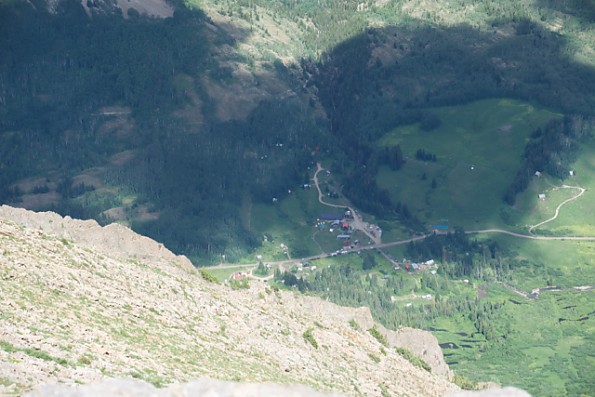 Looking down on RMBL from Gothic Mtn.
You apply for and are assigned a room in one of the cabins, sometimes with a roommate, and pay fees for the use of the facilities. I had a solo room in a cabin with a very basic kitchen so I could do my own food. At peak there can be 180 people living there -- scientists, grad students, field assistants, support staff. Quite a scene. There are also lots of animals wandering about, many of them under study.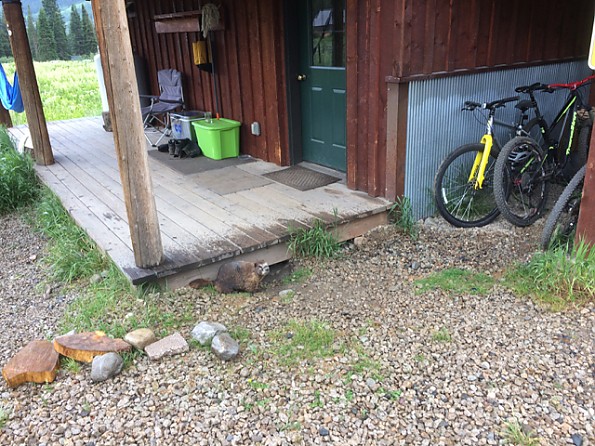 A ferocious guard marmot that lives under the porch of one of the cabins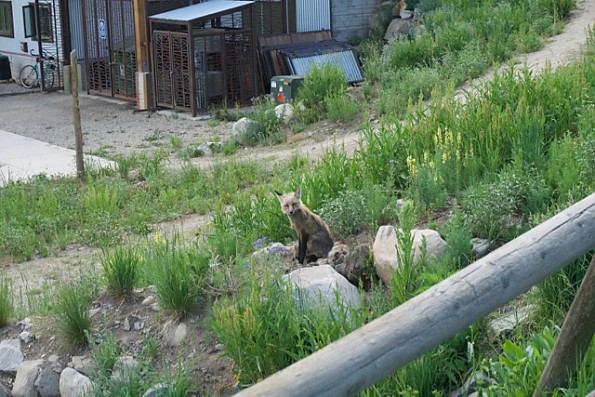 What does the fox say?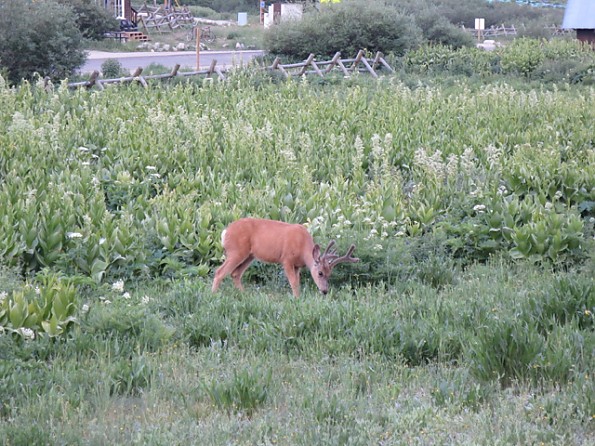 Oh, deer
And, compared to Norway, the wildflower diversity is stunning (lots more where these came from).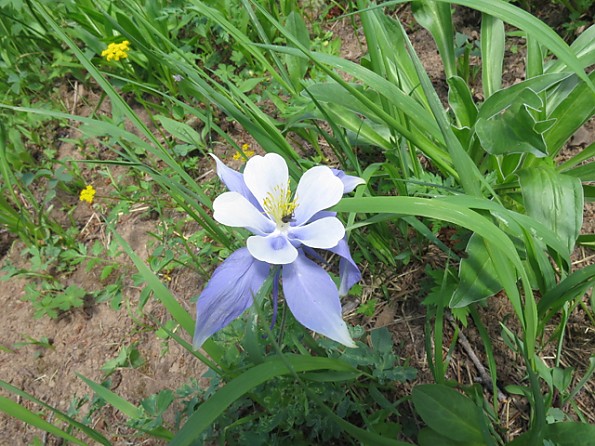 Blue columbine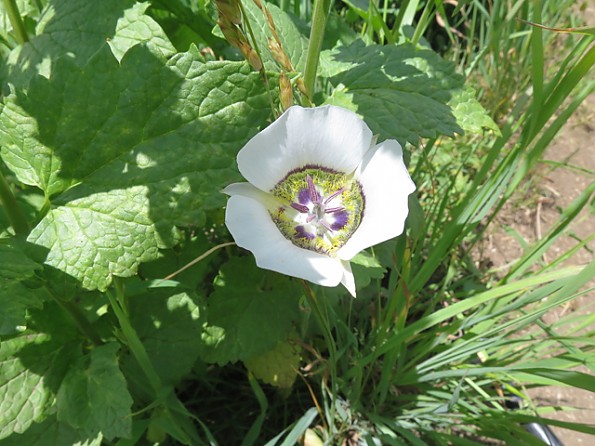 Mariposa lily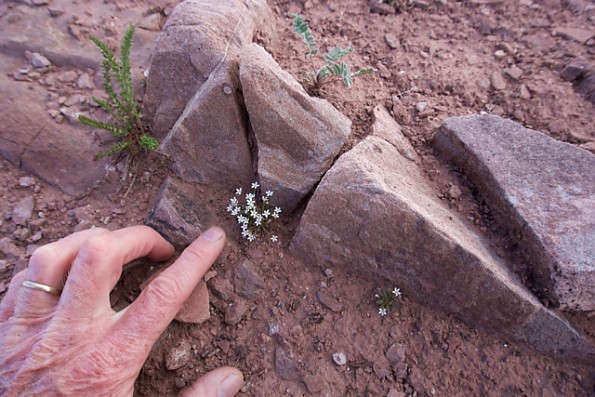 Rock jasmine
One weekend day we had a group hike up Ruby Peak near Crested Butte.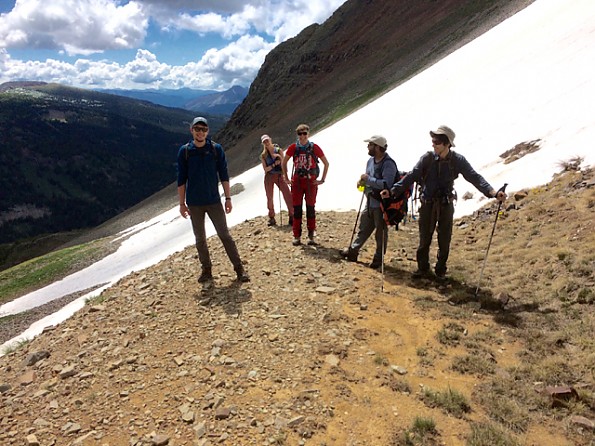 The Ruby Gang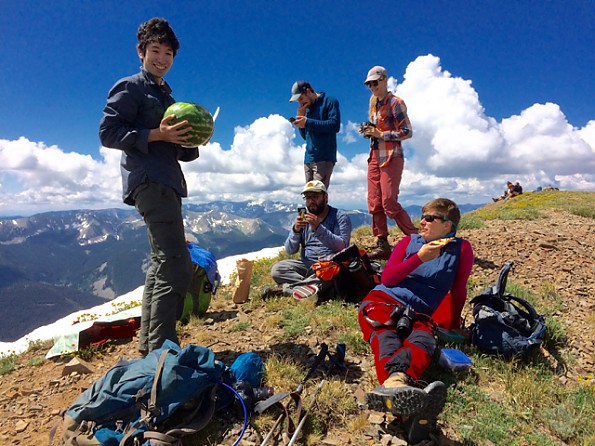 Ben has a little surprise on top of Ruby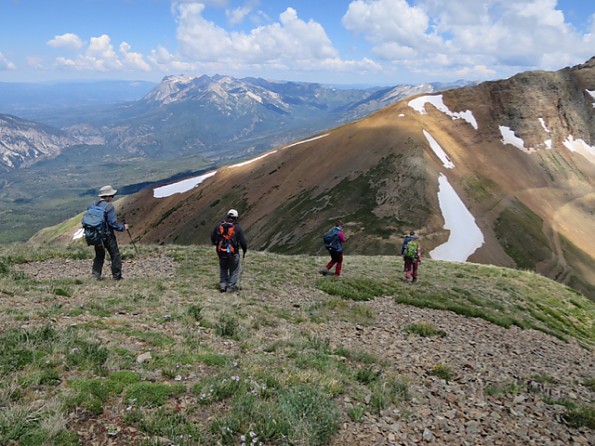 Decent descent -- we also got in some high-speed sit-glissades. Wisht I had my ice axe.
At one point I planned a three-day hike around the Maroon Bells but work and weather intervened so I did some morning hikes to three peaks/ridges around the lab, and kept up the work flow in the afternoons. The first was Bellview, where we had our highest elevation sites, up around 12,000 feet (3759 m). I hiked partway up in the evening, got up at the crack of dawn, stashed my overnight gear in the trees after breakfast, traversed in to where we had stashed the research equipment the day before, humped it up to our highest elevation site, continued up to the summit,...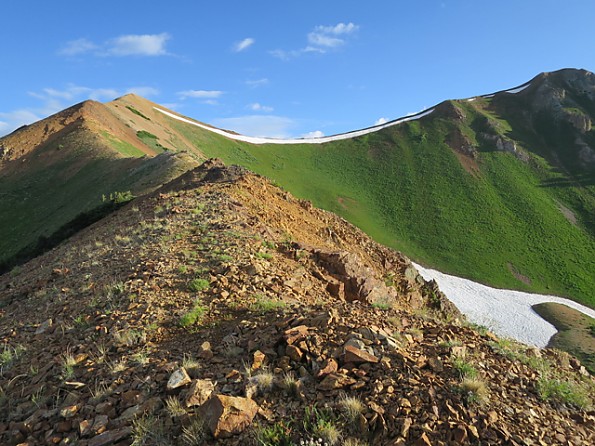 The ridge to Bellview, summit on the right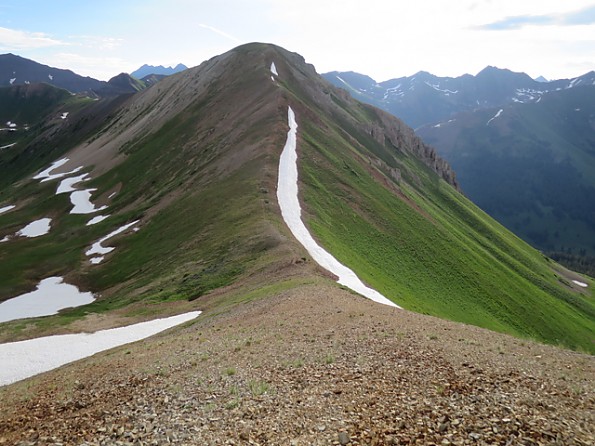 Bellview
...came back down and put in a good 5 hours doing measurements,...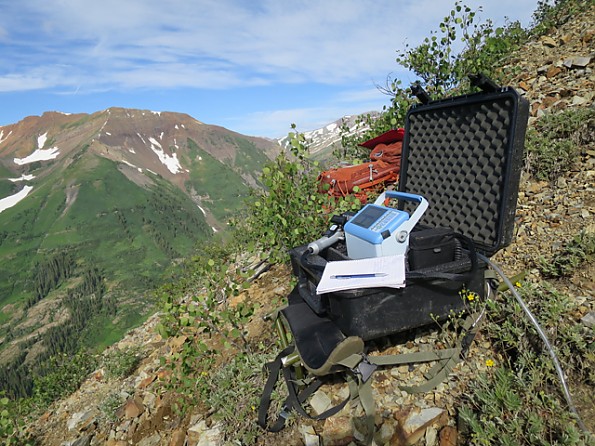 High-elevation gas exchange
...carried all the research equipment down to where I had stashed the overnight gear, combined loads and ended up with a 70 pound load with my Atmos piggybacked on a freighter frame going back down the 2 mile jeep road to the car.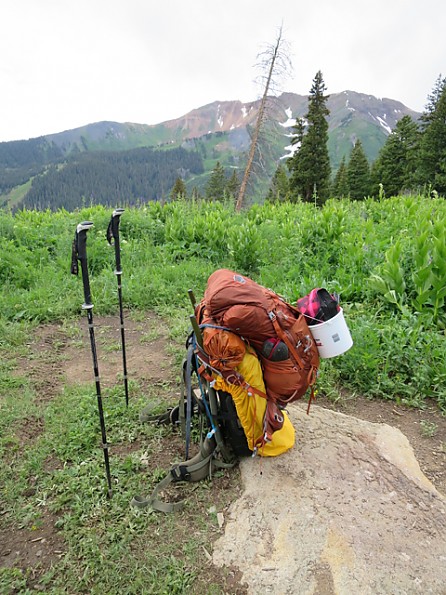 I'm supposed to be too old and wise to carry loads like this anymore -- at least it wasn't far.
Other solos included Peak and the ridge leading to Whiterock mountain, which I didn't summit due to time and safety constraints -- the looseness of the summit rock on a lot of these peaks is pretty unnerving.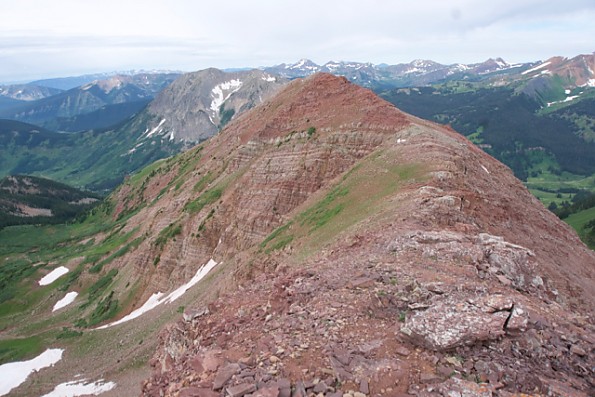 Avery ridge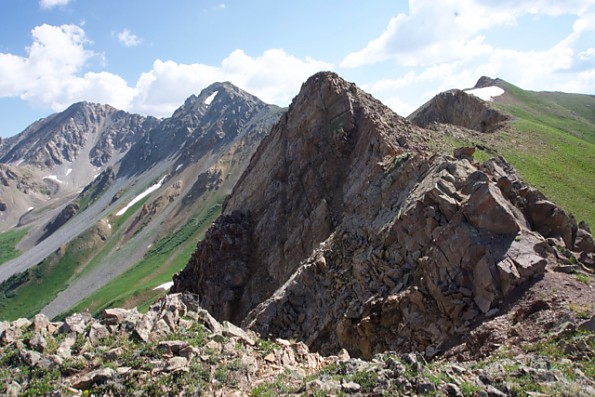 Whiterock ridge
My grand finale was a two-summit day, Baldy and Gothic, the latter being the steep peak right above the lab. I didn't GPS the whole thing but I think it was about 20 km and 1600 m, not bad for an old goat.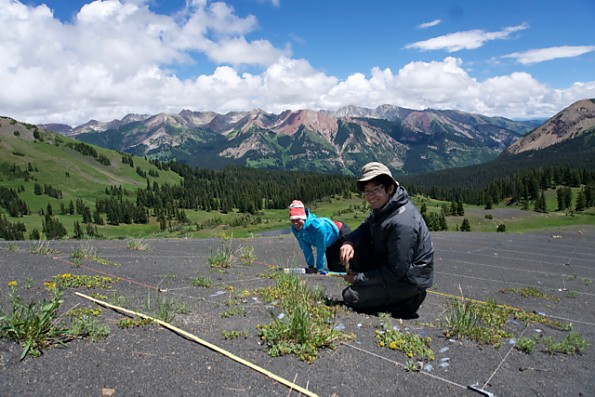 Ben and Rozi at work on Baldy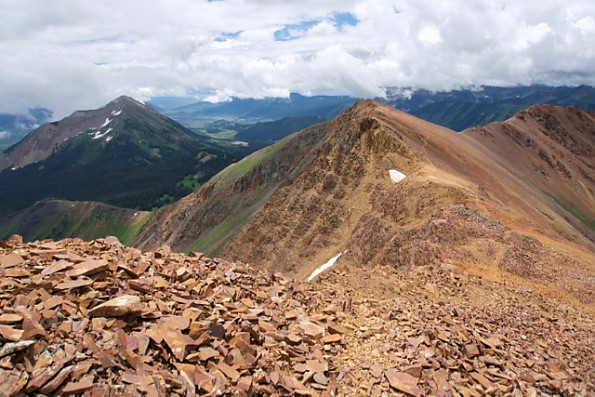 Crumbled siltstone on the Baldy ridge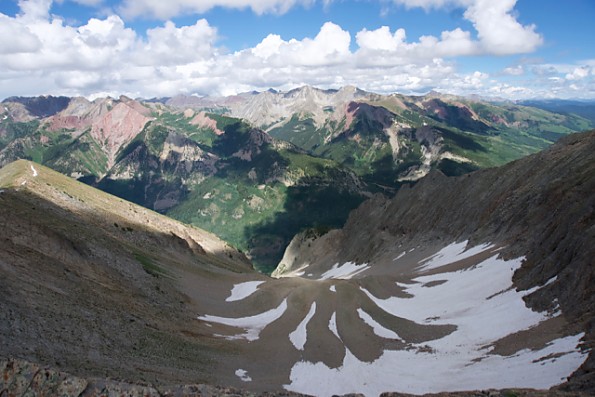 The view from Gothic
I flew in and out of Tucson, where I am based for the next year, and drove to CO, stopped at Petrified Forest for a look-see, got to put my National Parks Senile Pass to good use. I'll be going back up with my wife in a couple weeks, nominally to retrieve some dataloggers but we'll also be doing some hiking. CO is new territory for me, like any mountains the Rockies have their own unique flavor, and I'm looking forward to more tasting.