1:39 a.m. on September 3, 2017 (EDT)
Phil Smith

1,310 reviewer rep
429 forum posts
After having made plans to visit a friend outside of Concord NH this weekend, I began searching for a difficult hike since she would be gone Saturday. Several years ago she had half a lung removed after a spot was found on it during an X-ray, so she's limited to easy trails now. At first I had narrowed things down to 4 trails, 2 around Lake Winnipesaukee NH and 2 near Windsor VT. Last night I decided I was going to do a 4K instead, and after a bit of comparisons on my AllTrails app I decided on the Mt. Lafayette-Franconia Ridge loop trail. There are 3 peaks over 4K on this trail - starting out on the Falling Waters Trail you first come to 4760' Little Haystack, then 5089' Mt.  Lincoln across a shallow saddle or col, and lastly 5249' Mt. Lafayette, which is the tallest mountain in NH outside the Presidentials. With a prominence of 3320' it's the second most prominent peak in NH. 
I left around 845 Saturday morning, stopping at the Concord Eastern Mountain Sports to pick up a pair of 3-section trekking poles so I could carry them on my Osprey pack's pole holder. No dice, EMS had sold the last pair of poles in the store yesterday afternoon. So I headed up interstate 93 toward Franconia Notch, and stopped in Lincoln NH to check for poles in the ski shops there. Success! I ended up with a pair of Komperdells, they have twist locks which I'm not a big fan of but they're better than nothing. 
Reaching the trailhead area a little before 1100, I was shocked to see vehicles parked on both sides of the interstate for close to 1/2 mile in both directions. The mountain would be packed! But I wasn't about to turn around and go somewhere else, so I parked the Jeep at the end of the line - about 0.4 mile from the trailhead - and headed down to the trailhead. 
The trail is a loop, so you can go in either direction from the trailhead. Taking the Falling Waters Trail takes you in a CCW direction, hitting Little Haystack, then along the Franconia Ridge Trail to Lincoln and Lafayette, then down the Old Bridle Path to the trailhead. Obviously going CW does this backward. So while there were a lot of people I didn't find the trail crowded because a lot had gone in a CW direction, and a lot had gotten much earlier starts. So off I went, up Falling Waters. 
Falling Waters Trail is named for the series of waterfalls on a stream that runs down a draw on the slope of Little Haystack. There were several crossings but you'd have to be really clumsy to get your feet wet. Partway up the slope the trail turned away from the stream and got steeper. Judging from the map it looks like 2900' of elevation gain over the 2.8 miles to the summit, and there was maybe 200 yards of somewhat level ground in all. The last 1/10 mile or so was very steep and above the treeline, with krummholz all the way to just below the summit proper. There were actually small areas of alpine grasses on the summit, which the USFS "Alpine Warden" had to warn several people not to step on. 
The summit was quite crowded, and unfortunately trail etiquette seemed in short supply. People were sprawled about at the actual highest point, so if you wanted to get a pic standing up there it was full of strangers. Plus, on both the ascent and descent I came upon groups of people who just stopped dead in the middle of the trail to take breaks. More than I expected didn't know that descending hikers are traditionally given the right of way, either. But I didn't let any of this distract from the great time I was having and the sweet burn in my legs & lungs. Pushing past what you thought were your physical limits is one of the most rewarding experiences one can have. It IS mind over matter to a large degree. 
Anyway, after an almost 3 hour ascent and maybe 45 minutes spent resting, eating lunch, changing socks, and clipping a corner off a big toenail, I decided to head back down at around 1430. I would have liked to continue on to Mt Lincoln but even though it looked close the Alpine Warden said it was about an hour away, which probably meant closer to 1.5 hours for me. In a rare instance of exercising good judgment and demonstrating my arithmetical prowess, I determined that 6 hours (at a minimum) would have meant close to 2 hours in darkness before reaching the trailhead. I had a headlamp and spare batteries, and I even had all the clothing I'd need to survive a night on the mountain if something happened (dry merino base layer, down jacket, rain jacket and pants, fleece hat, and gloves), but the mountains weren't going anywhere. I'll do it again sometime when I have more time and am in better shape. 
Reaching the waterfalls I started seeing more people headed in both directions, so I straightened up and walked like I was just out for a stroll. That's a leftover from the army, when we were on a road march and got back in the garrison area you did NOT let people see you dragging ass. Stand up straighter, close your mouth, and greet people you meet without any fatigue in your voice. Usually the platoon sergeant or first sergeant would put us back into quick time so we were in step, and we'd start singing cadences. It actually takes a lot of the fatigue from your body, at least for a short time. Luckily, it lasted long enough for me to travel the extra 0.4 mile to the Jeep, where I pounded a bottle of water (my 2.5l hydration bladder was drained with maybe 3/4 mile to go to the trailhead) and changed out of my sopping wet shirt. A little stretching and walking around to let my legs cool down, and I hit the road for the 1.25-hour or so drive back to my friend's. With a stop at Taco Bell. Where I had a Dew, too. And found that my power steering pump was gushing out fluid. So now I know what I'm doing tomorrow morning!
I saw people of all races, ethnicities, and nationalities on the mountain, heard what had to be at least a dozen languages, and nobody tried to kill anybody else or showed any prejudicial or bigoted tendencies. A love of the outdoors is something we all had in common, and skin color or ancestral origin was the farthest thing from anyone's mind, like it is for the overwhelmingly vast majority of people. 
Oh, and after all the sweat & pain, I found that Little Haystack isn't even an official 4000-footer because its summit is only about 200' higher than the col between it and Lincoln. It doesn't matter, it's still my highest summit yet! Not for long, though. :-)
An impressive cliff on the west side of the interstate. It's across from the trailhead.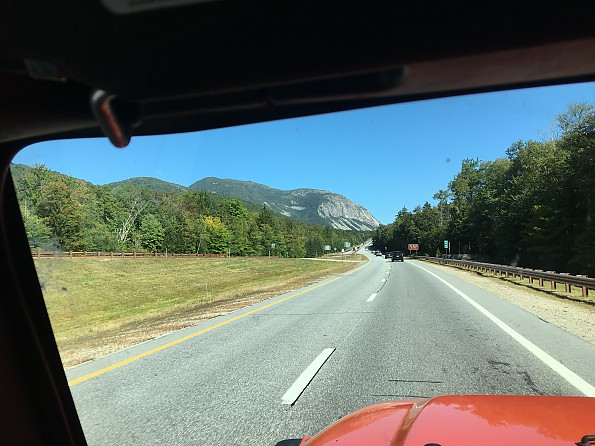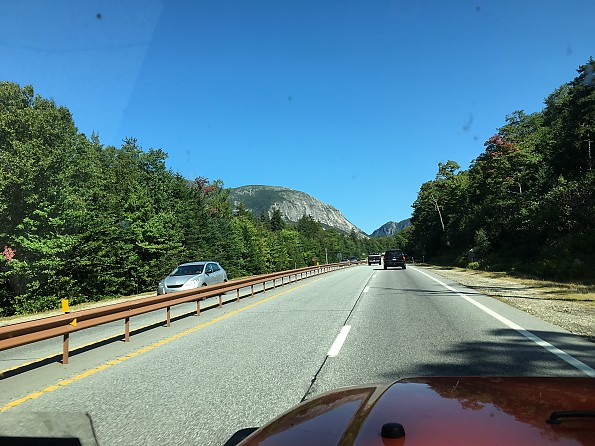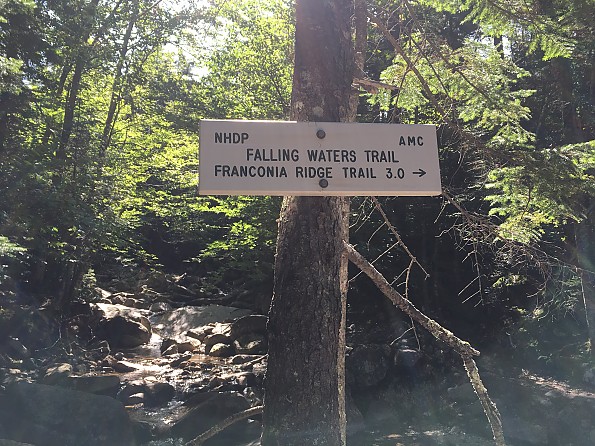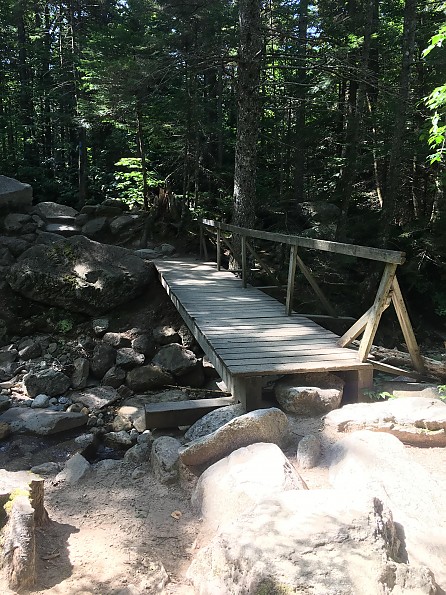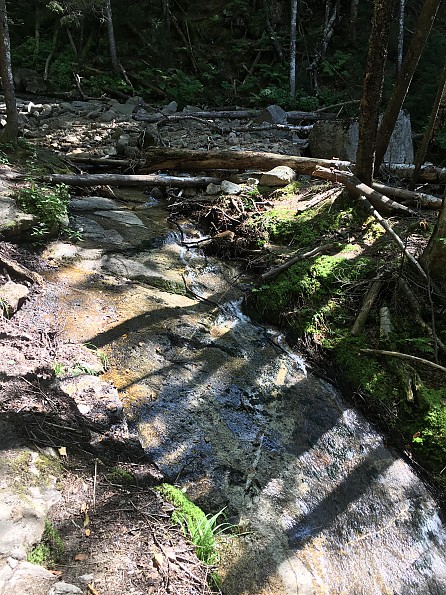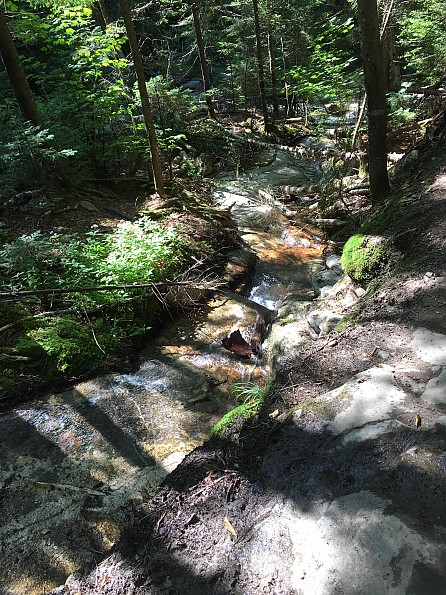 One of the waterfalls, the largest I believe.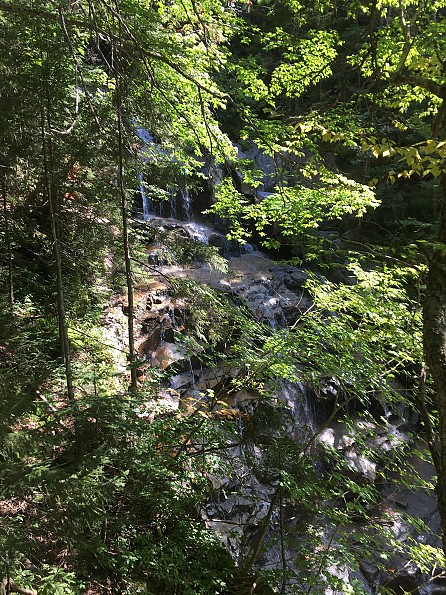 Even on a mild day with temps in the mid 60s, I'm soon drenched with sweat. This is the main reason I like the winter so much, I stay much drier!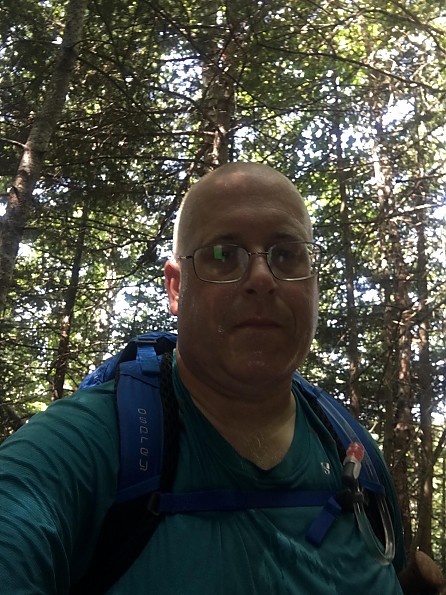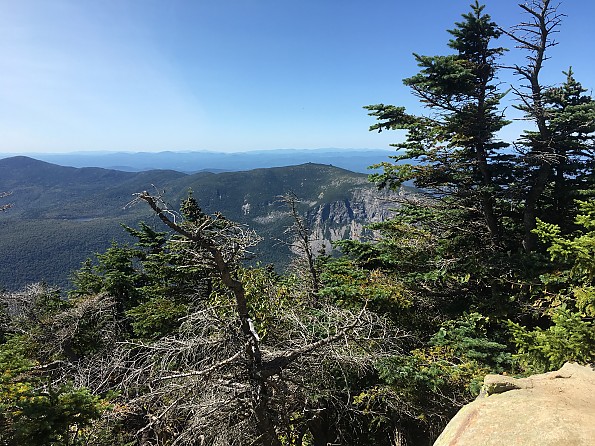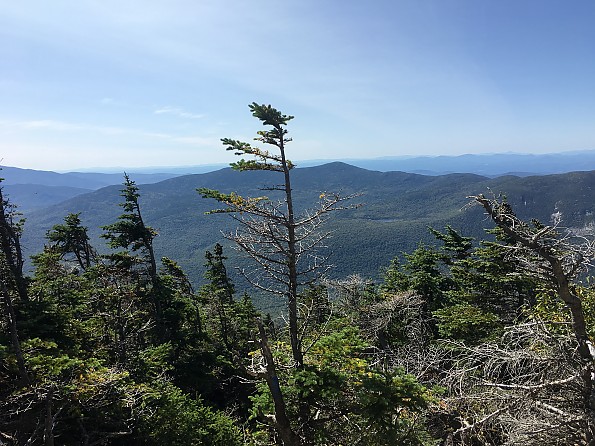 Mt. Lincoln.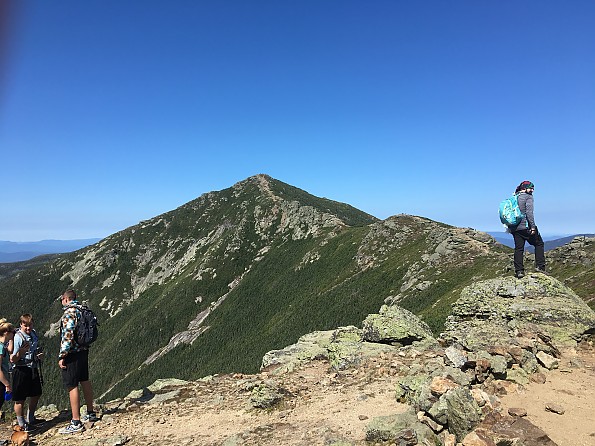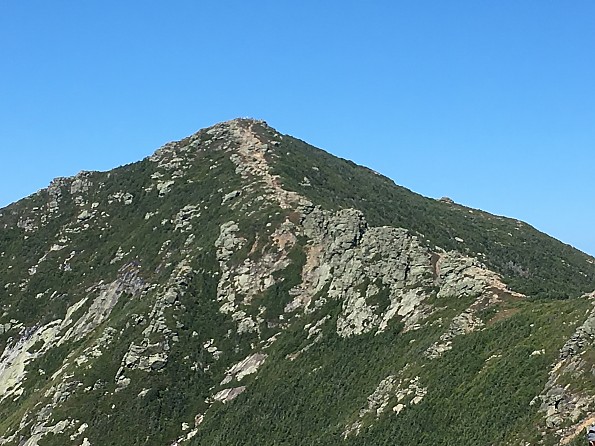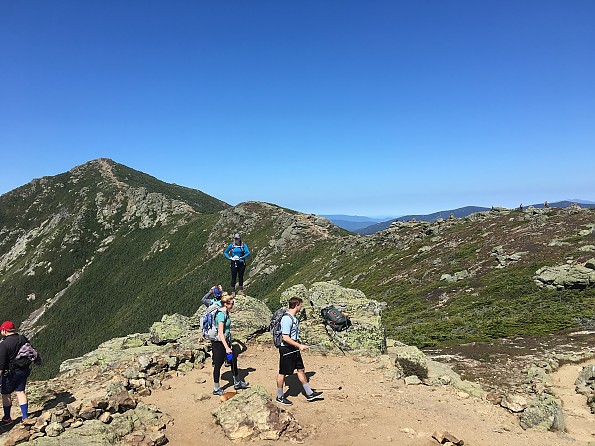 Mt. Washington.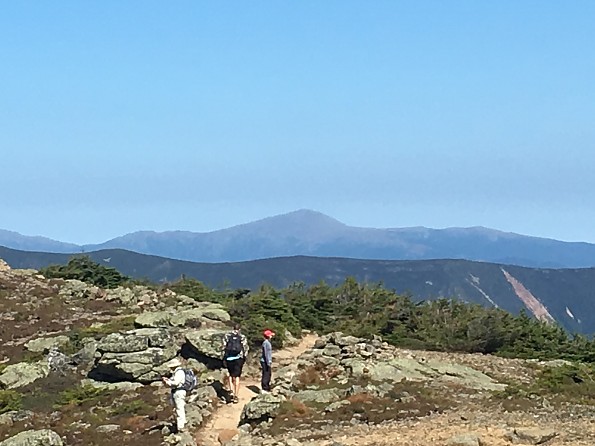 More random pics from the summit.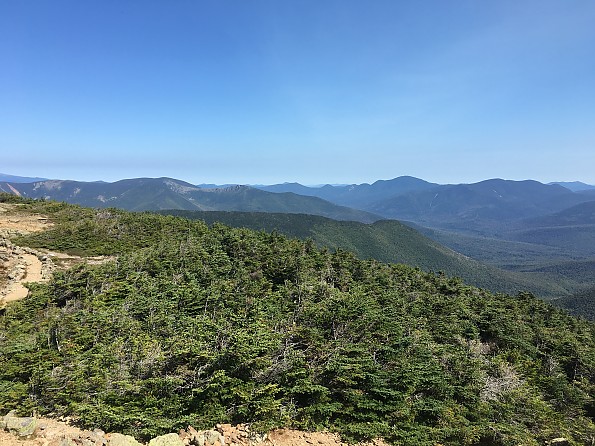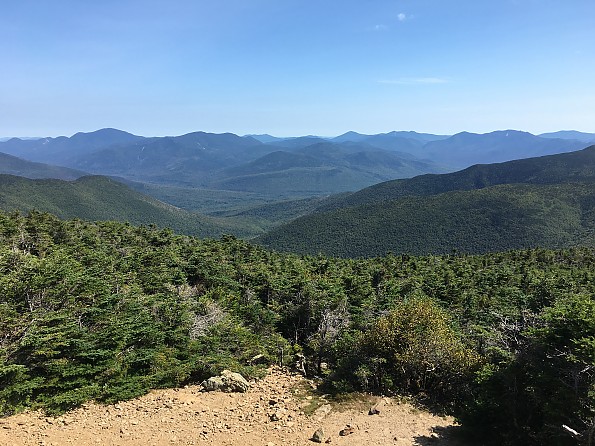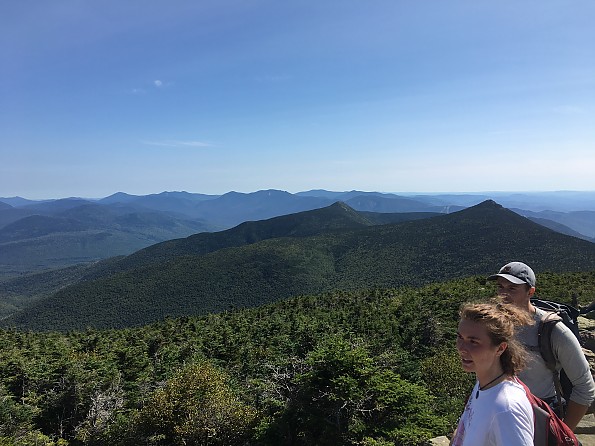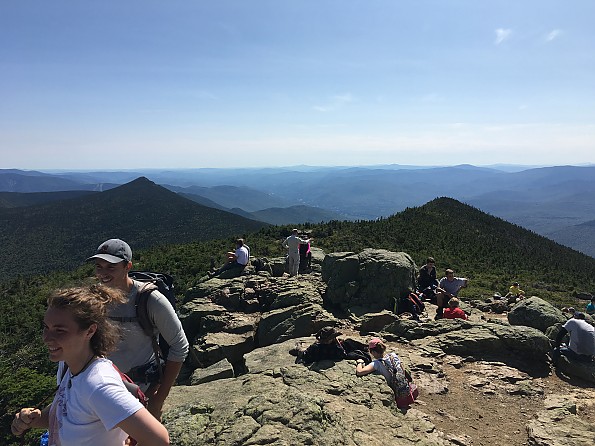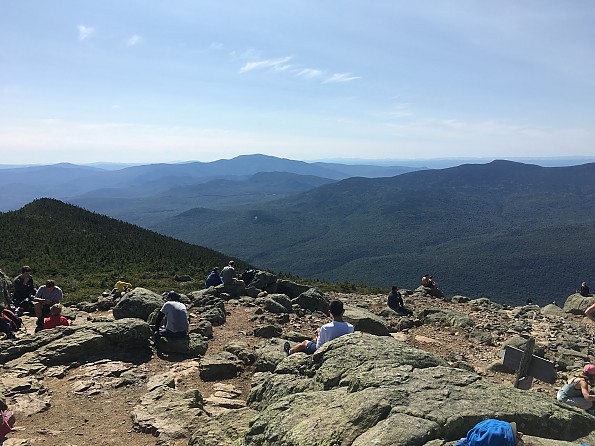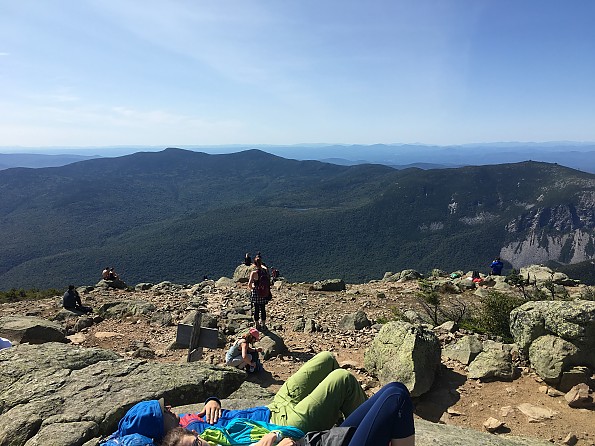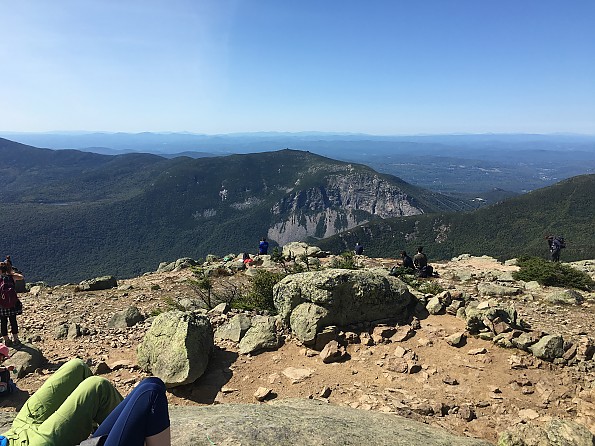 The cliff face in the first 2 pics. I don't know what its name is but it's impressive!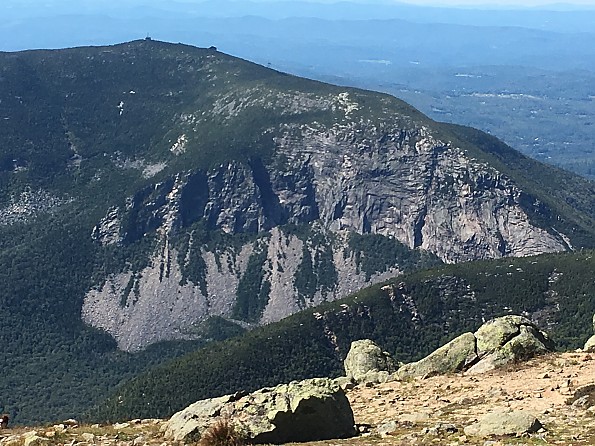 Does this belt make me look fat? Holy cow!