12:54 p.m. on September 19, 2017 (EDT)
g00se

TOP 10 REVIEWER
REVIEW CORPS
12,465 reviewer rep
1,433 forum posts
Last week, I did my second trip to the BWCA. The first trip was 3 years ago, and I've been itching to return. 
This time my 13yo son, Anton, went with me. He had a great time and told me he was really happy we went (but he was disappointed we didn't see any bears). 
I drowned my good digital camera in a cave last spring. So my pics are not very good. I had to heavily edit shadows. So some of the pictures are pixeled or over-saturated in color. But here they are...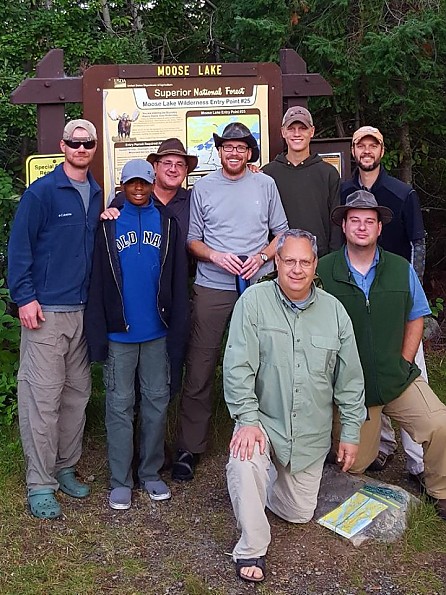 Our group of 8 getting ready to put in at Moose Lake, entry point #25.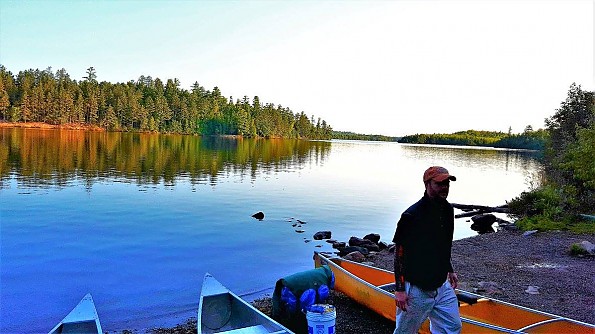 Loading at Moose Lake. We paddled 15 miles, with 7 portages on day 1.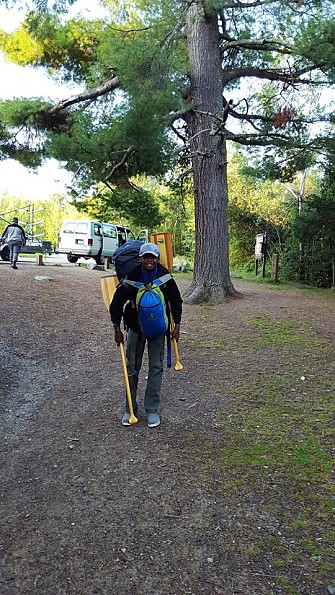 Loading at Moose Lake. By the end of the trip, Anton was carrying 50# packs on the portages. I was impressed!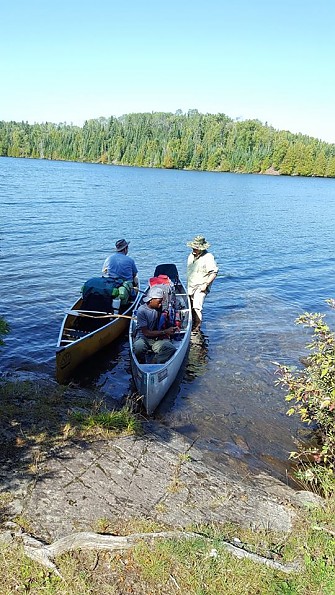 Finishing a portage onto Birch Lake.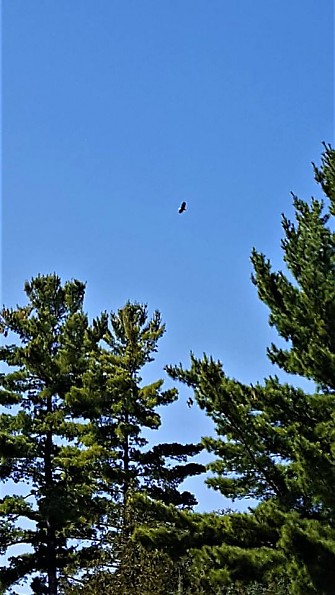 Bald eagle over Birch Lake. We saw about a dozen eagles on our first day, but that was it. We never saw another  eagle the rest of the 5 1/2 days we were out.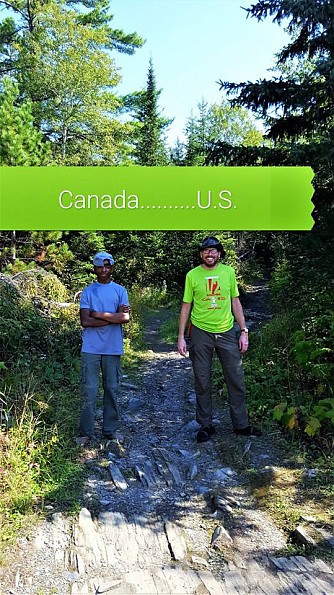 The portage to Knife Lake runs along the border. The wall will go right along this path.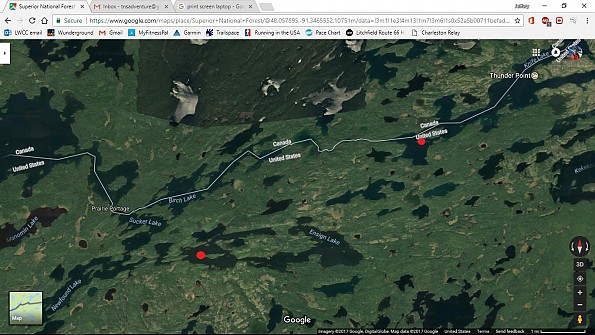 We visited many of these lakes. Red dots are where we camped. The campsite on Knife was beautiful. Ensign sucked (especially since there was a 3/4 mile & 1/2 mile portage to get to it).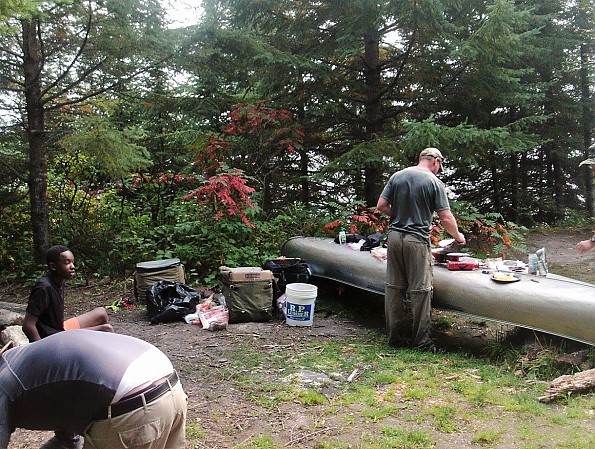 We always use a canoe for the camp kitchen at each site.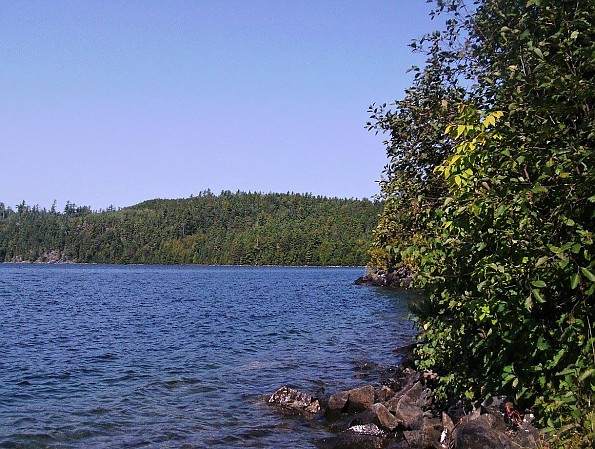 View from our campsite on Robbin Island in Knife Lake. The far shore is Canada.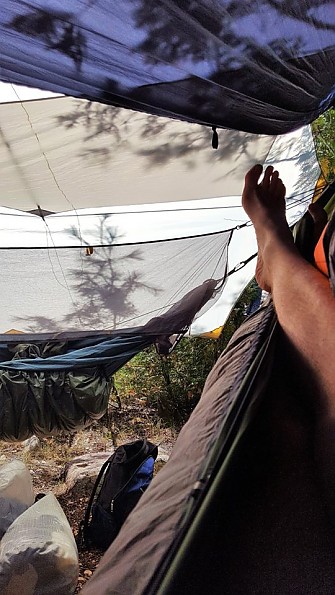 Resting in my hammock. Anton's hammock is right there. He's using the Therm-a-rest Hammock House and a JRB Greylock 3.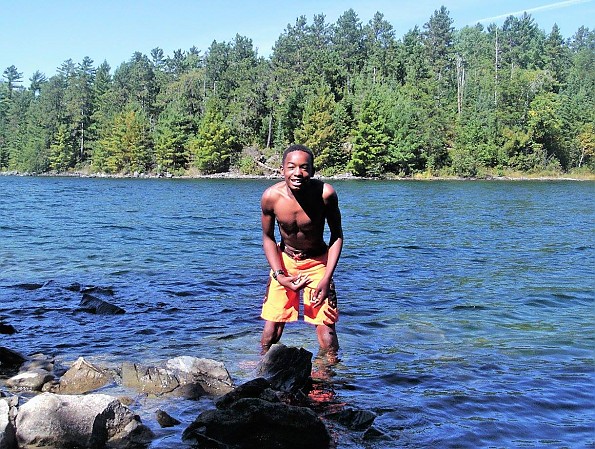 The weather was unseasonably warm. This made for lousy fishing, but we swam every day. Canada starts in the middle of this channel.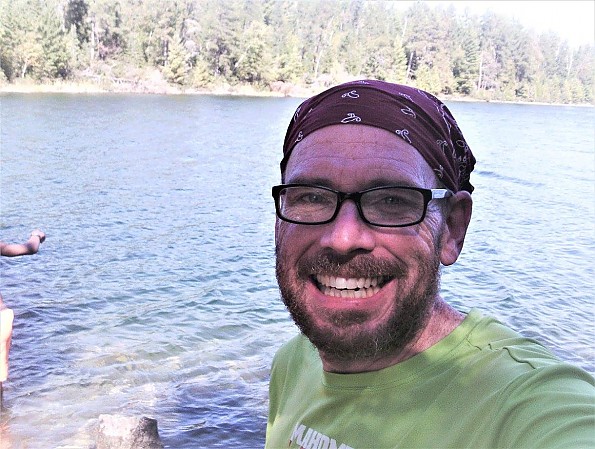 I'm about to go skinny dipping in Canada! (Much to my son's horror!)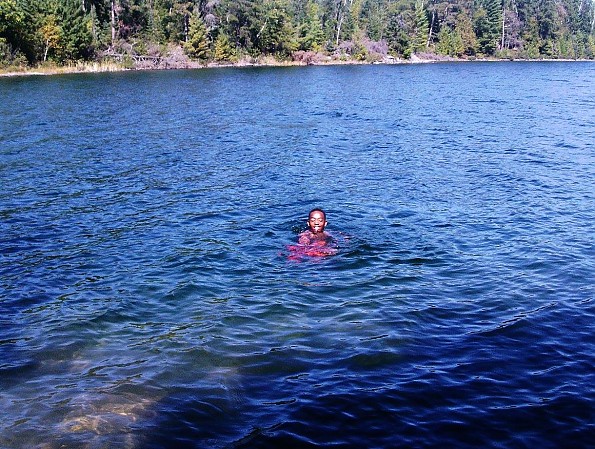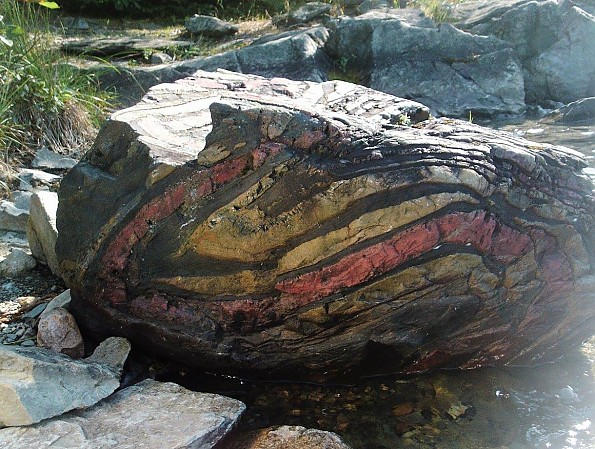 Ribbon Rock (aka Bacon Rock) is pretty famous in the BWCA. As far as I know this is the rock's natural color. It's not painted.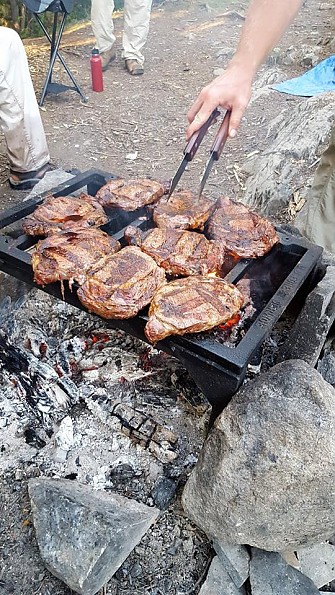 We practically starved on this trip. Here is our day 2 dinner. All we had was 16oz ribeyes, potatoes, carrots, and firebaked cornbread. It was like this all week. Somehow, despite the lack of food, I still managed to gain weight on this trip.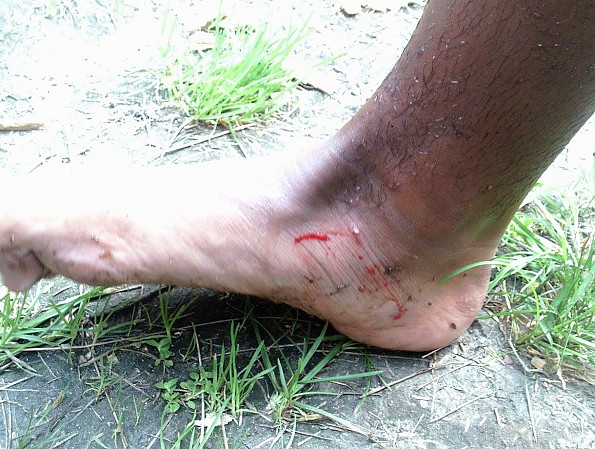 Anton discovers lakes have leeches. We pulled 2 of them off him before taking this pic. He caught a 3rd one another day.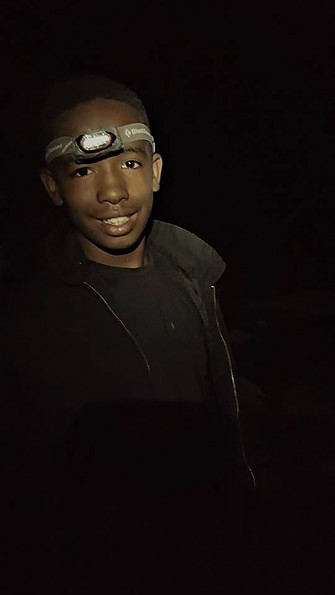 Looking at stars in the sky and crayfish in the water.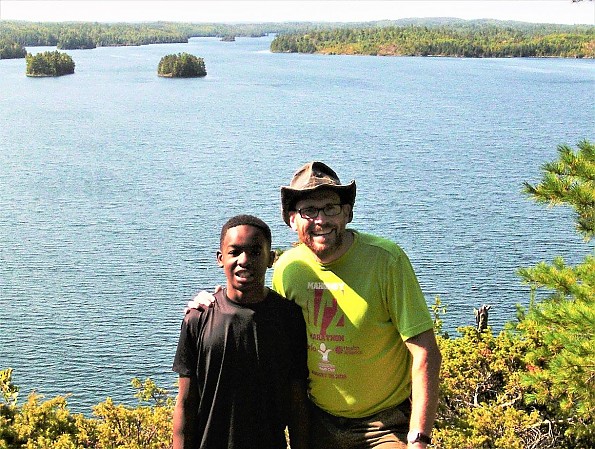 Day 3 we paddle to Thunderpoint on Knife Island. The overlook is about 150' above the lake. 


View from Thunderpoint on Knife Lake.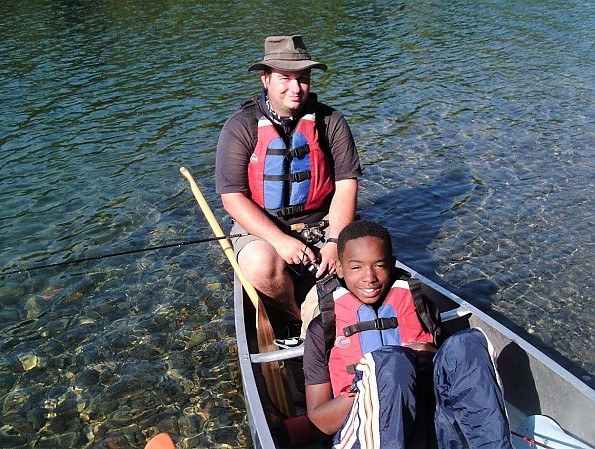 Look how clear that water is! On Knife Lake you could see 10' down when the water was calm.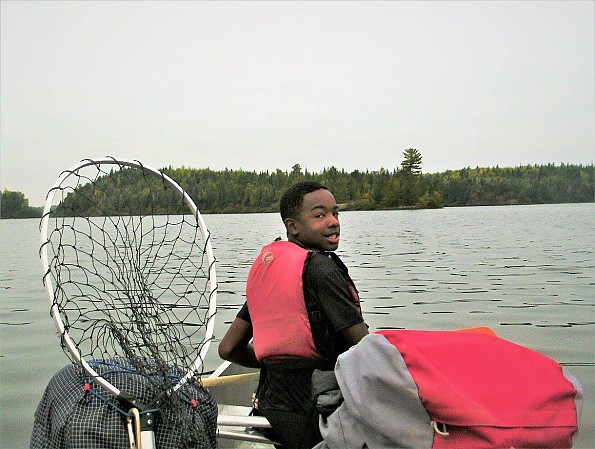 It was only overcast on our last day. Ensign Lake was not clear!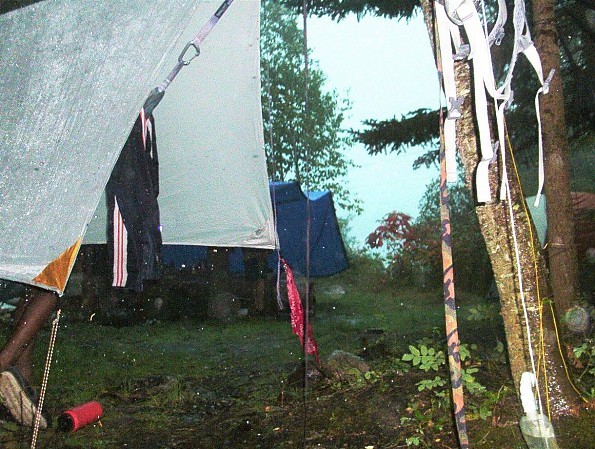 Our last night was rough. It rained for hours. Storms brought high winds and nickle-sized hail (Those white dots.).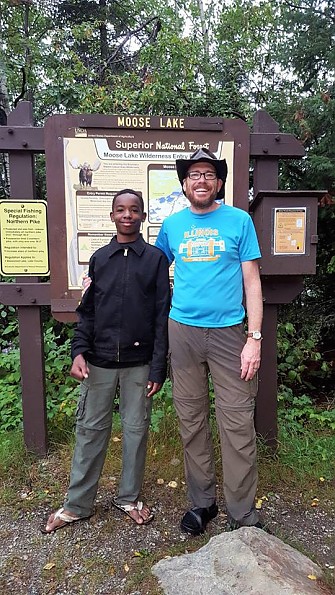 Waiting for our outfitter to pick us up back at Moose Lake.


Great trip. No bears. Lousy fishing. Nice swimming.