BigRed
TOP 10 REVIEWER
REVIEW CORPS
6,998 reviewer rep | 1,240 forum posts
11:23 a.m. on October 8, 2017 (EDT)
For the last two weeks of September my wife and I fled the Tucson heat for a 2-week road trip north to CO and then over to UT. I had a few days of field work at the Rocky Mountain Biological Lab near Crested Butte, and after that we planned to do a ca. 4-day hike around the Maroon Bells. But with rain and snow in the forecast (and unlike Patman), we make a quick decision to move our hike to someplace warmer and dryer: Canyonlands NP. We had just purchased the Nat Geo hiker's map, thinking we'd probably end up there sooner or later. So we went online to see what backcountry sites were still available in the coming days and whipped up a three-nighter.
Then we thought to ask about water. We called the NPS and then asked around when we got to Moab and no one had any beta on backcountry water, just recommended that we carry it all. I guess we could have shortened our trip, but maybe we're stubborn, or just plain stupid. As noted in my GSI Water Cube review, we set off with over 50 lbs of water in our backpacks.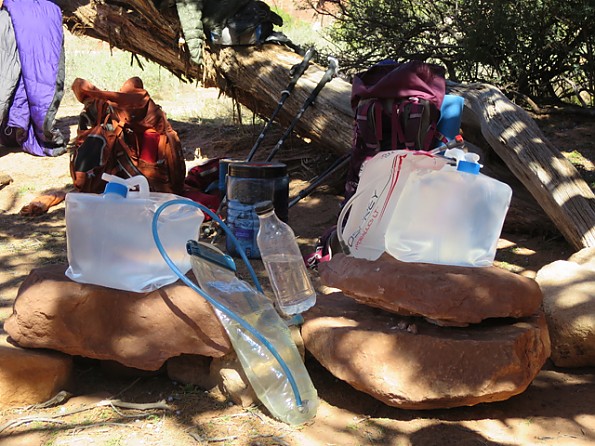 Day one was really just a 0.9 mile after-supper hike out of the Squaw Flat campground to site BS1. What looked like an easy stroll on the map turned out to go up over a low slickrock ridge just to make sure we earned our breakfast. We probably could have stayed at the CG but it was nice to get away from the car and all the RVs. Of course, we only used a few liters of water overnight and for breakfast and so staggered off with nearly full loads off the next morning for the ca. 4 mile hike to Chesler Park and our next campsite. The trail wound down into a small canyon then up and over a little pass again, with lots of great views of the Needles and lots of mushroom formations with erosion-resistant white sandstone forming the caps on fat stalks of red siltstones and shales.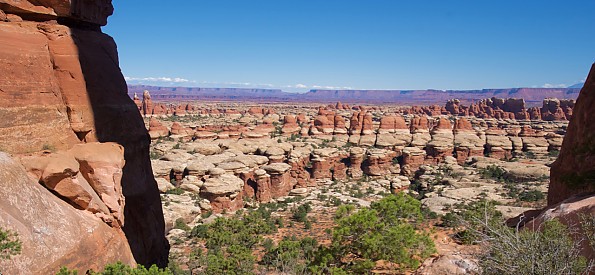 From the high points we could see the La Sal Mountains off to the west.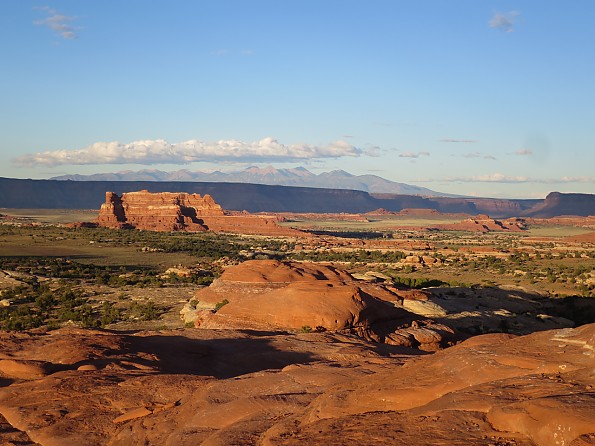 We pulled into our next site by lunchtime, and as we were making camp a backcountry ranger and a campsite steward pulled in to check our permits and chat, for probably a full half hour.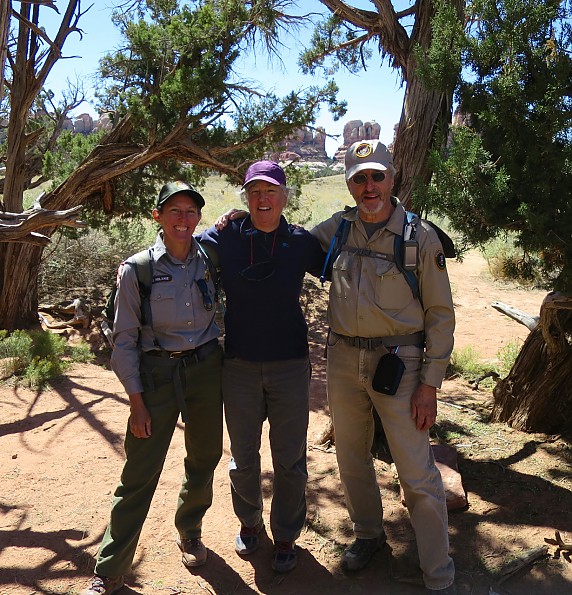 Melanie, the BC ranger, was psyched when we asked about the geology. We had a book in the car that covered some of it but couldn't remember the names or order of the rock formations. The Needles area is mostly the Cedar Mesa formation, with the hard white sandstone originating from sand dune deposits and the softer red shales and mudstones from shallow-water deposits. A layer of gray limestone, I think part of the Cutler group, formed the floors of some of the streambeds in the canyons. That afternoon we took a day hike through Chesler Park to the Joint, a trail that follows a narrow slot along a long straight joint in the bedrock. Shady and cool.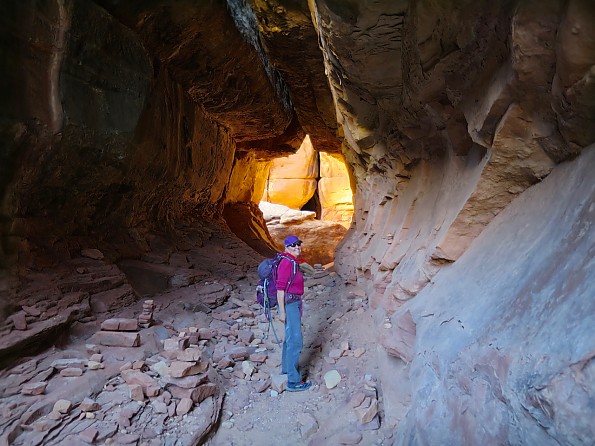 Near our camp there was an old cowboy hangout under one of the cliffs, with some crude charcoal-penned graffiti and various old crates, empty tin cans, and other metal bits, all now protected as a cultural resource.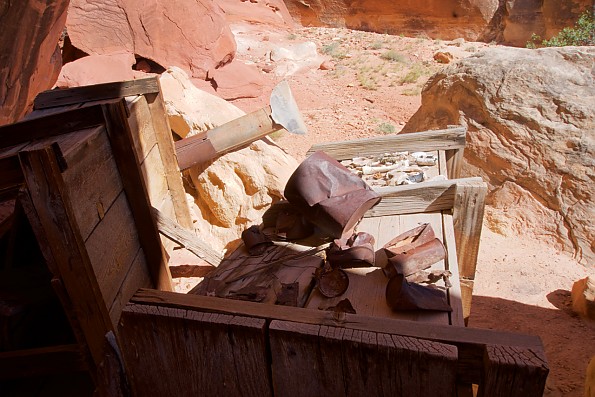 We scarmbled up onto a mushroom cap for sunset.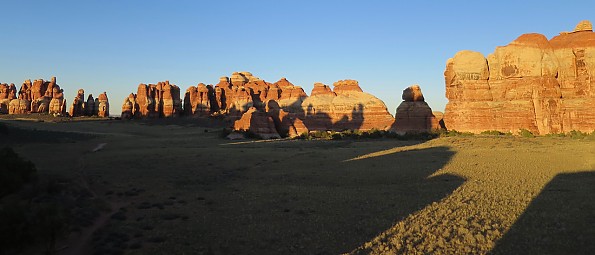 By day three we realized we were carrying more water than we needed, and though I urged caution my wife used a couple liters of our precious stock just for washing dishes. So our loads were considerably lightened as we headed off for the ca. 8 mile hike to Lost Canyon, with a 3.2 mile side trip to Druid Arch to help fill out the day. There was water out there – it had rained on the day of our drive over from CO, so from I distance I noted some fairly clean-looking shallow pools on slickrock, and there were treatable pools and seeps in some canyon bottoms. We wouldn't have had much to draw on on days 1 and 2, but could have topped up from some big pools in Druid Canyon on day 3.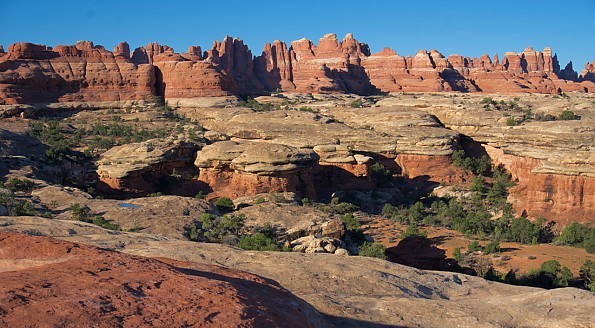 We spent a lot of time following slickrock benches halfway between the canyon floors and the walls above, occasionally shortcutting through little slots along natural joints. Beautiful and fun. The trails were mostly marked with little mini-cairns, with no permanent blazes of any kind. To the extent that I thought about it all I guess I was expecting well-built horse and mule trails a la Zion or the Grand Canyon, but Canyonlands only became a NP in 1967, a whole different era, so the trails were more minimally built and a bit rougher than in the old-guard NPs. There was a fun little scramble here and there and a few ladders, but a lot of it was just following mini-cairns across slickrock.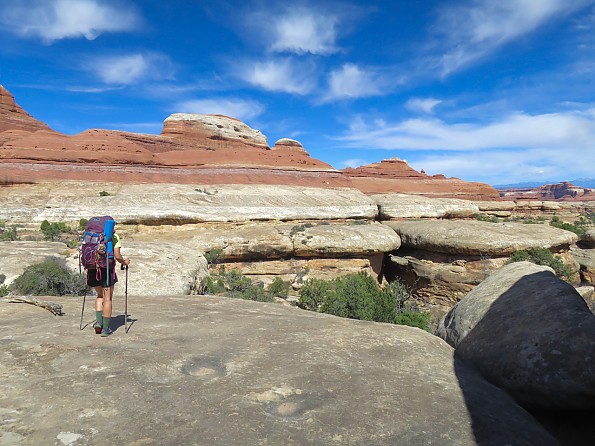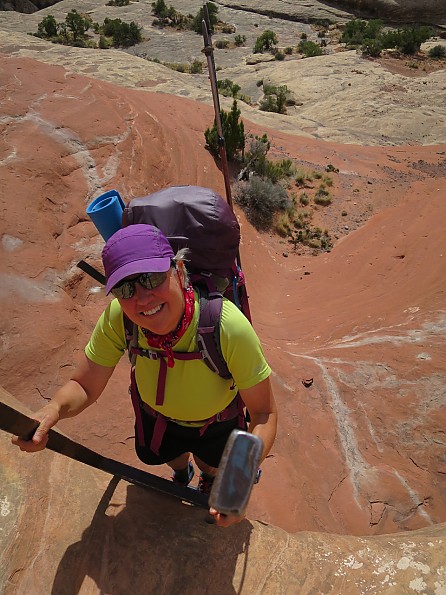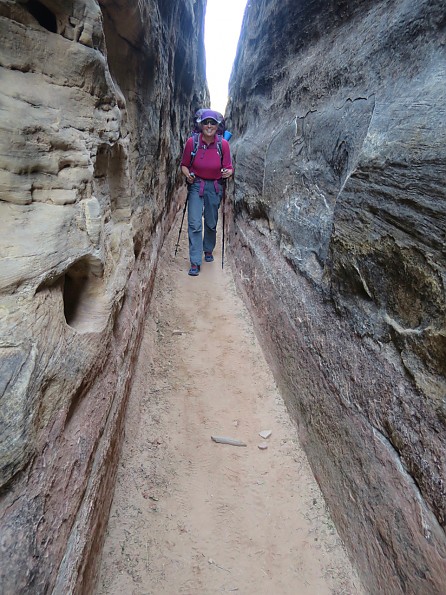 We finished off day 3 by dropping into Lost Canyon and following it down to where it opened out onto a relatively verdant floodplain with lots of cottonwoods and one section with big horsetails half obscuring the trail.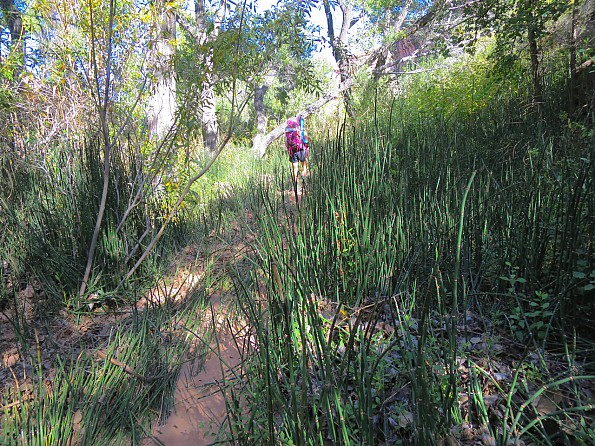 Our last camp was under a huge overhanging boulder that half-covered our tent when we got a very brief light rain shower in the morning, the first break in otherwise pretty much flawless weather: down-sweater mornings and not too hot during the days. But the rain came back in just as we topped off on our last stretch of slickrock on day 4, and we ended up driving south through some pretty heavy showers. I suppose it might have been nice to sit out the afternoon under some overhanging bivy rock, watching the rain drip down.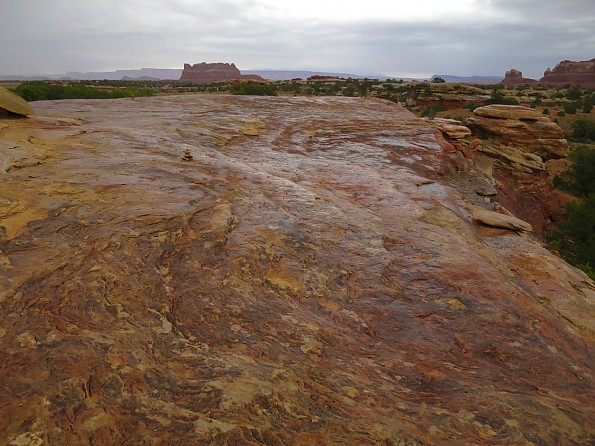 There were lots of other stops on the road trip, putting my government "Senile Pass" to good use: Great Sand Dunes, Indian ruins at Chaco Culture and Hovenweep, braving the autumnal hordes at Arches before going to Canyonlands, and after the hike really braving the tourist vortex by hitting up Monument Valley for an afternoon and sunset, and shelling out for some guided tours of some of the spectacular but heavily touristed slot canyons on Navajo land around Page AZ. I tried to take it all with a good sense of humor and remember to take pictures of all the tourists taking pictures (and I wish I had taken pictures of the huge group of east Europeans and others who had signed up for a motorcycle-outlaw Harley tour of the southwest, complete with a sag wagon. What a scene.). Who knew that late September is prime time in redrock country?