4:37 p.m. on October 10, 2017 (EDT)
G00SE

11,422 reviewer rep
1,393 forum posts
The region where Tennessee, Alabama, & Georgia all meet (T.A.G. or TAG) is considered the best caving in North America. Deep pits, massive rooms, miles-long caves are what attracts cavers from all over the world. 
The TAG Fall Cave-In is a 3-day caving festival that brings in more than 1,000 cavers each year. It's a gathering of cavers, akin to the A.T.'s Trail Days. 
Last weekend (October 5-8), I attended my 2nd Fall Cave-In and did my 4th trip to TAG. 
Thursday began with a 10-hour drive to Mentone, AL for dinner with friends, then we crossed the border into Georgia and found the cabin we had rented atop of Lookout Mountain, less than a mile from the Cave-In site. In total, we had 13 male and female cavers staying in the cabin.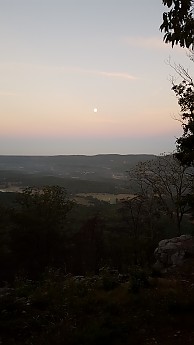 Early morning view from the deck of our cabin. That's the full moon still up. Dozens (scores?) of caves are hidden in this picture. 


Friday, it was time to visit my favorite cave, Sinking Cove. Eight of us drove an hour or so to Sinking Cove. We parked at the bottom of the mountain next to a stream flowing out of the hillside. From there, we hiked up a steep trail until we were 400' above the parking area. Here, it was time to put on wetsuits and vertical gear.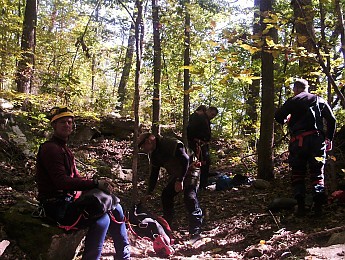 Donning of wetsuits and vertical gear. 


Sinking Cove is a "Pull Down" trip, meaning, we rig a rope, rappel down it, and then pull the rope down behind us. Once the rope is pull there is no going back up. The only way is down.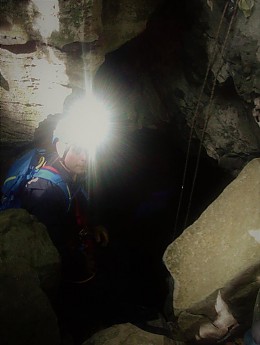 Eric rigs into the 23' pit entrance to Sinking Cove. 


It took our group 5 hours to work through the cave. In total, there were 5 rappels ranging from 23' to 53' feet. At the bottom of the last rappel, we dropped into a tight stream crawl that eventually became a swim. We literally swam out of the bottom of the mountain and found our car waiting for us. 
My friend, Bill recorded his 16yo son, Nick, for part of the Sinking Cove trip. At 1:00, you can see Nick drop the 53' pit. 
Friday ended with calzones in South Pittsburg, Tennesse, and then hanging out with other cavers at the Cave-In festival. 
=============
Saturday morning, we were up early and on our way to Cemetery Pit Cave. With the cave being so close to the festival, this pit was really popular and a bit crowded. Getting there first thing in the morning assured us that we could get our rope rigged. 
The entrance to Cemetery Pit Cave is a 153' rappel. The ideal place to rig is off the "Diving Board." However, not knowing that we rigged to the left. It's still a good rappel, but you have to deal with the wall, rather than getting a clean drop.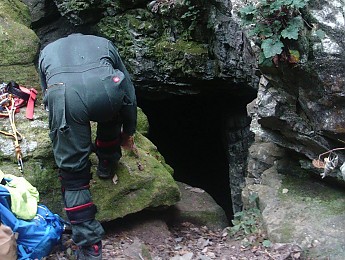 Enterance to Cemetery Pit (and Eric's butt).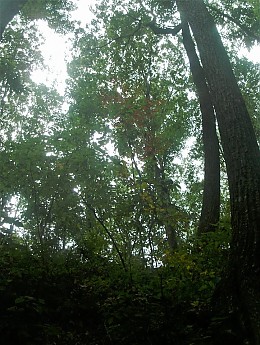 Looking up from the Cemetery Pit enterance.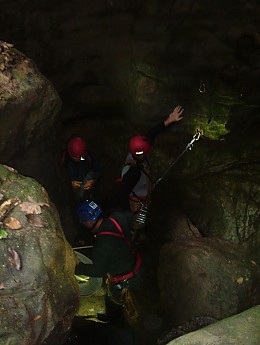 Eric, Ralph, & Bill rigging the 153' drop.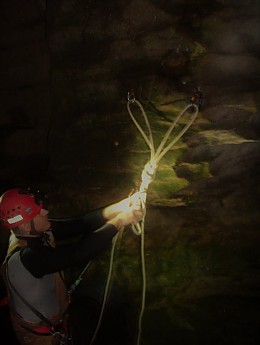 Bill dressing his Double Figure-8 knot.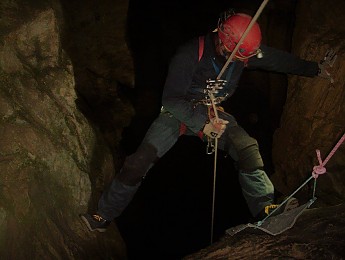 Dropping 153'. Had we gone off the "Diving Board," we wouldn't have needed to work off the wall. Oh well!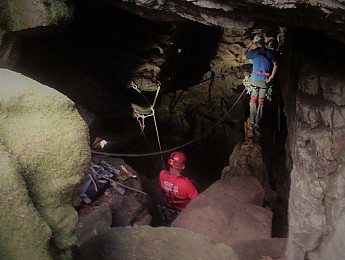 A second team of cavers rigging the Diving Board (look at the caver to the right, and you can figure out the name).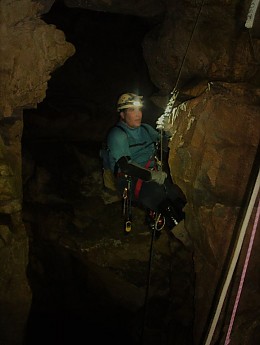 As I was ascending my rope, this guy was coming down the other rope.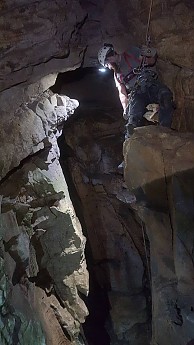 Caver going off the Diving Board (photo by Alex Litsch)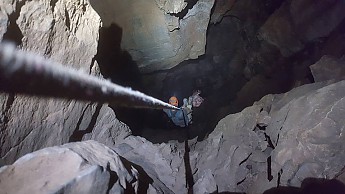 Caver descending from the Diving Board. Much cleaner drop (photo by Alex Litsch)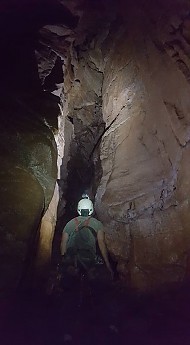 Bottom of Cemetery Pit (photo by Alex Litsch)


There is 2.5 miles of passage at the bottom of Cemetery Pit. I traveled with 6 other cavers as far as the "Big Room." Continuing required a 40' rappel & ascent. My crew was heading on deeper in the cave, but I was thinking about the 153' climb out of the cave. So I opted to head back up and out. In total, I was in Cemetery for 3 hours. 
After climbing out, I jumped in a car with two other cavers and headed to the Cave-In for some late night revelry.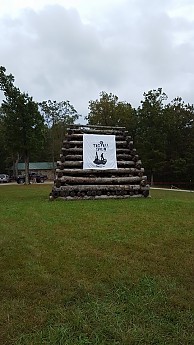 After sunset, this 15' high pyre would be lit with close to 1,000 cavers enjoying the sight.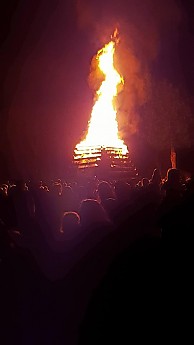 Flames were at least 60' high, maybe more.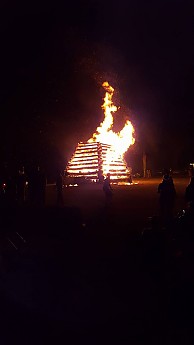 80's Cover Band "Aunt Betty" rock some great tunes for a couple of hours.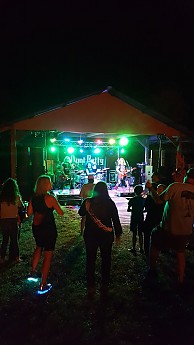 I crawled into bed around midnight. The party showed no sign of slowing down, but we were hoping to get in one more cave before driving home on Sunday.

=============

Sunday's caving was ruined by Hurricane Nate. North Georgia was under a Tropical Storm Watch/Warning, with 3"-6" of rain expected. Although some caves are more flood-prone than others, I feel it's not smart to be underground with that much rain coming down. So we packed up and made it home by 6:30pm. 


Overall, a great trip. We're talking about another run to T.A.G. in December to drop some bigger pits.