10:45 a.m. on October 16, 2017 (EDT)
Phil Smith

1,310 reviewer rep
410 forum posts
Saturday night I made a spur-of-the-moment decision to hike Mt Chocorua, N.H., on Sunday, threw a few things in my daypack, and had one of the worst nights of sleep I've ever had. 
When I got up I really didn't feel like going, but I showered, dressed, ate, and hit the road just the same. The whole way there I was basically looking for reasons to turn around—there won't be a view because of how cloudy it is, it won't be as fun without a partner, it's too late, etc.
But I didn't turn around, not even when I started getting sleepy and had to pull into a parking lot and nap for maybe 1/2 hour. I got to the Piper Trail head right around noon, which WAS late, but I had 2 headlamps with me so that wasn't an excuse. After finishing a bottle of water I put on my pack and headed out. 
The weather WAS pretty crappy, overcast & muggy, but the forecast was for the clouds to blow out in the afternoon. As I climbed it seemed that was the case, when I got to the first overlook the land to the east was a patchwork of sun & cloud shadows.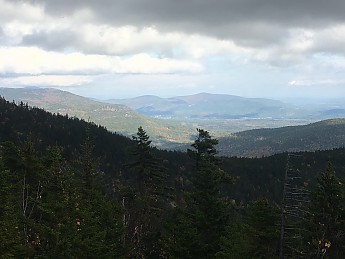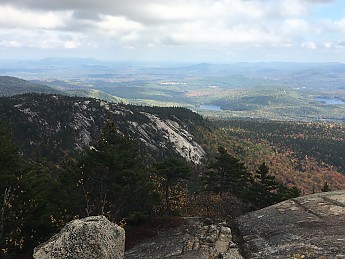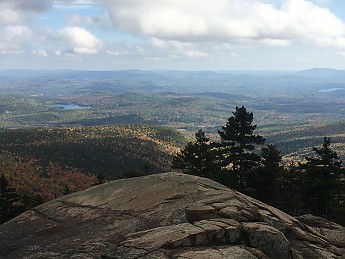 Looking up at the summit, still enshrouded in cloud.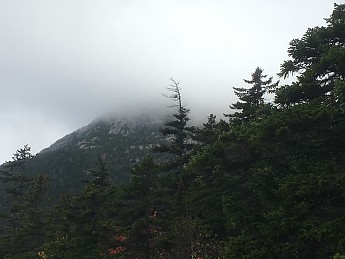 It had rained overnight and some of the rocks & ledges were still wet, but my new Lowa Camino GTX only lost traction and slipped once on the way up. The trail continued back into the trees, and I kept climbing. A while later I got to another spot with a view of the summit. It was clearing up there!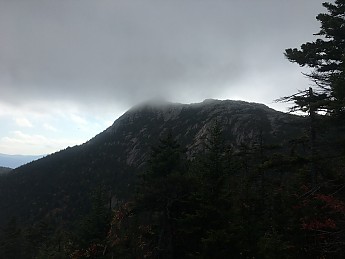 Because of how heavily I sweat I keep my phone in my pack and only take it out when I stop for breaks, so I didn't take any pics of the summit when I reached the tree line. This is the last pic I took until I actually made the summit. Champney Brook Trail is the one my friend Chad & I took on our winter ascent back in March.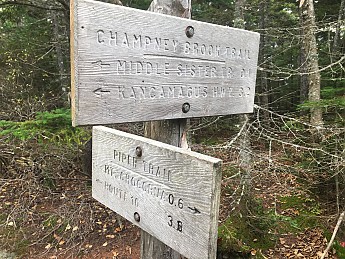 The summit of Chocorua is a huge rocky knob, very exposed and with steep dropoffs on all sides, and you have to do some scrambling to reach the summit. (From the winter climb, obviously.)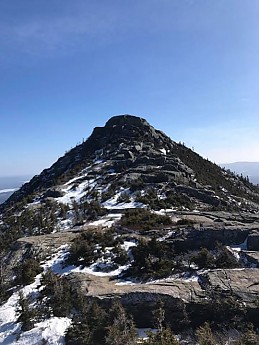 Have I mentioned that I hate heights? Every step you take up there seems like a slip would have you bouncing once or twice then taking the express to the bottom. Add in the wind that had to be close to 40mph - as if I'M in any danger of being blown away! - and I had a few "WTF am I doing up here?" moments. But I made it to the summit and got the mandatory pic of the pin. You can see absolutely forever from here on a clear day.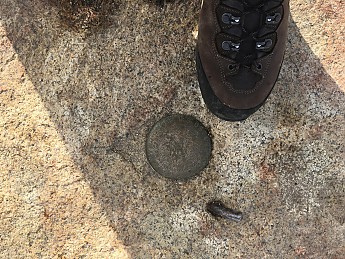 Holding my phone tightly I got a few pics of the surrounding area, then it was time to eat something and head down. One white chocolate macadamia nut Clif bar later, I was doing just that. And freaked the hell out by how close the dropoffs were. 
I generally don't like descending on the same trail I ascended, so whenever feasible I take another. This time I took the Liberty Trail, to Hammond Trail, to Weetamoo Trail, which met up with Piper about 1/2 mile from the trailhead. Partway down Liberty Trail I came to the Jim Liberty Cabin. The chains holding it down are 3/4" link. 
I really need to start bringing a stove and freeze-dried meal along, having only had the one Clif bar since breakfast I was famished! The cabin would have made a good place to eat. 
Hammond and Weetamoo Trails were little more than footpaths, with a lot of up & down and rocks just waiting to twist your ankle. Most of Weetamoo, and Piper to the trailhead, were done by headlamp. I reached the trailhead almost exactly 7.5 hours after leaving it, with 8.6 miles and 2900' of elevation gain in between - longer and more gain than 1900-foot-taller Mt Monroe last month. My feet were sore, the taped blister on my heel wasn't bothering me (I need to use those liner socks I bought!) but my toes hurt like hell because the Lowas are easy to overtighten. Maybe I need to be a little more patient when tying and retying. 
A 1h20m drive home, a call to Domino's, and a shower, and I felt somewhat human again. My right knee was swollen a little but there was no undue pain, only what anyone would expect after that hike. Most of it was probably from not moving during the drive.