9:51 p.m. on October 23, 2017 (EDT)
Phil Smith

1,310 reviewer rep
410 forum posts
As I mentioned in my last trip report, this weekend's hike was Mt Tripyramid in the Sandwich Range of the White Mountains. It's called "Tripyramid" because there are 3 pyramid-shaped peaks - North, Middle, and South - that form a ridge line approximately 1.2 miles long. The col between N and M is about a 300' descent from N, and approximately 200' for the M-S col. N and M are NH 4K peaks, but S, even though it's 4090' in elevation, isn't a 4K because its prominence is less than 200'. 
The Tripyramids, viewed from the west.

Our ascent route was up the Pine Bend Trail, which started off as a very gentle incline for over 2 miles before rocketing upward 1200' in less than 3/4 mile. After a 0.4 mile recovery period on mostly level ground it's back to the climb, this time ascending about 600' in barely 0.3 mile to the 4180' summit of North Tripyramid. Continue along the trail to Middle and South, where the climb from the <200' col to the summit seems much longer and steeper than it is!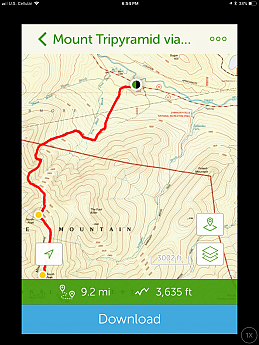 All 3 peaks are wooded, so you don't get much of a view. 
Mt Washington & Mt Monroe, from partway up North Tripyramid. 

Mt Passaconaway at left center, Mt Whiteface at right behind the trees, and Chocorua in the far left background.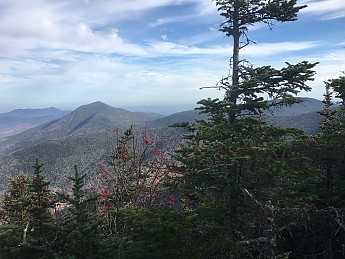 Zoomed in on Passaconaway and Chocorua.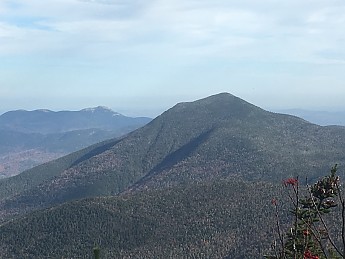 Middle Tripyramid at right, North Tripyramid at left, with Washington & Monroe between.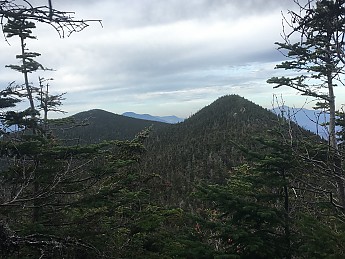 Zoomed in.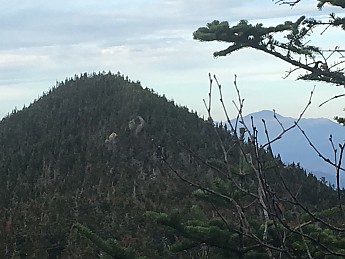 After a 15-20 minute rest we headed down from South, and up & over Middle. For the descent we took the Sabbaday Brook Trail, which had a shorter but steeper descent than we would have had taking Pine Bend Trail down. After that it was a 3.5 mile hike on level ground, with the trail generally following Sabbaday Brook. "It'll be easy," I told Chad, explaining using my map. "We have this steep descent going east, then the trail curves southeast, then east again, and finally northeast when it goes around this spur off The Fool Killer, then it follows the brook in a generally northerly direction all the way to the parking lot." This turned out not to be the best idea I could have come up with!

The trail was barely more than a footpath, very poorly defined in many places, and blazed extremely poorly. Most blazes were little more than flakes of paint on cracked tree bark. We did most of it after dark by headlamp, losing and finding the trail multiple times and crossing Sabbaday Brook at least 7 or 8 times.
At one point after dark I checked my compass and saw we were going SE instead of NE like I'd expected. Looking more carefully at the map I found out why - we hadn't come as far as I'd thought, and hadn't rounded The Fool Killer yet. We were on the leg of the trail S of The Fool Killer, not SE of it. So we were actually about 0.8 miles short of where I thought we were. It was a little discouraging, but driving on was our only option so we did just that.
Once we finally made the left onto the long northeasterly leg of the trail, I checked the compass every 5 minutes or so more out of habit than anything else. Most of the stream crossing exits weren't marked by blaze or cairn so we had to cast about to pick up the trail, follow it to the next crossing, etc. At what turned out to be the last one we just could not find the trail. I knew we were barely more than 1/4 mile from the trailhead so I took the lead and we bushwhacked, knowing that as long as we went in a generally northerly direction we'd come to the road that the trailhead is on (the Kancamagus Highway.) This is where I had to explain dead reckoning to Chad, who hadn't had enough map & compass experience to really apply what the map tells him.
After barely 10 minutes of following the path of least resistance we came to a wide dirt road with a sign proclaiming it as the Sabbaday Brook Trail, and also with construction equipment and signs saying that the trail was closed for repairs and maintenance. Now it was just a mile walk along the road to the vehicles, changing into clean, dry socks and sneakers, and heading home. Or, in Chad's case, driving to Boston to pick up his son at the airport at midnight. It was 2130 when we got back to the vehicles, so that meant no Yankee Smokehouse and no cleaning up for smelly Chad before going to Boston.
Chad's wife was almost frantic after not having heard from him since around 1600, not really understanding that we only had cell service near the summits. The total ascent to S Tripyramid took us about 6 hours, so I think we made pretty darn good time doing over a mile more, mostly in the dark, on an extremely rough and poorly-marked Trail. Chad had headed further into the mountains in order to get to Boston by the quickest way, so as soon as I got cell service on my drive home I texted her and let her know he was fine and what he was doing. Then I texted his mother (also a friend of mine) in response to her "where the heck are you guys??" text. 
The hike itself was pretty much average, no spectacular scenery or views, the trails weren't marked well at all but Pine Bend Trail was easy to follow at least. The climbs (all 6 of them in our case) were immensely challenging and brutal, and you really feel like you've done something when you're done. 
Before putting my socks on yesterday I painted both heels with benzoin tincture, let it dry, and applied strengthtape. No hot spots, no blisters, the tape stayed in place all day with no lifting or peeling. I'm still trying out different sock combos with my Lowas, yesterday I wore Injinji Coolmax liner socks and lightweight Darn Tough wool socks. It may have been the most perfect setup yet, there was no bunching at all. 
There were a few things I did wrong or could have done differently. First, an earlier start would have been better. We hit the trail at around 0930, starting an hour earlier would have probably meant ending more than an hour sooner because we'd have been hiking in the dark for a shorter time. 
Second, I probably should have just stuck with our plan rather than changing it on the fly with no real reason. 
Lastly, and this one bothers me the most, is I had no insulating layer with me. If we'd ended up having to spend the night in the woods, I would have been pretty chilly with just my sweat-dampened pants & shirt and rain gear. I did have my canister stove and 2 freeze-dried entrees for warmth and nourishment, though, and a filter for drinking water from the stream (Chad was almost empty, my 3l bladder was empty but my 1l bottle was full at the end.) My down jacket and merino base layer (or more layers if appropriate) are going to be in my pack every trip from now on. 
All in all it was a good hike, we both pushed ourselves harder than we expected to and cooperated well under less than ideal circumstances. It helped that both of us love a challenge and an adventure. But neither of us plan on hiking it again, other than being 2 of the 4K peaks there are really no attractive properties.