1:18 a.m. on November 12, 2017 (EST)
Phil Smith

1,310 reviewer rep
410 forum posts
With the cold temperatures forecast Friday overnight into Saturday, I decided it'd be a good time to test out some of my new cold weather gear. So, after work Friday I threw my pack in the Jeep and headed to Mt Chocorua, to spend the night in Jim Liberty Cabin 1/2 mile below the summit. I'd planned to hike up via Liberty Trail, which is a straight shot to the cabin and summit, but with the sun setting so early it was pitch dark before I got to the mountain. So I decided to take a route I'd taken before since I'd be doing it by headlamp - Piper Trail to Weetamoo to Hammond to Liberty. 
It was COLD! Air temp was maybe 30ish, and the wind was whipping. Wind chill had to be around 15F, but one of the nice things about the route I chose was that it was pretty sheltered for much of the way up. Still, there was SOME wind for most of the way, and since I was only wearing a silkweight base layer with heavyweight hiking pants and a thin synthetic shirt to keep from overheating I did get a bit chilly on the slower sections. But I managed to avoid sweating for the most part, which is no small feat for me!
From the trailhead to the cabin was 4.1 miles which I did in just about 3 hours, getting there a little before 8. Temps at the cabin couldn't have been over 20F, so I got water for my dinner boiling and threw my down jacket on. The gear I wanted to test was my NEMO Sonic 0F sleeping bag and ExPed DownMat 9. Pumping up the DownMat warmed me up a bit! About this time I realized 2 of the windows had broken panes, so I shut the covers to keep what little heat there was inside. 
After dinner I was exhausted so I made what was hopefully my last nature call till morning. The sky was so black, and the stars were so bright, that I wish I could have stayed outside for a while, but my down jacket wasn't quite warm enough for that. I'm sure the wind chill was already below 0F at the time (930ish.) Back inside I changed into my merino sleeping base layer & dry socks, put a water bottle for breakfast, the baselayer I hiked up in, and put my boots into the sleeping bag compression sack so I could bring them into the bag with me. The NEMO bag was roomy enough for everything. My toes were pretty chilly because I hadn't worn insulated boots, and it took about 15-20 minutes of wiggling them before they started to warm up. The bag was definitely comfy, and warm. I actually slept more soundly and for longer than I usually do at home. 
Twice during the night I woke up a little chilly, probably due to the call of nature. I took care of that inside the cabin these times LOL. My plan had been to get up before dawn and go to the summit to get pics of the sunrise, but the way the wind was roaring all night put an end to that nonsense! So I ended up sleeping till around 730. I got breakfast going (Good To Go oatmeal) and started packing things up. The DownMat isn't easy to get back into its stuff sack, but I didn't want to just roll it up & strap it to the outside of the pack where it could possibly be damaged. I'd say it was a little before 9 when I headed down the mountain. The day was beautiful, very clear and cold, which made for great pics on the hike down. I ran into one group of people coming up Liberty Trail when I was maybe 15 minutes from the cabin. There were a lot of icy spots on the trail, but not enough to put my spikes on so I was just extra careful. Which I always am, anyway. 
And now, for the pics!
Inside the cabin. I wish that chimney had a hearth!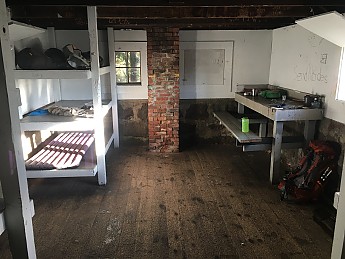 The summit under a brilliant blue sky.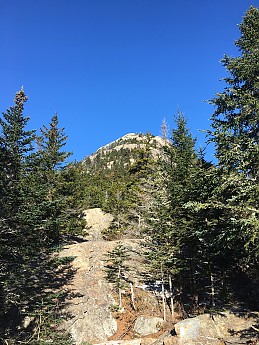 A dusting of snow, where the wind hadn't blown it away.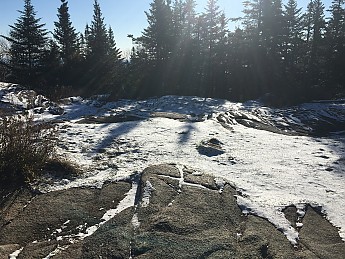 1/2 mile down, 3.6 to go!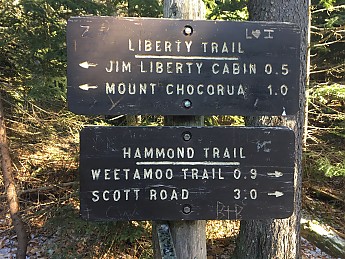 I don't know what makes the ice form this way, but it's pretty cool.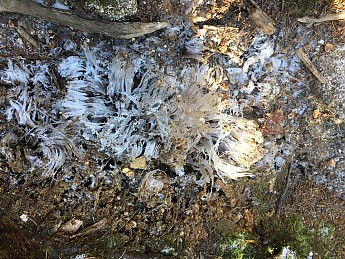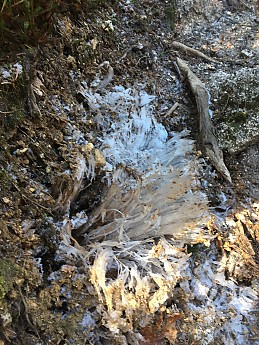 Mt Chocorua and First Sister.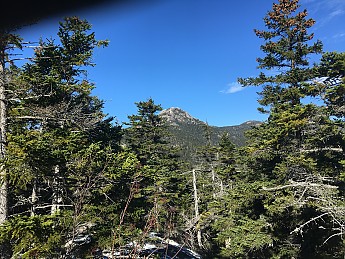 First & Middle sisters.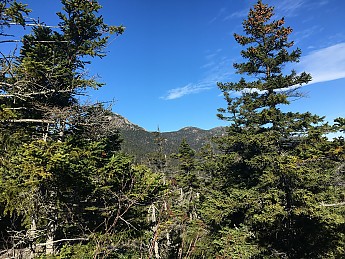 Looking northeast toward North Conway. Kearsarge North is the tallest one in the left-center background.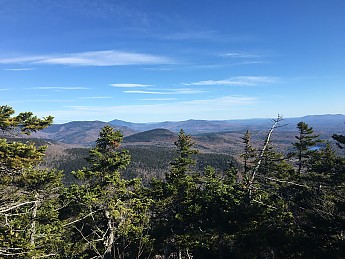 Pleasant Mountain in Bridgton ME.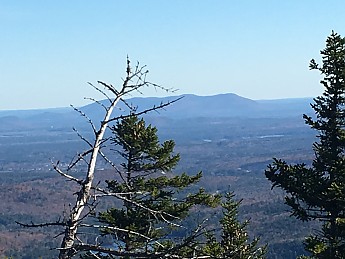 1.5 miles down, 2.6 to go!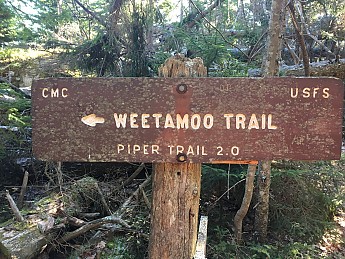 Weetamoo Rock, which is an ENORMOUS glacial erratic. I've never seen a single rock this big in my life. The sun wasn't in the right place for a good pic, but you're looking at MAYBE half the rock, at most. There's another 20-30 feet below where the ground slopes downward.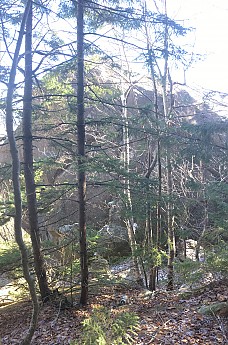 Oh yeah, the gear tests! I don't think the NEMO bag is really a 0F bag, but I did have a pretty thin baselayer on and a lot of stuff to keep warm in the bag. Next time I'll try my heavyweight USGI ECWCS polypro. And I didn't really shake out the bag to loft it up. That -25F Western Mountaineering bag I was drooling over may not be a bad idea after all. Or the -40 NEMO bag. 

The ExPed mattress is very comfy, wide enough that my elbows don't hang over the sides, and insulates well. I didn't feel any cold spots from below. I did inflate it a little too much, though. 
I wore my replacement pair of Lowa Camino GTX for the hike, they gripped dry or snowy rock equally well and my feet were nice and warm while hiking. This was their first hike, I'd worn them casually a few times and they were basically broken in right out of the box. It didn't take long for them to get cold at the cabin, though! My sister-in-law said she'd get me some down booties for Christmas, so next time I think my tootsies will be warmer. 
The pack I used was my new Osprey Atmos AG 50. Pack weight was 35lb, and I honestly hardly felt it. It hugged my back and moved with me, never throwing me off balance. I wouldn't want to carry much more than 35lb in it, though. Next time I think I'll be using my Osprey Aether AG 70 instead. 
Carried gear list:
Osprey Atmos AG 50 Pack
NEMO Sonic 0F sleeping bag
ExPed DownMat 9 sleeping pad
TNF Assault 2 tent w/footprint and no vestibule (just in case the cabin was full)
GSI 2l pot w/Primus canister stove, 8oz canister, and titanium spork
2 meals
3.5l water
Stoic merino baselayer shirt & pants
Marmot Odin down jacket
EMS Thunderhead rain jacket
OR Foray rain pants
EMS Summit Ascent gloves
BD Alpine FLZ trekking poles
Hillsound Trail Crampons
Miscellaneous stuff (first aid kit, extra socks, solar phone charger, BD Orbit lantern, BD Storm headlamp, BD ReVolt headlamp w/rechargeables, 1 set extra batteries for each, Sawyer Squeeze water filter, knife, map, compass, and snacks.)