1:47 p.m. on November 26, 2017 (EST)
Phil Smith

1,310 reviewer rep
410 forum posts
Yesterday I hiked Mt Tecumseh NH with 13 other members of the 4 Seasons Hiking Group, a Meetup group I recently joined. It was my first outing with the group but it won't be my last! It was a lot of fun, well-organized but not overly so. 
Mt Tecumseh is #48 on the NH4K list at 4003 feet, but there was a fair amount of work involved to gain the summit. Over the 2.5 mile trail you gain about 2200 feet, and some stretches are fairly steep. 
We arrived at the trailhead for 0900 yesterday, and within 15 minutes everyone was geared up and we moved out. The day was as close to perfect as can be, with a bright sunny sky and temps right around 30 without a lot of wind. After maybe 1/4 mile we stopped to de-layer (except for me, I would have been hiking bare-chested in that case and it wasn't quite warm enough for that!) 
Within 3/4 mile there was enough snow that we stopped to put on spikes, and they were definitely needed as we went higher. The snow smoothed out some rough spots but also made stair-step rocks a little less level, so care was necessary. 
As we got near the summit the trees opened up a little bit, allowing the sun to soften the snow which made it ball up on spikes. Kicking a tree or rock knocked it off, but one time I had a good buildup of ice on mine and didn't know it till I put that foot on a rock. Down I went, knocking my other (bad) knee against a rock. There was no damage and within a few minutes I was feeling no lingering effects. One other person face-planted as well. 
The crew at the summit.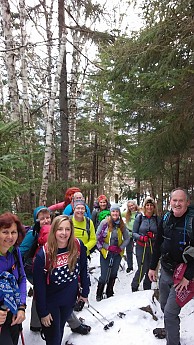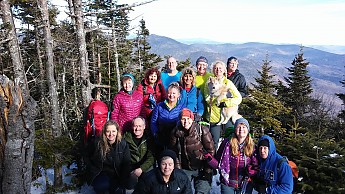 Snow-capped Mt Washington and the Southern Presidentials.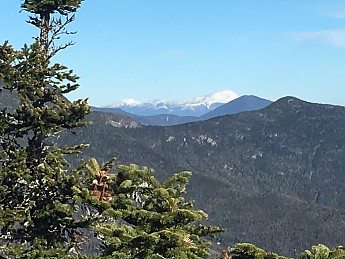 A view to the northeast.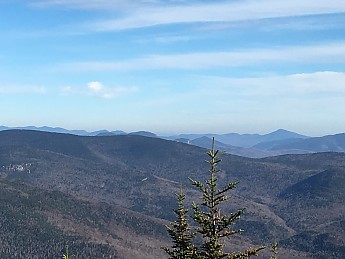 Mt Tripyramid viewed from the west.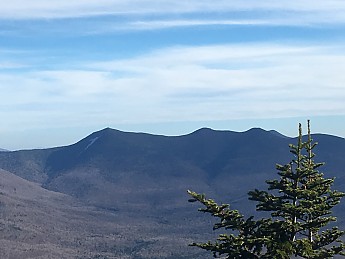 Finally some snow! Too bad I had to drive almost 2.5 hours from home for it.