BigRed
TOP 10 REVIEWER
REVIEW CORPS
6,983 reviewer rep | 1,239 forum posts
5:29 p.m. on February 6, 2018 (EST)
From the terrace or patio at the back of our rental house in Tucson we look up at the southern front of the Santa Catalina Mountains: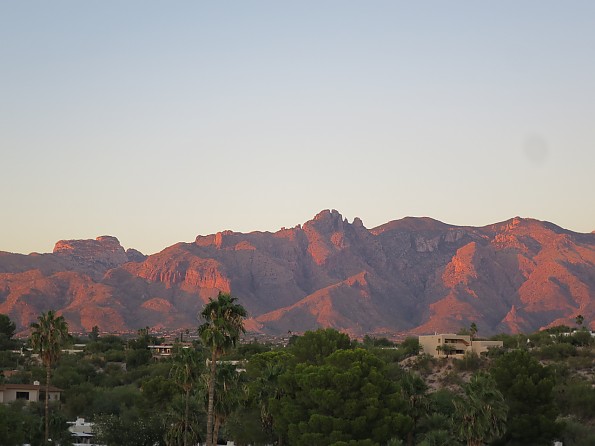 I've done a lot of day hikes and runs in the canyons up there and it's beautiful but rough and so not so inviting for backpacking. Looking out various windows we can see other, somewhat more distant ranges – the Santa Ritas to the south, the Tuscon Mountains to the west, and the Rincon Mountains to the East. Parts of the Tucsons and most of the Rincons are in Saguaro National Park west and east, respectively. The Rincons are nicely set up for backpacking, with designated backcountry campsites located near intermittent water sources, all still dry in the winter drought we are experiencing this year.
The bases of all these mountains are in Sonoran desert, with saguaro and many other cacti, and a wide variety of desert shrubs.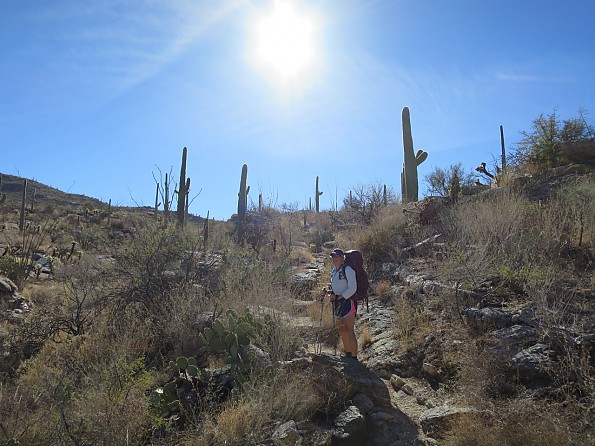 From there it grades up into a kind of desert oak savannah,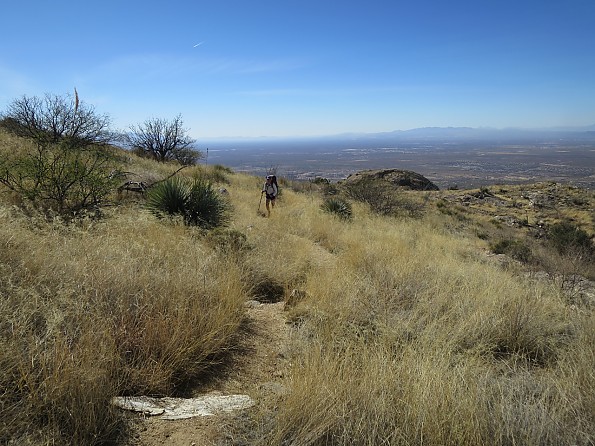 then pretty quickly junipers and (3-needle) pinyon pines enter the mix,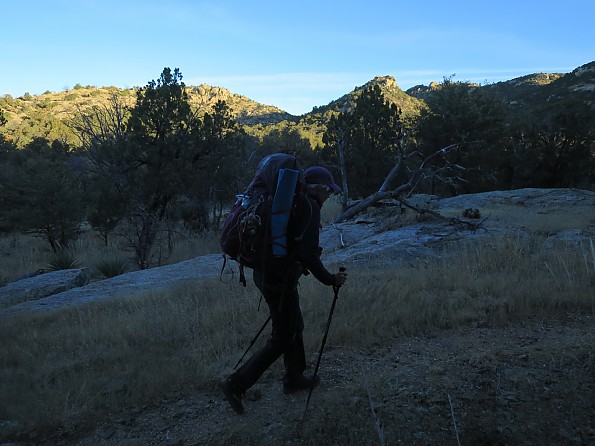 and then Apache and limber pine at up over 7000 feet, with some of the bigger trees right on top of Mica Mountain, the highest point in the range at 8666 feet.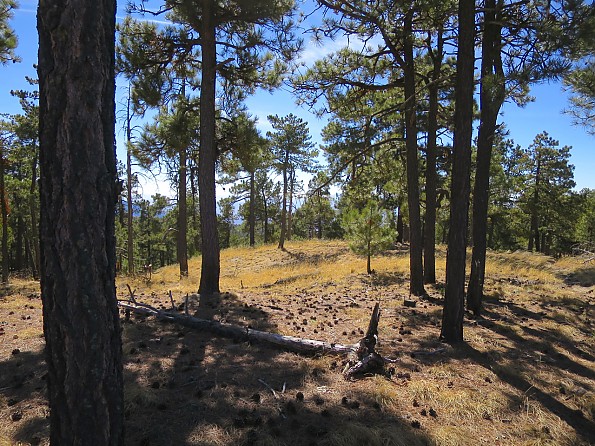 We dropped a bicycle at our exit trailhead, then drove around to our start on the Tanque Verde Ridge trail on the loop road in Saguaro east, stopping at the NP visitor center for backcountry permits ($8 per campsite per night, $4 for seniors :-)). We set off with enough water for two nights—I had 12.5 liters making up about half my pack weight and my wife carried another 5.5 liters. The 7 miles up to the Juniper Basin campsite were a long, gradual grind, but we didn't hurry and made it up in about four hours. We kept our eyes open for the last saguaros at about 4500 feet.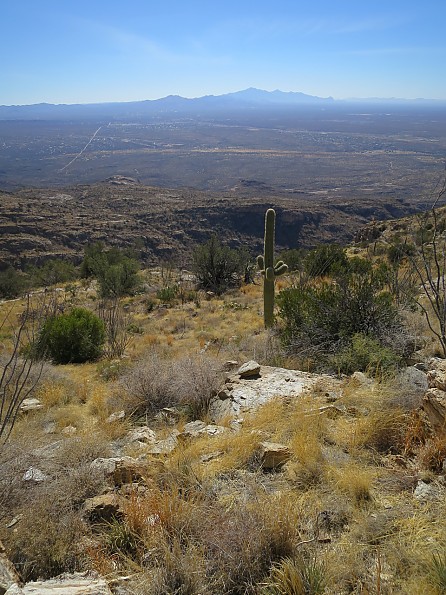 They are not very frost tolerant but also may be limited by fire that spreads via buffelgrass, an invasive species. From a distance, the vegetation looks conspicuously grassier above than below the "saguaro line".
Juniper Basin lives up to its name, with three pleasant sites, well shaded by junipers and pinyons, alongside a (dry) creek on a broad section of the ridge. All the campsites have bear boxes, which help as much with mini-bears, everything from mice to ringtails and coatis, as much as the real thing. 
We got an early start and continued up the ridge another 2.5 miles to Tanque Verde peak, a rocky summit with great views over Tucson and the surrounding desert and ranges. The manzanitas got a bit thick as we approached the summit.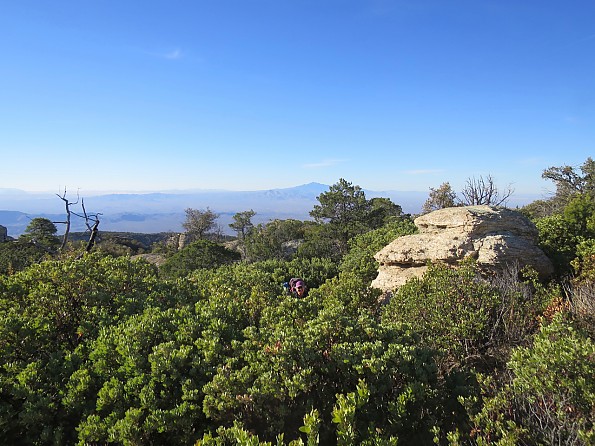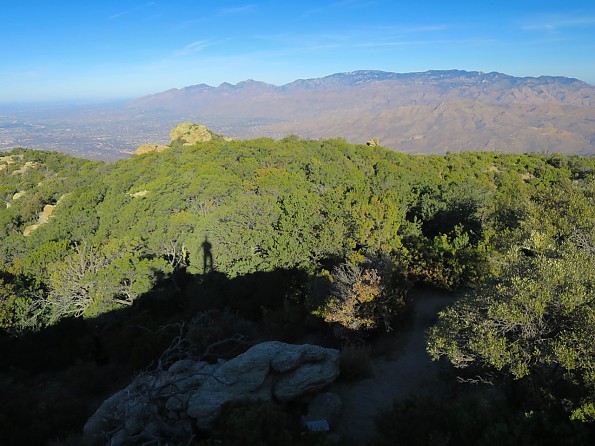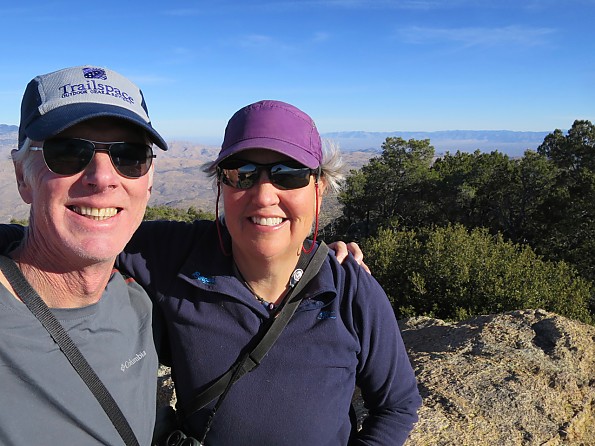 From there another couple miles down to Cowhead Saddle, where my wife settled down to wait while I dropped my pack and did a 10-mile hike-run up to Mica Mountain. The views from the forested summit weren't much to write home about (but the trees were nice), but better from nearby Spud Rock.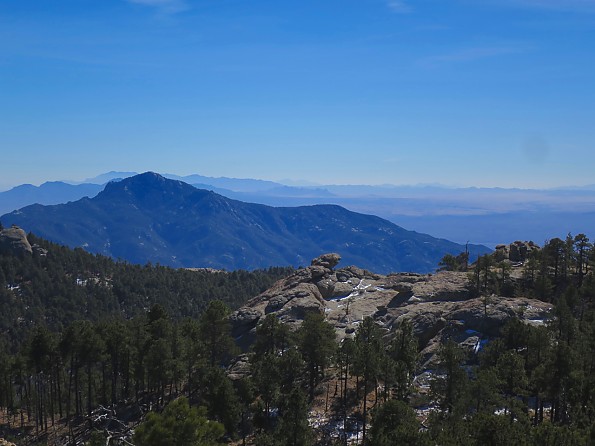 From the saddle we headed down to the Grass Shack campsite down at about 4000 feet but on one of the large (but currently dry) creeks draining the range, so the camps were under some nice big Arizona white oaks, with some smaller ash and sycamores in the mix. It was a windy night, which kept the air well-mixed so it was unusually warm.
Day 3 was a ca. 10-mi traverse across and down to get back to our exit trailhead, mostly on a section of the Arizona trail. Just a mile or two out of Grass Shack we crossed a creek that had a few pools of water in natural basins and cracks in a solid granite creek bed, presumably leftovers from a night rain we had a few weeks ago.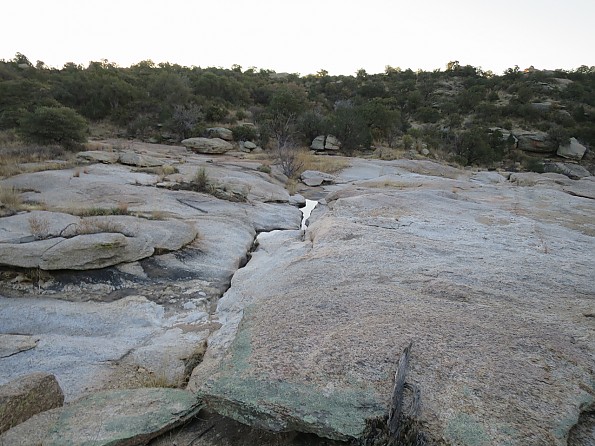 If we had known about these we could have made a little side trip to fetch water for our last night, but the pools were a bit green so filtering and purification would have been in order. We could have carried 6 to 8 liters less at the outset, though. We got the water about right, with about one liter left for me to use on the nine-mile bike ride. 
Back down 'mongst the saguaros for most of those last 10 miles: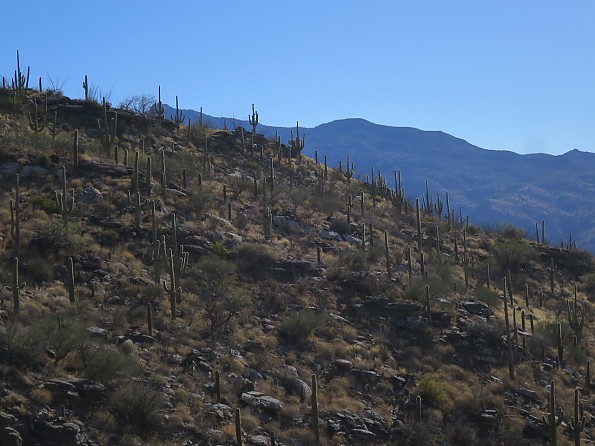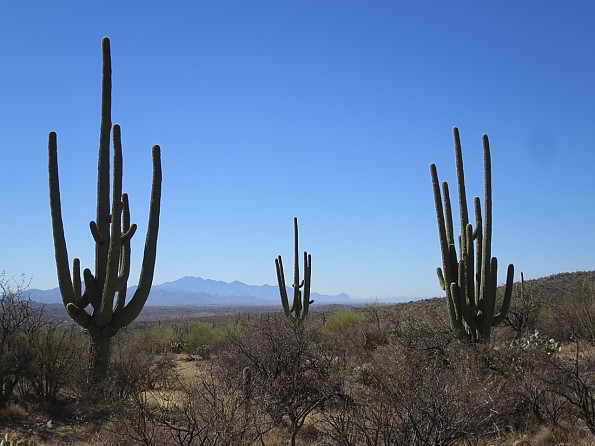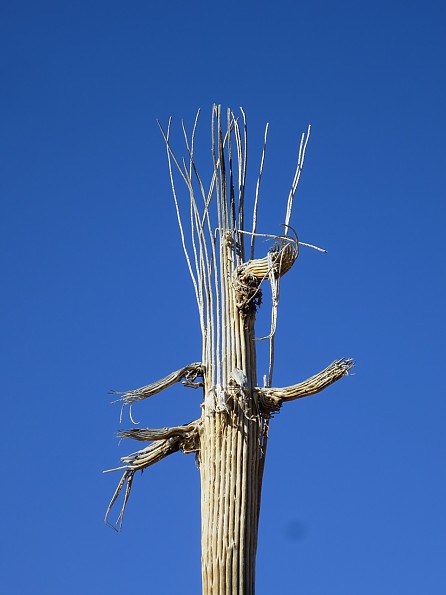 As it turns out a trail angel showed up just as I was leaving and gave us a ride back to the car. With afternoon temps getting up into the low 80s, the lift was most welcome.
The Tanque Verde Ridge trail, which we started out on, is hiker-only, but most of the other trails are open to horses. There's a big, horse-friendly campsite just a mile or so below Mica Mountain that I ran through but didn't stop to take pictures. Very little horse poop on the trails, though, probably due to lack of water. I think there are some dude ranches on the south side of the range that may run trips up there when the going is good.
This hike would probably be better if you could hit it under somewhat moister but not too hot conditions -- October after a good summer monsoon, or April after a more normal winter when there might be some recharge from snowmelt. In another winter we might well have had to deal with somes nsow on the higher portions of the route. With some transportation logistics, this could be extended another day or two to include Rincon peak, which I did as a day hike from the east side a few weeks previous.
Here's an NPS boundary sign that's built to last: