10:10 a.m. on April 25, 2018 (EDT)
Patman

2,170 reviewer rep
2,169 forum posts
Just noticed this was my 100th Trailspace Trip Report post! My how time flies. 
So on this report I'll just pick up from where the last left off...
March 2-3 Slick Rock Wilderness NC
This was a somewhat intricate loop and included the widely dreaded Hangover north lead (and then the Hangover south lead) all the way up from Cheaoh Dam to the overlook. That route gives you over 4000 feet of gain in about 6.5 miles.
Views from the Hangover Overlook :

March 9-11 Catalooche NC (GSMNP)
This trip surprised me with late season snow and also realized one of my long standing fears: I locked my keys in the car at the beginning of the trip. I have a pair of running pants that have ejector pockets; I usually never put anything in them. I had inexplicably slipped my keys in them and they fell out inside the car. Luckily I had left the trunk open and it has a back seat access through the arm rest. For the first time maybe ever, I actually made good use of paracord: I crafted a noose on the end of the trekking pole and was able to laso a back door lock and pull it up.
Elk in the vallley (seen from the car)


piping a spring with tent pole repair sleeve (might as well put it to use):

Snowy drifts on trail up at Laruel Gap:



March 16-18 Thunderhead Manway ( Deafeat ridge)
I have no idea why I thought traversing Defeat Ridge again was a good idea. It never will be. 
The most perfectly round sink hole I've ever come across (this one is one the first major switchback of the old Thunderhead manway which is really an old logging road):

Random Thunderhead view into NC:

March 23-24 Big South Fork JMT
This trip was just a quick overnight in between work projects / stopped on my way home from a Louisville KY work trip.
Mugging on the cliff over the river gorge:
This location was chosen specifically to practice map and compass. There are many bald tops (relatively rare in the southern apps) offering excellent sight lines to a lot of recognizable area landmarks. I hung out on several peaks practicing and a few hikers approached me with questions about what I was doing and I involved them in the practice by trying to identify landmarks they were interested in. Worked out really well.

April 13-15 Hyatt Ridge manway GSMNP
This trip was the completion of my Spring Goal: finish the Hyatt Ridge Manway in the GSMNP. The trail was abandoned in the 1960ies (I think). I had previously scouted both the top end and bottom end but had never connected the whole route. The idea of it was better than the reality. It was brutally hard. 
Check out the tracking stats from Delomre InReach for the off-trail piece: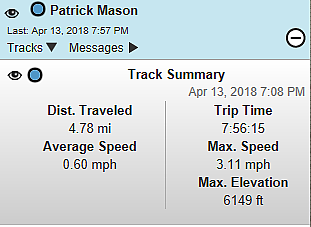 yeah that's right: it took me almost 8 hours to go less than five miles.
There is a place called Roses Gap that you have to crawl across. I bet I did a solid fifty meters of belly crawling with a backpack on. Ouch.
As far as the parts I had never seen, this was one of the easiest most easily navigable sections:


I think this is a succulent but can't remember the name:

April 20-22 GSMNP  /Hazel Creek loop
Last weekend was a favorite spring route. It's about 44 miles, and offers a great mix of interesting trails and scenery. The wildflowers are really nice this time of year. For those interested in the route:
Day 1: Treemont /Middle Prong to Lynn Camp Prong, Miry Ridge, AT to Silars Bald
Day 2: AT to Welch (or bushwhack off-trail down south side of Silars to swale of Welchs ridge), Hazel Creek at Sugar Fork
 Day 3: Jenkins to AT, north to Starkey Gap, off trail following Starkey creek back to Treemont
Also, for those interested the full gallery of all 2018 trip photos (but no reports or text) is here: https://patricktn.smugmug.com/2018