BigRed
TOP 25 REVIEWER
REVIEW CORPS
7,403 reviewer rep | 1,272 forum posts
6:48 p.m. on May 26, 2018 (EDT)
(Note: I am including a few choice photos in this report; full gallery here)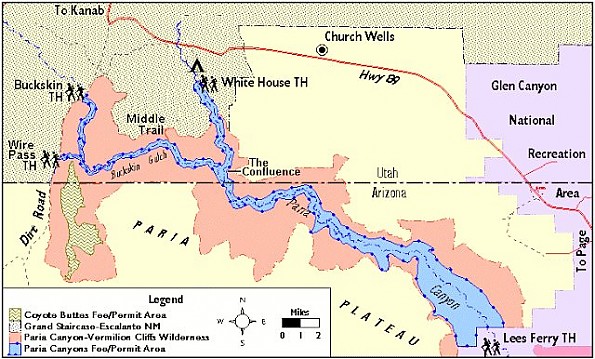 The hike along the last 40 miles of Paria River from Whitehouse Rock in Utah to the Colorado River at Lee's Ferry in AZ is, in my mind at least, a classic. The Wire Pass trailhead provides a much-used alternate starting point, which cuts off 7 miles of the Paria but adds in the 1.5 mile extremely narrow Wire Pass (slot canyon) and 12 miles of Buckskin Gulch, said to be the longest slot canyon in the world. In June 2011, my wife (Nancy), daughters (Molly and Zoe), and I went down Wire Pass and Buckskin and back up the Paria to Whitehouse Rock as a somewhat rushed, 20 mile day hike. We might have preferred a more leisurely backpacking trip, but we were way too late to get overnight permits, which are issued four months in advance, so we made the best of it. I remember looking down the Paria from its confluence with Buckskin and wishing I could just continue on down and spend some nights under the stars.
So the Paria hike was on the A-list when Nancy and I arrived in Tucson last August for a sabbatical year. Autumn might have been a great time to go but we were, again, too late to get permits. They are more freely available in the winter months, but then we're talking about hiking in cold water and leafless trees, maybe not so much fun. So we decided to see if we could get permits in the prime month of May, when spring has sprung but it's not too too hot and the risk of flash flooding is at a minimum (but the permit competition is at a maximum). I wrote a separate little screed about the permitting process – suffice it to say that we played our cards right. A good friend of ours from Vermont was supposed to join us, but pulled out at the last minute due to health problems. The trip was a goal for him to try to get back in shape but it didn't work out. So it was just the two of us this time.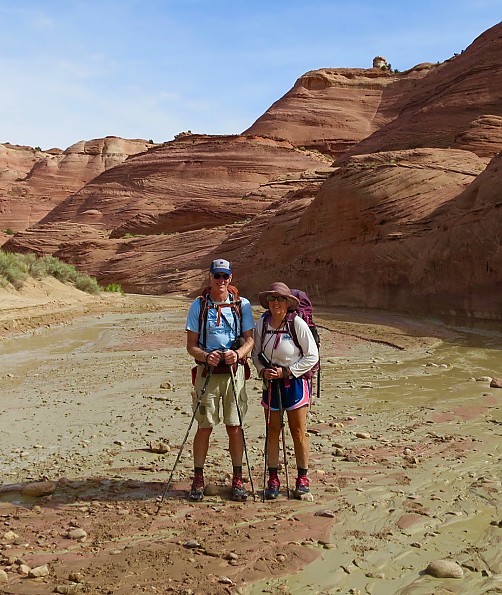 A lot of people choose to do the 20 mile "V" hike that we did back in 2011, but slowing down and taking 2 to 3 days. That minimizes car shuttle logistics, because you can close the loop between trailheads with a short drive or maybe 15 mile bike ride. But then you miss out on the whole lower 30 miles of the Paria. We left our car at Lee's Ferry, paid for a shuttle to Whitehouse Rock, and camped there for a night so we could get an early start the next morning (BLM campground, nicely refurbished since last time we were there, free, no water).
We decided not to do the Wire Pass-Buckskin entry because that would have put us on a fully-loaded, 12-mile push on the first day, some of it through waist deep pools of water including the legendary debris-choked Cesspool, which really does smell something like its namesake. Instead we had an easy, 8-mile first day down the Confluence (where the Buckskin comes in) including the upper four mile of narrows along the Paria, where the creek bed runs from wall to wall and in a few places is as little as 10 feet wide.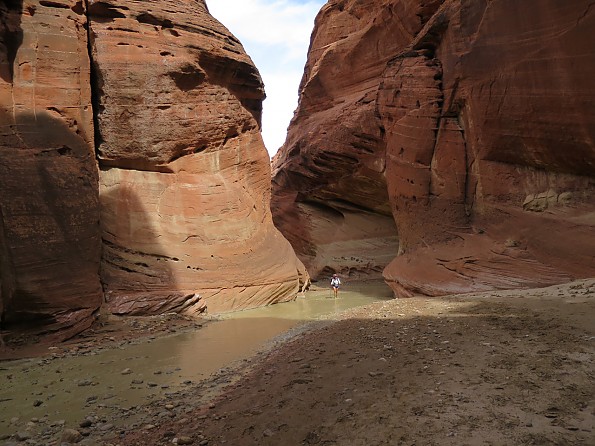 Even at low water there's a lot of hiking in water as you cross from one sandbar to another. We had neoprene socks in case the water was cold; it wasn't, but the socks and Dirty Girl gaiters kept the mud and sand out. The water is super muddy, with no hope of filtering or treating, and there is no potable water between Whitehouse and the Confuence, where there is clear water seeping out of the floor of Buckskin. Below that, good beta on the handful of springs along the canyon walls is critical. We had a 10 liter water cube with us that we could fill up at the last spring above camp and hump on downstream, as much as 5 miles on our last night out.
Many of the 20 people a day with overnight permits, especially those putting in the long day down Buckskin, want to camp in one of the few sites right around the Confluence, where there a few terraces with flat spots shaded by boxelder trees. That was our goal, too, so we would be in a good position to day hike up Buckskin the next day, and was one of the reasons for wanting to get an early start. But we talked to a group coming back up that had stayed for a few quiet nights at a site about a half mile below the Confluence. That sounded pretty good to us, and we ended up having two nights with just the two of us, the canyon walls, and a sky full of stars high on a terrace above a big oxbow bend in the river.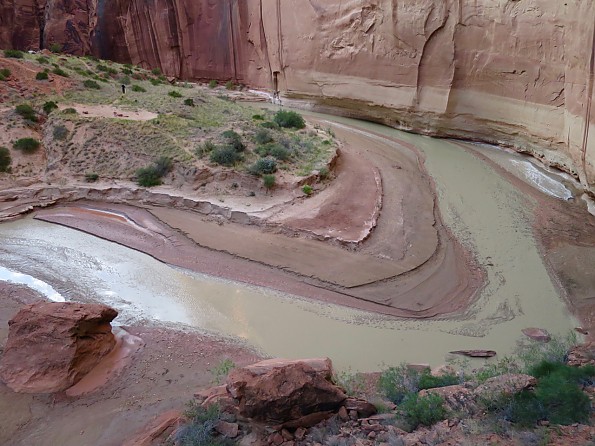 (campsite at the top of the hill extreme upper left; there is another obvious campsite below but nobody used it while we were there)
Buckskin Gulch get seriously overhung and downright gloomy in the narrowest sections, but the water-sculpted walls develop a patina of desert varnish and green algae, making for a delicate palette.

Elsewhere it opens up to let enough light in for a few trees to get a toehold.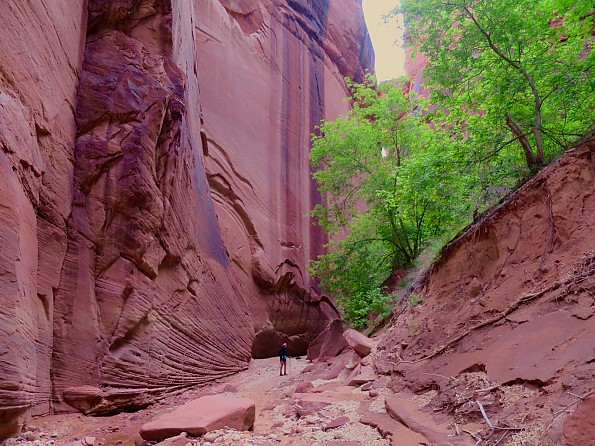 About 4 miles up it is blocked by a bolder fall that sometimes requires a short bit of rope (often left in place by hikers, then removed by the BLM under wilderness principles) to get over, but in our case we were able to worm our way under. There are also some old "Moki steps" cut into a boulder on one side, but apparently that aren't good enough for most paleface hikers to get up or down.
About 6 miles up is the Middle Exit, the only place in the whole 12 miles where the walls let up enough to scramble in or out. We watched a local guide lead a group of three Italian women down in for a brief foray into the canyon, didn't look too hard. He pointed out some petroglyphs that we might have otherwise missed. Surprisingly, these were the only we people we saw above the confluence – I guess anyone coming down hadn't made it that far by the time we turned around. The middle exit is also the place where a party of 7 camped right on the canyon floor in 2017 and barely escaped a flash flood. We pushed on just a bit further to the cesspool. I thought I might cross it and go a little higher up but the stink and gloom convinced me otherwise.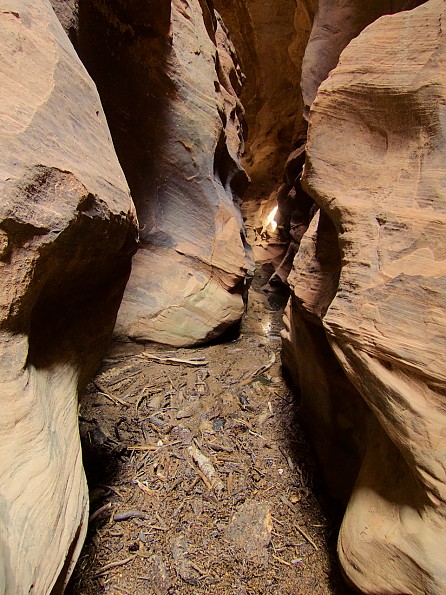 We turned around and headed back to camp. Just a hundred yards or so above our campsite we encountered a 3 foot Western rattlesnake on the riverbed.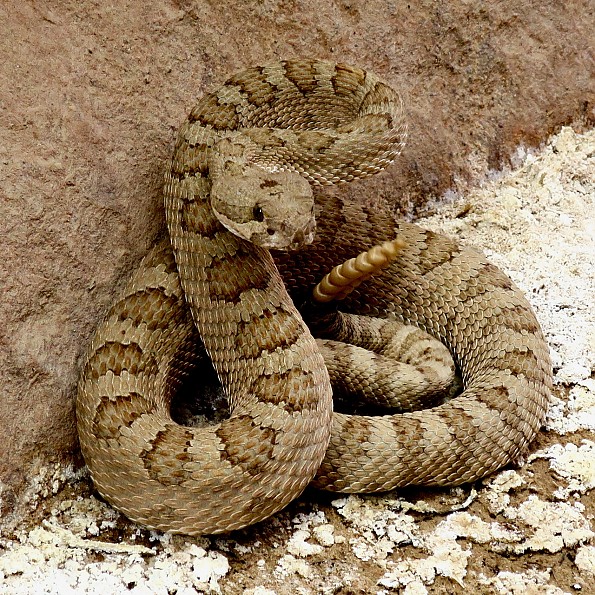 The Paria narrows continue below the Confluence for almost another ten miles, with the walls just getting higher and with huge bas-relief arches cut into overhanging walls on the outside of the bends.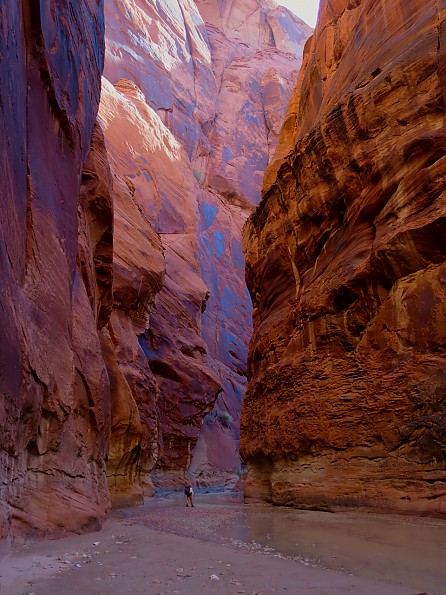 Early on day 3 we met BLM ranger Cara, whom we leapfrogged with over much of the rest of the next two days as she pulled over to inspect and clean up campsites.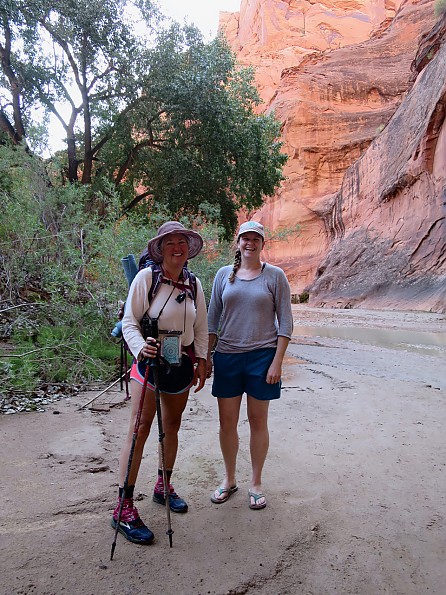 We took a side trip up to Wrather Arch, then caught up and hiked with Cara for an hour or so in late morning. She gave us some good info about campsites and springs. We camped at mile 18 in the shade of some cottonwoods just a bit downstream of a good spring. We arrived in early afternoon with temps somewhere in the 90s, went back up to the spring for a wash not once but twice during the course of the afternoon and evening, otherwise lazing around camp and reading.
Two other groups camped across the river from us, one a party of three geologists that we hiked with for a bit on day 4. We pulled over, again in early afternoon, at a campsite under a cottonwood tree at mile 28 for another 10 mile day. By then the canyon has opened up quite a bit and the river has picked up enough spring and seep water to dilute all the mud and is worth lying down in to cool off, as we and the geologists did at various points during the day, including whiling away the hot afternoon at camp. The cooling effect of wet clothes lasts for a good hour or more.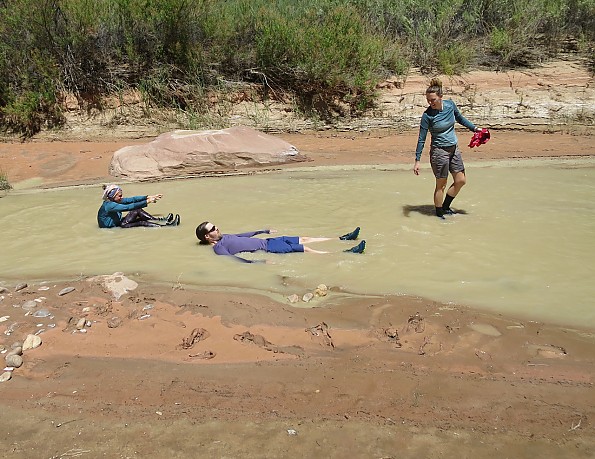 On our last day we got up at our customary 5 AM and boogied out the last 10 miles, on a high water path that crosses the river in few places but otherwise stays uo poin the terraces and point bars. We finished at about 10 AM before the day got too hot. While not as dramatic as the upper 28, it's still a nice piece of trail, a lot of it running over the ancient mudbeds of the Chinle formation, which also forms the Petrified Forest and Painted Desert regions to the southeast.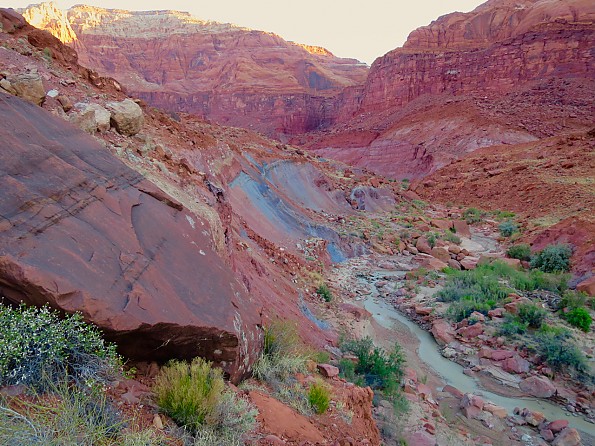 This hike actually exceeded my expectations, both in scenic beauty and in terms of crowding. With 20 people a day coming in from all trailheads it seemed like there would be some potential for things getting a little too neighborly, but as noted above we wised up enough to dodge the competition at the Confluence, had four nice quiet nights, and enjoyed talking to the handful of people we did meet along the way. And in hindsight it might have been rather nice to share an evening with the geologists, they were good people. I think a lot of the action is in the upper triangle and not so many parties continue on downstream. The campsites were well-worn but clean (maybe thanks to Cara and other BLM staff) and mostly unobtrusive. There is a year-round fire ban so there are no fire rings. I think the BLM policy seems to be doing OK, and despite the (seeming) hassle of getting a permit, I'd hate to see what it would look like if it were just open to all comers.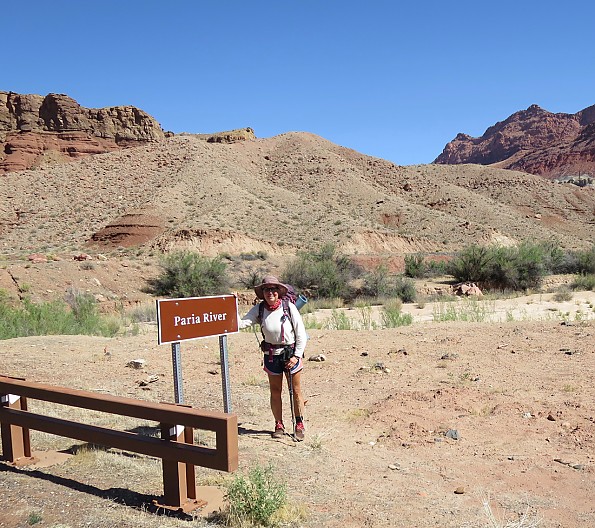 Gear notes:
We used our four year-old Atmos/Aura 50 packs, veterans of our JMT and Wind River hikes and freshly repaired under Osprey's warranty – mainly patched/reinforced at the hard bend where the frame meets the ground.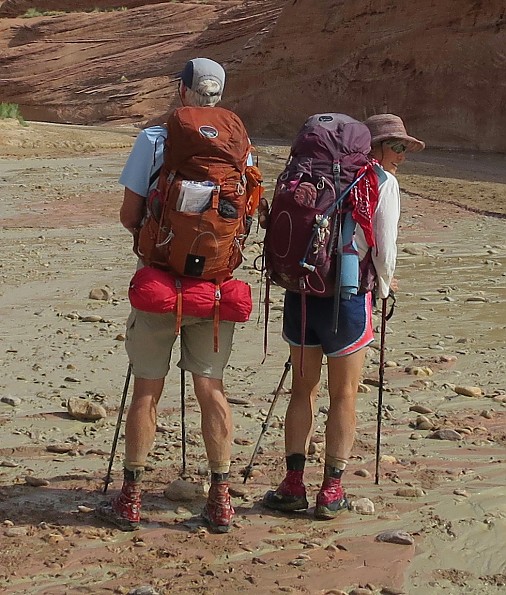 Tent: BA Copper Spur UL2 of the same vintage. We left the fly off every night and could as well have slept in the open, but it's nice to keep the creepy-crawlies out. We had some zipper problems due to sand getting in the zippers but hopefully a wash and a slider squeeze has taken acre of that.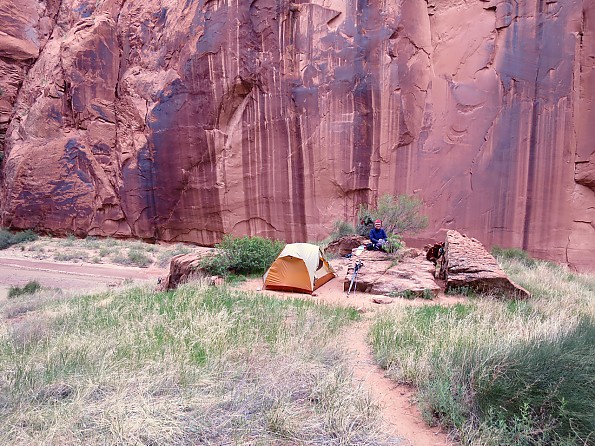 Sleep system: a pair of Neo-Air All seasons (not so light but what we have), with a BA couple kit and a custom silk mattress cover that weighs less than 8 oz, and a 1 lb, 50˚F rectangular bag opened up to cover the both of us, just warm enough to get us through the cool hours before dawn – I'll review it later. We also had sarongs to use as sheets (as well as camp wear) if the nights were too warm.
Cook system: MSR Windburner with 1.8L pot, a spoon each, our GSI Insulated mugs, with the bottom cover for the pot as one bowl and a 60g plastic bowl as the second. One full 8 oz canister would have been plenty but I had a partially used one and brought that along. No bear cans, but we did hang our food at night and during our day hike up Buckskin, in that case off a slightly overhanging rock. No problems with minibears.
Maps, books, and info: we had a nat geo map, photocopied pages from Kelsey's hiking guide to the Paria, and a very useful BLM booklet with strip maps and background info on geology etc. – if I had to choose one I'd actually go with the latter. My iPhone is my reader and I also have bird and plant ID apps. I only had to recharge the battery from a backup once and so had plenty of extra capacity. I guess I could have used it for navigation and track recording, but I don't trust the battery life even with a backup battery so I brought along my trusty Garmin eTrex 30.
We used a Steripen for treating water. I drank untreated water from groundwater springs without consequence, but my wife won't take that chance.
We both wore old running shoes, in my case Altra MT Kings that already had some holes in them. I disposed of them properly at the end of the trip.
That was the first half of our spring break. I'll report on part 2 later…