PhilNC
TOP 10 REVIEWER
REVIEW CORPS
4,679 reviewer rep | 1,721 forum posts
9:54 p.m. on June 7, 2018 (EDT)
This is a three-part series of trip reports on my two-week walk across Scotland. Each section matches one of the major "legs" of the trip:
Loch Ness to Braemar:  66.5 miles  May 15-19, 2018
Braemar to Dunnottar Castle:  69.5 miles  May 20-23, 2018.
Excuse the length - not offended if you just scroll through the pictures...I'm having a lot of fun recounting this walk so it's getting a little lengthy.
Also - for a summary without all the yammering, here are a compilation of photos and a video montage of photos with a soundtrack that reflects somewhat the different stages of my journey:
Part 2: Loch Ness to Braemar

Day 5:  Loch Ness to River Findhorn
18.5 Miles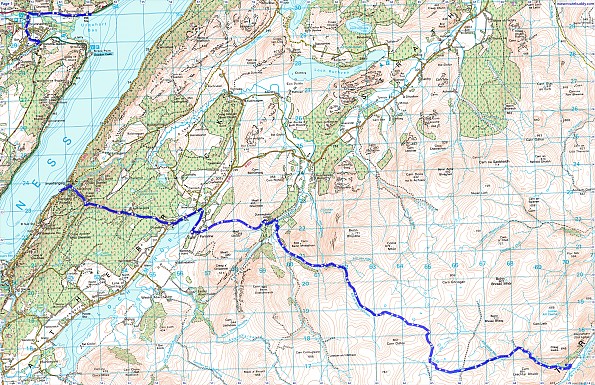 Refreshed and ready to walk after a half day off in Drumnadrochit/Lewiston, I packed up clean and dry clothes and tent and had a short walk to Temple Pier while drinking coffee and eating a bacon roll (one of many consumed during my two weeks in Scotland).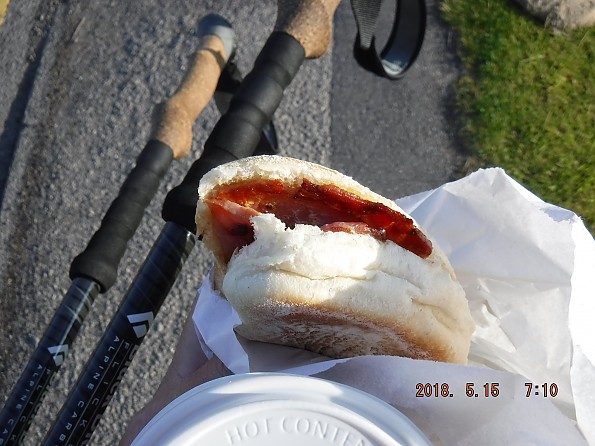 Gordon Menzie runs a ferry during the TGOC from Drumnadrochit to Inverfarigaig as he has done for over a quarter century.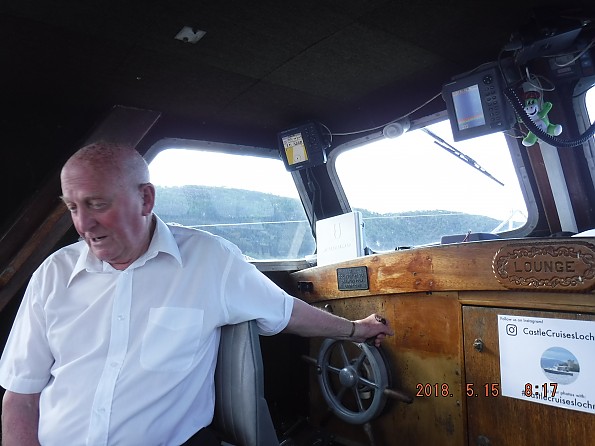 This is one of the few non-walking portions of your route allowed by the TGOC rules.  I enjoyed the 30 minutes of company with other Challengers, including Barbara in her 80s on the right!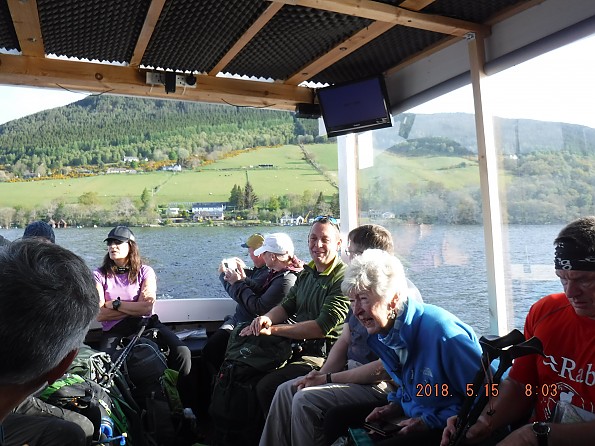 This was a highlight of my trip and the first major landmark for me.  I was infatuated with Loch Ness as a child, and my studies of biology and eventual environmental career originated in researching possible biological explanations for Nessie.  I later decided to be Jacques Cousteau as well, but there were limited opportunities for that job as well.  Seeing Urquhart Castle from the ferry is something I won't forget for a long time.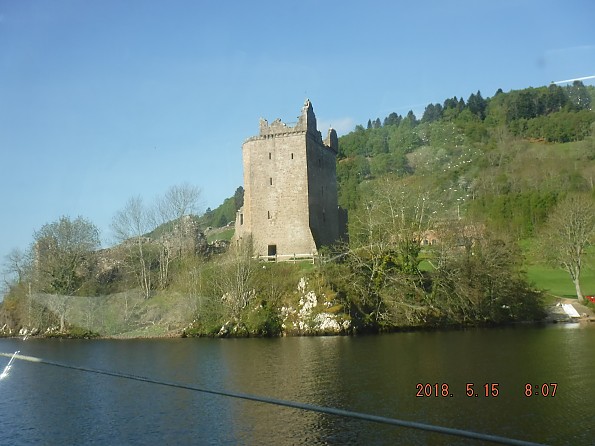 After the ferry deposited the Challengers on the east coast of Loch Ness,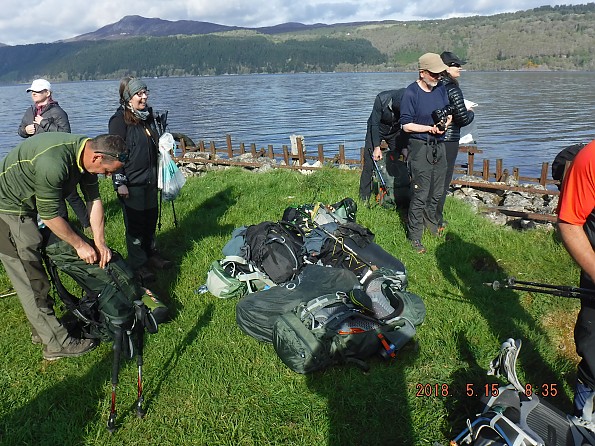 I took a last look south along the loch and headed up the hill.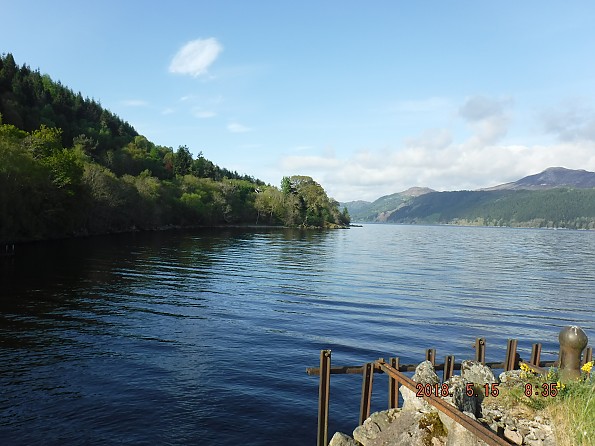 Walking alongside a 72 year old Challenger on his 27th crossing was a calibration point for me as I certainly didn't have to slow down to his pace!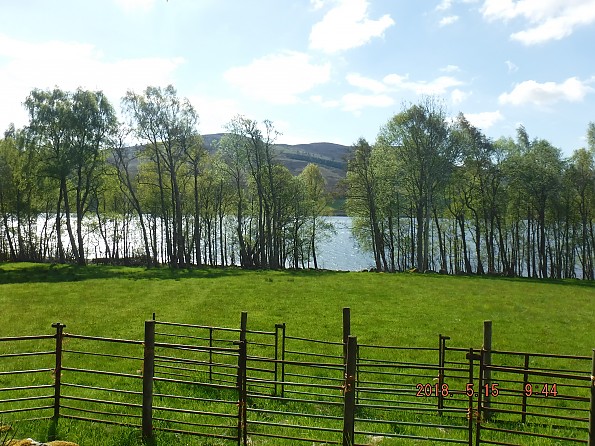 After a short road walk up the hill and along Loch Mohr, I got back to wet heathery highlands and wind. One of the paths I planned to follow over the top to Dumnaglass Lodge was not present on the ground, but I had fair warning of this from my route vetter.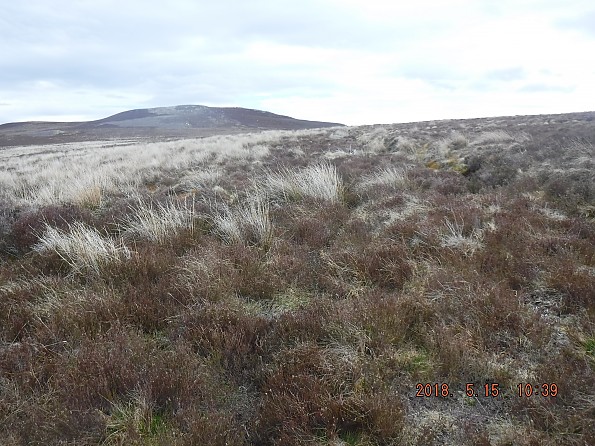 A quick stop at a deer fence stile for lunch number one (cheese and tomato sandwich provided by the Loch Ness Inn since I left before breakfast)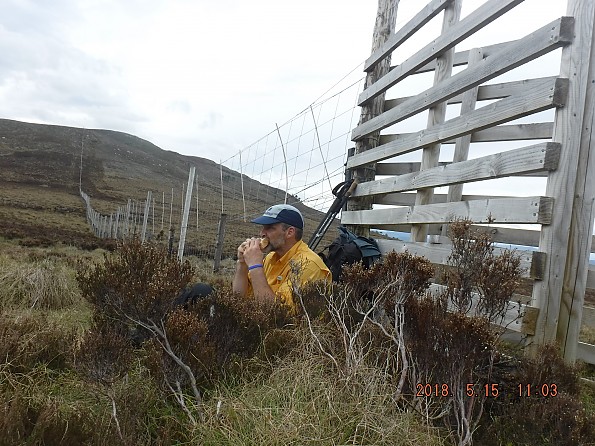 allowed for a couple of other Challengers to catch up with me and we walked together past Dunmaglass Lodge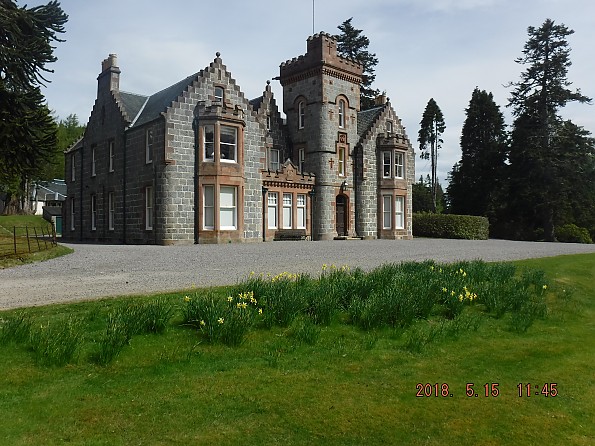 and up the valley of Allt an Doire Leathain. I stopped for lunch number two at a great viewpoint down Allt Caitidh,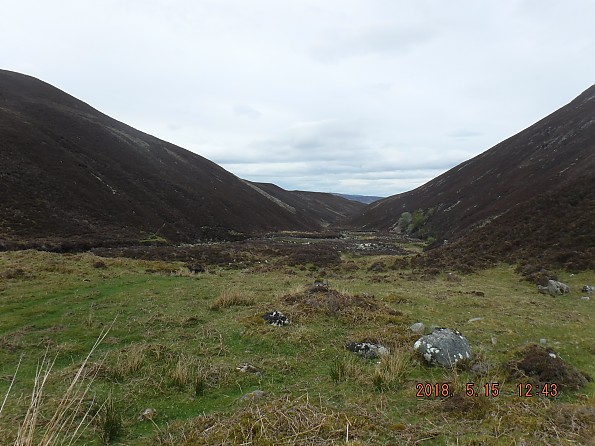 before continuing up the pretty valley.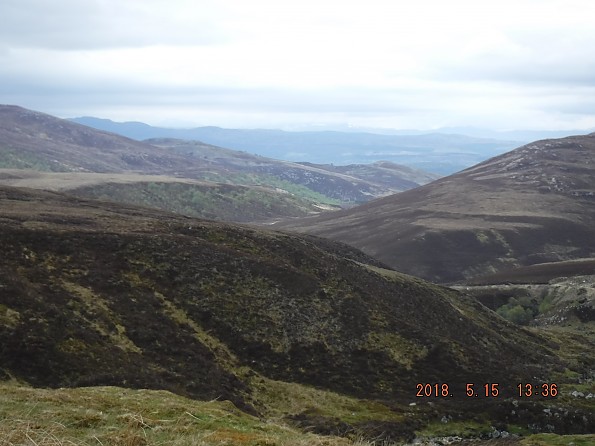 Then headed for a goal of mine – walking through a wind farm development to see what all the fuss was about. 

I certainly was interested in the wind farm but my planned day of stopping at a Bothy within it just didn't seem a fitting ending to such a fine day.  I decided to bog hop around the slopes of Carn Odhar (see my interlude on this activity in Day 6)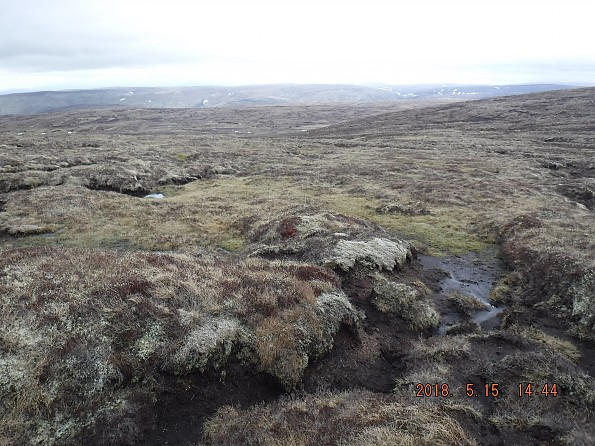 and descend to the River Findhorn – a long day but a personal goal since it flows downstream past Forres where I was born.
After successfully navigating around Carn Odhar, rain came down with some wind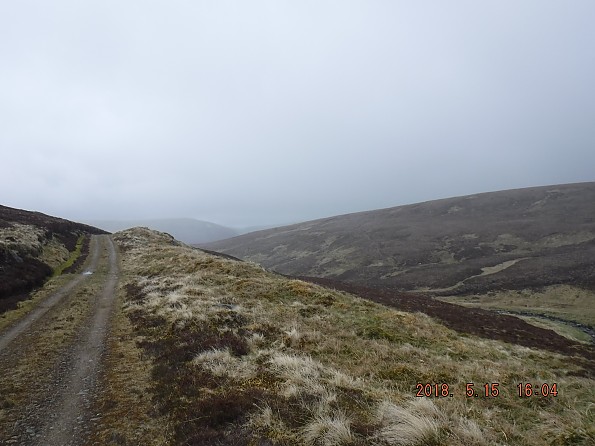 and made me feel like I was in Scotland again after 3 days of being mostly dry.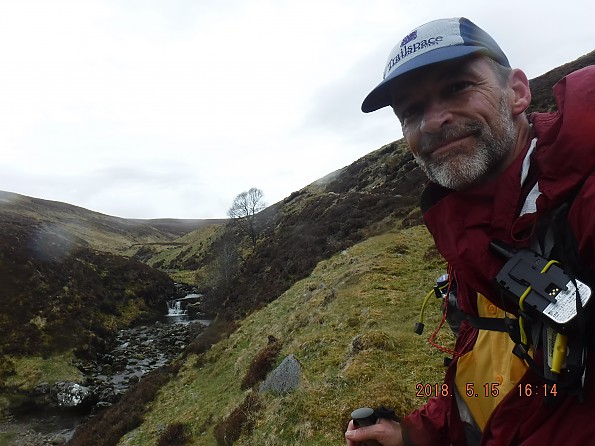 A wonderful but long walk down the Allt Odhar Beag and Allt Calder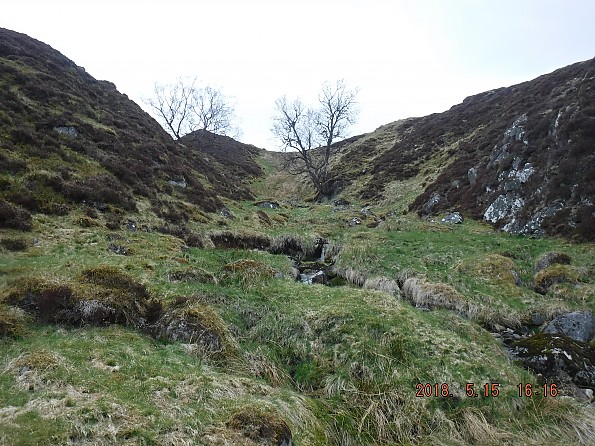 ended as I finally reached the River Findhorn at the end of a long day.  It took a while to find a flat camp spot, despite these photos, as the ground was typically hummocks of grass and/or wet.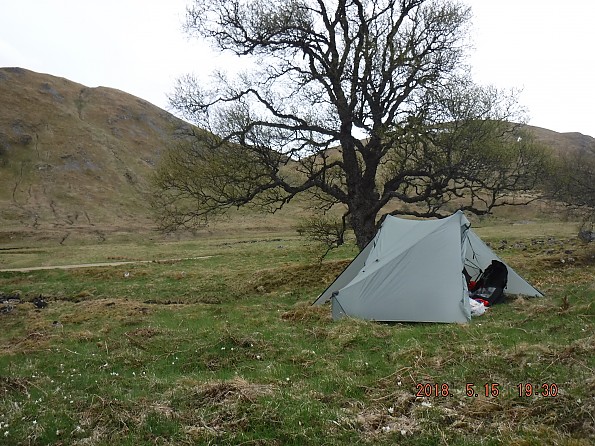 As I digested a great dinner, I sipped on cocoa (then a dram of whisky) and watched as three separate herds of about 100-150 red deer (total) descended on the valley to feed in the evening sun.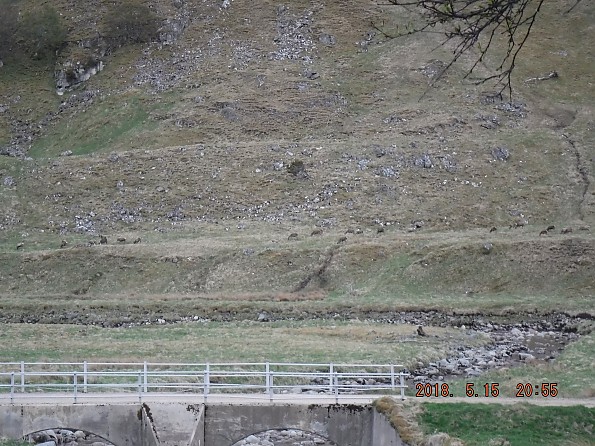 Now I know why all the deer fences are all over Scotland!
Day 6: River Findhorn to Kingussie
14 Miles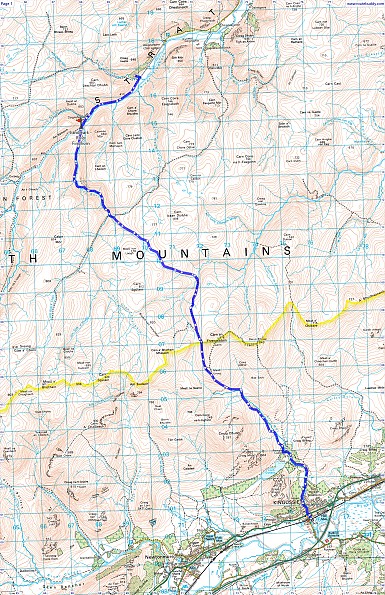 A beautiful morning on the River Findhorn and a walk up a land rover track (LRT) with views and a breeze.  Can't start off a day better!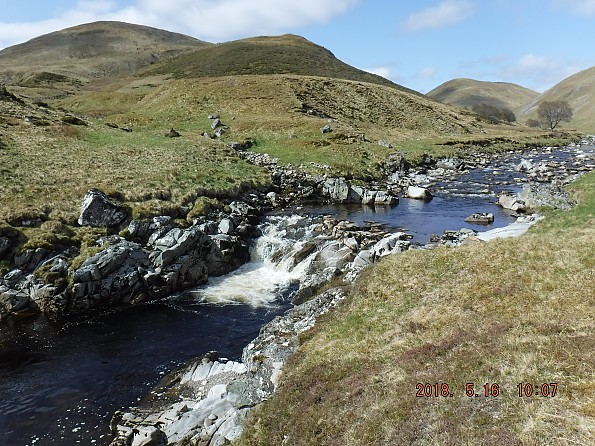 This is not a unique event…roll along a deserted valley and come across a lodge, in this case Coignafearn Lodge.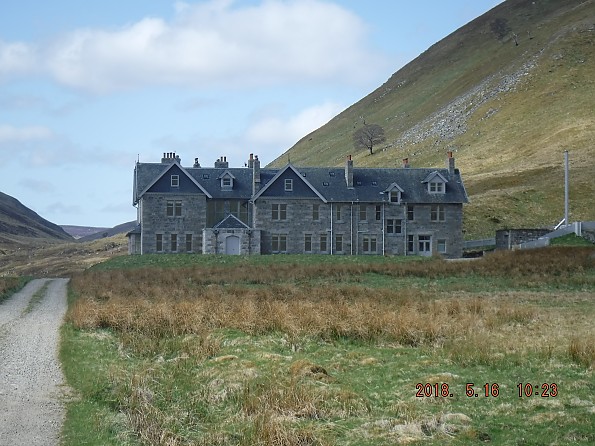 Crossing the River Findhorn was another major landmark for me.  Since it flows down to Forres, where I was born, there was a lot of nostalgia this day.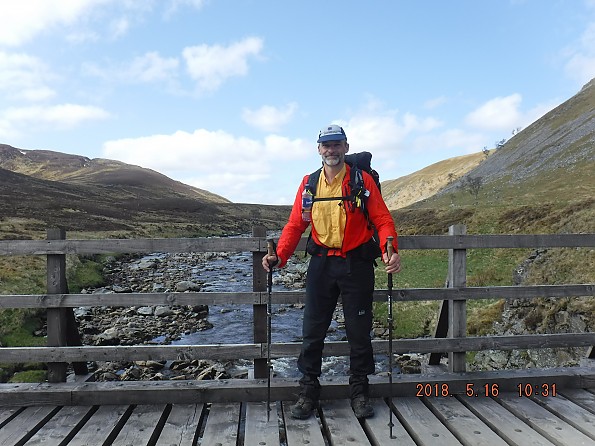 I followed the Elrick Burn upstream and had a wonderful day with great views of glens, streams, crags, and wildlife (all small – stoats, hares, rabbits, and grouse among others but all too fast for me to photo).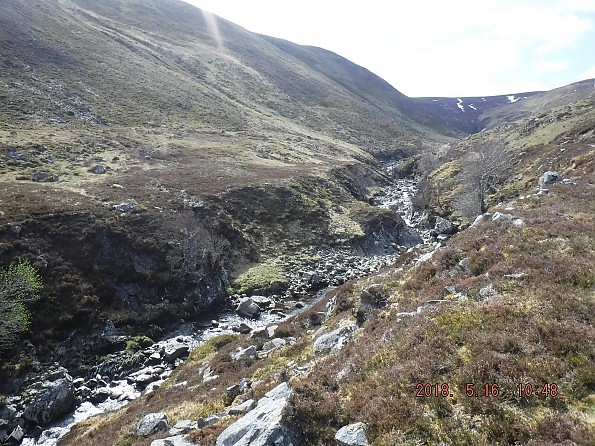 A lunch break and foot soaking on a long couple of days.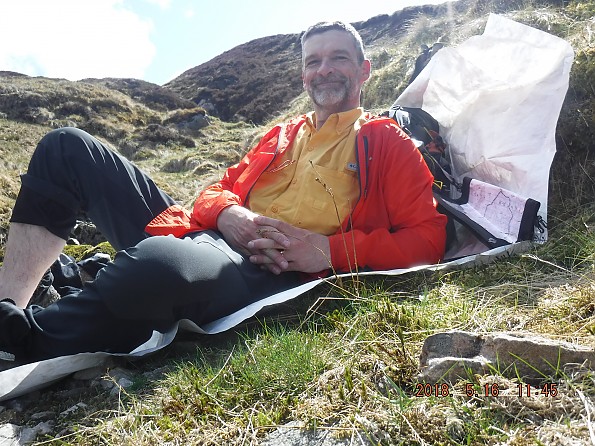 Followed by a walk past the last lingering snow and interesting melting patterns.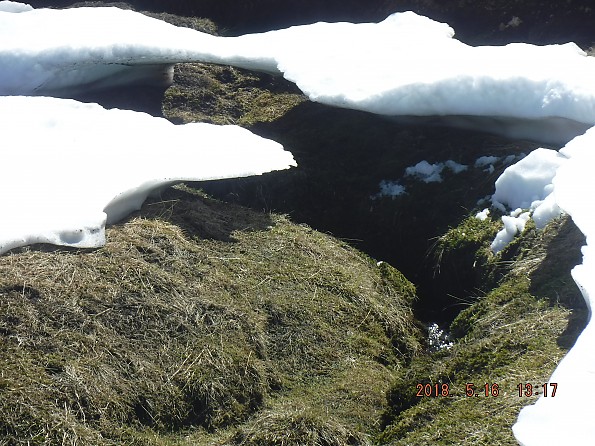 Another fantastic section of bog-hopping followed.  So here is why I like this kind of hiking so much…
Interlude – Bog Hopping
I would say there are three levels of route finding through bogs and wet highlands.  You need to keep the long-range goal in mind and sight one of the low hills in the distance that can get confusing especially in rain and mist – getting a bearing on a compass and keeping it triangulated are key to staying on track as you can't walk anywhere near a straight line.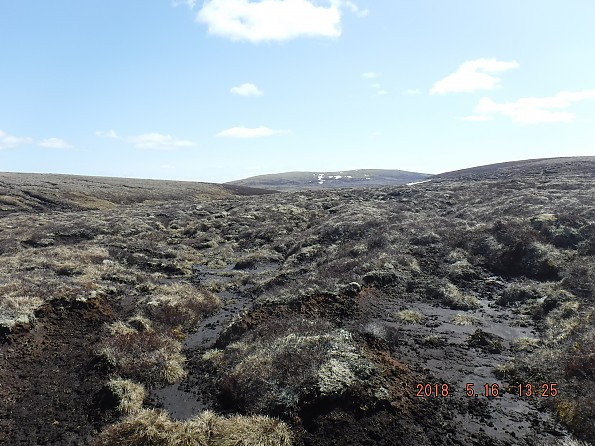 Then you need to pay attention to the mid-range route and avoid deep peaty drainages.  Some of these can be over 6 feet deep and suck you into the peat at the bottom.  Luckily this year was dry and the peat was a little more forgiving.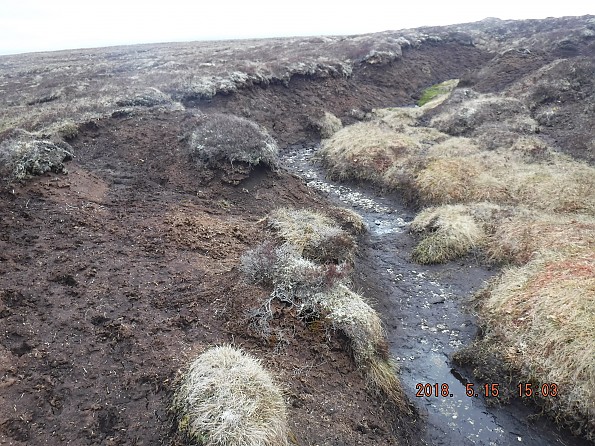 Finally, you have to watch every step while keeping an eye on the mid and long-range routes.  Walking through the heather and grass is not too bad but wet and hummocky.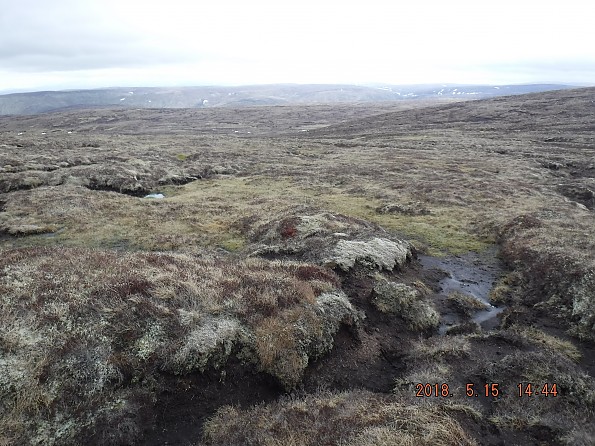 Staying in the greener valleys is easier walking but the stream often runs subsurface and there are a lot of spongy moss-covered areas you might break through.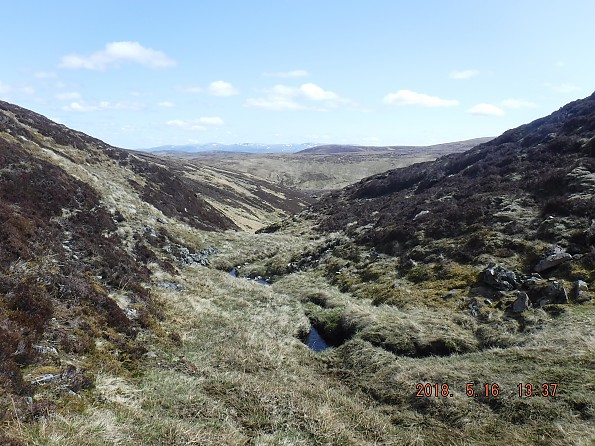 A combination and constant route revision is required.  Including sometimes back tracking a bit.  Absolutely the most fun and challenging (physically and mentally) hiking I have ever done!
Back to the walk…a descent down a wonderful stream valley (although there were a couple of steep and wet drops like this)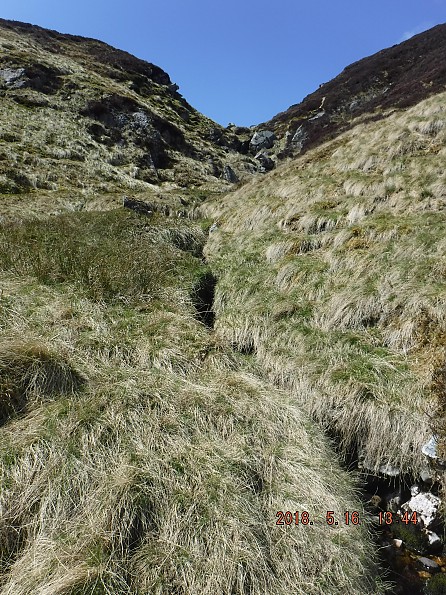 Led to a track along the slopes of Carn an Fhreiceadain to Meall Unaig and my first view of the Cairngorm Mountains.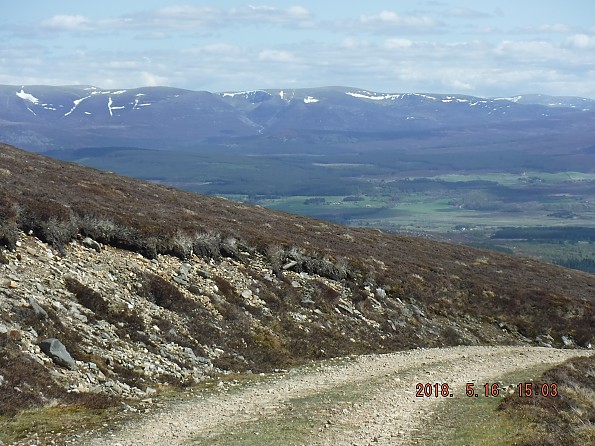 I was planning to camp by the bothy pictured here or a copse of trees down from it, but neither really struck my fancy.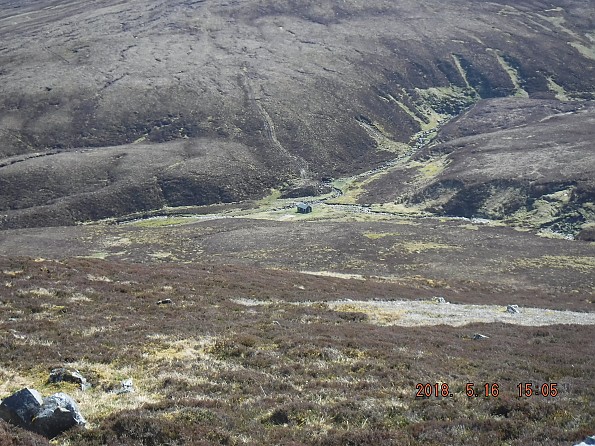 I kept descending along the Allt Mor toward Kingussie, where I planned to have breakfast and resupply in the morning, and never found a perfect camp spot so ended up walking all the way into town for a pint and dinner with other Challengers. I found the last room in an Inn near the Co-op food store and on my route (only $60 with full breakfast!).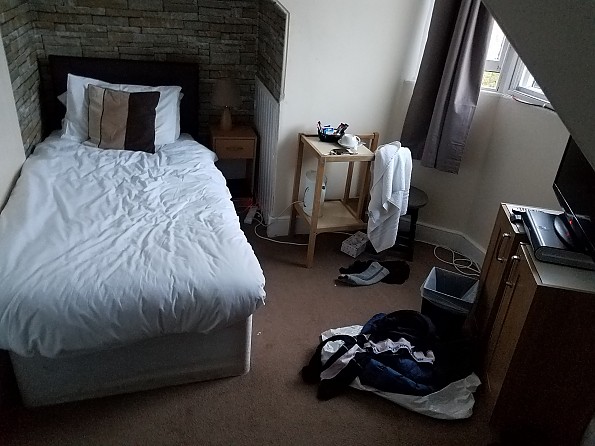 I highly recommend dinner at the Tipsy Laird with good company!
Overall a good but long couple of days since Loch Ness.  My legs were really giving me problems (ankles, knee, and the really bad blister) but I kept thinking of my mother fighting RA for 40 years with daily pain and it made my little complaints seem silly.  Nevertheless, I keep having notes in my trail journal about leg status and concerns that if it got worse it would be a long 100 miles to the finish if I made it.
Day 7  Kingussie to Glen Feshie
12 Miles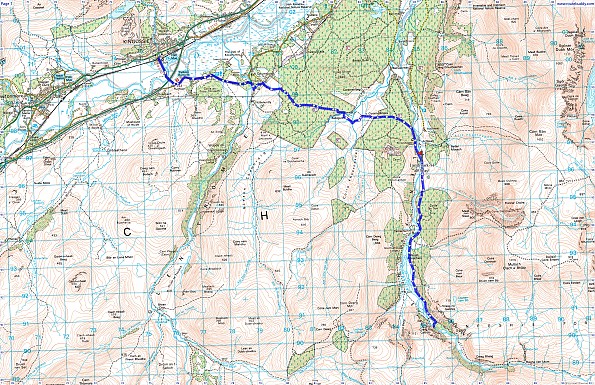 This was a big day for me for several reasons.  I reached and passed the half way point in the trip, entered the heart of the beautiful Cairngorm National Park, and had the first day since day 3 where the foot and leg problems didn't seem to get worse, and probably began to crest toward the afternoon.
After another full Scottish breakfast (I managed to have 5 of them on the walk) the morning walk out of Kingussie took me past Ruthven Barracks,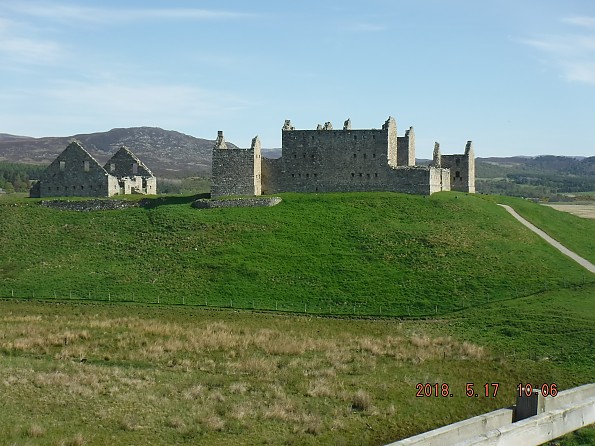 Farms,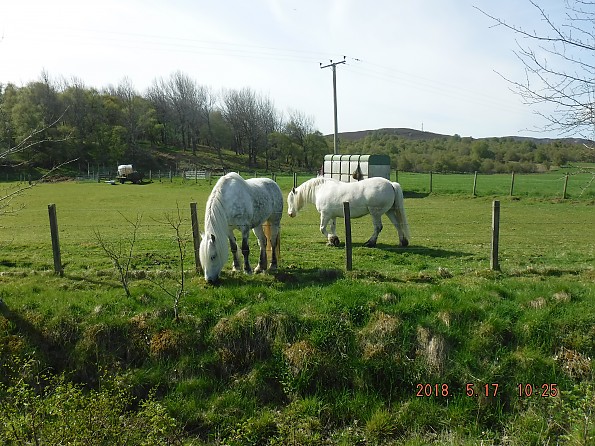 Old cottages,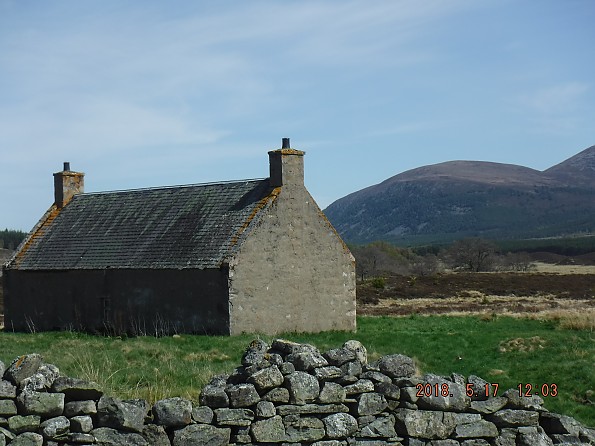 And into Glen Feshie on a timber road and paved – both still very pretty.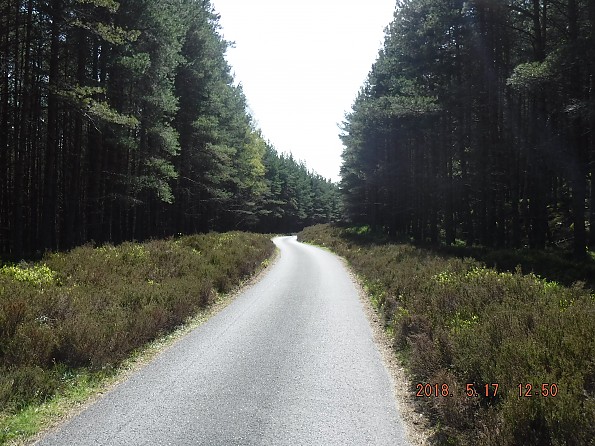 Finally I reached the River Feshie itself and took a nice lunch break with sausage rolls,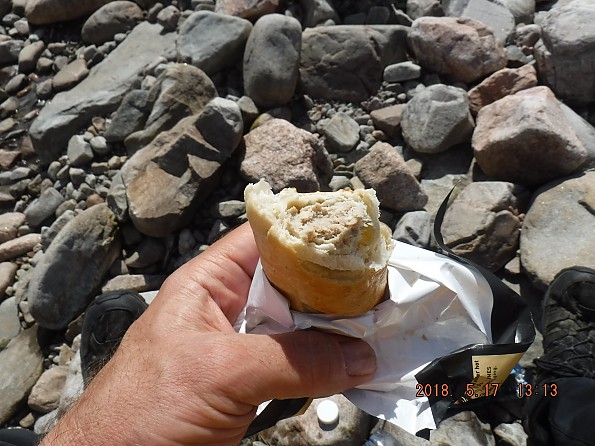 journal notes,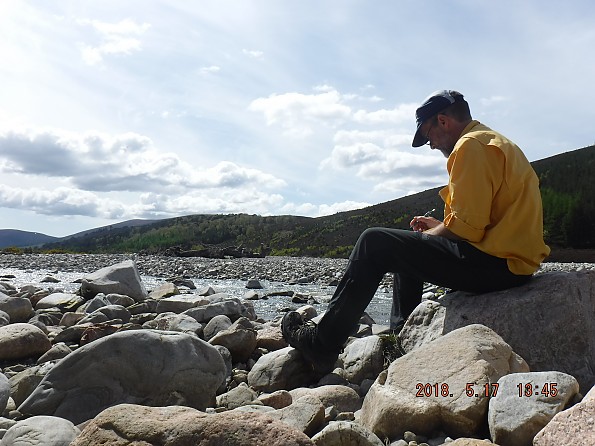 and a foot soaking.
The route was beginning to get crowded with everyone funneling down to a couple of primary options – the high and low routes.  I saw and talked to several nice folks along the way, but when a less used path appeared I veered off from the main route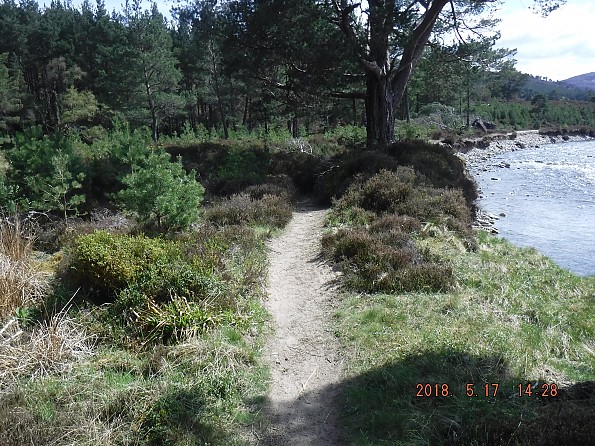 and walked quietly on my own past a missing bridge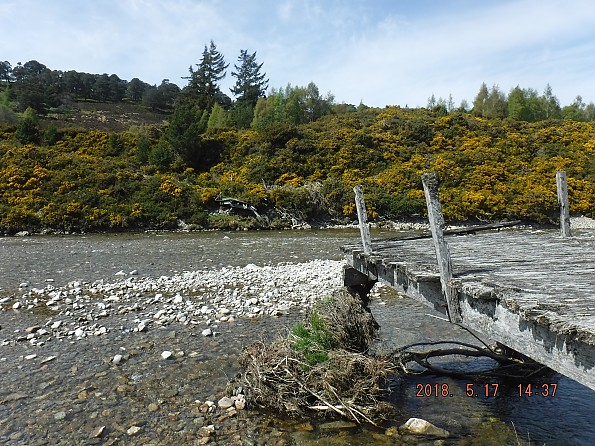 Up the Feshie to a beautiful spot in the Glen all to my own.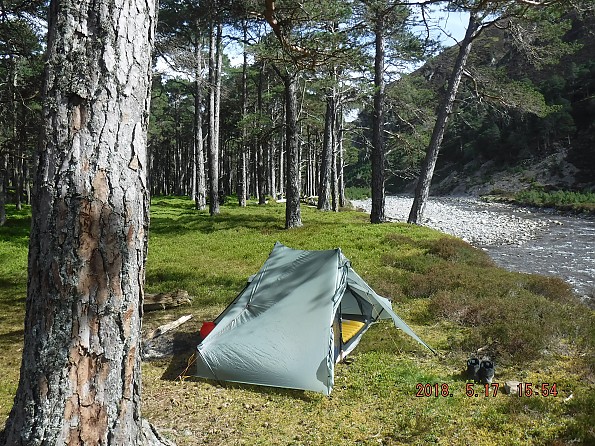 I thought this would begin the really crowded social part of my crossing, but managed to have a few nice quiet conversations but mostly keep to myself for another day.
Day 8     Glen Feshie to Linn of Dee
15 Miles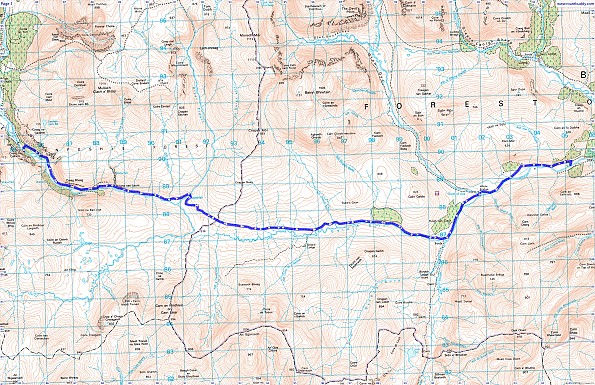 Once again a good start to the day with the 5th straight day of no rain and sunshine although nicely chilly to start,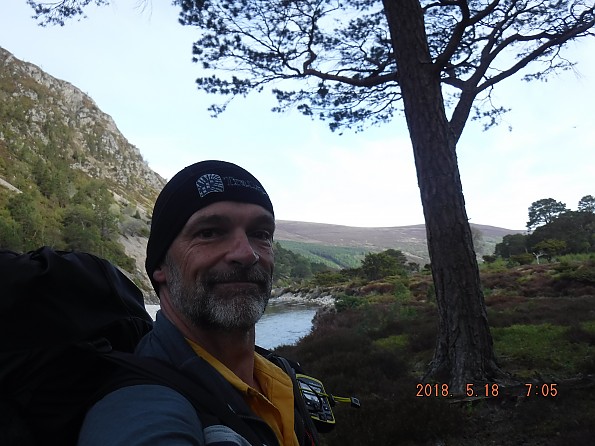 and my leg and foot problems definitely beginning to recede so I could stop obsessing on them.  I hiked past a few folks camping and then ended up walking for most of the day on my own interspersed with companions and good conversation. 
Views were once again wide open and incredible – my journal says they became "monotonous" as there was no break in them.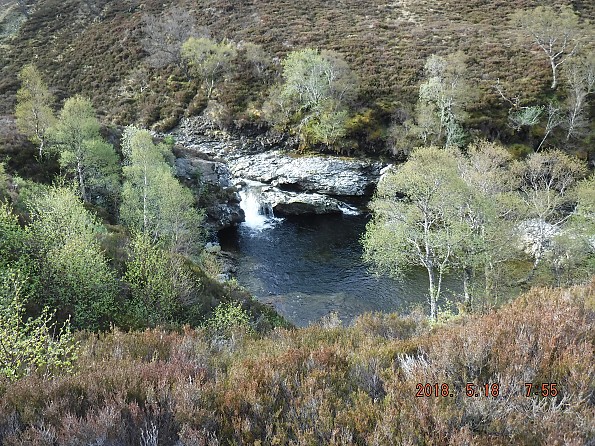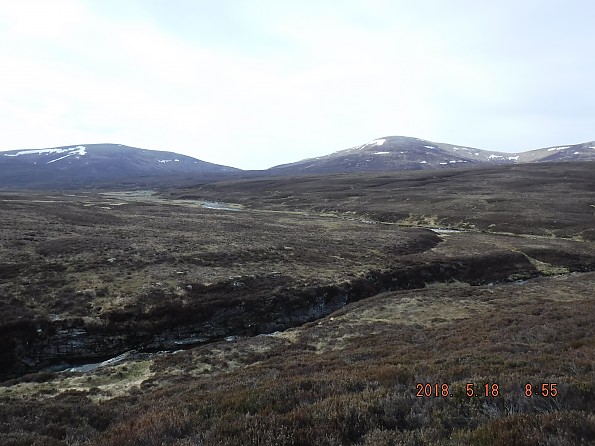 I followed the Feshie upstream then, not paying much attention as it was off to my right a good bit and I got distracted by a waterfall on a tributary.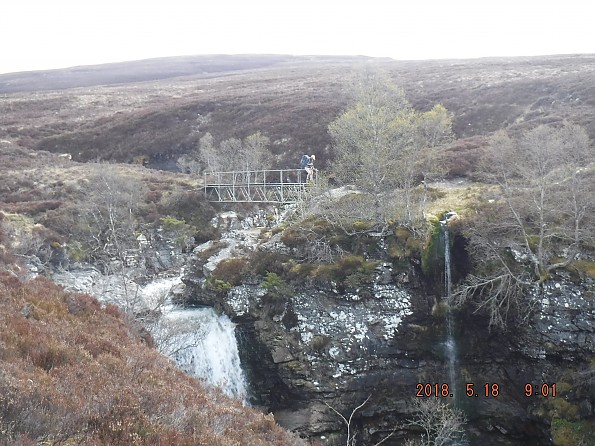 Suddenly, I noticed that I was following the river downstream!  No, I didn't get turned around, as more evidence showing how wet Scotland can be, there were two large streams that flowed out of the opposite hills within 1/4 mile of each other and turned in different directions!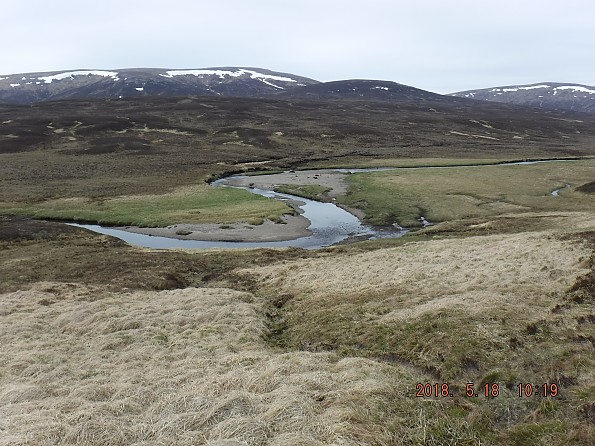 By lunch I was at my intended camp, Whitebridge, so I stopped for a nice lunch out of the wind with a view of the Cairngorms and my first seagull since the west coast!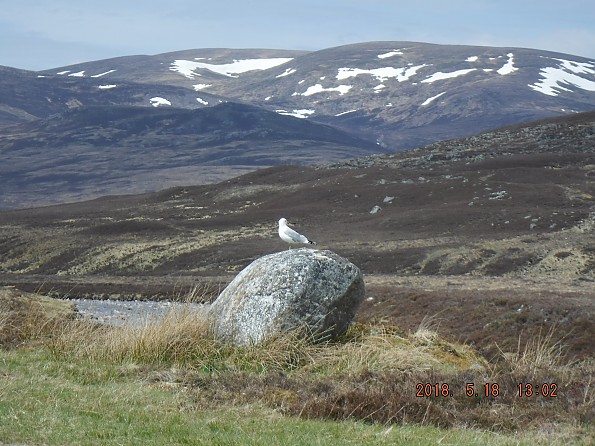 I decided to stroll a couple more miles down the track to see if I could camp closer to the road and make for a short hike into Braemar the next day.  I found a beautiful spot under some Scot pines and had the site all to myself that night to enjoy the sunset and sunrise the next morning.

Day 9    Linn of Dee to Braemar
7 Miles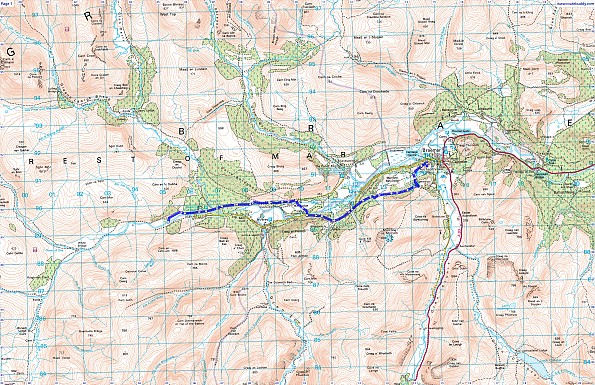 This was basically a short stroll into Braemar.  A pretty forest walk through Mar Lodge estate with welcoming signs from the National Trust for Scotland to Challengers,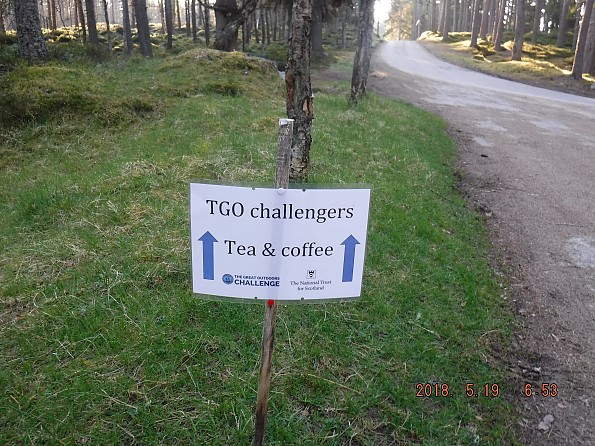 and in general for all walkers.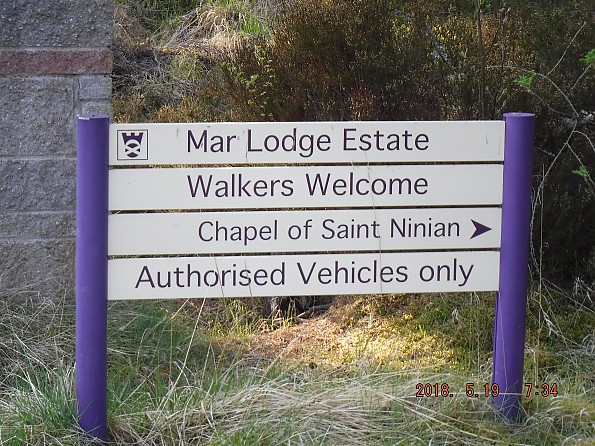 Mar Lodge is impressive but due to a wedding that day I didn't get to look inside at the infamous ballroom with hundreds of deer skulls (google this for a view).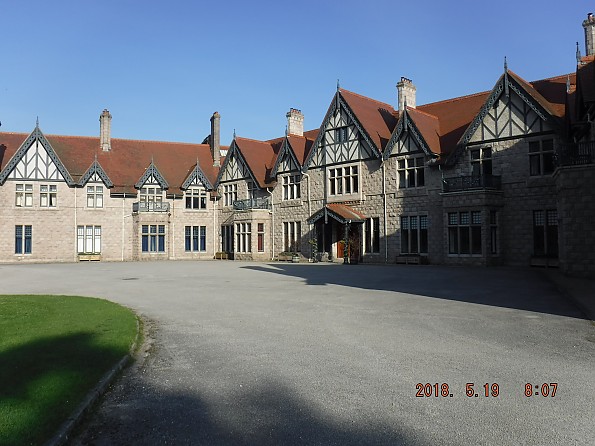 The estate itself is run by the National Trust for Scotland and is a nature reserve.  The staff provide tea, coffee, and biscuits every year for the Challenge and only ask for donations.  It's one of the many little unique aspects of the TGOC that make it different from other walks.
After coffee and a couple of cookies, I ambled my way off the estate with a few nice views back down the glen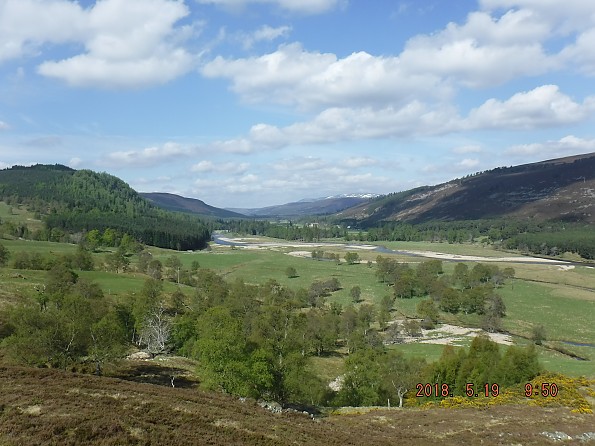 and up into the mountains.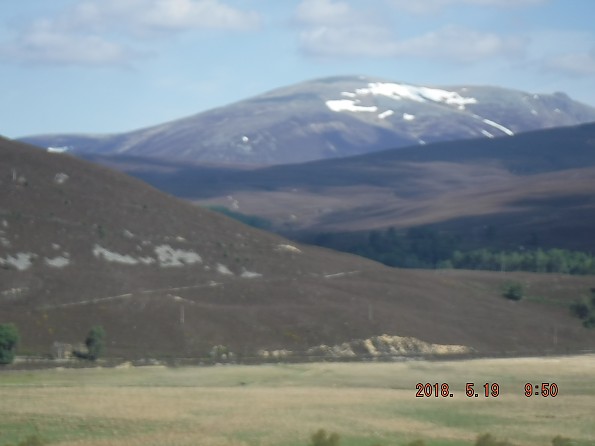 Then I veered quickly off the road onto a forest path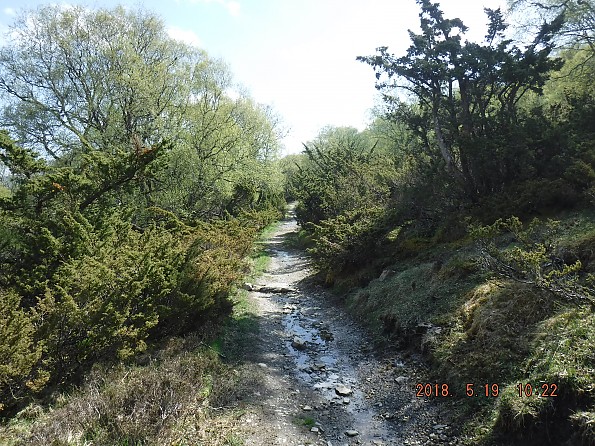 and had an enjoyable walk into Braemar the back way.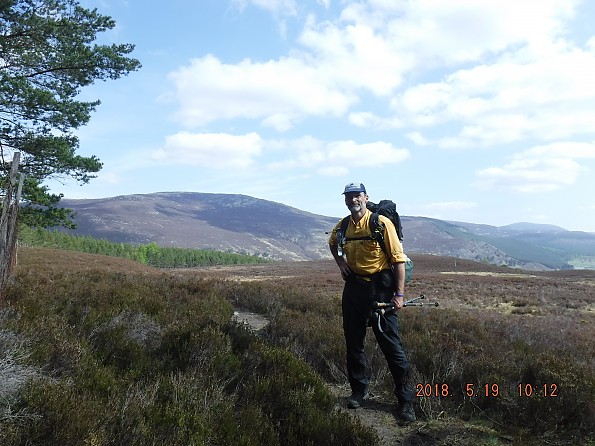 I arrived in the morning so dropped my pack off at the Moorefield House where I would be staying and wandered into town. Braemar has a little bit of everything for a walker including restaurants, pubs and a gear shop, and I enjoyed wandering through town. I cleaned the Co-op food store of all my favorites to create my heaviest pack load in years.  I followed that with a nice lunch (haggis fritters followed by a bacon roll) with an Australian challenger I had walked with briefly a few days before.  The remainder of the day I rested, drank a few pints, had dinner, and chatted with several other Challengers in various locations. 
Full, happy, re-supplied, and relatively healthy, I was ready for the final leg of my journey – the push to the east coast. 
To be continued…