10:51 p.m. on June 10, 2018 (EDT)
Phil Smith

1,310 reviewer rep
419 forum posts
In the past couple months I've injured my right knee, had a flare-up of plantar fasciitis in my left foot and Achilles tendinitis in my right ankle, so I haven't done much hiking. Friday evening a friend from a hiking group I'm in, Diane, texted me and asked if I wanted to go hiking Saturday. I said yes, of course, and was told to pick a hike. An easier NH4K would be good, but it didn't have to be a 4K. We have a Mt Washington group hike scheduled for June 24 so I figured something fairly strenuous would be a good test of our conditions. I narrowed the field down to Mt Jackson & Mt Pierce, and Mt Tom, Mt Field, and Mt Avalon. Tom/Field/Avalon ended up being the ones. 
We met in N. Conway Saturday morning, car-pooled to the AMC Highland Center in Crawford Notch, and started up the trail. The weather was sunny and breezy, with temps around 65F or so at 0930. This kept New England's notorious bug population down! I really don't like using insect repellent. Thankfully I don't get itchy bumps from mosquitoes, and often don't even feel them biting me. Black flies and deer flies are another story, though!
It was 2.2 miles from the trailhead up the Avalon and Avalon-Zealand trails to the 3-way junction of the A-Z, Willey Range Trail, and 0.6 mile Mt Tom Spur Trail to the summit of 4051' Mt Tom. The incline was fairly moderate but there were some really steep sections. Having a hiking partner to talk with helped here. There wasn't much of a view from the wooded summit of Mt Tom, but we managed to get a few pics through a narrow opening in the trees facing north. 
From there it was 1.5 miles to Mt Field, descending 350' to the col where the 3 trails meet before another steep 600' climb to the 4340' summit. This one was also wooded, but it had a pretty good view to the west at one spot. One of the things Diane & I had talked about was geocaching & letterboxing, so I thought it was really a strange coincidence when she saw one hanging on a tree limb.
From there it was 1.5 miles on the Mt Avalon Trail, all downhill, over 3442' Mt Avalon to where the Avalon & A-Z trails meet up. After that it was a pretty moderate 1.2 miles to the trailhead. There were 2 easy water crossings on the lower part of Avalon Trail, where Crawford Brook crossed twice. You'd really have to try to get wet here. Total distance hiked, 7.0 miles with about 2700' of elevation gain. It was a little more strenuous than I'd planned on doing but we were both glad for that since easy hikes don't tell you much. Plus, we bagged 2 4Ks, my 6th & 7th and Diane's 3rd & 4th (after Tecumseh & Moriah last Nov/Dec.) Neither of us are peak-baggers but not getting 2 that are so close together would make no sense LOL.
My plantar fasciitis had been getting a little more painful since the Mt Field ascent, but it was nothing I couldn't handle. If we'd continued another 1.4 miles after Field to summit 4285' Mt Willey I would have really been limping by the time we reached the trailhead! So Willey will have to wait for another day. I'm pretty confident that in 2 weeks my foot problems will have lessened enough to hike Washington. How I handle next weekend's hike and feel at the end will be the deciding factor.
To limit pain in my Achilles' tendon I bought a pair of hiking shoes last week, some Oboz Sawtooth, and ended up wearing them on this hike. I'd planned on changing to my comfy old Fugitives at the trailhead but decided to stick with the shoes, and in a reversal of how it's normally done I changed from shoes to boots at the end of the hike to give my feet a break. The Oboz were very comfy and gripped everything very well. I was impressed.
In no particular order, here are the best pics we took.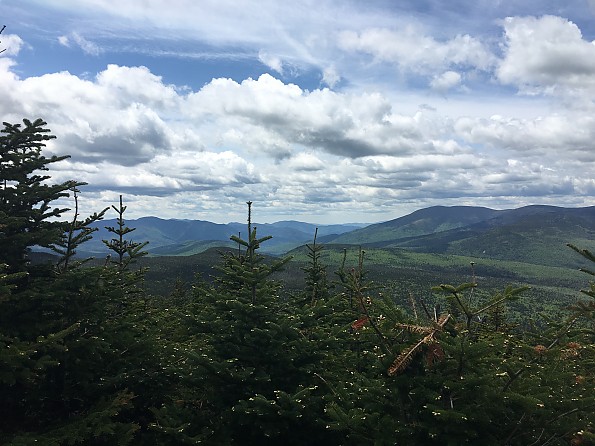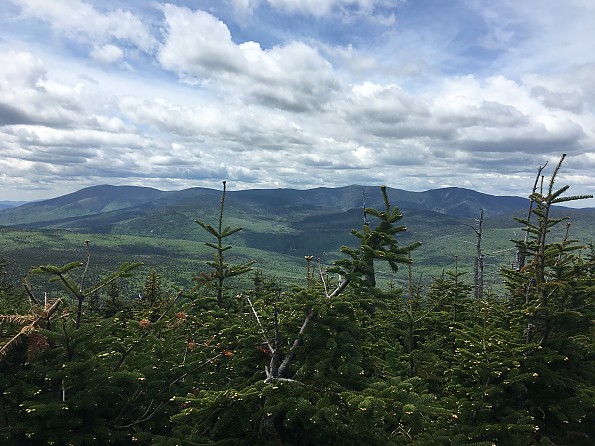 The geocache at the summit of Mt Field.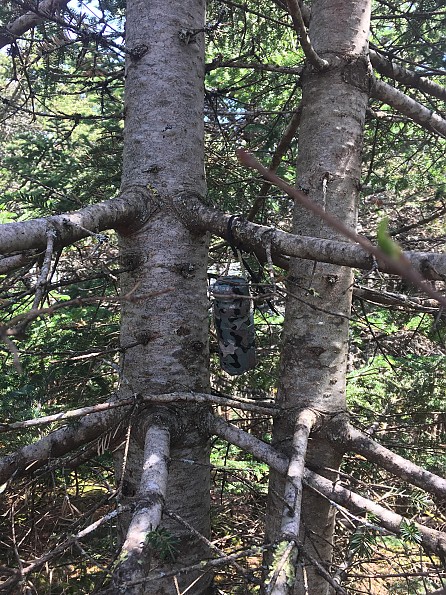 Looking west from Mt Field