10:06 a.m. on June 18, 2018 (EDT)
Phil Smith

1,310 reviewer rep
410 forum posts
Last week I decided I wanted to do another evaluation hike before hiking Mt Washington on June 24. I've been dealing with Achilles tendinitis in my right leg and plantar fasciitis in the left foot, the tendinitis is just about 100% cleared up but the fasciitis still has a way to go. Still, it was barely bothering me at the end of last weekend's hike, so I decided to give it a shot.
The Washington ascent will be done from the west, on the Jewell Trail. This is supposed to be a very rocky trail, so I chose a rocky trail for today's hike. My plan was to follow the Glen Boulder Trail in a generally westward direction, past the Glen Boulder, until it met the north-south Davis Trail that runs along the southern Presidentials. A short detour would take me to the top of 5500' Boott Spur, the southernmost sub-peak of Mt. Washington. Total distance, about 7.4 miles. It sounded like a good plan. They always do.
The drive up Saturday morning was uneventful, there were a lot of motorcycles on the road due to it being bike week in Laconia NH. This was an annoyance later on.
The trail immediately started going up and kept going up the entire way. This was good since it meant I didn't have to gain the same elevation twice, and bad because it made for a very strenuous hike. I doubt there was much more than a total of a couple hundred yards of somewhat level trail. The good? No bugs thanks to a pretty steady breeze, and the temp was mild at around 70F/21C. There was hardly anyone else on the trail, I saw maybe a dozen fellow hikers in all.
Above the tree line there were a couple boulder scrambles, I really dislike these because I'm not a big fan of heights AT ALL. Plus I have the ability to trip over almost anything LOL
By the time I reached the boulder my left heel was a little painful due to plantar fascia irritation, and I decided to cut the hike very short and head back down. I spent some time using a trekking pole strap in an attempt to stretch the fascia out a bit, with no luck. The views were spectacular, but unfortunately the peace and quiet was broken by the sound of groups of Harleys accelerating on the White Mountain Highway well over a mile distant below me. I swear some of them buy Harleys for no other reason than to make as much noise as possible.
The hike down was uneventful, but got more difficult due to pain whenever my left heel touched down. I started having to land on my arch or toes alone whenever possible, which was causing my big toe to hurt a little. Both big toes have bone-on-bone contact due to degenerative arthritis, but the right toe, even though it's damaged worse due to having been broken in 2 places and rendered nearly immobile at the knuckle over 30 years ago in army parachute school, thankfully wasn't painful. Same goes for the Achilles tendinitis in the right ankle. 
I eventually made it back down, walked out the stiffness from favoring the left foot, and wished I'd already taken the top & doors off my Jeep for the whole drive home. When I got home I had to take myself off the Mt Washington hike because there was absolutely no way I'd make it with my foot in this condition. In fact, I'm not going to be doing any hiking at all until it's as close to 100% as possible. 
Now for the pics! These are in sequential order from trailhead up.
Looking down the first stretch of trail. Why does it always look so mild from above?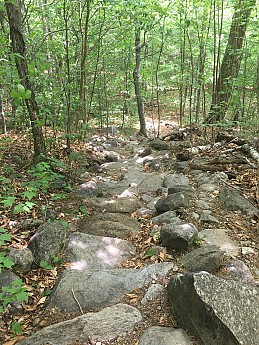 There is a trail there, somewhere. 

One of 2 or 3 stream crossings. None were more than a few steps across.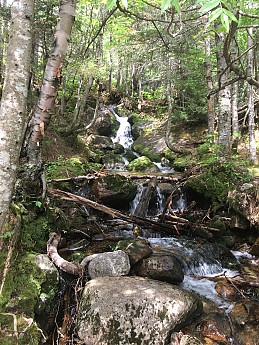 I have never been up such a rocky trail!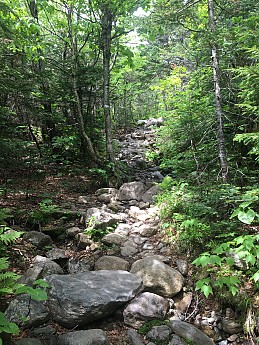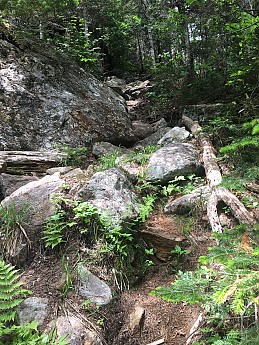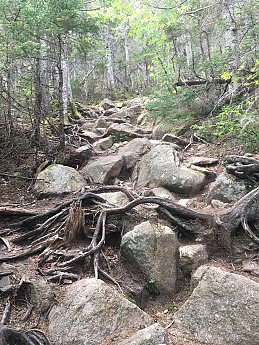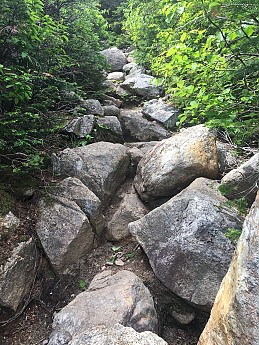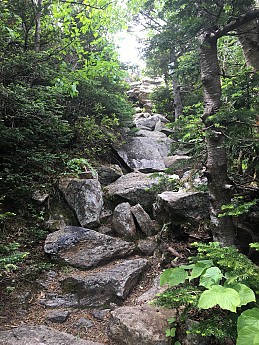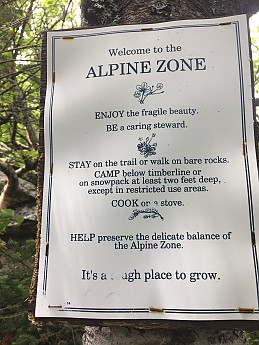 Exiting the tree line at the fringe of the alpine zone. The tenacity of life, as well as its vulnerability, amazes me.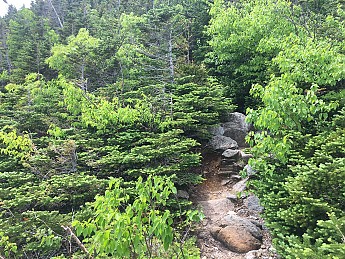 Getting closer. It didn't look so precariously perched here.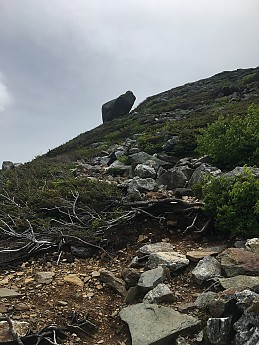 a
The trail up through the alpine zone. The alpine zone around the Glen Boulder is at a lower than average altitude for the area, beginning at around 3500' altitude. I'm guessing it's because the surrounding terrain funnels the wind here.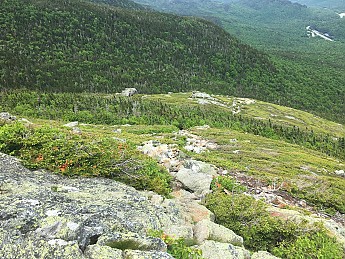 A view to the south, toward North Conway. The large mountain is 3268' Kearsarge North.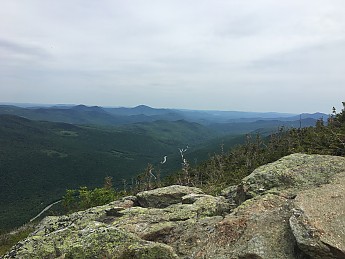 Snow just visible at the top of Tuckerman Ravine. Sometimes there's enough for skiing to be possible in June. My planned goal for the day, Boott Spur, is the low dome at the left. Betrayed by my own body!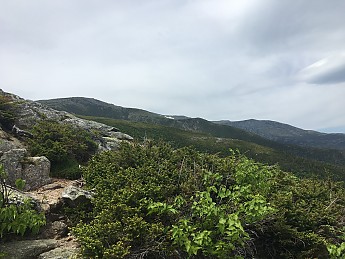 I really don't know how it ended up here. Apparently it's not a glacial erratic since it's made of the same stone as the rest of the area.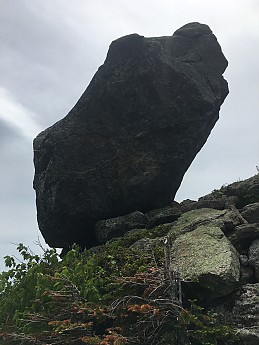 There are a lot of fissures, sooner or later water will freeze and break off a piece big enough to unbalance it.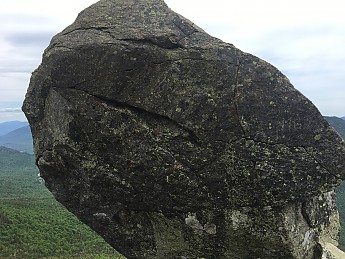 A friend says it reminds her of the guardian stones in Hawaii.