2:03 p.m. on June 19, 2018 (EDT)
Bentbrook

TOP 25 REVIEWER
REVIEW CORPS
4,436 reviewer rep
139 forum posts
After an especially trying end of a school year (I'm a teacher), I knew I needed some solo time in the wilderness for renewal. The NC mountains called to me, but the highlands in the west of the state were recovering from terrible flash floods, the sort that threaten dams and entire mountain valley communities, so I opted instead for the wilderness in my own backyard, the Birkhead Mountains Wilderness.
There is something restorative about being in familiar natural surroundings, and this is what Birkhead offers me. Because of its familiarity, too, it is an ideal gear testing location as I am able to concentrate on the gear's qualities. This time, however, I decided to do something a bit different. This would be my kitchen sink trip: I wanted to take a lot, a far cry from my usual less-is-more approach to exploration!
Behind this decision was my desire to revisit an old acquaintance, my 1980's era BSA Yucca Ranger external frame pack. To my pleasant surprise, I found that it had a rudimentary means of adjustment, something I'd never needed as a scout, but which I found useful now to accommodate my adult body. It had lived in a trash bag in my parents' attic for about 30 years, so I made some basic upgrades--new cordage to secure the top flat, some minor sewing repairs to reinforce suspect seams, and the addition of a homemade belt--the original did not have one.
I decided, too, that this old school trip would mean old school gear: my stainless steel cook kit, my brass Trangia stove, a stainless steel twig stove, my UCO candle lantern, and more. This was a more is better trip, so I threw in a stool, a saw, an axe, my GSI aluminum camp table and loads of other things. With steak on the menu for the first night, this was meant to be an indulgent trip!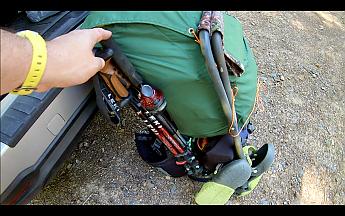 I have to say it was with glee that I packed the old thing. Lots of memories of the sort one learns by in the outdoors were attached to travels with this pack's stout frame--beef stew minus the potatoes that fell off the mountain side; the discovery that no, the pack was not waterproof; a hard lesson in a downpour on a precipitous, muddy slope about why the blue jeans of my youth were not optimal pants for backpacking. My delight stemmed not only from fond memories of youthful folly, but also of the joys of packing a frame pack. I found some straps and crammed top quilt and underquilt into a compression sack, lashing it onto the frame below the pack. I slid a hatchet handle into these straps, too, then lashed trekking poles to the side supports, Crocs to the other side, and so on. The result was a very full but neat pack, far better packed than it ever had been in my youth.
When I put the pack on, it rode well, but I was aware of the pressure on my shoulders that  was imperfectly relieved by my makeshift waist belt. If I was to put this pack back into my rotation, I'd need to get a more suitable belt.
Day 1
I hit the trail in the Uwharrie National Forest at the Robbins Branch trailhead.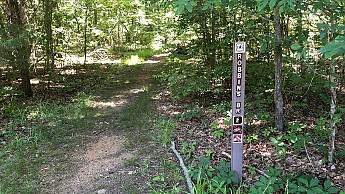 A pleasant, even path snaked through the mixed forest before angling toward the creek and entering a predominantly pine forest. At this point the trail turned into a bit of a roller coaster, with modest inclines and descents as the Uwharries ancient stones--rhyolite, quartz, gneiss, schist and other metamorphic and igneous rocks--began to poke through the duff, the forest changed again, and views of the 500 million year old Uwharrie Mountains appeared along a ridge as I descended toward Robbins Branch Creek.
My plan was to go to a site I knew of, probably developed in the 1970's, just a few hundred feet upstream from the confluence of Robbins Branch and Hannah's Creek. Here I would establish my base camp and then take day hikes out of the camp to other places. This campsite, perched a few feet above the creek level on a flood plain offers sandy soil underfoot, a thick canopy of holly trees and older deciduous woods, and the pleasant gurgle of the creek tumbling around ancient rock formations. It is a site that sees frequent use, and as long as I've known of it it has had some form of log seats surrounding its elevated fire pit. With the option of hanging near the creek, I hoped to take advantage of any summer cool the low, creekside location could provide as well as any shade the canopy might offer.
Accordingly, I veered off the Robbins Branch trail shortly after I crossed its namesake and headed into the lowland woods.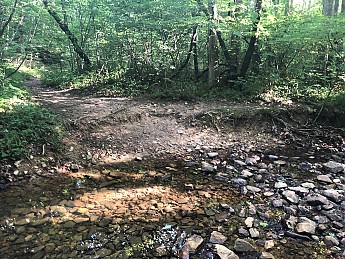 I soon arrived at the camp and eased the pack off my shoulders. I began to make myself at home, adding a few temporary luxuries like a corner table lashed across the seating logs by the fire pit and a simple pack rack lashed to a pair of holly trees. A paracord line provided me with options to hang my candle lantern, air out smelly socks, or dry things.
I was hungry, so I quickly extracted my Bushbox XL stove, set it up to accommodate my Trangia, and soon had my GSI kettle bubbling at full boil. The Bushbox is heavy, but perfect for this sort of trip and multi-fuel capable: it works brilliantly with the Trangia. My lunch was a dehydrated vegetable biryani meal I'd picked up at my local grocery store, dehydrated on a lark to see if it would be well suited for a backpacking meal. The dehydrated food I packed in a PackIt Gourmet Cook-in-Bag pouches, and soon I added the water. The result looked like some dismal, stagnant swamp water, but I shook it up, popped it into a cozy, and went off to set up my hammock, hoping for the best.
Soon my Warbonnet Blackbird XLC was strung up on whoopie slings by the creek, offering my evening and morning views of the creek running away into the woods and the perpetual gurgle of its riffles as it moved around the old rocks that were part of the river bed.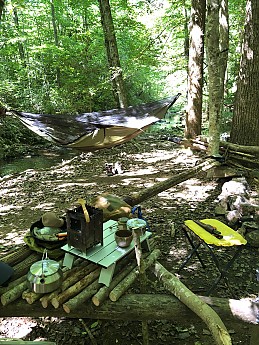 My second glance at my lunch was more promising: the swamp goo had turned into a more palatable rice dish, although after a swirl with my spoon I knew I needed to wait a bit more for rehydration to finish. Off I went to the creek, and soon I was watching my water bottle fill with purified water, courtesy of my Sawyer Squeeze gravity feed system. I love this system, which greatly simplifies water purification. By the end of the trip I'd created a little rock table to hold my water bottle, so I literally could hang the Sawyer system from a tree and walk away, returning to a full bottle a few minutes later. My Katadyn Hiker Pro now languishes in a drawer.

By the time I sat down for a late lunch I was tired. My meal was now rehydrated, and opening the pouch I was greeted with so inviting and evocative a smell of biryani that I was instantly transported to India 27 years ago when I spent four months studying and traveling across the subcontinent.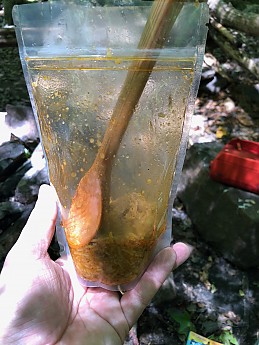 The meal had worked well now that it was rehydrated, and the flavor was rich, intense, and more than a bit spicy. It was delicious! My water was a welcome accompaniment, but I welcomed the sweat that the peppery concoction produced on my forehead. It was cooling.
The afternoon was hot and drowsy, and I had little energy for even contemplating a hike, so I busied myself with collecting and preparing firewood, rearranging the stones of the firepit to accommodate my Blaze Bushcraft grill, and readying my camp for evening. Ann hour or two passed. All this I did at a lazy, unhurried pace. I wanted to embrace my complete freedom from any prescribed schedule over the next few days. My UCO candle lantern I hung from the paracord over my log table, and my trash bag I hung from a nearby tree on the perimeter of my campsite. I set up a bear bag, although rodents, coyotes, and raccoons were the only varmints I needed to worry about.
After feathering split food to make curls for tinder, I lit my fire with a ferrocerium rod struck with the back of my knife and watched with primal satisfaction as the flames leapt up into the quickly darkening night.
Then I just sat.
For the better part of an hour, I simply listened to the creek, the occasional pop of the fire, and the chorus of summer night sounds about me.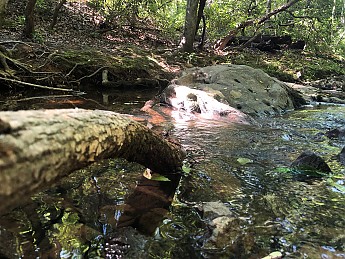 I let my mind parse out each insect, frog, or bird voice, savoring each sound in turn. Then my thoughts turned to the Revolutionary War cemetery on the hill on the opposite side of the creek from me. I thought of these mountains' history, of their inhabitants ten thousand years ago whose knapped rhyolite points were often found along these creeks and in these hills.
At last I roused myself from this pleasant reverie to start dinner of inch-thick ribeye and loaded mashed potatoes. I poured water into my kettle, quickly boiling it for my potatoes, which I mixed in my MSR Stowaway Pot and set aside for later. I had leveled two rocks to support my grill over the fire, and now I dropped my seasoned ribeye on the grill, marveling at how its inch-thick expanse almost completely filled the grill's surface. This was going to be an amazing dinner!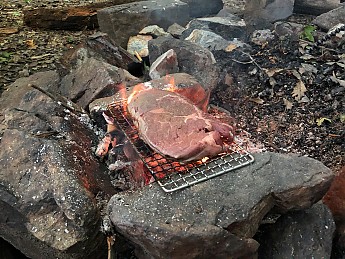 My fire collapsed into glowing coals, the last vestiges of faint light disappeared from the patchy sky, and darkness fully enclosed my camp as I set about eating my dinner. I spooned mounds of loaded mashed potatoes on top of my steak, letting them soak up its juices, and for a long while I savored how soul-uplifting it is to cook a meal over a fire and enjoy it outside. With eat bite I felt my body let go of tensions I'd felt for weeks during the ever-hectic close of school.

I completed my evening chores in a contented languor by the light of my candle lantern, hanging my food and trash, brushing my teeth, and readying myself for what I hoped would be a heavenly night's sleep.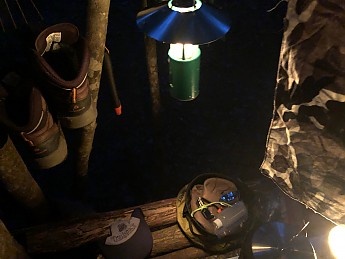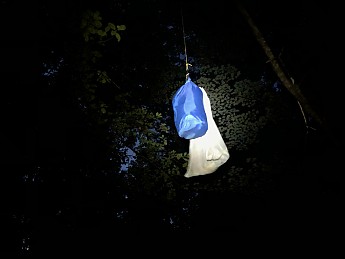 Climbing into my hammock, I lay back and closed my eyes, listen to the creek as its gurgles and burbles played tricks on my ears, becoming playful distant voices that lulled me to sleep.
Day 2
At dawn the birds awakened me, and I looked up through the bug mesh of my hammock to see the early morning light beginning to cast the leaves into silhouette. Nature called, and I answered her. The morning was brisk, a surprising 59˚ F!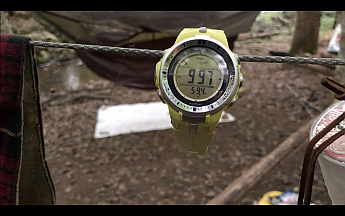 It felt amazing. I retrieved my food bag, set my water on my Trangia to boil, and contemplated myn options for the day ahead.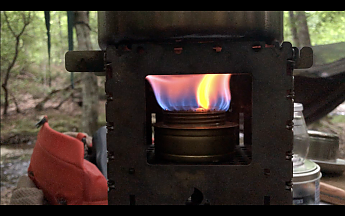 As I sipped my Medaglia d'Oro instant espresso, feeling coherent thought gradually take over, i decided to make a quick twig fire to toast my naan (Indian flatbread). Breakfast was naan and Mountain House Scrambled Eggs, the latter dosed with a healthy amount of real bacon bits I'd brought along.
The morning was cool and filled with animal sounds, and again I found myself drifting into a pleasant reverie. Shinrin-yoku, I thought--the Japanese idea of "forest bathing." I was slowing down, letting my body revert to natural rhythms.
I soon packed my REI Flash 22 daypack and set out for a distant target, another old campsite in the northern part of the wilderness that was established in the 1970's by Boy Scouts. I'd never been there, and I was curious to see what it was like. It appeared to be at the end of a trail that dropped off the side of a ridge and which promised a possible water source, too. With lunch and snacks packed and a liter and a half of water, I hit the trail.
I returned to Robbins Branch trail, heading east, but almost immediately opted to follow a shortcut trail that angle northwest up the backside of a ridge. I passed an overgrown grassy glade, inexplicably appearing in the middle of thick forest, then an outcropping of huge, spectacular rocks.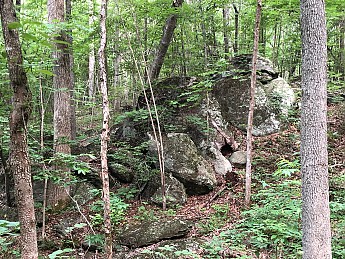 The woods kept changing about me, from mixed forest to mature hardwood forest to more emergent pine forest. The Uwharries had once been more or less clear cut before President Kennedy declared the area a national forest. Now it is beginning the slow process of returning to thickly wooded mountains. The area is filled with signs of former inhabitants--tumbled stone chimneys, old and crumbling retaining walls, and--most interestingly!--the remains of several gold mines from the era when North Carolina was at the center of the nation's first gold rush.
I thought I'd been on this trail before, and in fact I had, but I had not followed it to its terminus. Consequently, I blithely assumed that I was on a different trail and soon became perplexed when the topography did not match my recollection of the trail I had been on to its end. I paused, consulted a map, and discovered my error before moving on. I felt the joy of discovery that always accompanies travel into new regions.
The morning warmed quickly, and before long 80˚F heat burned off the heavenly cool that I'd enjoyed with breakfast. I cam to a stone cairn marking the junction of the shortcut trail I'd been on with the Birkhead Mountain Trail, and this latter trail I now took, heading north. I begin to notice and photograph the diverse array of mushrooms I saw along the trail, pausing often for pictures.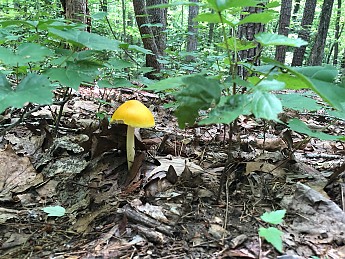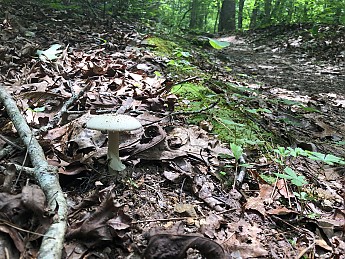 A sudden incline surprised me: though these are old mountains, they still offer some steep ascents, and now an abrupt uphill climbed hundreds of feet in a straight line toward the crest of ridge.
Art the top I came across a different old scout camp, this one complete with a stone fireplace but lacking any source of water. A nearby trail peeled off the back side of the mountain, indicating another old scout site 1.1 miles distant. I'd been there before, a venerable sire nestled on the slope of a hill with a nearby spring and towering hardwood trees looming above. Winded and thirsty from my climb, I paused for some jerky and water before continuing north again.
Some time later I arrived at another split in the trail, this time off of Cooler's Knob Mountain. This was the camp trail I sought as my goal for the hike. I followed the trail down the mountain side, walking on a firm mat of moss that covered the entire side of the mountain. A loud buzzing alerted me to a hornet on a log, and as I watched he disappeared within a hole in the log. I opted to give this log a wide berth, going off trail briefly before rejoining the trail on the far side.
When I arrived at Camp 1, as this site was called, I found myself in a hollow near the bottom of a fold in the west side of Cooler's Knob Mountain. The area opened up slightly, and I spotted the old fire ring. An aluminum sign attached to a tree announcing this as site 1, built in the early 1970's by a local scout troop. Another 40 feet lower I saw the sparkling curl of a creek, the water source for the camp, but from my remove it looked like an area ripe for bugs. Though beginning to run low on water, I opted not to descend further.
I had been looking downhill at this point, but when I turned to ascend the side of the mountain, I struck forcibly by a feeling of antiquity. This western side of the mountain was cool and dark compared to the ridge along which I had been hiking.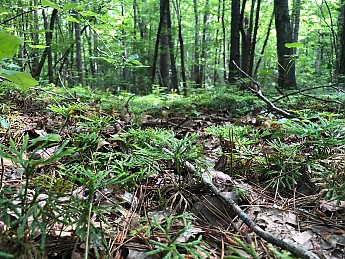 Moreover, its trees and shaded slopes felt like mountains, a feeling which can at times be curiously elusive in the Uwharries: these peaks, once Alp-like and reaching 20,000 feet in height, have been worn down over millions of years to a maximum height of a little over 1000 feet, though they still retain a mountain character. Here, though, was the secluded camp, bordered on two sides with steeply sloping woods that felt like the state's more lofty western regions. I understood immediately why this spot had been chosen by kindred souls decades ago.
Lunch was a simple affair of cheese, olives, and rosemary bread eaten back atop the ridge.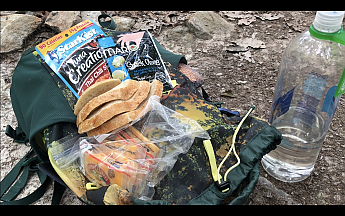 My water was now quite low, but I remembered that most of the uphills lay behind me (a faulty recollection, as time and trail would tell). Refreshed from food and a break, I returned to the trail, now heading southbound, hiking along at a good clip, passing the cairn that marked my shortcut but opting to continuing south toward the junction with the Robbins Branch trail. En route I passed a sign erected by scouts commemorating the Bingham Plantation, a homestead built in 1700's when this portion of North Carolina was "the west." I knew the family graveyard to be found amid the woods east of me, but the heat was by now taking a toll on me and I wanted nothing more than to return to camp and soak my feet in the cool water while I drank water to my fill.
As I hiked, I marveled at the lightness of the REI Flash 22. It felt barely there, yet it was fully featured and had been working perfectly for me during this excursion. I had hung a 1.5L water bottle on the sternum strap using an AquaClip, and this combination of pack and bottle was ideal for the sort of hiking I'd been doing. The print that I had gotten was labeled as Canopy Print Sunrise, evidently unpopular by virtue of having a photographic image of sunrise through a canopy printed on the fabric, but I rather like the image and I love the pack, especially at the pittance that I paid for it during a sale.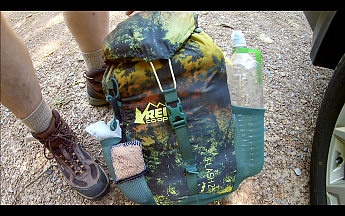 With visions of camp in mind, I kept my pace swift and deliberate, pausing briefly to hello to the only people I'd see in my four days in the woods, a couple stopping for picnic lunch along the trail. Back at camp, I acted on my plan. I cannot tell you adequately how heavenly it felt to drown my aching and hot feet in the rapids of the creek!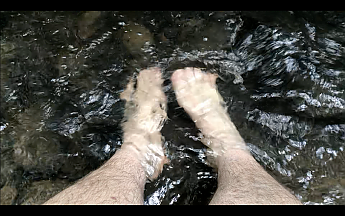 A feeling of sleepiness stole over me, and soon I gave in to it, falling asleep in my hammock to the perpetual gurgling of Hannah's Creek.

I awoke in the late afternoon, hungry and ready to experiment with a upside-down fire. Accordingly I built a neatly stacked fire lay, igniting it to stave off evening bugs while I readied my Trangia and my kettle for dinner.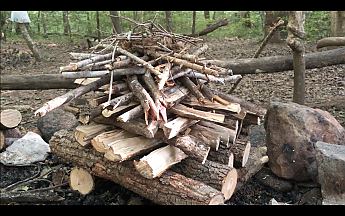 Tonight's dinner was Packit Gourmet's Ramen Rescue with a can of sardines for a little extra protein. I ate the sardines first, with trepidation: I had first eaten them in Europe more than twenty years before on a backpacking tour. Being broke, I sought cheap foods, and sardines fit the bill. I actually remembered those sardines fondly: the French versions I tried were prepared in Mediterranean styles that made them quite tasty. But now, years later, I looked into a can of scaly miniature fish and oil with a few sliced olives with considerable reservations. I sniffed the can. Big mistake. I gave myself a moment to summon my courage, then I took a big bite.
Not as bad as they smelled, was m y first thought. The texture was okay, as I remembered it. But these were nowhere near a tasty as the ones I'd had in Europe. Oh, well. I dutifully finished the can, drowning it with a big swig of water before turning to my noodles.
I added the vegetable mix to my Ramen noodles and the provided pack of Sriracha hot sauce, and soon I was eating a fabulous "rescue" of the Ramens.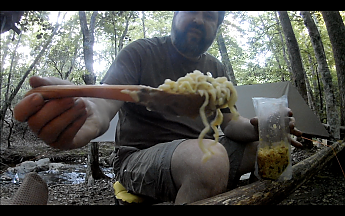 Packit Gourmet has infused an Asian flavor to this meal, and the result is that I found myself eating yummy vegetables mixed in with my noodles, all flavored with delicious Asian seasonings. Highly recommended! It utterly transformed my cheap noodles in wonderful ways.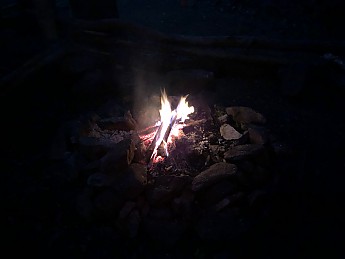 The day ended with the creek's babbling voices lulling me into a deep sleep.

Day 3
The next morning was warmer than the previous one, but still cool. I watched as the first rays of sunlight began to peep through the foliage, striking trees across the creek from me.

Breakfast was to be a big meal today, Packit Gourmet's Cheddar Jalapeno Biscuits and Gravy. I'd waited to do this until today so that I would have time to clean up afterwards. My plan for the day was to hike along a new trail I'd not ventured out on previously, but I knew from my map that it would not be as ambitious a hike as my previous day's trek.
Some impulse made me start a twig fire and begin the make the meal before I'd had any coffee. I would rue this decision shortly. I pulled two packs out of the Packit Gourmet pouch: one must be the gravy and the other must be the biscuits. Staring vacantly at the ground, I waited for my kettle to boil over the fire and then guesstimated the prescribed amount of water, adding it to the pouch I assumed was the biscuit mix. I shook this up and placed it in the cozy, turning next to the gravy mix and adding water to it, too.
Adding a half a packet of provided olive oil to my stainless steel skillet, I then tried to dump globs of biscuit dough into the pan--except that it ran out of the pouch like melted ice cream. Maybe it will thicken, I though; I can live with pancake-like biscuits.
At this point I finally took my first swig of coffee, followed by many more as clarity of thought gradually asserted itself. It dawned on me as I felt the gravy pouch that here in my hand was the biscuit mix, and there in my pan was gravy, thickening up in the heat of the fire. Immediately I went into rescue mode, adding water, trying to thin the gravy. I then added the biscuit dough and the rest of the olive oil, stirring it all together desperately. Sorry swept over me when I thought about how my vision of golden, crisp biscuits was now just a dream.
Amazingly, the meal cooked. Instead of golden biscuits topped with rich gravy, I had something more akin to scrambled pancakes infused with gravy. The result was clumpy and crumbly but definitely fully cooked and, upon tasting it, absolutely delicious. I will try this meal again when I have had a few cups of coffee! It would be truly heavenly, properly prepared, on a cold fall or winter morning. My impression of Packit Gourmet meals from this and past trips is a good one: they are thoughtfully prepared, nearly foolproof (even sans coffee), and deliciously flavorful.
The morning's like, once again with water bottle and lunch and my REI Flash 22, got off to a later start than the day before, and the temperature was already warmer as I set off. Today I sought the southern boundary of the Birkhead Mountains Wilderness. This meant retracing part of my return hike from the previous day before veering south toward a significant creek crossing and uncharted territory.
My first stop was at another campsite I'd used before, the one where I encountered the couple the day before. I always wander into this camp because it seems to change and shift a bit. It is marked by the collapsed pile of stones from an old chimney, but what caught my eye today was a long, bright orange strand of paracord hanging from a tree. Moving closer, I found a bear bag hang gone awry. At the top, wrapped about the branch, was a NiteIze Slide Lock carabiner. Someone evidently had hung food, but had not thought about how to get down the cord and biner. The result was a neon eyesore at an otherwise beautiful campsite.
I was determined to remove this, but I quickly discarded the notion of shimmying up the trunk until I was twenty feet off the ground. Staring intently at the cord, I decided on two possible solutions. I could use my knife, lashed to a long pole, to cut the cord free, or perhaps I could hook a branch under the cord to loosen it and thereby get the cord down. A short search produced just the sort of dead tree I needed, a tall dead tree that had fallen and which was no more than four inches in diameter at the base, if that much.
After a little experimenting, I decided that I could loosen the cord instead of cutting it, so I whittled a notch into the end of the topmost branch and spent the next five minutes cajoling the cord free until abruptly it came down.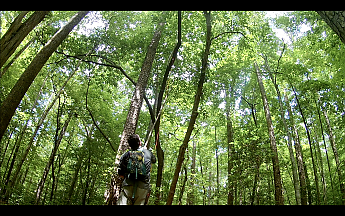 Success! The tree's elegant arching trunk was once again free of neon garbage. Back to the trail.
I reached the intersection with new trail beckoning a few minutes later, and proceeded to follow the path up a modest incline into an open pine forest on a ridge. Unlike the previous day's trails, this one felt less traveled, more unkempt. Tall grasses leaned over a track that was scarcely ten inches wide, putting me on alert for snakes and ticks.
When I reached the top of the ridge, I could see through the trees a parallel ridge in the distance, doubtless on the far side of the creek that the trail now turned downwards toward. The underbrush grew thicker, insect noises louder, as I descended. Abruptly, my eyes fell on a lone hornet grooming himself on a blade of grass that leaned over the path. Directly beyond was a fallen log over the path. Did it hide a nest?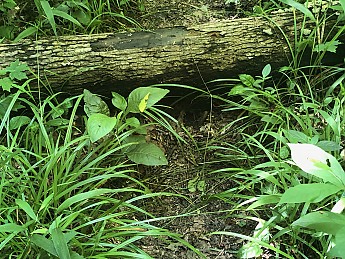 This wasp was intent on playing troll to me, denying me passage. I did not want to step into the thick underbrush about me. I was now in the creek bottom, winding my way toward the final drop into the creek bed, and the region felt very snaky to me. The Uwharries are home to Timber and Pygmy Rattlesnakes as well as Copperheads; I didn't want to have an inadvertent encounter with one now while trying to avoid a lone hornet.

Minutes crept by.
Finally, i leaned over and picked up a fallen twig, breaking it into pieces. I tossed the first toward the hornet, missing it badly. The second caught the blade of grass he was on, and immediately he flew up in alarm, only to settle on the far side of the log, still in sight, still in the way.
I waited again. Surely it would leave! But no, it was not to be.
Trying the twig trick again, I finally managed to get the hornet to fly a short distance off the trail, perhaps three feet, and as it lit upon a leaf, I darted past at last.
The path abruptly dropped into the creek thereafter. Just as I was on the verge of stepping from the woods onto the creek bank, a movement caught my eye: a bluebird was bathing in the creek. I watched as the little creature cleaned all of its feathers, then flew off, feeling blessed to have witnessed this little scene. Then I surveyed my new surroundings.
On the far side, perhaps 12 feet away, I saw what was presumably the other side of the path I was on, but it had evidently been transformed by the recent heavy rains we'd had. Instead of a slope to the creek, I was looking at a sheer wall of red clay, four feet in height and shrouded with underbrush.
I decided on the spot that I was not going to scramble on hands and knees up that slope on this trip; it could wait for winter. So instead, I roamed upstream a ways, moving to a gravel bar in the middle of a bend in the creek. The steeply sloping far bank continued here, clearly cut by high, fast-moving waters, and over the creek had fallen a large tree that was now a latrine for a raccoon, whose scat was visible on the bark.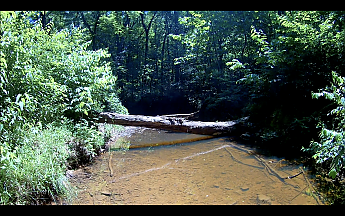 Unlike the creek by my camp, this one had a different aspect. It was hot, the woods buzzed with what seemed irritating insects, and the vegetation about was dense, twisted, and forbidding, not the genteel tangle of mountain laurel that grew benevolently and charmingly along the banks of Hannah's Creek near my camp.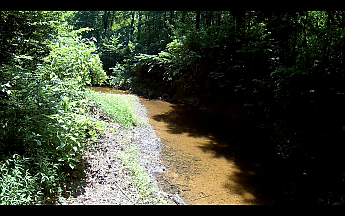 At this bend in the creek, summer seemed more suffocating, and I felt a pang of nostalgia for my childhood summers, spent dawn to dusk in nature, pushing through tangles of vegetation like that about this creek with no thought of dangers. I'd return home on summer nights covered with itching, bleeding scrapes and bug bites, occasionally a tick or two, deliriously happy and ready for the next day's adventures.

Now, however, I yielded to the steep embankment and tangled vegetation and retraced my steps on the trail I had just traversed. My journey halted abruptly just as I came to a familiar fallen log crossing the path. Sure enough, there on a blade of grass, was my insect troll, the hornet. Frustration took over, and I quickly tossed a few twigs at it to get it to move. It obliged this time, and soon I was climbing the slope of the ridge, moving back among pine trees again, and at last descending back to the trail junction where I'd first turned south on this new piece of trail.
At this point, though, I opted to revisit a nearby camp that bordered the Bingham Family cemetery. This particular camp always made me feel as though it might exist out west among Ponderosa pines, though here the camp was encircled by loblolly and longleaf pines and scattered hardwoods.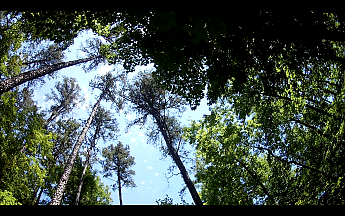 A log by a fire ring beckoned to me, so I sat here and looked up, watching the clouds move past the green of the pines in a perfect, Carolina blue sky. I ate lunch here: Korean pork jerky, Colby Jack cheese, rosemary bread, and water. This part of the woods had a slightly different feel to it, too, but it was defined by the calls of different creatures. Standing to go, having repacked my bag, I spotted a bold bird hopping along the ground a few feet from me, utterly focused on finding food. It moved like a Robin, but I knew it wasn't that and didn't have time to try to identify it before it disappeared.
My afternoon followed the pattern of my previous afternoon, with feet soaking in the cool stream and time spent in simple communion with my surroundings. There is much to be said about the thrill of backpacking, resting one's head in a new location each night, but there is also something to be said for staying in one spot and learning the rhythms of life in that place. It is from the latter sort of experiences that I find myself most consciously grateful for having been able to be a part of that tapestry of life, if only for a spell.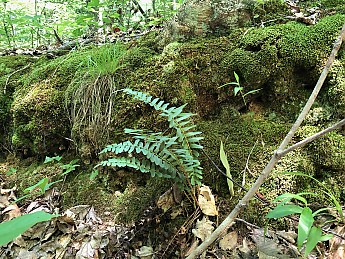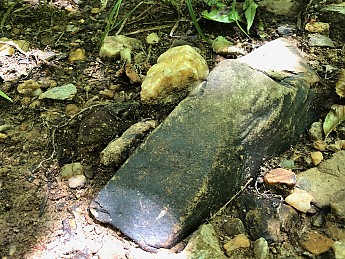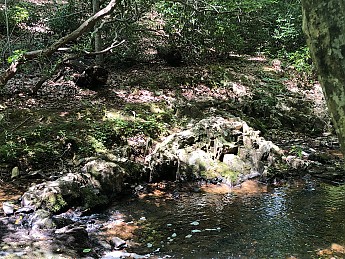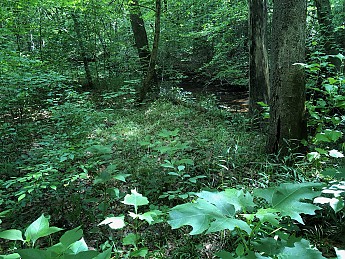 My last night in camp I opted not to build a fire. I relied on a Repel citronella candle to keep the mosquitoes away, enjoyed its light and that of my UCO candle lantern in the twilight.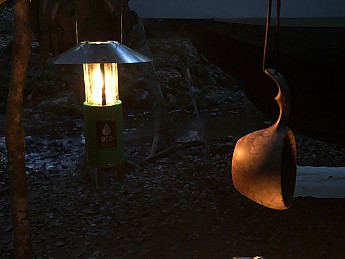 Dinner was a simple affair--Oriental Ramen noodles mixed with a pack of Thai Chili tuna. This simple mix works surprisingly well, and I relished the sodium and the sustenance, such as it was, after a hot and sweaty day.

As darkness fell, Nature sprang a delightful surprise. Across the creek my eye caught a flash of light. Then another. Answering flashing began to appear, and soon the wooded creek bottom was filled with the twinkling of fireflies. Crickets chorused in the darkness, and for a long while I watched the fireflies' glows explode and then fade in the night.
I had no problem crawling into my hammock that night. My body was growing attuned to rising at first light and slumbering at first dark as its Circadian rhythms were being reset by nature. The faithful creek gurgled on, her hypnotic voices once again guiding me to sleep.
Day 4
Morning came on my final day with a sense of disappointment: the temperature had not cooled off as much as it had previously. I was determined to pack quickly and hike up the mountain to the trailhead in the morning cool, so I quickly made a twig fire to toast naan, grill a Spam Single, and boil water.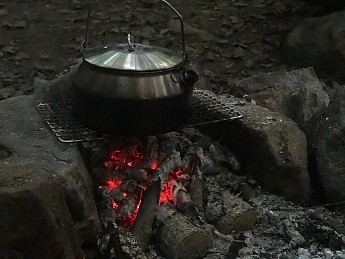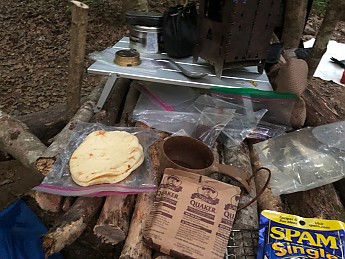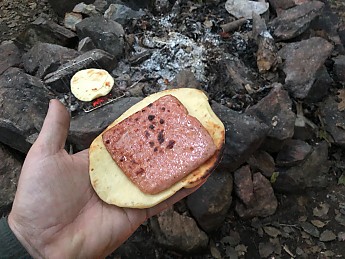 In short order I had coffee and oatmeal; soon after I was biting into the atrociously unhealthful, delicious slice of grilled Spam between twin layers of naan. I never eat Spam at home. Ever. I eat it perhaps once a year on the trail. I will say, though, it was heaven that morning.
I struck camp efficiently, spreading all of my gear on a small rectangle of thin Tyvek I use as a "floor" underneath my hammock. My log table I disassembled, stacking the wood for fire use in a spot where I had found remnants of a firewood stash. I drowned the fire in a liter and a half of water, stirring the ashes into a thick gray goo until no smoke issued from them.
Then I set about packing my old Yucca Ranger again. I have to say I was impressed. The frame of the pack is bulletproof. Ultralight, no, but sturdy as the hills. The Lincoln green nylon had lost some of its original interior coating (whatever treatment was used for water resistance in the 1980's), but it had held up surprisingly well. I truly enjoyed using the frame to pack my gear. Having not indulged in carrying an external frame pack in literally decades, I was pleased with how well I was able to organize my gear by using the frame. I have to say this experience has really tweaked my interest in Vargo's Exoti External Frame Packs; I would love to try one out in the future.
Hiking up the mountain, I did manage to escape the worst of the day's rising tide of heat, but once again my shoulders reminded me that I needed an adequate belt for my old back. I always find exiting the wilderness to be bittersweet. Life seems simpler yet more intense in the wilderness, living simply and concerned only with essentials like shelter, water, and food, yet one's family awaits, and Ireach a point in every trip, no matter how long or short it may be, when the allure of being home with my family brings a twinge of urgency. So it was on my hike out. When I reached the trailhead and my car, I switched on my phone and felt the full weight of everyday life return with a cacophony of notification pings and beeps.
Ah, well. Were it not for the everyday madness--what Thoreau termed our lives of quiet desperation--the solace of the woods would not be so pronounced, so special. Sliding behind the wheel of my car, I started it up, felt the artificial blast of air conditioning for the first time in days, and nosed my car down the rutted gravel road, out of the wilderness.