5:40 p.m. on September 20, 2018 (EDT)
g00se

TOP 10 REVIEWER
REVIEW CORPS
12,483 reviewer rep
1,433 forum posts
Details are in the videos. If you are claustrophobic, skip the second video. 
March 2017 I was backpacking on the Ozark Trail along Hazel Creek. From the trail, I could see the bluffs bordering the north side of the creek. Staring at me was a dark hole at the bottom of a bluff. 
Interested, I dropped my pack on the trail, waded across the knee deep creek and saw a potential cave lead. It was a low crawl entrance measuring roughly 28" high and 40" wide.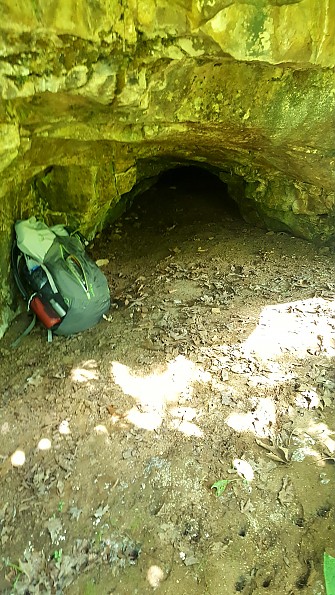 I got down and looked into the hole. It definitely went, but I didn't know for how far. Of course I wasn't carrying caving gear. So that was that.
When I got home a week later, I contacted a Missouri caver involved with the Missouri Speleological Survey (MSS) and asked him about the cave. The summary of the conversation went, "We don't have anything recorded in that area. We'll get someone out there to look at it."
Last week, I was planning on hiking in the area, and I asked him what became of that lead. The conversation went: "What lead?" "Oh, man, I forgot about that. We didn't send anyone to check it." "Hey, why don't you go check it for us?"
And here is the outcome...
Here's a closer look at that squeeze. I figure it's about 18" high and 9" wide.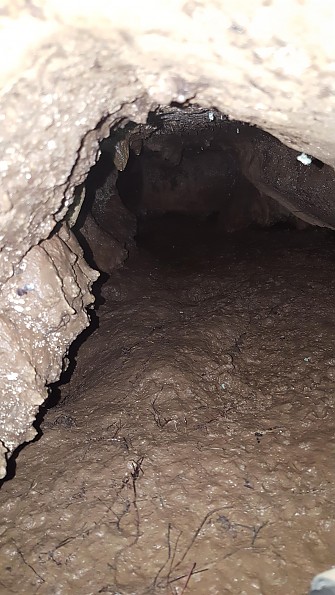 Now, I KNOW I can fit an 8" squeeze, but this would be on my side, not on my belly. And if there was no way to turn around, I'm not sure  I could back out of something that tight. So I let it go for now. 
________
After I got back out of the Ozarks, I messaged the GPS coordinates and details to the president of the MSS. I won't bore you with all the details, but the end result was this message....
Think of a cave name, because this is a new one...nice find dude.
Hazel Creek Crawl Cave.
It's small. It's unremarkable. But it's my find. I go into the record books as credited with discovering it. 
Now I just need to find a really tiny person to go back with me and push that squeeze!