BigRed
TOP 25 REVIEWER
REVIEW CORPS
7,403 reviewer rep | 1,272 forum posts
12:38 p.m. on September 30, 2018 (EDT)
A guided raft trip has never really been on my A-list because in general I don't like big groups and would rather make and execute my own plans. But while we were in Tucson my wife and I both read the Emerald Mile, and on our pre-Christmas hike in the Grand Canyon we watched a group of rafters run Granite Rapids, and all that made a raft trip sound and look kind of fun, especially if you could do it in dories. So we looked into it. Doing the GC in any kind of style takes at least two weeks and a lot of money, and often a long wait to get a place. And even the Emerald Mile makes it sound downright crowded at times. So a 6-day trip through Cataract Canyon in Canyonlands seemed about right for us, and we had no problem getting seats just a few months in advance. We set it up so we would just continue north to Moab after our Paria hike in early May, with a day or two in between to stop in at Kodachrome Basin and visit some slot canyons near Escalante.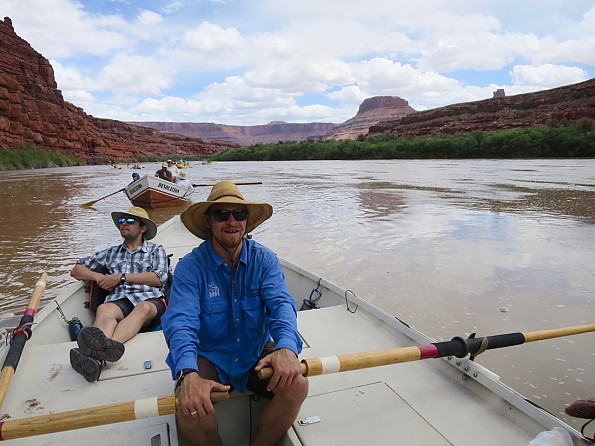 We signed up with O.A.R.S., probably the biggest whitewater guiding company worldwide, with the possibility that they would bring along some dories if the water levels were high enough. They were. We were twenty passengers, mostly my age or older, but with one big family along that included some relative youngsters, and seven guides. Some were veterans of multiple raft trips, others neophytes like ourselves (well, I had run the tail end of the GC from Diamond Creek on down to Lake Meade in paddle rafts back in the 70s, but that was a long time ago). Our head guide was the personable Peter Lefebvre (above), who commanded one of two dories, with Ryan Dale, who is a third generation oarsmen, in the other. Wyatt, Ernie, Cullen, and Elyse rowed the four rubber rafts, and backing us all up we had a bigger, motorized pontoon raft piloted by Dean, probably a veteran of more trips than all the younger guides put together. Elyse was least experienced and didn't take on any passengers through any of the whitewater, but did just fine as far as I could tell.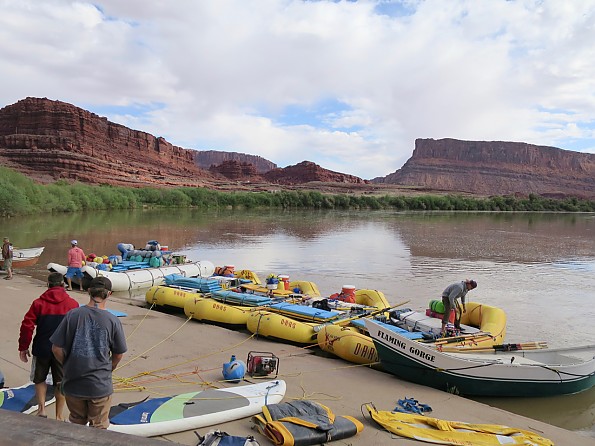 The big bonus for me was that our flotilla include three inflatable kayaks, two singles and a double, and two stand-up paddleboards. We  were invited to use these whenever time and conditions permitted. Nancy and I paddled one the double for a few hours on the first day, and I opted for a single any time one of them was free, which was a lot because they are self-bailing so your butt is in silty river water the whole time, not so attractive to most folks.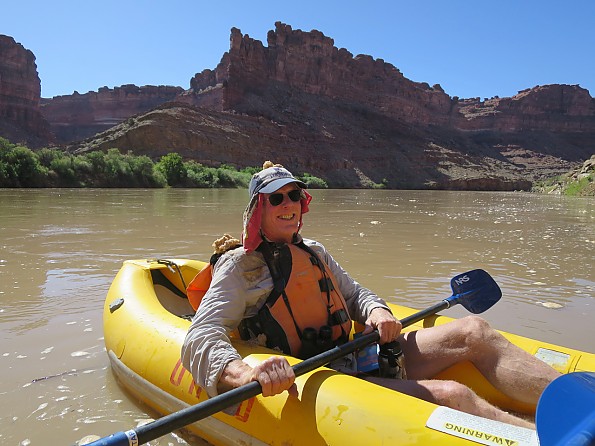 There were no rapids in the first three days, just a fast-running and winding river that gradually dropped through the layers of rock. We bought a copy of Belknap's Waterproof Canyonlands River Guide that I kept open in my lap to try to track the geology and other features. We would drift and row along easy for most of the day, pull over for lunch or a short side hike here and there, and if we needed to make time we would raft all the boats together with the dories in front and the motor pushing from behind.


As is the norm on these trips, we were pampered, on my terms at least, with all meals prepared by the guides and cold drinks always available just for the asking. All those boats could carry an enormous amount of gear and food, not to mention the two "groovers" (portable toilets) used to service the other end. There was whole protocol for those that was duly explained to us on the first night out. When it came to alcohol it was BYOB, but they'd keep it nice and cold for you, and no bottles. As a teetotaler but with a taste for NA beer I had to rustle up some NA in cans. Cans are now the default for Clausthaler here in Norway, but I couldn't find cans anywhere in Tucson. Finally I went online and found out about Bravo, a brewer in Oregon that makes a stout and an IPA and had a distributor in Tucson. Problem is, I didn't like either of them all that much, and they cost twice as much as the common brands, but still gave me something to wash down my burritos.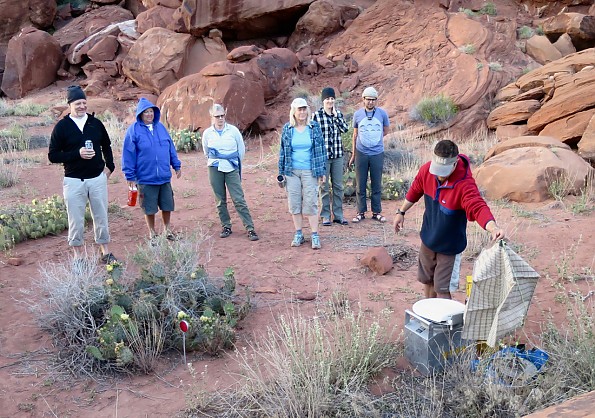 After three days of drifting we camped for our third and fourth nights right beside Brown Betty rapid, just below Spanish Bottom, which in turn is just below the Confluence, where the Green River joins the Colorado. We used the morning and early afternoon of day four to hike up to the Dollhouse, a scenic area of sandstone towers on the west rim of Cataract Canyon.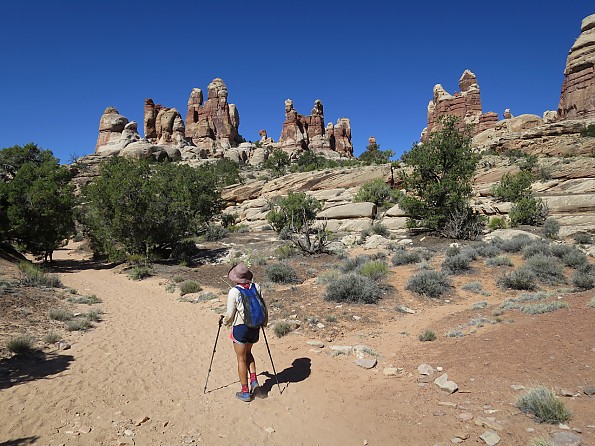 There were some old Indian granaries tucked under an overhang, and we ate lunch under a little arch.
That afternoon the guides started playing in the rapid in the kayaks and on the SUP. You could escape into an eddy at the bottom of our campsite and paddle back up to near the top of rapid to run it again.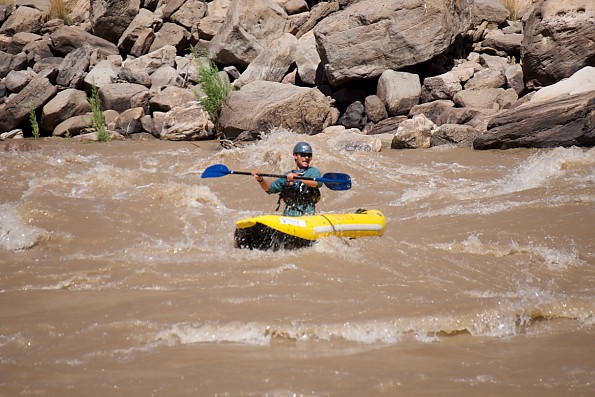 I watched for a while then decided to give it a try. It was a high-end class III or maybe even class IV rapid, but the inflatable kayaks are pretty hard to flip. I found it surprisingly easy to react to the big waves and keep the boat pointed downstream, and stayed upright and in the boat for six runs. That gave me the confidence to accept Peter's offer to run some rapids in the kayak the next morning: all of the 19 or 20 rapids before we got to the three Big Drops. I didn't know before we got on the water that that would even be an option, so let's just say I was pretty psyched. I still thought I would dump sooner or later, and figured a lifejacket ride would be exciting too, but it never happened.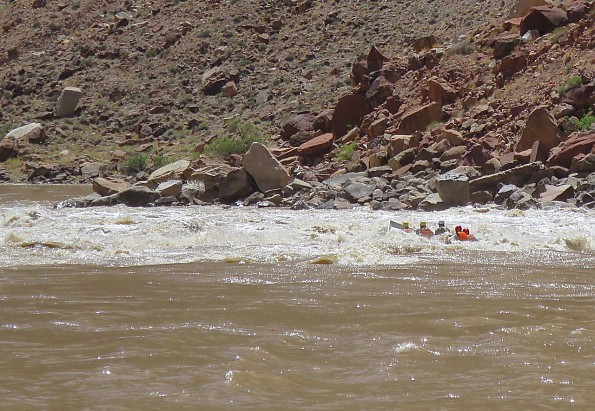 The Big Drops were up in the class V range and had some keepers that could trap a boat and keep a swimmer tumbling underwater even in a lifejacket, so running those in a kayak was not an option. Nancy and I ended up in the bow of one of the rafts with Ernie at the oars. On the second or third Big Drop, Cullen in the boat ahead of us lost an oar just as he was dropping in, and ended up trapped and sloshing back and forth in a big hole, with the boat rocking higher on each slosh with the risk that it might flip. We came down on him from above, and Ernie had to choose between veering right to avoid him or plowing right into him. He choose the latter, knocked Cullen out of the hole bumper car style, with enough momentum that we rode right through it too. It was all over pretty quick, and worth some retelling around the fire that night. I've never been much interested in trying to capture action with a GoPro, but I wouldn't mind seeing the look on everyone's faces in both boats for those few seconds.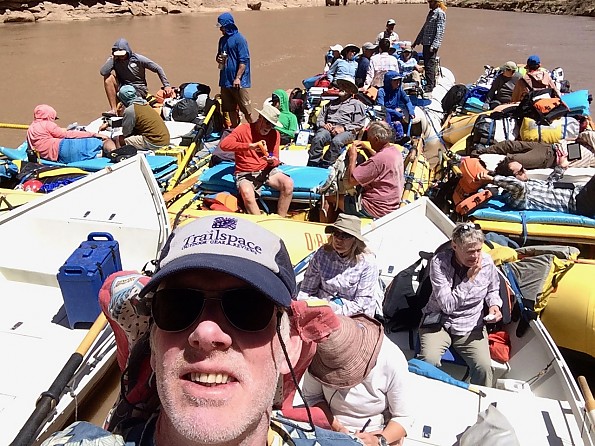 We had a few more small rapids on our last day, but also a lot of meandering motor miles to get out to the head of Lake Powell. A small-plane flight back to Moab was part of the package and gave us a bird's-eye view of the country we had floated through over the six day trip, including the Needles district of Canyonlands NP where Nancy and I put in a four day hike last September.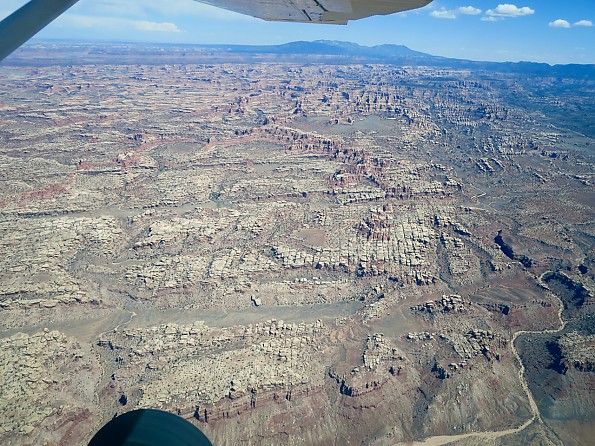 I can't say we became fast friends with anyone on the trip. They were all good people and we had lots of nice conversations with most of them at one time or another during the trip. But in the end we shook hands or hugged goodbye and went our separate ways.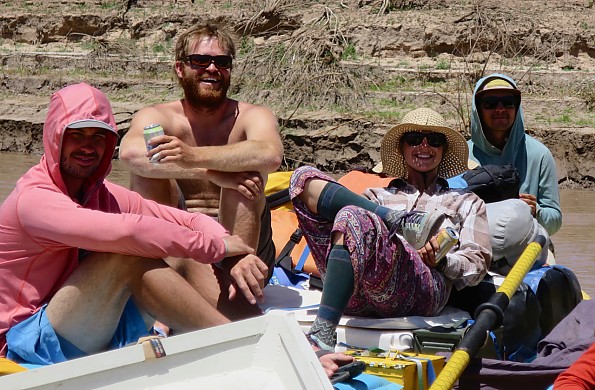 (Paul, one of the youngsters among the clients, with Ryan, Elyse, and Ernie)
As we drove back to Tucson, Nancy and I discussed the possibility of getting in line for a GC trip, and pretty quickly went from thinking it was something we really wanted to do to the realization that there was a lot of other things we could do with two weeks of our time and ±$10,000. Maybe someday, but despite all the fun and excitement and Great Beauty, it's still not on my A-list – Cataract Canyon was enough of the rafting lifestyle to hold me for the time being.