10:47 a.m. on October 14, 2018 (EDT)
LoneStranger

TOP 10 REVIEWER
REVIEW CORPS
9,709 reviewer rep
1,579 forum posts
This started out with a plan to thru hike the entire 170-mile trail that runs from Canada to Crawford Notch in New Hampshire, but I didn't pack the right insulation. Ended up going home for a few days in the middle and just doing the northern half of the trail in two sections. Lots more pictures and babbling can be found at the links below. Some videos included here as well, but I'm working with new equipment and software so pardon the quality as I learn :)
http://lesstraveledby.net/2018/10/02/four-days-on-the-cohos-trail/
http://lesstraveledby.net/2018/10/09/five-more-days-on-the-cohos-trail/
Section One - Canadian border to Coleman State Park ~50mi
Day 1: 8.5mi Fourth Ct Lake loop + hike to Deer Mtn SP Elev: +1176' -1186'
Day 2: 9.3mi Tillotson Shelter Elev: +1742' -1798'
Day 3: 9.4mi Lake Francis stealth camp Elev: +2348' - 2672'
Day 4: 22.8 Coleman SP Elev: +4374' -3781'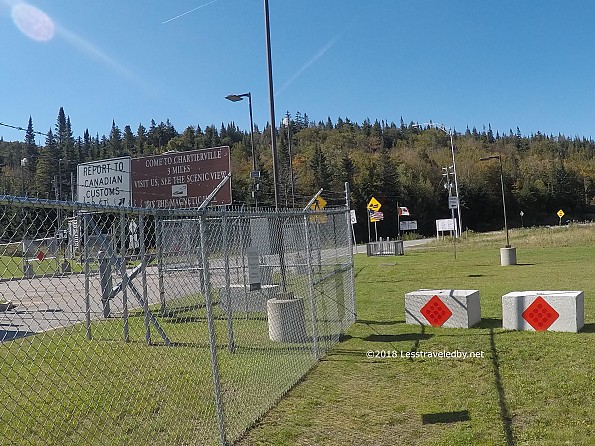 Parked the scoot in Stark and got a ride from my new best friend Nancy who runs the Village Inn there. Hit the border around 1pm and was off for a loop around Fourth Connecticut Lake before coming right back to head south.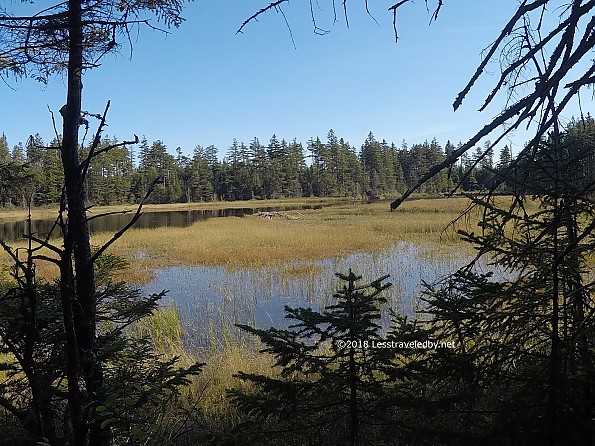 The lake is really a very small pond, but they get bigger as you head down the chain.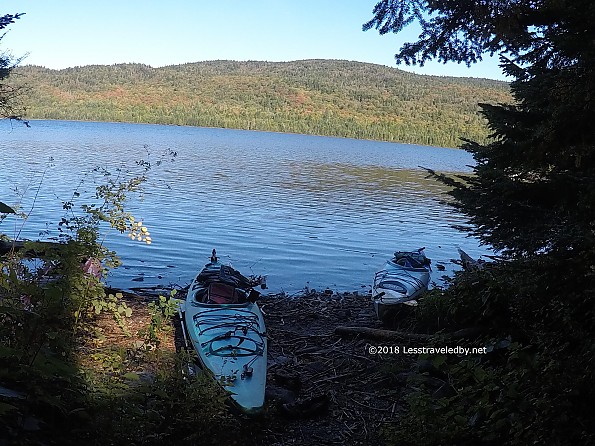 The trail passes by Third Connecticut Lake on the way towards Deer Mtn.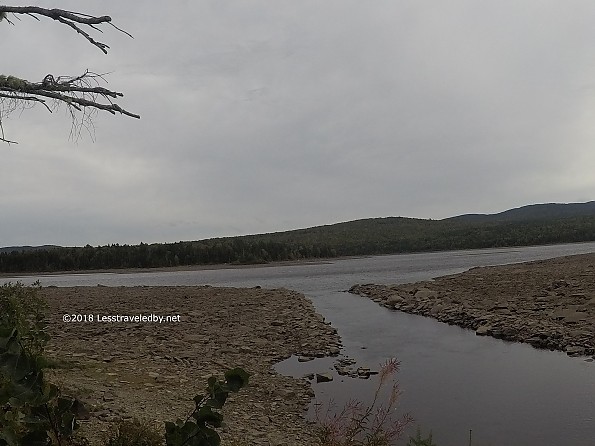 On day two the weather was coming with an expected storm so I did my miles early and fast. Second Connecticut Lake had been drawn down for some reason with the dam open and the water level very low.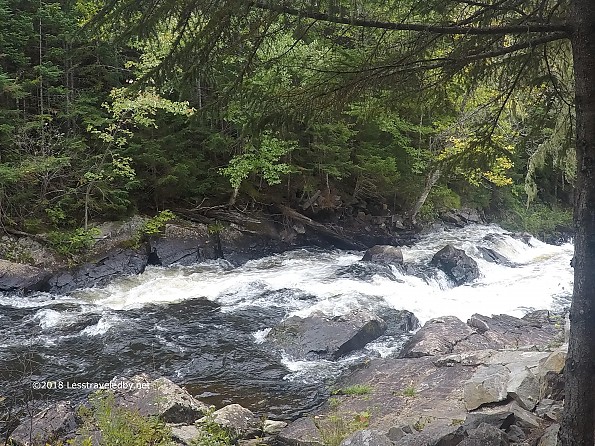 The Falls In the River Trail was noisy and pretty. I met a few day hikers here. The last people I'd see for a while. The rain got me about a mile short of my target for the day. I camped out in the Tillotson Shelter where it rained all night, then headed out early the next day because it was going to really get wet later according to the forecast.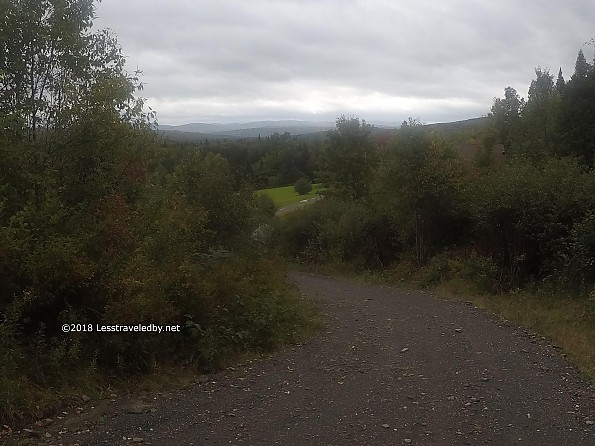 The trail popped out onto a camp road that got bigger as I followed it down towards the highway. There I stopped at the cafe for a burger and wrapped up a to go order for dinner before heading off on an ATV trail for a bit and then some road walking before branching off onto a grassy snowmobile trail. They pieced this trail together with whatever they could and are constantly making it better as they get rights to make new trails.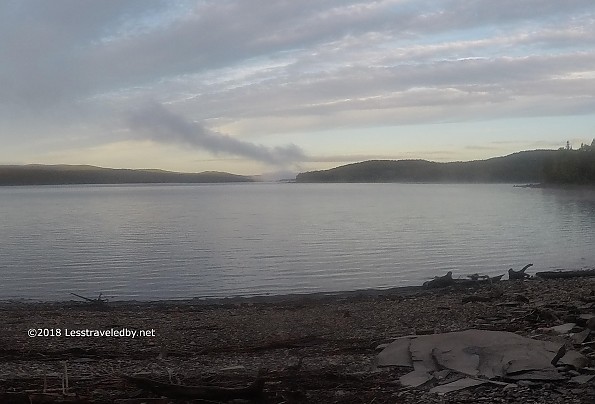 Huge storm blew through right after dark with tremendous wind blowing in off the lake. Around 9pm I had a tarp stake blow out on the lee side which definitely woke me up heh. The next day started out totally calm and quiet in contrast to the wind and waves of the night before.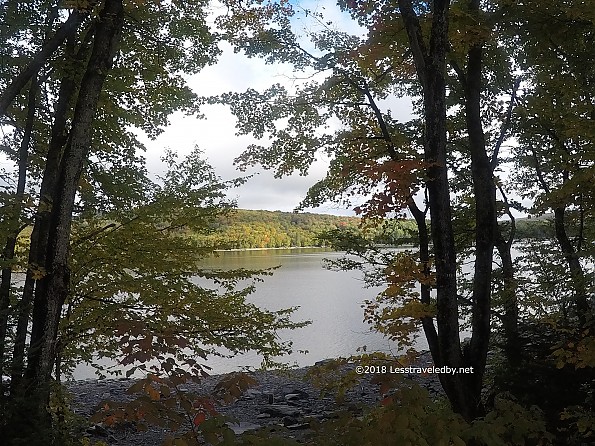 This long road walk will be going away next year as it will be replaced with a shorter and more direct route using existing forest routes. That is good and bad because this long road section, which actually is only paved for a few miles, is very pretty despite the pain involved heh.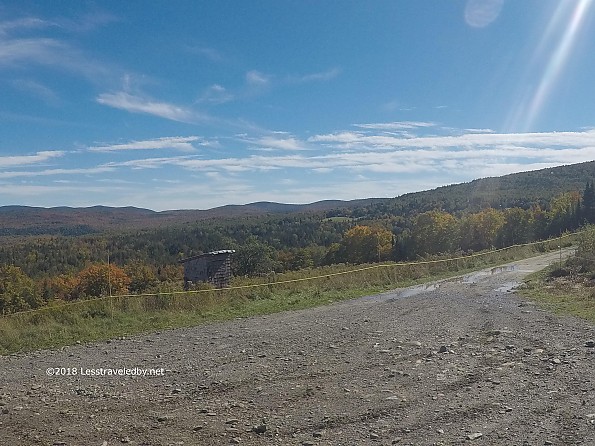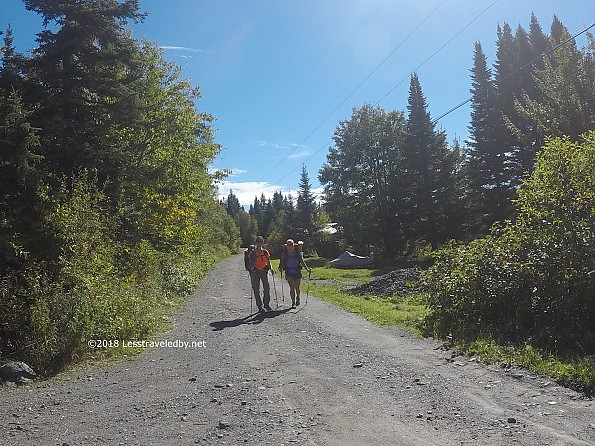 These two section hikers were just starting out on their way towards the border to complete the trail. They were the first actual CT hikers I met on this trip.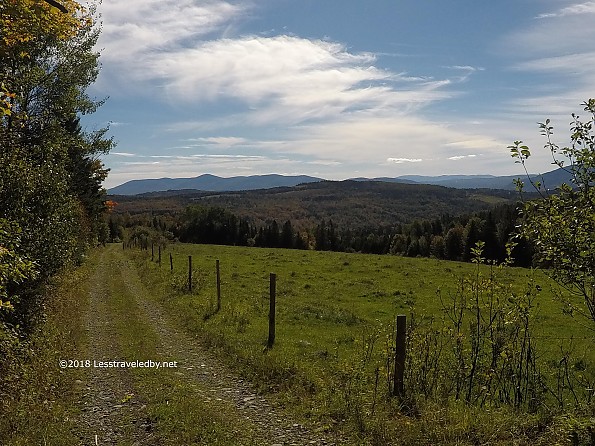 There was a really nice section of trail that passed through the middle of a farm with a horse pasture on one side and a herd of heifers on the other. Then there was a bit of actual road walking to reach Coleman. There I grabbed a shower, had a great dinner and went to bed feeling on top of the world.
Then it rained all night which I wasn't expecting and in the morning the forecast looked grim. For some reason I immediately knew I should stop here and knowing what I do now I'm glad I did heh. My shorty underquilt was just not keeping me warm at night and it was going to get colder. I contacted Nancy and headed home to see  the girls and repack.
Section Two - Coleman State Park to Stark ~52mi
Day 1: 6mi Coleman SP to Panorama Shelter Elev: +2076' -1324'
Day 2: 11mi Baldhead Shelter Elev: +3221' -3064'
Day 3: 10mi Old Hermit Shelter Elev: +2507' -3436'
Day 4: 6.5mi Percy Loop Tent Site Elev: +3017' -2184'
+ 2mi North Percy Summit bonus hike Elev: +1175' -1175'
Day 5: 8mi Stark Elev: +704' -2619'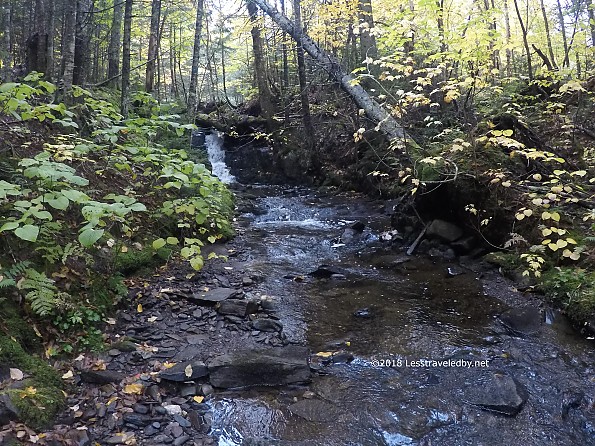 This section started out wet and cold, then got wetter and colder heh. I was glad to have better insulation, but I neglected to add a sleep pad to my pack for shelters which I'd come to regret.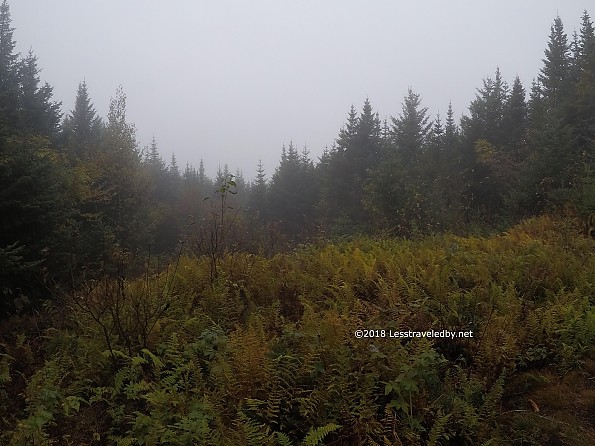 The view from Panorama Shelter when I arrived was limited by the cloud, which then lowered and enveloped me for the night.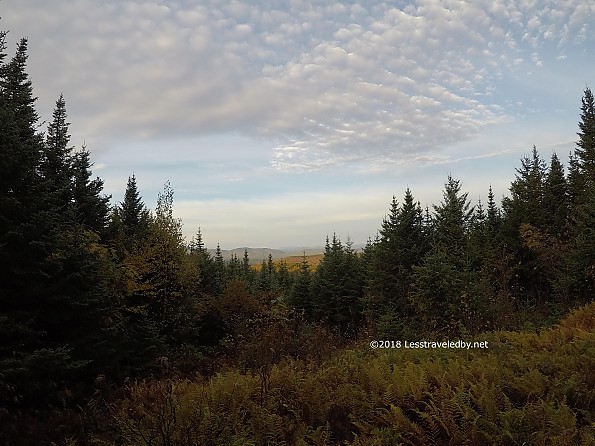 Much better the next morning, though it was a bit chilly at 38°f. I appreciated it while I could because there was once again wet weather headed my way for later in the day.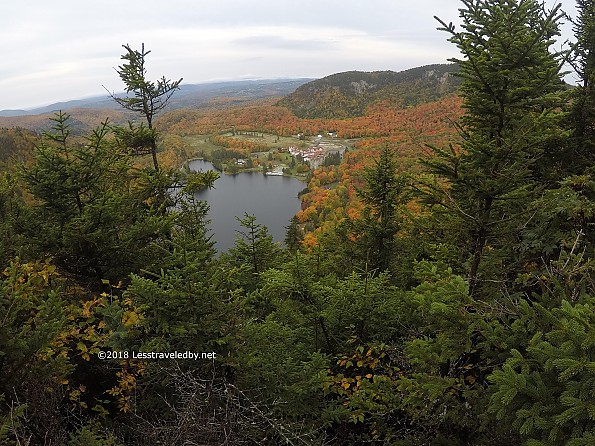 I hit two of the three classic photo spots before the weather chased me from the third. This is the view of The Balsams from above.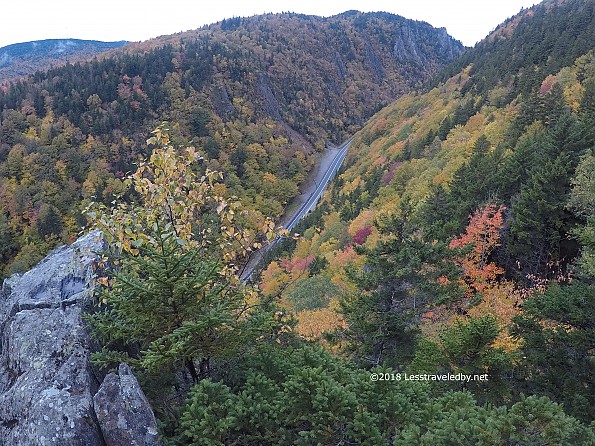 I was slipping on the wet rocks while trying to take shots of Dixville so only got this close to the edge.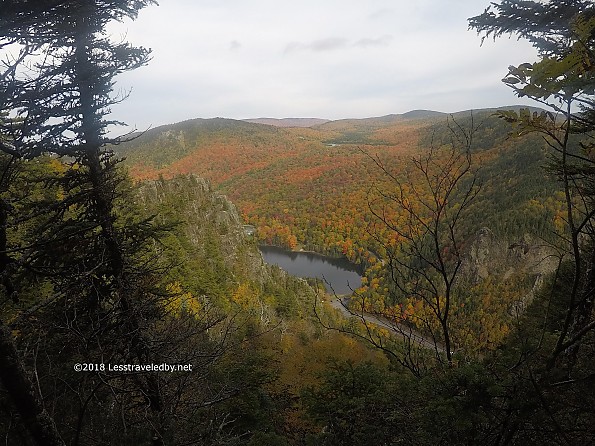 I took a pic of Table Rock, but didn't head out there. It was getting colder and wetter and I knew I was headed up one more mountain at the end of the day so I kept moving fast.

The Baldhead Shelter has no water supply so I was carrying a 3L bag in addition to my bottles. The cold rain forced me into my raincoat just before I started the climb. That combined with a large number of false summits near the top left me hot and sweaty when I arrived to find dense forest all around the site which was wrapped in the clouds. Then it started pouring!
I spent a chilly night on the boards of the hut-like shelter...woke up at 1am to 38°f and popped a hand warmer in my pocket...it was 33°f when I woke up at dawn. Then as I was eating breakfast and avoiding putting on my boots it dropped to 29°f over a period of just a couple of minutes. Everything frosted over, my wet clothes went solid and my boots became a little harder to put on heh.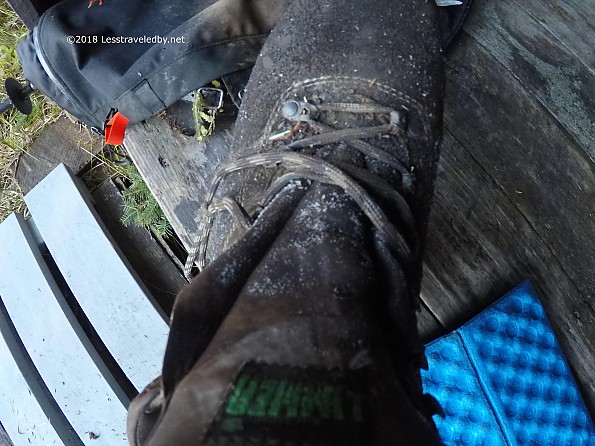 Once I did get them on I was motivated to do some walking though. Bright sun and cool temps are my sort of walking weather. With the sun out for a change the leaves were in full color and lots of pictures were taken.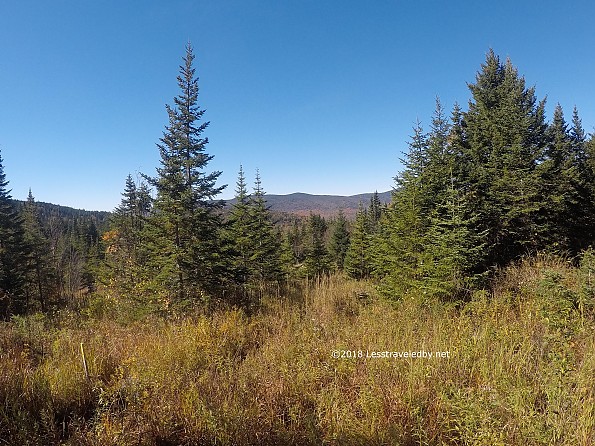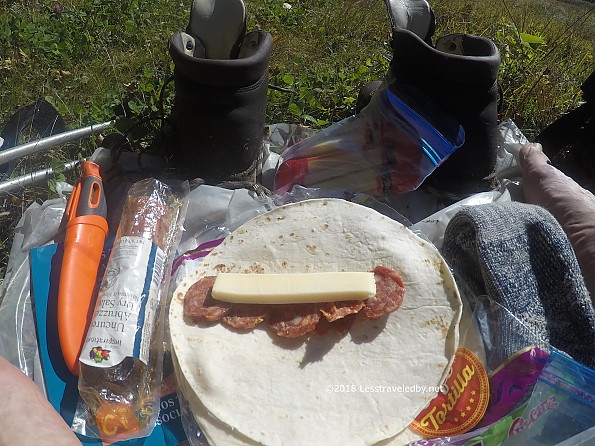 Since the weather permitted I was able to have a traditional trail lunch. Boots off and socks hanging from branches of the tree I was sitting on. Please note that isn't an active duty sock next to my food heh. That is my phone protector :)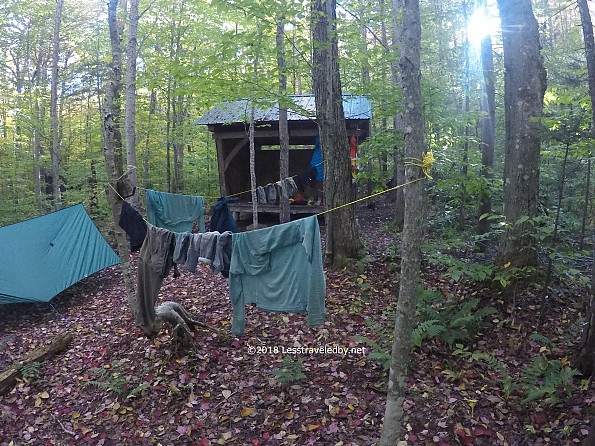 The Old Hermit Shelter was an amazing thing. Wood pin construction with no metal bolts holding it together. It is about six years old and immaculate. No stains, no graffiti, just beautiful. It also had room for me to set up my hammock for the first time on this section and I was very happy about that. I also had some room to hang out all my wet clothes.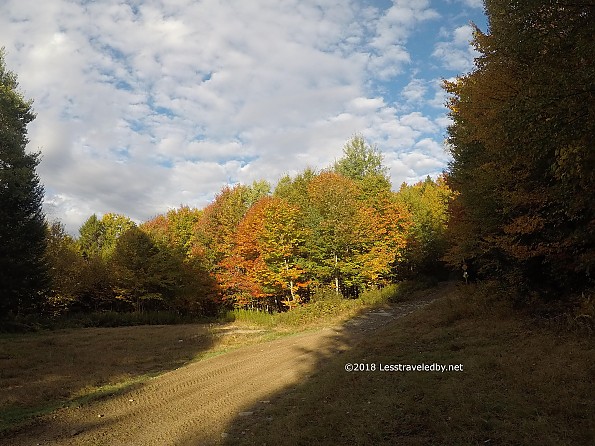 The next morning was another beautiful thing! Later it would cloud over and maybe rain, so again it was time to soak it up while I could.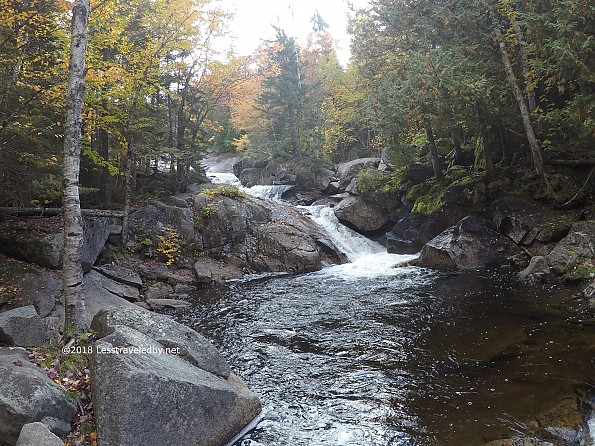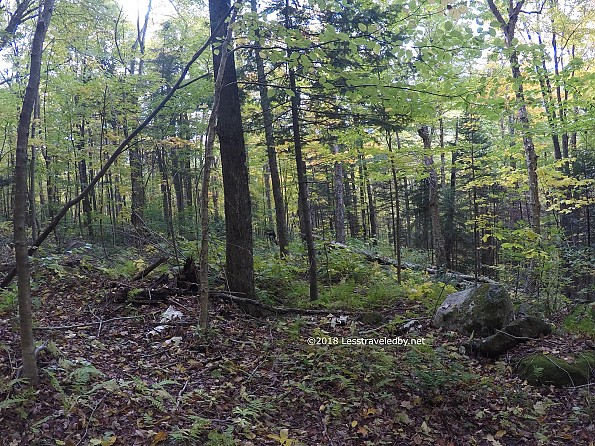 Can you see the moose? Don't feel bad if you can't because he was very skinny heh.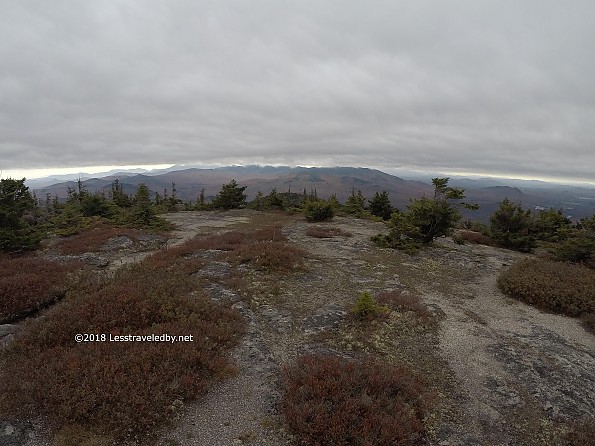 I set up camp at the tent site and then put my pack back on with only rain gear and food bag inside. Amazing how fast I can climb without the full load! I met a half dozen day hikers at the summit of North Percy. It was strange to see people, but sort of nice too. I had gone for about 72 hours without talking to anyone though I did wave to someone from a distance on day three :)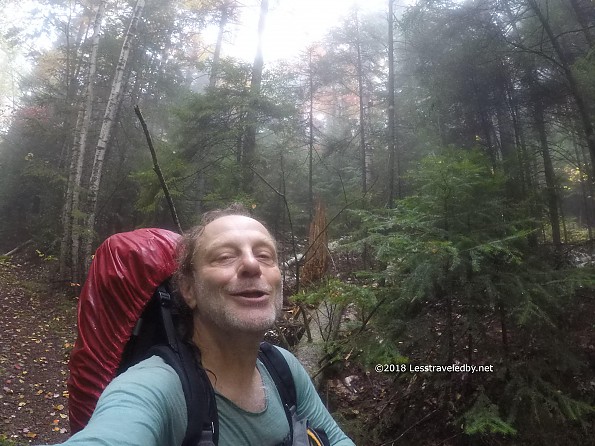 Just after getting back to camp the rain started and it was still raining when I got up in the morning. I kept my cleaner pants for wearing in the shuttle later so had to put the ugly ones on that morning. It was so wet that it didn't really matter to me any more. I recall thinking that if only I had more food I'd keep going :)